To the chagrin of many avid photographers, the days of horribly-pixelated cellphone captures are behind us. And while many of our kind swore that we'd never recognize, nor usher in, the era of handheld phone photography, it's become increasingly clear that the innovation of in-body camera systems has surpassed even our wildest dreams.
While the technological and aesthetic performance of iPhone cameras, in particular, has begun to approach that of professional DSLR and mirrorless cameras, there will always be an avenue to take your photography to the next level. Aftermarket cases, lens systems, and peripherals have become almost mandatory for the serious creative, gifting users with high-end glass, immaculate visual acuity, and ethereal sharpness rivaling the industry's finest camera bodies. Below, we'll outline a handful of our favorite lenses for iPhone capture, helping you to create a well-rounded arsenal for any creative endeavor.
Ztylus Z-PRIME Universal Max Bokeh
For many iPhone shooters, the idea of "bokeh" had been passed-off as an insane pipe dream. Until the most recent iterations of the smart device, the ability to isolate a subject while shooting was seen as an impossible feat, leaving many without the smooth, creamy background blur afforded by low f-stop lenses. But with the Ztylus Z-PRIME Universal Max Bokeh lens, you'll be able to pull off professional-looking shots without an ultra-expensive body and glass. This multi-element add-on utilizes multilayer-coated optics, a universal design, and a 75mm focal length to give you access to sharp, colorful captures at the touch of a button.
Black Eye Pro Portrait Tele G4
Most iPhone users are focused on taking the best photos possible, especially when it comes to selfies or portraits of others. Luckily, Black Eye Lens' Pro Portrait Tele G4 is the perfect piece of glass for the personable photographer, providing a 60mm equivalent that hits a sweet spot for both street and portrait work. Thanks to the Tele G4's 2.5x magnification, you'll be able to get intimately close with your subjects, whether they be people, animals, or interesting inanimate objects. The result? A great-looking depth-of-field that provides shooters with sharp, professional-looking capture, without all of the cumbersome devices/lenses associated with a larger camera system.
Sandmarc Fisheye Lens Edition
Sometimes, you'll want to take a different approach to whatever it is that your photographing. Setting the scene of a photo series is the staple of a good shooter, and with Sandmarc's Fisheye Lens, you'll be able to expand your camera's range of vision to capture staggering angles that you never could before. Thanks to the fisheye's ultra-wide, 10mm multi-coated lens, you'll be privy to 5x the spatial coverage of traditional glass, making it a go-to choice for landscapes, concerts, and urban photography.
Olloclip Telephoto Pro
Since the advent of aftermarket iPhone lenses, Olloclip has been a household name. As one of the first companies to create a clip-on lens system for the handheld device, it should come as no surprise that the outfit's established offerings are some of the best in the industry. Such is the case with the Telephoto Pro — a 2x optical magnifier that's been made with multi-element coated glass, premium characteristics, and a flat depth-of-field to make it a suitable companion for any adventure. Whether you're trying to photograph subjects that reside a bit farther away, amplify your line-of-sight at a concert, or enhance details that you might not be able to see with a traditional lens, Olloclip's Telephoto Pro is the one for the job.
Bitplay Premium HD Wide Angle
In the same vein as Sandmarc's Fisheye lens, the Bitplay Premium HD Wide Angle was devised to bring a unique creative flair to your photography. Like a portion of its competitors, you'll have to join the glass to your phone using the company's proprietary SNAP! mounting system; but once that's been taken care of, you'll be gifted with an established wide angle that's perfect for framing grandiose scenes, environments, or subjects. With a magnification of only 0.6x, you won't have to worry about standing far away from whatever it is that you're shooting, putting the lens' multi-AR-coated optical elements and high-grade aluminum alloy housing to the test wherever, and whenever you see fit.
Moment Anamorphic
To round out our list, we've included Moment's groundbreaking Anamorphic lens. While this variant straddles the line between photography and cinema use, a professional, aerospace-grade aluminum construction, hand-polished glass, and signature flare make it equally as viable for either side of the spectrum, gifting shooters enhanced edge-to-edge clarity, sharpness, and tact. Like the industry's high-end 4K film lenses, Moment's Anamorphic example will give your photos and video a sought-after wide-screen look, calling upon a subtle 1.33x magnification to bring your iPhone in-line with professional 2.40:1 Cinemascope footage/capture. Better yet, a simplified twist-lock design allows for effortless pairing with the company's M-Series mount and case, giving you the opportunity to swap it out for any of the company's other offerings on-the-fly.
The 8 Best iPhone Photo Editing Apps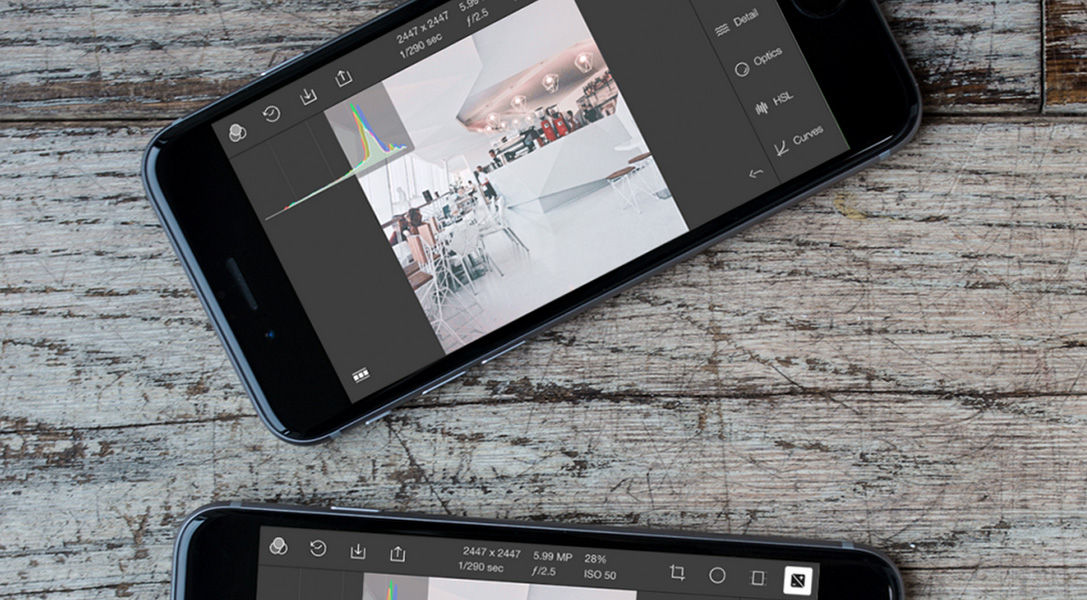 These days, taking photos while on-the-go is a common occurrence. Once you've taken your captures to the next level with any of the aforementioned lenses, head over to our guide on the best iPhone photo editing apps to give your artwork an even greater edge.