At a casual glance, it might look like Apple has a pretty tight stranglehold on the smartphone market. Granted, they're far from the only name in the game, but they've definitely set the standard that everyone else is competing against. However, just because they're the top dog, that doesn't mean you have to bow down and prostrate yourself before the work of Steves Jobs and Wozniak. What we mean to say is: there are other options.
Whether you're a stalwart Android loyalist or you simply want something other than an Apple product, the market is awash with alternative mobile devices of all manner of shape, size, and capability. So whether you want something that could go toe-to-toe with the iPhone 12 Pro Max and its formidable camera array or you want to cut back on the distractions in favor of a streamlined "dumb" phone not marred by time-sucking apps, you'll find the perfect option for you on our following guide to the 10 best iPhone alternatives. How do you like them apples?
True Alternatives
Direct Competitors
While not all non-iPhones on the market are comparable to Apple's current suite of smartphones, there are numerous ones out there that are at least close in their capabilities and performance — enough that we would call them "true" alternatives. You'll find these mostly-traditional options in the following section, along with a few that have taken the next leap forward into the future possibilities of mobile devices as we know them.
Samsung Galaxy S21 Ultra 5G
The most recently-announced next-gen smartphone on our list also happens to be the least expensive "true" alternative to the iPhone (so long as you have an eligible trade-in). But don't let its low entry price fool you, the Samsung Galaxy S21 Ultra 5G is definitely a significant contender. For starters, it boasts what Samsung is calling the "most intelligent screen" on the market, a 6.8-inch Dynamic AMOLED display capable of up to 120Hz refresh rates and 1,500nits of peak brightness. It also, perhaps obviously, boasts compatibility with 5G networks — meaning it offers blazing data transfer speeds — and it has a quad rear camera array marked by ultra-wide telephoto lenses. As if that's not enough, it can also shoot in 4k/60fps, has 12GB of RAM as a standard feature, and boasts a massive 512GB hard drive. That's pretty spectacular for something that costs about as much as half of the highest-spec iPhone.
OS: Android 11
Display: AMOLED
Network: 5G
Battery: 5,000mAh
Memory: Up To 512GB
Google Pixel 5
It might seem strange to suggest that a product produced by one of the largest, most influential companies on the planet is a dark horse offering, but that's exactly what we'd say about the Google Pixel 5. For a phone that seemingly nobody is talking about, this is hands-down one of the best alternatives to any iPhone model across the board. That starts with its affordability. Priced at just $699, it's the same entry price as the iPhone 12 mini and $100 less than the base model 12. It also has 5G compatibility, a crystal-clear HD display, a professional-grade camera array, two days' worth of battery life, wireless charging, an adaptive power system that will prioritize your most frequently-used apps, built-in malware protection, and a bevy of other clever and handy features. It can even call for emergency help by detecting catastrophic events — even if you can't make the call yourself.
OS: Android 11
Display: AMOLED
Network: 5G
Battery: 4,080mAh
Memory: 128GB
Nokia 8.3 5G
Sometimes, it's enough that an alternative is simply comparable to the industry standard to make it your go-to pick. What we mean to say is: the Nokia 8.3 5G you see here doesn't really break the mold, but it can still definitely stand up to the latest generation of Apple mobile devices — especially in the ways that matter most to consumers. This is most apparent in its professional-grade 4K camera array — crafted in conjunction with ZEISS — and its integrated range of cinematic effects. Pair that with lightning-fast 5G network speeds, low-light video capture, OZO audio 360° sonic range, and a purposefully-sleek Nordic design and its clear to see there are an abundance of talking points for this particular smartphone. No, it isn't an iPhone. Yes, that's a good thing.
OS: Android 10
Display: IPS LCD
Network: 5G
Battery: 4,500mAh
Memory: Up To 128GB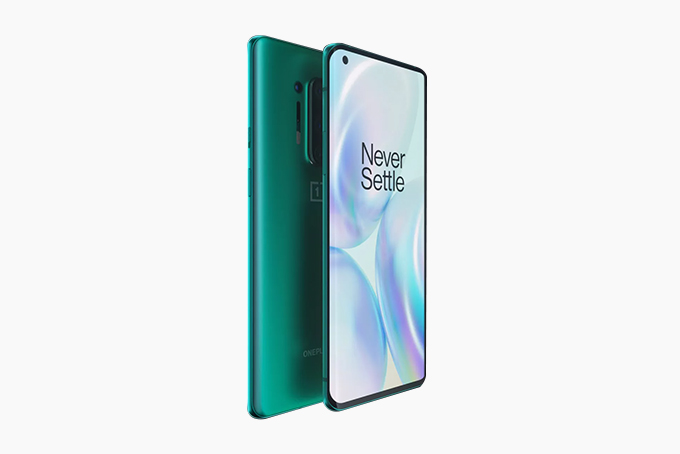 OnePlus 8 Pro
Chinese brand OnePlus isn't quite what we would call a household name here in the USA, but that could be changing in the near future if the quality of the OnePlus 8 Pro smartphone is any indication. At the very least, its specs are comparable to similarly-priced phones — and some of them are, in fact, better than the mean. This includes things like a display with a 120Hz refresh rate, which could certainly be called industry-topping. It also features ultra-fast wireless charging (just 23 minutes for 50% battery), a 48MP quad-camera array, 5G compatibility, and a frankly gorgeous overall design. Of course, that's only the start of things. Keep digging and you'll discover that this phone can record video at a whopping 120 frames-per-second in full-HD quality. And its Qualcomm Snapdragon 865 processor is said to offer transfer speeds up to 125% quicker than previous generations. If this phone is, indeed, a sign of things to come Stateside, the rest of the competition should probably be a bit worried.
OS: Android 10
Display: AMOLED
Network: 5G
Battery: 4,510mAh
Memory: 128GB
Motorola Edge+
If you pay attention to all the hard-number metrics that make the iPhone 12 Pro Max so great, you might be surprised to discover that the Motorola Edge+ actually has the… edge over the iPhone. For starters, the Edge+ boasts a 256GB ROM drive to the iPhone's 128GB base. Furthermore, Motorola's front-facing camera boasts 25MP to Apple's 12. In fact, if you add them all up, Motorola has the megapixel edge by a factor of 109 — which is, obviously, a whopper of a number. It's also lighter, has a higher screen-to-body ratio, and the list just keeps going. Granted, these are not all the factors that go into anyone's final decision, but they are quite telling. Unless you're truly a die-hard Apple user, there's a pretty solid argument to be made that the Edge+ is a better overall investment. That's certainly not hurt by the fact that it also happens to be $100 cheaper.
OS: Android 10
Display: OLED
Network: 5G
Battery: 5,000mAh
Memory: 256GB
LG Wing 5G
With so many smartphones that boast similar internals, it can be difficult to tell if there are any real marked differences that set any of them apart. For the most part, there aren't too many distinguishing factors — due largely to the fact that consumers have come to expect a baseline functionality from their phones. However, the internal hardware and software aren't always the only determining factors, as can be seen in the LG Wing 5G. This phone is set apart by the swiveling main screen that turns on its side to reveal another, smaller screen behind it — increasing the usable display space by 50%. And while the novelty is clear, the increased screen space can also help increase its overall functionality, versatility, and productivity. It also has a built-in gimbal motion camera, multitasking ability (like multiple computer displays), and so much more.
OS: Android 10
Display: OLED
Network: 5G
Battery: 4,000mAh
Memory: 256GB
Sony Xperia 1 II
For anyone that considers themselves a "content creator" or photographer, the Sony Xperia 1 II should absolutely be toward the top of your list of smartphones worth purchasing as an alternative to an iPhone. This is because it was designed specifically with photo and video creation in mind. In fact, the brand proudly touts the fact that this phone is the world's first smartphone able to capture video at up to 20fps with AF/AE tracking. Furthermore, the triple-camera array is equipped with ZEISS optics. And anything you capture can be viewed in stunning high-definition on its 6.5" 4K HDR OLED display with its 21:9 CinemaWide ratio. All told, this isn't so much a smartphone as it is a mobile, pocketable photography studio, high-end movie camera, and editing suite.
OS: Android 10
Display: OLED
Network: 5G
Battery: 4,000mAh
Memory: Up To 1TB (With Expansion)
Non-Traditional Alternatives
Something Completely Different
If your biggest gripe with iPhones has something to do with the core of their being, you might not want to make a swap for something all-too-similar — like trading in your Ford Mustang for a Dodge Challenger. Rather, if you're in the market for something completely different — leaving the pony car space for your first motorcycle, for instance — this is the section for you. These are still smartphones at their heart, but they're vastly different from most of the direct iPhone competitors on the market.
DOOGEE S96 Pro
Though the brand's name sounds just a bit like a baby-talk nickname for your favorite pooch, DOOGEE deserves and has rightfully earned plenty of respect in the mobile device space. This is due, in large part, to the fact that the brand has a propensity for crafting some of the most rugged smartphones around — and even introducing technologies to the industry at large. The S96 Pro is one such case, as this smartphone is the world's first ruggedized phone to feature an infrared night vision camera array. That innovation alone is enough to earn the brand a spot on this list of iPhone alternatives, but it doesn't stop there. This device also boasts IP68 waterproofing and mil-spec drop protection, a massive multi-day battery, 8GB of RAM, a 16MP front-facing camera, 24W fast-charging capabilities, and compatibility with four different satellite navigation systems (GPS, GLONASS, Galileo, and Beidou). Those altogether make this less of a smartphone and more like a high-tech, off-grid Swiss Army Knife. For those who call wooded hills and barren valleys home, there might not be a better smartphone out there. And if there is, there's a pretty good chance it's also made by DOOGEE.
OS: Android 10
Display: IPS LCD
Network: 4G
Battery: 6,350mAh
Memory: 128GB
Light Phone II
Not everyone needs or wants a packed-to-the-gills, fully-featured smartphone. In fact, for some, they're downright unproductive and bothersome thanks to their overwhelming litany of features. If you're of the mind that your life might be a touch better with something a bit more low-tech, then the Light Phone II might be the perfect mobile device for you. Don't be mistaken; this is still a fully-functional phone with a measure of internet-ready capabilities — namely in the realms of things like texting, calling, and more function-focused features (like ride-hailing) — however, it does away with anything that might be counter-productive, like social media and mindless games. The intention is to create a phone that has the core features that make it a useful tool without inundating users with all the other nonsense that plagues our smart devices. It's not for everyone, but there's definitely something to be said for fewer frivolities in our most-used tech.
OS: Android Custom
Display: E-Ink
Network: 4G
Battery: 950mAh
Memory: N/A
Land Rover Explore R
Land Rover SUVs have always been for a very specific type of person — the type with an appreciation for refined and understated British design, off-the-beaten-path adventuring, and perhaps a limited tolerance for the hustle and bustle of big-city life (that's what Range Rovers are for). As it turns out, the Whitley-based manufacturer has taken that same attitude and applied it to their very-own smartphone — called the Land Rover Explore R. As you might imagine, this smartphone is an awful lot like the mobile device equivalent of the brand's renowned SUVs. It's rugged, offering mil-spec drop protection, superb dust- and sand-resistance, and IP68 waterproofing (it can actually be fully-submerged up to 1.5m for 35 minutes), but also has a measure of elegance and sophistication — in the form of a 5.7" HD+ outdoor-focused display protected by Corning Gorilla Glass 6 (which works with both gloves and wet fingers), 12MP Sony dual-pixel rear camera, 8MP front camera, and more. In short, this is the smartphone equivalent of a Defender — it even has a touch of angular, industrial styling like its 4×4 inspiration.
OS: Android 9/10
Display: HD+
Network: 4G
Battery: 3,100mAh
Memory: 64GB
The 15 Best Apple iPhone Hacks
It may be that your issues with your current iPhone are less due to the device itself and more a result of its perceived limitations. If you want to learn a few tips and tricks to allow you to better make use of your mobile device, you'll find a collection of handy ones on our list of the best Apple iPhone hacks.