Apple's game-changing tablet has delivered seamless entertainment and productivity capabilities to the likes of many. Boasting all the same attributes as an iPhone and then some, the iPad practically serves as a small-scale take on the MacBook — just without a keyboard to accompany it. However, tech brands and accessory manufacturers (plus Apple itself) have taken it upon themselves to transform these devices into the next best thing by creating iPad keyboard cases that bring laptop-like productivity to your favorite tablet.
By implementing a keyboard, and sometimes even a trackpad, into the heart of your iPad case, you can expect your device's prowess to improve greatly. Whether you want to respond to emails at a rapid-fire pace or get busy with some spreadsheets, these accessories are put forth with your convenience in mind. On the topic of convenience, we figured we'd do the hard work for you upon narrowing down the cream of the crop, compiling a guide to highlight the 8 best keyboard cases you can currently buy for your iPad.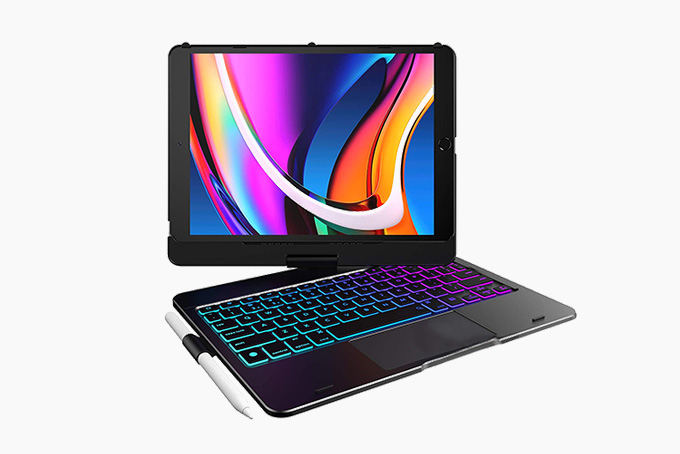 typecase iPad Case with Keyboard
Typecase's starter option comes available in a wide variety of colors that arguably rivals the catalog of shades for Apple's flagship tablet. Cosmetics aside, it comes equipped with a precise trackpad that will assist in editing documents much faster, as well as seven different usage modes thanks to the brand's proprietary 360-degree hinge. It even has a holder for your Apple Pencil, so you don't have to worry about it getting lost anymore.
Fonally iPad Case With Keyboard and Mouse
Fonally's fancifully colorful case doesn't only come equipped with a touchpad and keyboard, but it even has a mouse to provide that classic desktop feel. With a seamless clip-on application, an internal magnetic strip to activate the device's sleep function, and a variety of viewing angles, this shock-absorbing case is the perfect addition to any iPad owner's home office. Plus, for those of you thinking of updating your tablet to an iPad, this choice from Fonally can work with any Windows device, too.
Zagg Pro Keys
Zagg's Pro Keys is another great option, especially when you consider such a fair price point for all its features. With a rechargeable battery that can last as long as a whole year, a reliable 2 feet of drop protection thanks to its polycarbonate makeup, and a user-friendly set of keys that can connect to two devices at once, there's almost no room for error here.
Logitech Rugged Folio
Logitech's Rugged Folio lives up to its name thanks to an impressive, sturdy composition that keeps your pricey tablet in safe hands. This choice's keyboard is covered by a durable membrane that seals and protects the keys from any spillage or leftover food crumbs that may pile up over the course of a day. As far as protecting the exterior, Logitech finishes things off with shock-absorbent tech and materials that the brand claims exceed military standard drop tests, resulting in nearly-unrivaled protection from any situations you could think of.
Brydge 10.2 MAX+
As one of the best-designed choices that appears here, Brydge's 10.2 Max+ is simply another sleek case in the brand's wide catalog of them. The sturdy option boasts 4-foot drop protection and an anti-microbial finish that works against bacteria and viruses to maintain your tablet's lifespan (and to give you a modicum of protection). It features some SnapFit Clamps for bolstered strength, and the keyboard utilizes the brand's proprietary Instant-On tech, providing seamless typing speed and Bluetooth connectivity for up to four hours.
Logitech Combo Touch
We're ringing Logitech in for another top-notch pick in this field: the Combo Touch. This case comes in three configurations tailored toward the iPad Air and both iPad Pro models, proving that the brand is accounting for all owners. It comes equipped with a detachable backlit keyboard and features four distinct modes: type, view, sketch, and read. With this quartet of options serving writers, watchers, artists, and bookworms, there's no doubt that any iPad owner will get plenty of use out of this sleek case.
Gold and Cherry 360-Degree Swivel Case
If you're looking for a choice that could easily work in a presentation-based office environment, then Gold and Cherry have got you covered. The 360-Degree Swivel Case comes equipped with a trackpad for seamless scrolling, and its LED-backlit keyboard is bound to light up any room. Whether you're gaming or pounding away at some expense reports, the manufacturer's iPad Pro case is an incredibly ergonomic choice.
Apple Magic Keyboard
It only makes sense to finish this list off with a case made by the geniuses behind the iPad itself. Apple's proprietary Magic Keyboard serves as the ideal choice to bring out the most laptop-like experience from your iPad. It comes equipped with a USB-C port and backlit keys, as well as robust protection front and back, all delivered in the sleek, streamlined manner that we've come to expect from Apple. For added ease, your iPad attaches to the case magnetically, granting you the ability to easily adjust the viewing angle to your liking.
The Best MagSafe-Compatible iPhone Cases
Now that you've got your iPad covered with the latest tech, consider doing the same for your iPhone. Our guide to the best MagSafe-compatible cases is sure to keep your device up to date.