Were you to pair the wide-tired confidence of a mountain bike with the on-pavement efficiency of a road bike, you'd be left with something that looked a lot like a hybrid. This is because hybrid bikes (also known as fitness bikes) combine the best qualities of their sport-specific siblings — such as an upright riding position or a lightweight construction — to bring together an offering that's not just compliant and comfortable but also fast and quick-handling.
What's more, the best hybrids typically come with an assortment of useful add-ons, such as some rear mounting points for racks, additional clearance for fenders, and built-in lighting for visibility. Sure, you can sometimes equip a road or a mountain bike in a similar way, but you end up making too many compromises when you're not riding it in its intended environment. All that is to say — hybrid bikes make for incredibly versatile machines that can be used for anything from a spirited ride around the park to a morning commute to work to a full-laden grocery haul on the way home. Below we've first outlined some careful considerations to help you with your search before breaking down our own recommendations for the best hybrid bikes.
How To Buy A Hybrid Bike
Features To Look Out For
Brakes: These days, disc brakes are pretty much standard fare amongst hybrids, and the bikes are made all the better because of them. For starters, discs offer more power than their rim-brake counterparts, meaning that they don't require as much grip strength to activate and that they're less tiring to use. And that's not all — they also provide far more control thanks to their improved modularity. To put it another way — discs have a much larger effective range of contact, allowing you to precisely dial in your braking according to your needs in the moment. It's worth noting that some lower-cost options may come with mini-V or cantilever brakes; while they're great if you're on a budget, they don't hold a candle in terms of performance.
Gearing: Most hybrids will come with a pair of chainrings and anywhere from 8-11 cogs in the cassette. In general, it's better to prioritize range in your rear gearing — the smaller jumps between each cog will give you far easy-pedaling adjustability than a change up front. While some cheaper models do feature a third chainring, the added gearing often comes at the expense of the bike's smooth-shifting performance. On the other hand, some bikes will come with just a single front ring. Sure, it comes at a bit of a compromise — sometimes your range isn't quite as filled out — but it more than makes up for it because of the simplified operation and improved chain security.
Extras: Although some hybrid bikes are decidedly simple affairs, others will come packed with helpful features to assist you on your commute. For instance, many are built with eyelets on the fork legs and rear chainstays for mounting cargo racks — an important feature to have if you plan on carrying anything other than a backpack. Still, others will include some sort of internally geared hub or belt drive system. In addition to being easier to maintain over the long haul, such items also allow you to easily change gears when stopped. Ultimately, most people will be fine with a pretty bare-bones hybrid bike; however, if you plan on using it for anything more than fitness, it's to your advantage to invest in a model with some extra functionality.
Jamis Coda S3
When you're in need of a solid budget bike for ripping around potholed streets, look no further than the Jamis Coda S3. First of all, it's made from Reynolds chrome-moly steel, a material that soaks up hand-numbing road chatter with ease. And because it comes with a full-size triple crankset and a wide-ranging 11-32 cassette, it has more than enough gearing to get you up even the steepest of climbs on your commute. But the best part is thanks to its high spoke count wheels, the Coda is basically bomb-proof, allowing you to spend more time riding and less time worrying about whether you'll make it home.
Fuji Absolute 1.9ST
For those who are willing to drop just a little bit more dough, the Fuji Absolute makes for an excellent alternative. With its lightweight A2-SL aluminum frame and fast-rolling 700 x 38c Kenda Tendril tires, it's much more performance-minded than the above pick, but that's not to say it's any less practical. On the contrary — it features a step-through design that allows for quick dismounts as well as a set of strategically placed rack mounts for convenient carry attachment.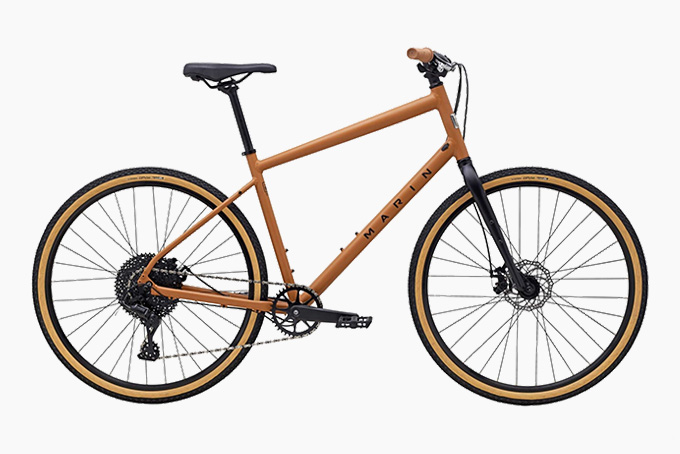 Marin Kentfield 2
Marin has been making hybrids long before they were cool, so it goes without saying that they'd land a spot here on our list. The Kentfield 2 is one such bike, combining a retro-modern aesthetic with a slew of high-quality components. For instance, it features a wide-ranging microSHIFT 1x drivetrain, a set of Power CX7 mechanical disc brakes, and a comfortable Marin Adventure Plush saddle. Add to that a set of durable double-walled rims wrapped in some flat-resistant 700 x 40c Vee tires and what results is a hybrid bike that's ready for anything.
Kona Dew
With its plush 650 x 47c tires and premium in-house aluminum touchpoints, the Kona Dew offers one of the best ride qualities at this price point. And that's not all — it also comes with a 16-speed Shimano Altus drivetrain and a set of integrated brake and shift levers, a combination that enables precise cadence control and immediate stopping ability. If you're after a bike that works as hard as it can play, the Kona Dew is an option that's pretty hard to pass up.
Giant Escape 3 City Disc
Hybrid bikes are often chosen for their commuting chops, and Giant's Escape 3 City Disc is a case in point. In addition to a full set of fenders, it also comes with a rear-mounted cargo rack and a kickstand — key features to have if you're looking to maximize your ride's versatility. And because it's built with a high-quality composite fork, clearance for up to 45mm of rubber, and a set of Giant's EasyRide Tubeless-compatible tires, it makes for an incredibly compliant ride over rougher roads.
Trek Dual Sport 3
As one of the only hybrids on our list with a bit of in-built suspension, the Trek Dual Sport 3 is an ideal option for tackling those tough mixed-terrain commutes. However, that's not to say it's any slower over smooth surfaces. Rather, with its convenient fork lockout and lightweight aluminum frame, it may skew towards mountain bike style, but it's just as quick to get off the line at a red light. And thanks to its powerful Shimano hydraulic disc brakes, you'll also be able to stop on a dime in the event an erratic driver cuts in front of you.
Canyon Roadlite 5
Part performance fitness machine, part leisurely after-hours cruiser, the Canyon Roadlite is the hybrid you want when you're looking for maximum rolling efficiency no matter how fast you're riding. It's driven by a smooth-shifting SRAM Rival 1x drivetrain and a massive 11-42 cassette, a combination that gives you just the right amount of top-end speed and over-hill grunt. Add to that some comfort-focused contact points — including a set of Ergon GA3 grips and a Canyon Sport Saddle — and it becomes pretty clear that the Roadlite is a cut above the rest.
Cannondale Bad Boy 3
While hybrids have always been seen as the ugly step-sibling to the likes of road and mountain bikes, the Cannondale Bad Boy is one option that proves an exception to the rule. For starters, it rides on a rigid Lefty fork, an item that not only looks the part but also allows for a much more responsive ride with the added benefit of clearing bigger tires. And because it includes a threaded bottom bracket, some integrated top tube bumpers, and a frame made from Cannondale's SmartForm C2 Alloy, it'll stand up to the gnarliest conditions your commute has to offer.
Specialized Sirrus X 4.0
With each iteration of the Sirrus, Specialized has made the platform increasingly suited to all-terrain riding. The latest model comes with the brand's Future Shock 1.5 — a micro-dampening system that provides up to 20mm of travel — as well as a set of treaded 700c x 38mm Pathfinder tires. In practice, this means that you can ride everything from choppy chipseal to light fire roads without so much as a second thought. But the best part is that thanks to its carbon fork and A1 SL alloy frame, it comes in a full 1.6lbs lighter than the lower-specced Sirrus 3.0 model.
Spot Acme
Sure, most people are unlikely to spend this much on a hybrid. However, for those that want one of the best fitness bikes on the market, the Spot Acme makes for a pretty compelling choice. Up front, it features a built-in dynamo hub, allowing you to charge your lighting simply through the power of your pedaling. And when it comes to the drivetrain, the Acme uses an 11-speed sealed Gates belt drive, an addition that's more weather-resistant than traditional derailleur setups while also being easier to maintain. Less of a bike than an extreme all-weather machine, the Spot Acme is a commuter that can't be beaten.
The 12 Best Bike Lights For Commuting
A solid hybrid is a good start on your path towards pedal-powered commuting; however, you can't set off without the necessary gear. Head over to our guide to the best bike lights for an assortment of offerings that'll keep you safe and visible any time you're out on two wheels.