While different forms of hunting sometimes require vastly different types of gear, there's at least one constant each and every hunter should carry along with the rest of his haul: a knife. While folding blades are excellent for everyday carry applications, they leave much to be desired when it comes to the great outdoors. As a result, we are firm believers that any hunter worth his mettle should make sure that his cutting tool of choice is a fixed blade.
However, even with the style of blade narrowed down that far, there are a lot of options available for purchase — many of which that are cheap in their overall quality and construction. To ensure that you're getting the best bang-for-your-buck (no pun intended), we've put together the following list of the 12 best hunting knives for the great outdoors. Most of these were designed specifically for hunting applications and some of them have a few extra tricks up their sleeve, but — whatever the case — they all make superb tools to be used in "the chase."
Fixed vs. Folding
A Quick Primer
Whether you're a die-hard hunter or you're just looking for a solid outdoor-focused cutting tool, you might be wondering why we are so against putting folding blades on this list. After all, there are so many really excellent folders on the market — many of which make great trail companions. Well, the reason is simple: folding blades have a lot of moving parts.
Moving parts means there's more of a chance for them to fail while you're using them — be that by breaking at the pivot point or by becoming jammed with mud, dirt, sand, or even blood and guts. Even knives that are easy to field strip still require much more attention than the most basic of fixed blade knives. It is for this reason that we believe the best hunting knives, simply by virtue of their fuss-free construction and simplicity of maintenance when compared to folders, must be fixed blade knives.
Morakniv Companion Fixed Blade Knife
Don't let this cutting tool's laughably low price fool you, as it's still one of the best outdoor knives of all time, period. Honestly, nothing you can find out there has quite as much value at such a low cost. From its comfortable and ergonomic rubberized handle to its Sandvik stainless steel blade, this knife is dependable across the board — whether you're hunting large or small game, waterfowl, or even just fishing. And while you might think a part of this knife's value comes from its easy replaceability, you should also know that it comes with a limited lifetime warranty against manufacturing defects. That way, if it fails you through no fault of your own, the brand will replace it for you, free of cost.
Kershaw 1896GH LoneRock Hunting Knife
Kershaw definitely has a reputation in the everyday carry world for making superb entry-level EDC folding knives, but that's not all they do. In fact, they make one of the most accessible and best hunting knives out there today. Called the LoneRock hunting knife, this blade features an easy-to-sharpen 8Cr13MoV stainless steel blade mated to a surprisingly sturdy glass-filled nylon handle. And while this particular knife would be pretty great with just a standard blade shape, it also benefits from having a gut hook built into it — making it perfect for field-dressing fish, small game, fowl, and anything else that needs to have its entrails removed prior to cooking. Best of all, it comes with a simple nylon sheath for easy carrying at all times.
CRKT Hunt'N Fisch Fixed Blade Knife
There seems to be this prevailing belief that hunting knives need to be large and overbuilt to the point of excess. We tend not to agree with that sentiment, and it seems CRKT are right there with us — as evidenced by their Larry Fischer-designed Hunt'N Fisch fixed blade knife. Measuring up at just 7.25 inches in total, this compact cutting tool is plenty for most field dressing tasks. That's only bolstered by the fact that it features a sturdy multi-layered G10 handle mated to its 8Cr13Mov drop-point blade. It's also equipped with multiple friction grooves on the spine of the blade for superb control during cutting and it has an included paracord lanyard, which is great for quick on-the-spot access to the knife and doubles as a survival tool.
Ka-Bar Becker BK2 Campanion Knife
While most folks know Ka-Bar best for their mil-spec fighting fixed blade knives, that's far from all the brand makes. And, while you could certainly get away with using their USMC Fighting Knife for hunting applications, we think their Becker BK2 Companion is a bit more suited to the task. Designed by Ethan Becker, a top-tier knife designer and maker, this beefy full-tang fixed blade was specifically made with outdoor applications in mind. It's got a full-tang 1095 Cro-Van steel blade, which is as reliable as it is easy to sharpen, mated to an ultra-durable Grivory handle. It also includes a glass-breaker tip on the hilt, comes with a hard shell black nylon sheath, and was made here in the USA. Really, what more could you ask for?
OKC RAT-5 Fixed Blade Knife
Most folks, at least in the everyday carry community, could speak monuments to Ontario Knife Company's fabled RAT folding knife. But, did you know the folder isn't the only knife of theirs to get the RAT designation? In fact, they have a fixed blade, perfect for hunting, called the RAT-5. Presumably named for its 5-inch, black-finished 1095 carbon steel blade, this 11.5-ounce knife comes with a tough Micarta handle, has a glass-breaker tip, and was made in the United States. It's a fairly no-nonsense design, which is perfect for hunters and outdoorsmen who agree that form and function should go hand-in-hand. For its price, this knife offers up some pretty incredible value.
Helle Folkekniven Hunting Knife
If there's a group of people you can trust to make solid outdoor hunting gear, it's the Scandinavians — as they've been doing it and doing it well for generations at this point. And while you might expect the descendants of Vikings to prefer hulking battle axes, you'll actually more frequently see arguments made for smaller, purpose-driven tools. Helle's Folkekniven hunting knife is one such argument. Featuring a stunningly beautiful curly birch wood handle mated to a sturdy and reliable Sandvik stainless steel blade, this compact outdoor cutting tool is a gorgeous addition to any outdoor gear loadout. It also comes with a simple, but handsome simple leather sheath — ideal for both belt and backpack carry.
Gerber Gator Premium Fixed Blade Knife
Sure, there's a lot of reason to love Gerber's exceedingly expansive cutting tool catalog. And the brand has more than a few really impressive blades in just about every budget category. But that also means it's difficult for any single knife to stand out against the crowd. However, their Gator premium fixed blade knife is a definite contender for the best blade they've ever built — from its overall quality of build, construction materials, and style standpoints. Don't let its name fool you; the handle is not made from alligator skin, even though it looks like it. Rather, it's an alligator skin-inspired texture of a rubberized handle. For some, that might be a downside, but — if you really consider the longevity of this knife — it makes for a better consistent grip and will likely last you longer than a natural leather, even from a reptile. It also features a beautiful clip-point S30V steel blade, has a lifetime warranty, a premium American-made leather sheath, and was made here in the USA.
Case Large Buffalo Horn Hunter Knife
Traditionally speaking, the best hunters in the world try to make a habit out of using every part of the animals they kill — including the bones. Case's Large Buffalo Horn Hunter knife is a modern throwback to that attitude and a fitting tribute coming from an American brand that's been in the game for more than a century at this point. This stunning knife also gets major style points for its saber-style Tru-Sharp surgical steel blade, which goes perfectly with its sturdy natural handle and premium leather sheath. Of course, along with the brand's legendary quality, this knife also has their lifetime warranty, so you never have to worry about it letting you down.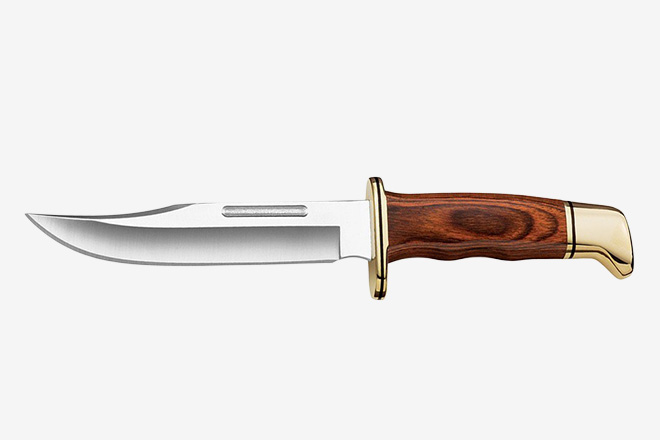 Buck Knives 119 Special Hunting Knife
With a name like Buck Knives, you'd expect this brand to have at least one good hunting knife in their repertoire — and you'd be absolutely right. In fact, they have quite a few. Our absolute favorite, however, has to be the 119 Special. From its incredibly gorgeous cocobolo wood and brass handle to its bowie-style clip-point 420HC blade, this cutting tool is the perfect balance between style and substance. And they didn't stop there; this thing is also perfectly balanced for the ultimate in cut control, comes with a high-quality snap-fastening premium leather sheath, is proudly made in the USA, and has a lifetime warranty. Truly, it doesn't get much better than this iconic heirloom blade.
Benchmade Saddle Mountain Skinner Hunting Knife
Benchmade has consistently proven time and time again that when it comes to bladed tools, they excel at every single thing they build. That is certainly no different when it comes to their hunting knives. Named for a mountain in their home state of Oregon, this impressive and beautiful fixed blade knife was specifically made not just for outdoor applications, but for hunting itself. This is most evident in the knife's drop-point large radius S30V blade, with its rather large gut hook on the blade's spine. The Saddle Mountain Skinner also features a stabilized wood handle, which — while it looks just as good as normal wood — is a whole lot sturdier and more well-equipped to handle difficult and strenuous tasks, like field dressing game of all sizes and shapes. Let us not forget that this blade comes with Benchmade's lifetime warranty, a lifetime of sharpening through the brand's LifeSharp service, and that it was made here in the United States.
ESEE Knives 5P Fixed Blade
When it comes to bladed tools built for extreme outdoor usage, few knife brands are quite as masterful as ESEE. And with offerings like their 5P fixed blade, it's easy to see why. Lightweight but still exceedingly rugged, this hunting knife features a 5-inch black-finished 1095 stainless steel blade mated to a textured Micarta handle, and it can be easily attached to your belt or tactical backpack via the included Kydex sheath. Plus, while it's certainly well equipped for even the most rugged of hunters, it also features a glass-breaker tip — making it perfect as an emergency survival knife, as well. What's even better, though, is that this knife is also available in a few different colorways … if you're into that sort of thing.
Spyderco Proficient Hunting Knife
Known best for their uniquely-shaped tactical folding EDC knives, Spyderco actually does have a fairly comprehensive collection of fixed blades that have come out over the years. Perhaps their best — especially when it comes to hunting — is their Proficient in carbon fiber. Not only does this knife have a superb ergonomic handle made from one of our favorite materials, but the blade is crafted from super high-quality S90V steel and it comes with a premium leather sheath. With its blade measuring up at 4 inches in total, this isn't nearly the largest on our list, but it definitely doesn't have to be to stand out from the crowd. If you can afford the high price, there just aren't any blades out there better than this one.
10 Best Hunting Boots For Men
Any real hunter could tell you that a proper outing requires quite a lot of walking. And that means that your footwear is just as if not more important than any other piece of gear. Treat your feet right by going out for your next hunt in a pair of the best hunting boots for men.