In the Stone Age, hunting was a primary way to obtain sustenance for survival. Today, hunting is still in our blood and an activity that's widely practiced. The sport of hunting is all about problem-solving, as you study every detail of your prey, sensing and feeling the rhythm of their movement so you can plant the perfect kill-shot. Although it's seen as an unnecessary activity to some, others see it as a satisfying connection to our more primal, savage selves.
There are plenty of places to hunt, especially in Africa and the Americas, and each location will present you with different game. The various backdrops and terrain also present different challenges, testing your willpower and ability to adapt so you can catch your prey. We've rounded up the absolute best places to hunt, based on the animals available in the area, the reputation of the hunting grounds, and the adventurous obstacles or beautiful views each location presents.
Safety First
A Quick Disclaimer
Wherever you decide to go hunting, the area will be full of anxious first-time hunters, veteran predators, and everything in between. Safety is at the absolute forefront when it comes to hunting, which is why we want you to take every precaution necessary when you embark on your hunting journey. It would be best to have a professional guide to help you navigate through the area and assist you in following the rules of the sport. There are also some basic safety rules to keep in mind as you hunt:
1. Keep the barrel of your firearm pointed in a safe direction at all times.
2. Treat all firearms as if they're loaded and keep your finger off the trigger until you're ready to fire.
3. Be absolutely sure of your target and what's beyond it.
4. Make sure you wear hunter orange so you can be seen. If you bring a dog, make sure they wear bright colors as well.
5. Be aware of the range of your firearm.
6. Study the area you're hunting in and take a GPS or compass.
Alberta
Alberta offers world-class whitetail and various fowl to test your skills. It's also known for outstanding record-book trophies, including the world record for a bighorn sheep. There are also plenty of enormous beasts roaming the beautiful landscape, such as black bears, trophy elk, monster mule deer, and giant Canadian moose. If you have your eyes to the sky, there are also several areas for goose and duck hunting. Alberta offers plenty of opportunities to test your skills and you'll be sure to reach your daily hunting limits. There are plenty of reliable companies you can book a hunt through like Alberta Outdoors to acquire the help of professional guides.
Argentina
Argentina has one of the most regulated hunting industries in the world. If you're looking for the cream of the crop, the Patagonia region is where you should haul your gear. There's a diverse range of species, such as stag, black antelope, and water buffalo to choose from. One of the main attractions is the wild Pere David's deer, as Argentina is one of the only places you'll find them. Besides the beasts roaming around, the views of the natural wonders are spectacular as well, creating a calm, serene atmosphere for pure focus on the hunt.
British Columbia
The white cliff climbing mountain goats are the main prize in British Columbia. They also roam in several western states, but they're abundant overseas. Non-residents are required to hire local registered guides, which works in your favor because the mountain goat hunting areas are remote and rigorous. For those who love to hike, getting to ideal hunting locations calls for a couple days of trekking. The hunting spots are also filled with grizzly bears, black bears, wolves, and mountain lions, so you'll be in good company. Living out of a tactical backpack, you'll be dealing with
cliffs, ledges, and rocky spires, making this experience perfect for adventure fiends.
Florida
Osceola turkeys are widely considered the most difficult big game feathered challenge on Earth, and Florida's littered with plenty of them. They live in subtropical swamplands and start gobbling in January, peaking in March. In some areas in Florida, the cover is immensely thick that it takes a masterful eye to get a clear view of a bird and set up a clean shot. Hunting on public land is available, but you can also pay for access to private farm and ranch lands if you're willing to drop the dough. In addition to turkeys, Florida has some other interesting game, including prehistoric-looking wood storks and man-eating alligators.
Montenegro
With practically untouched landscapes and an amazing countryside, hunting is a commonly practiced sport in the small country of Montenegro located in Southeastern Europe. The wildlife thrives in the rich jungles and forests of Montenegro, providing you with a wide variety of animals to pursue, such as duck, quail, turtle-dove, wild boar, bears, and even wolves. If you're looking to target some hot spots, Mount Durmitor and Skadarsko Jezero are popular hunting grounds to exercise your sharpshooter skills.
Pakistan
If you're looking for hunting terrain that will truly test your might, Pakistan is the place to go. There are plenty of mountainous regions in Pakistan where you can hunt for several exotic animals, including the Himalayan ibex, blue sheep, and the markhor. Pakistan is also home to the second highest peak in the world located in the Karakoram range, making for an epic rock climbing adventure leading up to a man vs. beast showdown. There are a limited number of hunting permits issued by the wildlife department of Pakistan, which are sold in open auctions, so you should plan ahead. If extreme physical obstacles aren't preferred, there are several areas in Pakistan where hunting is so easy you can do it roadside.
South Dakota
Known as the pheasant capital of the world, South Dakota is filled with flying game. However, it's not a walk in the park to hunt in South Dakota. You'll be dealing with below zero temperatures and high winds, giving you the toughest upland bird hunting experience in the country. To get to optimal spots, you'll have to endure long hikes through thick grass. But, its all worth it when a snow-covered cattail pops up from a clump and enters your crosshairs. Pheasants are keen to noises and are great at playing hide-and-seek, so you'll have to bring your A-game to bag some birds.
Tanzania
Located in East Africa, Tanzania is referred to as the "African Hunter's Paradise." It's filled with a variety of national parks and game reserves and is considered by many to be the ultimate hunting destination. Tanzania contains the Selous Game Reserve, which is the biggest hunting ground dedicated to ethical hunting. There is plenty of big game, including lions and buffalo, as well as other exotic animals like the Sitatunga, Lesser Kunduk, and Gerenuk. You can also head to Gombe Stream National Park and Mkomazi Game Reserve to try your luck with mighty rhinos.
Texas
Everything's big in Texas and that includes the hunting grounds. Texas ranks first in total antlered buck harvest so you'll know the landscape will provide you will plenty of opportunities to catch some big game. Some hunting headquarters, like Ox Ranch, guarantee a 100% opportunity to encounter creatures with the help of a professional guide. Texas offers more than 60 species free-ranging over thousands of acres including blackbuck, blue wildebeest, white buffalo, and the scimitar-horned oryx.
Wrangel Island
Paleontologists believe the last wooly mammoths roamed Wrangel Island before they went extinct. However, they weren't the only majestic Ice Age beasts to live on Wrangel Island, as the musk ox shared the living space with the great wooly mammoths. Unlike the mammoths, the musk ox is still alive and thriving. These mature bulls are about five feet tall and weigh anywhere between 600 to 800 pounds. Wrangel Island makes for a perfect extreme setting for hunters welcoming of a challenge as it gives you a freezing, windy, isolated playground in the western Arctic Ocean.
12 Best Hunting Knives For The Outdoors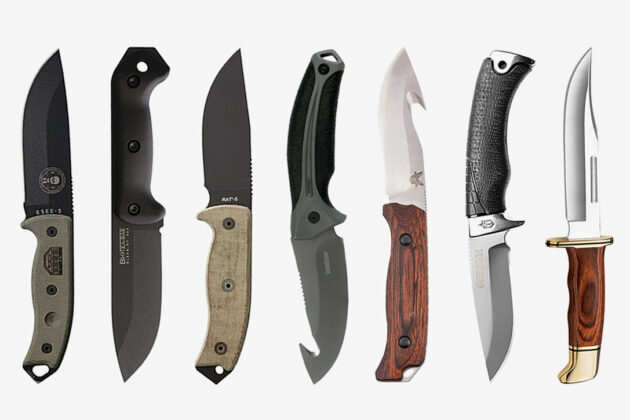 So you've picked a hunting destination and have your trip planned out. Now, it's time to start thinking about the gear you'll be packing for the hunt. Check out our list of the 12 best hunting knives for the outdoors so you can use one as a trusty sidekick on your adventure.