In hunting an animal, you sharpen your skills of anticipation. Hunters track and observe the movements and subtle mannerisms of creatures to set up a swift and clean kill-shot. The more experience you gain, the smoother the hunt goes, and reading the body language of animals becomes second nature. To stay ready out there in the field, you need the perfect pack to carry all of your food, water, outerwear, field-dressing equipment, and gear to make your pursuit run as smoothly as possible.
You may think any normal backpack will fit the bill for the chase, but you'll see the difference in acquiring a pack built for hunting. Hunting backpacks are built to be stout to survive rugged terrain and protect all of your goods while you focus on your target. If you enjoy the hunt or are just getting into the sport, there's plenty of gear you need to grab before heading out. To make shopping for your gear a little easier, we've rounded up the best hunting backpacks to take out in the backcountry.
Investing in a high-quality hunting backpack will make your outdoor experience far more promising. Although it may seem like you can use any type of backpack to test your predator skills, a legitimate hunting backpack will be more efficient for the task at hand.
Spacious
Make sure the hunting backpack has ample space to carry your gear, including meat. A sizable bag should be around 2,000 cubic inches, but more capacity is also recommended just in case you need the extra space.
Versatile
Test the straps and belts for adjustability, checking to see if you can haul a bow or rifle. You'll also want a backpack with moisture and abrasion-resistance since you'll drag the pack across various types of rough environment.
Discreet
You'll want a quiet hunting backpack that won't startle your prey. So, we do recommend testing the backpack at a physical store if possible. You'll also want to consider the print of the backpack as well, settling on whether you want a camo pattern or a solid, earthy color, depending on where and what you're hunting.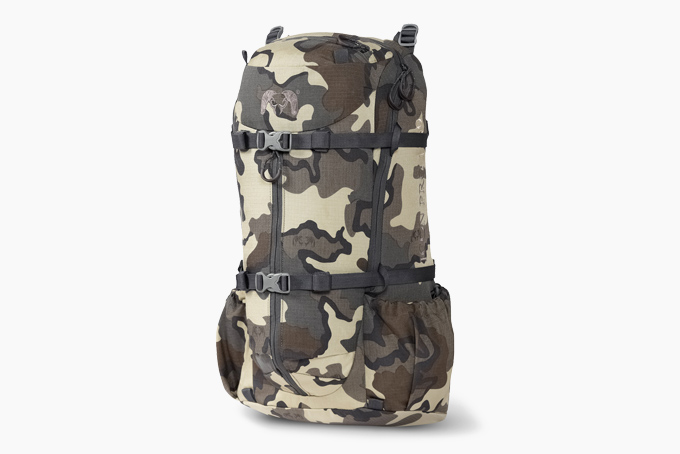 Kuiu Icon Pro 1850
Touted as Kuiu's most versatile day pack, the Icon Pro 1850 Hunting Backpack has a full-size horseshoe-zip opening to the main compartment, four internal pockets, four external pockets, and two side stuff pockets. The pack also includes four removable accessory straps, dedicated compression straps for even load distribution, and a zippered hydration port to help you stay hydrated out on the field. The water-resistant backpack is also tested to hold up to 150lbs, so you can haul all of your gear. Pair this backpack with the Kuiu Carbon Fiber Frame and the Icon Pro suspension to create the ultimate carrying system.
Kuiu Taku 9000
Built using resilient TPU-coated 420D nylon double ripstop fabric with fully taped waterproof seams, the Kuiu Taku 9000 hunting backpack will protect your gear no matter where you go. The 9,000-cubic-inch bag is made to organize your gear, including optics and compact accessories. With rounded edges along with removable, reversible shoulder straps, and ergonomic foam padded handles, the Taku 9000 will feel snug on your back, reducing the strain of your all of your gear. And with a minimalist design, the backpack is a lightweight option to help you travel by vehicle, plane, or boat without any issues on the way to your hunting destination.
Slumberjack Carbine 2500 Highlander
Ready for minimalist overnight deer and small game hunts, the Kryptek SJK Carbine 2500 provides you with a multi-use compression system to secure your gear or be used as a trophy carry system. It has three small pockets on the front for quick access to your compact essentials and two large side pockets for bipods, optics, and more. It also boasts a built-in rifle rest to stabilize your aim and a lightweight, tough suspension to help you carry heavier loads. The 2,500-cubic-inch capacity of this pack ensures you'll have access to everything you need for your next hunting trip.
Tenzing TZ 2220
Providing you with 2,400 cubic inches of carrying capacity, the Tenzing TZ 2220 hunting backpack is light and fast, keeping you swift on the trail. You can carry a bow or gun in the fold-out boot, as well as load additional gear with the convenient webbing straps. For breathability, it has a high-quality air mesh suspension system to keep you comfortable under pressure and Robic rip-stop fabric for added strength in high-stress zones. The overachieving backpack also features an internal, fluted aluminum frame stay, fold-out rain cover, and a water-compatible hydration bladder.
Badlands Clutch
Four years in the making, the Badlands Clutch hunting backpack was made to be the ultimate carrying solution regardless of the terrain. It has a T-6 aircraft aluminum frame, detachable hydration system, integrated rain cover, and molded foam suspension for comfort and balance. It can haul an enormous load of equipment, including your bow or rifle, while providing you with complete control. To further solidify its case of being the perfect hunting backpack, it comes with a detachable day pack, zippered back-panel access, and a bucket lid opening so you can get to what you need quickly.
Kifaru 22 Mag
Constructed to be used with the Kifaru Duplex Frame, the 22 Mag can handle heavy loads and hellish terrain thanks to its 500D DWR-coated Cordura fabric. The backpack will keep your ammo, scopes, medical equipment, and other accessories organized with a full-zip front panel and spacious bellowed pockets with connection points. To keep your load stabilized, it features two horizontal compression straps and bottom straps so you can hold sleeping pads, in case you need to camp. In order to keep you hydrated on the field, this hunting backpack also has an internal water bladder with two hose ports.
ALPS OutdoorZ Extreme Commander X
For remote backcountry trips to test your aim, the ALPS OutdoorZ Extreme Commander X will help you carry all of your gear and any meat you earn. The main pack detaches from the frame, allowing you to use the frame to haul meat or strap a game quarter to it before reattaching it to the pack. It's made from 1,690D ballistic nylon and Robic nylon for lightweight but super-tough construction that will go the distance. It also has heavy-duty zippers, a fleece-lined spotting-scope pocket, side pockets, and a gun drop-down pocket. The very top pocket on the pack can convert into a fanny pack to keep your compact gear close.
Eberlestock G4M Operator
For extended use in the gritty backcountry, the Eberlestock G4M Operator Backpack is constructed using 1000D Cordura nylon. The pack will keep your supplies and equipment safe and organized with internal and external PALS (Pouch Attachment Ladder System) webbing for various MOLLE attachments. The removable top storage compartment is fitted with weatherproof sections and can be converted into a fanny pack. It also has a pull-out rain cover to keep your gear dry in wet conditions. If you're still on the fence about picking up this backpack, take comfort in knowing it comes with a lifetime warranty.
Exo Mtn Gear K2 2000
This 2,000-cubic-inch backpack also has a 950-cubic-inch roll-top collar and stretch pocket, as well as a 2,500-cubic-inch load shelf area, making for a grand total of 5,450 cubic inches. You can organize all of your gear with the pack's various pockets, including a hidden lid, mesh organization, and angled side pockets. It's also equipped with 14 compression straps to keep a wide variety of loads secure. The daypack is paired with the K2 Frame tested to carry over 250lbs. The frame has heavy-duty compression straps, hip belt attachments, and assist-pull hip belt webbing to help eliminate slippage.
Mystery Ranch Metcalf
The Mystery Ranch Metcalf is an all-star hunting backpack with functional expandability, giving you enough volume for over one week in the field. It's built on the 'Guide Light Frame,' giving it sufficient heavy-weight capacity with load-lifters to stabilize what you're hauling. The frame also features a waist belt system that positions itself in a natural, forward direction over the hips to efficiently distribute weight to eradicate slippage. It also features Mystery Ranch's proprietary 'Futura Yoke' for the appropriate amount of stand-off between the frame and back.
Mystery Ranch Marshall
Expansive, easily accessible, and full of features perfect for the stalk, the Mystery Ranch Marshall has it all. Just like the Metcalf, it sits on the reliable 'Guide Light Frame,' allowing you to carry hefty loads without any issues. The pack is made with 500D Cordura, resilient TPU-coated nylon in high-stress areas, and YKK zippers. You can store a sleeping back in the bottom 'Speedzip' and stuff essential gear in the full-length side zip on this pack, so you can look for clean shots without any distractions.
Sitka Mountain Hauler 6200
Built for extreme and experienced mountain hunting, the Sitka Mountain Hauler is a beast mode backpack with up to 5,000 cubic inches of capacity. You can place an elk quarter on the load-hauling shelf with no issues while keeping your gear secured in a separate location for easy access. The hunting backpack has three-layer multi-density hydrophobic foam pads located at the hip and shoulders for cushioning that won't chafe with a heavy load. The frame is made with 6061-T6 aircraft-grade aluminum, allowing it to carry up to 150lbs while only weighing a mere 6.4lbs.
15 Best Hunting Dog Breeds
The perfect hunting backpack will go a long way in assisting you on a weekend in the field. But there's no better hunting companion than man's best friend, which is why we've identified the best hunting dog breeds to keep by your side.