While huaraches grew immensely popular within hippie culture in the late 1960s and hipster culture throughout the 2010s, owners of the easy-going shoe would be remiss to overlook its humble beginnings. The ancient sandal first came to shape in Mexico, often worn by the likes of farm workers in the pre-Columbian era, meaning the general style is well over 450 years old. Nevertheless, it's safe to say the silhouette has withstood the test of time, as it's undoubtedly one of the most popular shoes for men to wear in the summer.
Finding the perfect pair of shoes to wear around this time of year may be bothersome, so we figured this guide to one of the season's best options was worth putting together. If you're trying to stay cool, casual, and comfortable, then few footwear options check all the boxes like a pair of huarache sandals. Plus, many of the brands that do handcraft these wondrous woven sandals do so in a sustainable and fair manner, so everyone tends to benefit from them, including the Mexican craftspeople so often tasked with making them. So get your feet ready for summer with our below guide to the 8 best huarache sandals for men to wear this season.
Espiritu Eternal Huarache Slip On
Like all the picks that follow, Espiritu's offering puts comfort and craftsmanship at the forefront, resulting in a casual shoe that will gradually adapt to the shape of your foot. Additionally, the Eternal Huarache Slip On leaves little-to-no carbon footprint, as part of the brand's strive for sustainability. The shoe is made from organically sourced materials, undergoes a vegetable-based dying process, and sits on a set of cushioned rubber soles.
Dandy Del Mar The Huaraches
Masters of leisure Dandy Del Mar named its interpretation "The Huaraches," going to show that it's a shoe that speaks for itself. The sandal sits on a cushy triple-layered sole above a reinforced heel and boasts a smooth, top-grain leather weave for that quintessential picnic basket look that's perfect for relaxing by the pool with a drink in hand. While they were designed in California, The Huaraches are handcrafted in Mexico, completely maintaining the shoe's integrity.
Knickerbocker Huarache
Knickerbocker is adept at crafting all sorts of pieces, but its commitment to refining the classics is what makes the New York-based clothier so special. The boutique's take on this matter features a hand-woven leather upper, sits on leather insoles, and is finished off with a natural rubber outsole. It's crafted in a family-owned workshop in Michoacán that has been hand-making huaraches for over half a century. That said, there is little room for error with this veteran option.
LUCA León Huarache
LUCA's footwear catalog is unapologetically cool, managing to go hand-in-hand with the simplest looks you have in mind. This sentiment applies to its chic León Huarache as much as any other shoe it has to offer, boasting roughout leather-woven uppers so that the top of your foot is kept comfortable. For durability's sake, the sandal sits on a contouring leather footbed that requires zero break-in time, ultimately making it seem as though the shoes were tailor-made. This huarache garners its namesake from its Mexican city of origin, as each pair is handmade in León, Mexico.
Chamula Cancun
Chamula's handsome Cancun is easily one of the most stylish options the market has to offer. Not only that, but it's one of the more comfortable choices, too. The vegetable-tanned leather shoes sit on a pair of flexible, shock-absorbent EVA soles for durability's sake, providing a trusty huarache that won't break down on you too soon. It also comes available in a trio of subtle colors, any of which will go great with whichever outfit you have in mind.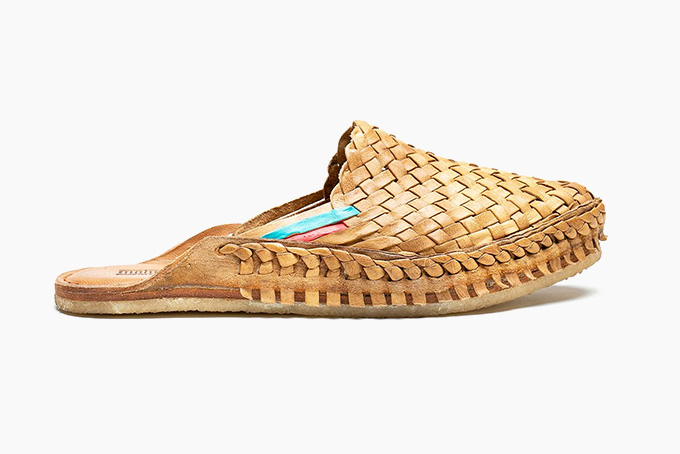 Mohinders Woven City Slipper
This unique pair of Mohinders stands out among the rest from a style perspective, as the Woven City Slipper practically doubles as a mule. Regardless, it's a stylish choice that speaks for itself, boasting handmade water buffalo leather uppers that will only deepen in color as they patina over time. The Indian-made shoes are finished off with a soft leather lining and sit on a custom-formed footbed for maximum support, the latter of which neighbors a stacked leather midsole and durable crepe rubber outsole.
Nisolo Huarache Sandal
Nisolo is another brand that makes its sustainable mission statement as clear as day, and this handsome set of huaraches is a major part of that. First off, it comes available in over eight different colors, so there's basically no way you won't find a suitable pair for your wardrobe. As far as comfort goes, the water-resistant leather shoe is incredibly breathable and sits on a flexible rubber sole, deeming it a great, versatile choice to slip into all summer long.
Yuketen Alejandro Huarache Sandal
A co-sign from Todd Snyder typically proves that you sit in the pantheon of timeless menswear, and it comes as no surprise that Yuketen's handsome Alejandro Huarache has earned the New York designer's nod of approval. The hand-cut-and-woven shoe sits on a USA-made Vibram 2060 outsole for maximum comfort, going to show that veering from tradition isn't always a bad thing. Additionally, it features shaved edges on each leather strip for added softness and a touch of luxury.
Honorable Mention
The Non-Traditional Option
Vans Vault x Taka Hayashi Style 47 Huarache
You typically don't see Vans like this, but its sublabel in Vans Vault often manages to throw many of its traditional designs for a loop. Here, head designer Taka Hayashi puts his innovative, huarache-inspired spin on a pair of classic sneakers. The uppers are crafted from supple, soft, tan-colored suede and rounded out with sturdy buckle hardware for adjustment's sake, allowing you to dictate the feel of these unique shoes with every step you take.
The 15 Best Slip-On Shoes for Men
If you've been on the lookout for some easy-going kicks, then you'll find a bounty of notable options in our guide to the best slip-on shoes.