It goes without saying that our homes are our own personal space. They're the haven that we return to after a long day at work, the spaces that we unwind within during our days off, and the foundation for some of life's most memorable moments. As such, they are a direct reflection of who we are, speaking volumes of our creativity, our tastes, and our intricacies.
Everything in the home can be seen as an extension of oneself, and with that in mind, companies, designers, and manufacturers have created an endless selection of items to keep our lives in constant progression. From wine openers and specialized ice cream scoops, all the way to entertainment centers, sound systems, and furniture, there are a plethora of ways to exhibit your own personal style within your space. Below, we've outlined some of the finest gifts to give those who are looking to take their living area to the next level. And the cherry on top? Each of these attractive items arrives at a price point below $50, so you won't have to break the bank to enhance your dwelling before family and friends show up for festivities this holiday season.
TPLink Kassa Smart Plug Mini
TPLink's Kassa Smart Plug Mini is the perfect gift for the technophile, offering a unique outlet solution with integrated voice control to turn your favorite electronics on, and off, from anywhere. Each example is compatible with Amazon Alexa, Google Assistant, and Microsoft Cortana to offer a hands-free experience wherever you are. And thanks to an external app for iOS and Android, you'll be able to access, monitor, and control your smart plug from anywhere.
Parks Project Appalachian Trail Poster
Parks Project loves to support the world's most beautiful environments, and thanks to products like the Appalachian Trail Poster, you'll be able to advocate for a better tomorrow, while also bringing a tasteful design element into your home. Each artistic example is printed on premium, FSC-certified paper, boasts responsibly sourced materials, and is made right here in the USA, with 10% of its sales going toward the conservancy of the trail itself.
Anthropologie Copper Hanging Planter
With Anthropologie's Copper Hanging Planter, you'll be able to provide the perfect amount of rustic charm to any indoor space. Each example adds a tasteful touch to the living area thanks to its attractive steel construction, and acts as the perfect place to plant, grow, and foster your favorite pieces of foliage in a unique way.
Homesick New York City Candle
Any living area would be better off with its own unique scent, and thanks to Homesick's New York City Candle, you'll be able to capture the essence of the Big Apple for use within your home. Each example arrives with an aroma of floral and concrete, mirroring the scents of Central Park in the spring. And with natural ingredients like Bergamot, Lemon, and Grapefruit, you can rest assured in the knowledge that your space will always have an attractive, distinct smell.
IKEA Lack Coffee Table
Minimalism is in, and that means that nearly all of IKEA's furnishings are the perfect addition to any home. The Lack Coffee Table, for example, is a simplistic centerpiece that's been designed to house all of your favorite magazines and living room accents, while also keeping your area's image clean and concise. A set of FIXA self-adhesive floor protectors are also included, helping to keep surfaces like hardwood, tile, and vinyl safe from abrasions.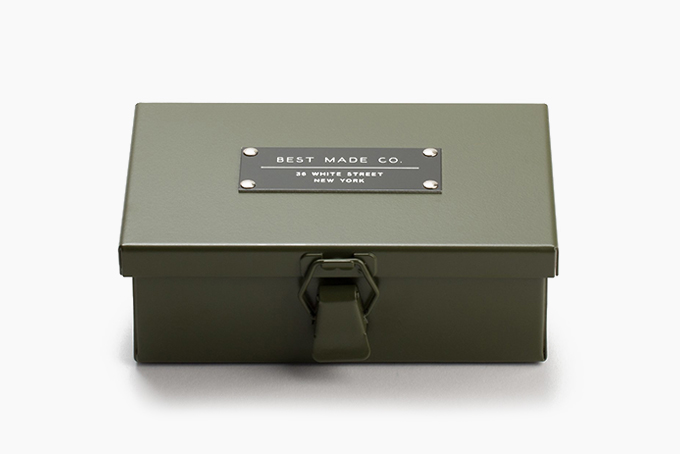 Best Made 6" Strong Box
Find a handsome strong box to house all of your favorite items can be a difficult affair, but thanks to Best Made's attractive six-inch offering, it's easier than ever to accent your home's vintage aesthetic. Each dependable variant is crafted in the USA from a heavy-duty, 22-gauge steel, which has been powder-coated for additional resistance and reinforcement. Everything from treasures and tickets, all the way to flashlights, knives, and other EDC items can be stored inside, helping to keep them protected from the elements via a durable snap latch safety at the box's front.
Amazon Echo Dot
With home interiors trending toward the "smarter" side of the spectrum, it makes sense that Amazon's Echo Dot would be a perfect gift for any parent, friend, or loved one. It's the monolithic brand's most popular smart speaker, and comes with improved Echo Dot Gen 2 stereo sound for richer and louder bass, treble, and midtones, while also boasting an entire suite of voice controls to keep things like Apple Music, Amazon Music, and Spotify as accessible as possible. You'll even be able to check the news, adjust thermostats, turn on lights, and lock doors with the sound of your voice, making this versatile device a do-it-all helper for the modern dwelling.
Tile Style and Sport Combo Pack
If you've ever spent hours of your life searching for something that you set down just minutes prior, you know the pain that running late to work, a meeting, or a meetup, can bring. Luckily, you'll never have to look for an important item again, thanks to Tile's Style and Sport Combo Pack — a set of small tracking devices that you can attach to the objects that disappear the most. With a 200-foot range and an audible ring that emits from the item for easy location, it's easier than ever to find the phone, wallet, or peripheral that's been eluding your gaze.
Grovemade Walnut Pen Cup
If you're all about accessible organization, finding the perfect desktop peripheral to keep all of your important writing utensils in one place can be a stress-inducing process. With Grovemade's Walnut Pen Cup, you'll be able to cross off two different checklists: the aesthetic, and the functional. Each of these attractive offerings is crafted from solid walnut before being hand sanded and finished with a clear, vegetable-based oil for a heritage look that's hard to beat, ensuring that you'll have access to all of your important items in one tasteful organizer.
Bradley Mountain Large Valet Tray
There are a ton of pocket-bound items that we carry around every single day, but when it comes time to empty them out, it's always a good idea to keep them within arm's reach. That's where Bradley Mountain's Large Valet Tray comes in. Not only is it a great way to keep all of your important items in a single location, but it also boasts a high-end, vegetable-tanned leather construction that's been waxed and oiled to exude an aura of heritage charm. Better yet, a set of durable copper rivets holds it all together, giving this USA-made organizer a long-lasting nature that only gets better with age.
Chemex Classic Series Coffeemaker
Chemex is a household name when it comes to coffee making, so it's only natural that they make an appearance on your list of best home gifts. The company's Classic Series Coffee Maker is crafted with a non-porous Borosilicate glass to keep odor and chemical residue at a standstill, while providing the perfect container to keep coffee covered and refrigerated without losing its flavor over time.
Boll & Branch Plush Bath Towel
It might not seem immediately obvious, but your taste in towels says a lot about who you are as a person. Luckily, Boll & Branch has you covered with its Plush Bath Towel — an attractive offering that's over-sized, exuberant, and long-lasting. Each design-oriented example is crafted with 100% organic cotton and boasts one of the most absorbent constructions in the industry, meaning you won't be judged by friends and family regarding your tastes in high-end drying accessories.
Modern Color By Fred Herzog
Show that you're a culture human with Modern Color by Fred Herzog, a forefather and pioneer of color photography in the era of black and white film. This quintessential coffee table book is sure to earn you a few lauded remarks; or, it can act as an insightful read when you're looking for artistic inspiration. Either way, you'll be treated to amazing Kodachrome slide film photography from the 1950s and 1960s, offering a new perspective of the era and one of its most prolific photographers.
MoMa Timesphere Clock
If you're a fan of minimalistic, Bauhaus-inspired timekeepers, then MoMa's Timesphere clock might be your next big buy. This Gideon Dagans clock is a subtle, but thought-provoking addition to any room, offering a unique, gravity-defying architecture that as eye-catching as they come. Each example boasts an injection-molded ABS plastic construction and a high-torque precision quartz movement to keep it as accurate as possible, providing the perfect aesthetic enhancement for those who fancy modern design.
Williams Sonoma Copper Lever Wine Opener
The holidays are always a time for celebration, and with Williams Sonoma's Copper Lever Wine Opener, it's easier than ever to open your favorite bottle with the skill of a seasoned sommelier. On its exterior, you'll find an attractive copper plate finish, while a durable copper zinc and nylon construction ensures that the peripheral will serve you well for years to come. Pair that with the device's carbon-steel screw and nonstick coating, and you've got a high-end wine opener that's fit for even the most enthusiastic of aficionados.
The 15 Best Sofas And Couches
If you're looking for other ways to enhance you in-home living area, head over to our guide on the best sofas and couches, where we outline some of the industry's finest offerings and give our two-cents on what makes them special.