Since wrapping our heads around germ theory in the 19th century, we've understood the importance of handwashing, and its ability to curb the spread of bacteria and disease, though recent world events have massively increased the need and frequency of this basic hygienic activity. And, while previously, soap wasn't an area we spent much time mulling over, as incessant hand washing becomes an increasingly customary part of our everyday lives, we figured it was about time we explored this part of the grooming segment to bring you the best hand soaps for men, because after all if you're going to be washing your hands ten times a day, you might as well be using the good stuff.
Germs and bacteria can be transferred onto inanimate objects like doors and railings, and then be picked up by anyone who comes into physical contact with one of these items. Furthermore, touching your eyes, nose, or mouth — something people routinely do without being conscious of — can allow germs to enter the body. Washing (thoroughly for at least 20 seconds) can cleanse your hands of these germs, while also ridding them of dirt and grime, and leaving your hands smelling fresh.
Luxury Lathers
Separating Premium Hand Soaps From Generic Ones
While the hand soaps available at your local grocery store will do the trick, there are numerous reasons why we'd argue opting for a more high-end liquid hand soap is well worth the premium. Generic soaps are made in massive quantities and produced with a focus on the bottom line, with companies typically using cheap, chemical-laden ingredients. And while this large-scale method is incredibly cost-efficient, it results in an overall lower quality product.
The more high-end liquid hand soaps on the market are usually whipped up in much smaller batches, using more artisan techniques and markedly superior ingredients. These smaller brands tend to also be much more environmentally-friendly than their corporate counterparts. The premium hand soaps on the market also come infused with significantly more pleasant, cologne-style fragrances that not only smell better, but can also pair quite well with the other masculine-scented products from your daily grooming regimen.
Unsurprisingly, the ingredients that comprise a liquid hand soap play an enormous role in said hand soap's overall quality. While generic store-brand hand soaps can clean germs and dirt from your hands, they far-too-often also rid your hands of natural oils that are secreted by the skin, leaving your hands and cuticles dry and cracked. The better hand soaps on the market often contain ingredients to replenish moisture or replace the natural oils being washed away.
Ms. Meyers Clean Day Lemon Verbena Hand Soap
Based in Racine Wisconsin on the shores of Lake Michigan, Ms. Meyer's Clean Day is a cleaning and grooming products company that takes a more holistic approach to its expansive product range. MMCD's wares are cruelty-free, sold in 100% recyclable packaging, USA-made using essential oils and plant-derived ingredients, and completely devoid of any and all phthalate, parabens, sulfate, or diethanolamine. This particular MMCD hand soap is infused with soothing aloe vera and olive oil, and is lightly-scented using the Lemon Verbena — a plant in the citrus family, indigenous to South America, and better known as the "Lemon Beebush." Ms. Meyer's also offers a handful of other Lemon-Verbena products including an all-purpose cleaner, dish soap, and hand-lotion from this same product line.
Detroit Grooming Co. Traverse City Hand Soap
Since emerging onto the scene roughly half a decade ago, the Detroit Grooming Company has quickly built an impressive name for itself in the men's grooming space, unveiling a growing number of unique, masculine-scented shampoos, conditioners, body washes, waxes, pomades, colognes, and a bevy of top-notch beard-care products. Detroit Grooming Co.'s Traverse City hand soap is no different, utilizing the same artisan principles and propensity for high-quality ingredients that the Michigan outfit has earned its reputation upon. Brimming with vitamins, essential oils, and other natural plant-derived ingredients such as aloe vera, this American-made liquid soap boasts a delightful aroma of cured cherry tobacco. What's more: if this hand soap's cherry tobacco smell happens to resonate with you, the company also has a beard oil and a beard butter that come in this same sweet yet refined scent, making it an excellent option to wear as a single scent across several aspects of your grooming regimen.
Rituals The Ritual Of Hammam Hand Wash
Rituals' Ritual Of Hammam line is a complete luxury bathroom and bathing product collection, comprised of a body cream, fragrance sticks, hair and body mist, shampoo, conditioner, massage oil, hot scrub, foaming shower wash, body mud, black soap, kitchen hand balm, a scented candle, and Kessa glove, all of which are bestowed with the fragrance of rosemary and eucalyptus — the latter of which has been used in Turkish baths and steam-rooms (also called "Hammams," hence the name) for millennia. Not only does this Japanese-style hand soap give off a wonderfully refreshing scent, but it also moisturizes and hydrates hands while cleaning them, replenishing natural oils that are lost in the hand-washing process. And, like the rest of the products in the Ritual Of Hammam line, the hand soap can be ordered in eco-friendly refill bottles.
APOTHEKE Charcoal Liquid Soap
Particularly effective against an oily epidermis, charcoal soaps do wonders for the skin, reaching in and breaking up dirt, grime, and oils, and drawing them to the surface where they can be washed away, thereby leaving tighter, firmer, and generally healthier skin. This charcoal hand soap comes from the premium, Brooklyn-based home goods and grooming product purveyors, APOTHEKE, and bestows the traditional charcoal soap formula with the scent of sandalwood, amber, oud wood, and cedarwood, along with the therapeutic benefits of aloe vera. And, like every product that's come out of APOTHEKE's factory since it first opened in 2012, this charcoal liquid soap is created using old-world production techniques, producing its goods by hand in small batches — a process that allows for a noticeably superior end product.
Dr. Bronner's Organic Shikakai Spearmint Peppermint Hand Soap
Dr. Bronner's Organic Shikakai Hand Soap is another top-notch formula that calls on natural ingredients to deliver and exceptionally effective, moisturizing liquid soap. Rather than charcoal, this certified organic soap uses natural sugar, which, unbeknownst to many, is actually a natural humectant. The brand sources its organic sugar from Shikakai seedpods before combining it with Dr. Bronner's popular Castile soap base and adding natural oils to give it an invigorating scent of spearmint and peppermint, along with a refreshing tingly feeling after the fact. Its effects aren't just limited to the hands, too, as this 4-in-1 soap can also be used as a body wash or shampoo, or it can be diluted (one part soap to 40 parts water) and utilized as an all-natural, all-purpose cleaning product.
Fast Orange Xtreme Fresh Scent Pumice Hand Cleaner
If you've ever spent an afternoon wrenching under the hood, then you're probably well-aware that regular hand washing soap doesn't even begin to fully cleanse your hands of the oil and grime that are indicative of mechanic work. Luckily, hand soaps that are infused with pumice — a porous volcanic rock that's ground down to a fine powder and mixed into soap — round-up gunk and grease from your hands and leave them spic and span. And, while most pumice soaps are masked with a citrus scent, this particular "Xtreme" version from Fast Orange — the undisputed leader in this segment — boasts the smell of a refreshing laundry-detergent. Furthermore, the stuff uses MicroGel technology and also features advanced skin conditioners that can moisturize your hands while still thoroughly ridding them of gasoline, epoxy, tar, or other harsh and stubborn chemicals.
Hudson Made Apothecary Rose Liquid Hand Soap
Despite existing in today's technologically-driven world, Hudson Made harkens back to a more simple time, churning out old-world-style products sustainably made exclusively using ingredients sourced from within 200 miles New York's Hudson Valley, (if not organically grown by the company themselves). Rather than using toxic chemicals to fight bacteria, Hudson Made looks to vegetable and essential oils, minerals, and flowers to create an effective yet gentle formula. Completely free of sulfates, the artisan east coast brand's Apothecary Rose soap boasts an individualistic, unisex fragrance of rose with subtle notes of cinnamon, patchouli, and germanium. Originally available as a bar soap before being released in liquid form, this soap's use of rose also affords it the ability to soothe irritated skin, including on users with sensitive skin types.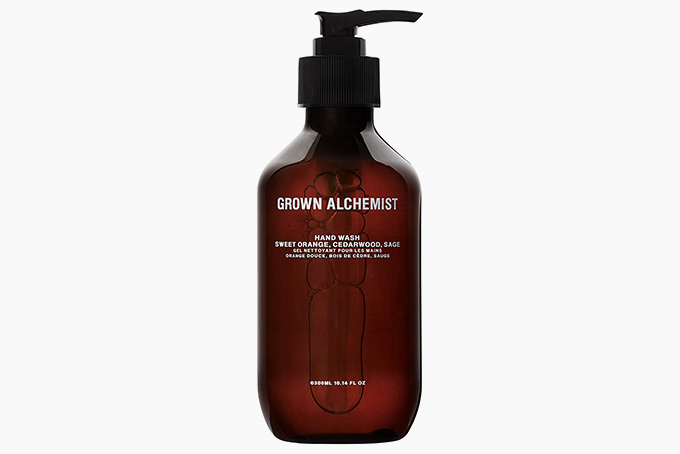 Grown Alchemist Hand Wash
Created by brothers Jeremy and Keston Mujis and born out of two decades of intensive research and development, Grown Alchemist is a boutique Australian company founded behind two guiding principles: that beauty and health are inextricably intertwined; and that achieving the former shouldn't come at the cost of the latter. The Aussie outfit's Hand Wash is an incredibly-rich formula, combining many of the benefits and properties of a luxury hand lotion into a top-shelf liquid hand soap. This is accomplished by adding cold-pressed sweet orange oil, sweet almond oil, and flavonoids from pot marigold to soothe skin and act as a  moisturizer, while the presence of coconut oil and fennel seed help to bust up dirt and grime, while also bringing further moisturizing properties to the table. This finely-honed product is also 100% toxic- and cruelty-free and is certified organic.
D.S. & Durga Big Sur After Rain Hand Soap
While it is a liquid hand soap effective against germs and bacteria, what separates this soap from other entries on this list is its greater focus on scent, which frankly isn't surprising consider D.S. & DURGA is a fragrance company above all else. Inspired by the legendary American driving road along the central California coast, this luxury hand soap is infused with the nourishing properties of vitamins C and E, hyaluronic acid, glycerin, and green tea leaf. Vegan-friendly and cruelty-free, this high-end hand soap's scent was derived from the smells of the scenic west coast road, with fragrances of newly-fallen rain and of salty yet refreshing Pacific sea spray, combined with hints of the magnolias and eucalyptus that line the 650-mile+ coastal highway. Interestingly, this same scent is also sold as a Little Trees-style air freshener so you can enjoy the aroma of fresh rain on CA Highway 1 from inside your car or truck, regardless as to where you are.
Byredo Suede Hand Wash
Byfredo's Suede Hand Wash is one of the finest men's hand soaps on the market, made in small batches using ultra-premium ingredients and designer-grade fragrances. Byfredo produces this soap in France, using the same highly-calculated development and refinement process that goes into the Swedish luxury label's top-shelf cologne and perfume lines. This ultimately resulted in the Suede Hand Soap boasting a rich and dynamic scent that's an amalgamation of bergamot orange, musk, amber, fresh aldehydes, and a slightly sweet yet subtle note from the poisonous lily of the valley. Despite the use of a few chemicals common to colognes, this product still manages to be remarkably delicate on sensitive or irritated skin. It's probably also worth mentioning that this exact hand soap is utilized by a variety of high-end European restaurants and hotels.
Aesop Resurrection Aromatique Hand Wash
Since the company's inception in 1987, Aesop has been putting its own premium spin on health and beauty products, and that tradition is carried on through the Melbourne firm's Resurrection Aromatique Hand Wash. Dispensed in a transparent, low-foaming gel, a single-pump of this product effectively combats many viruses and diseases spread through contact transmission, a la your common hand-sanitizer, albeit without the dehydrating effects. And, in lieu of hand sanitizer's stench of rubbing alcohol, this top-shelf offering carries an aroma of orange, lavender, and rosemary, giving it an overall woody scent with discreet hints of mandarin rind. These top-shelf suds are also packaged in bottles made from 99.7% recycled PET material and are sold in environmentally-friendly refill bottles that forgo the pump-spout top, saving 12 grams of plastic per unit.
Tom Dixon London Hand Wash
Though Tom Dixon is better known as one of London's eminent lighting and furniture designers, the self-taught, Tunisian-born artist has grown his catalog to now offer a range of bath and body products. Part of TD's Eclectic Collection, this elite hand wash boasts an unusual black color due to the formula's black clay and charcoal content, which come together to exfoliate skin and clean pores. The soap's designer scent is reminiscent of black pepper, patchouli, and oud and cedarwood, which were combined to evoke the scent of smokey London red bricks and the city's bustling high-streets. And, not only does Tom Dixon offer a matching body wash in the same scent, but the London outfit also sells beautiful single and double-bottle countertop stands for its line of top-shelf soaps that are made from the same type of marble that was used to construct the Taj Mahal.
The 12 Best Body Washes For Men
While cleaning your hands is a great start, you've still got the other 95% of your body to consider, which is where our guide to the best body washes for men comes into play. Whether you're looking for something all-natural or for some suds with a bit of a cologne-kick, this list has you covered.