If you're interested in learning how to play electric (or even acoustic) guitar, you obviously need to pick up an instrument. But that's only the beginning of the gear you need to get to shredding. Second only to a guitar itself, you're also going to need an amplifier – the device responsible for projecting the sounds of your chosen guitar. The problem is: for a beginner, this task is as daunting as it is expansive.
There are a couple of tips that can help you out, however. First – as a new learner – you don't need a stage-ready amplifier or even a high-end boutique amp, as they are both far too powerful and pricey for someone just picking up the hobby. Second, you should look into amplifier versatility. As a new player, it's likely that you're still figuring out your own style – and being able to change up your sound without the need for a bunch of extra peripherals is incredibly valuable in figuring that out.
Once you've gotten your needs squared away, you're still going to need to pick an amp. And even if you're certain as to what you want, it can still be difficult to choose. But that's where we come in: we've rounded up the following 10 amps we believe are the top-tier options for beginner guitarists. So skip the hassles and heckles of guitar store salesmen and choose from one of these superb starter amps.
Behringer Ultracoustic AT108
While the bulk of new players will likely want an amplifier for their electric guitars, acoustic-driven music is still plenty popular amongst players of all skills. And while acoustics are fairly loud on their own, some players still want to pump up the volume from time to time, as well as shape their sound. And you can do all that without sacrificing the warmth of your guitar's sound with the Behringer Ultracoustic AT108. Perfect for home practices and coffee shop performances, this amp was specifically designed to enhance the volume and tones of an acoustic guitar (or, more accurately, an acoustic-electric). It also has a secondary microphone input to amplify your voice alongside your guitar.
Type: Solid State
Watts: 20
Speaker: 1×8
Channels: 2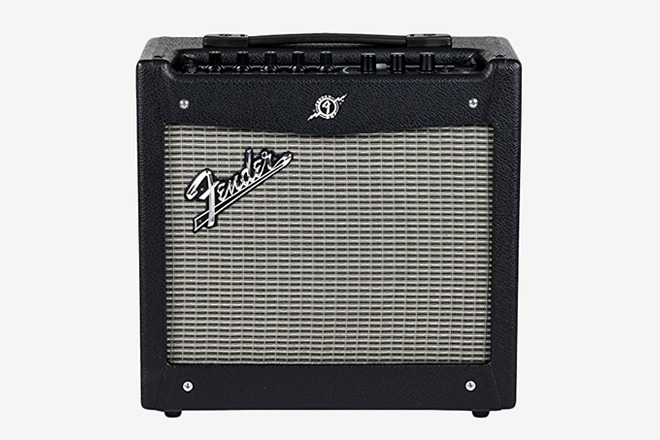 Fender Mustang V2
Fender made some pretty big waves when they announced their latest line of Mustang amplifiers – primarily because of their sound-shaping abilities. You see, the brand's modeling amp line has 17 preprogrammed amp models to choose from, as well as an auxiliary input so you can play along to your favorite tunes, and a wealth of included effects. The real highlights of this particular amp, however, can be found outside of the amp itself. You see, it includes a smartphone app that will let you shape the sound of the amp easily and remotely. Better still, the amp comes with its own recording software, so you can capture your songs at your leisure. For something so inexpensive, this amp packs a serious wallop.
Type: Solid State
Watts: 20
Speaker: 1×8
Channels: 3
Peavey Vypyr VIP 1
While Line 6 is probably the best known high-volume preset modeling amp brand, Peavey isn't far behind – and truly rivals the offerings of Line 6, both in quality and quantity. What's especially intriguing about this particular amp is that it allows you to choose not just the amp models and a wealth of applicable effects, but that it gives you the power to choose the type of instrument you're plugging into it – thusly shaping the rest of the options accordingly. Whether you play guitar, acoustic guitar, or bass, this amp can change it sound to suit the instrument. And that's a lot more than other competitors' amps have to offer. It also features a tap tempo, USB connectivity, a headphone jack, and more.
Type: Solid State
Watts: 20
Speaker: 1×8
Channels: 4
Bugera BC15
A sub-brand under the same umbrella as German brand, Behringer, Bugera has been flying under the radar for some time – though they make some surprisingly clever amplifiers. The BC15 is one such amp. Styled like its predecessors from the '50s and '60s, this vintage-inspired amp benefits from a single 12AX7 vacuum tube giving it a lot more warmth and character than for which you'll pay. And don't let its size fool you, either – while it only has a single 8″ speaker, it offers up a whopping 30 watts, making for a surprisingly loud little machine. For the price, it's seriously difficult to do better than this.
Type: Tube
Watts: 30
Speaker: 1×8
Channels: 2
Vox Valvetronix VT20X
A giant when it comes to the British amplification companies, Vox is always in the conversation when talking about great guitar gear. And that's no different when the conversation is about amps for beginners. As far as bang-for-your-buck options are concerned, the Valvetronix VT20X definitely ranks at the top – and with good reason: it features tube amp sounds, but with the versatility of a modeling amp (which it is). This impressive hybrid boasts 11 onboard models, 13 effects, and 33 preset programs – allowing you an astonishingly wide range of produceable sounds. And you can control the whole thing from your smartphone, making it easier than ever before. Excellent work, Vox.
Type: Tube
Watts: 20
Speaker: 1×8
Channels: 4
Line 6 Spider V 30
Line 6 gets a bad rap amongst the guitar community, due to the fact that they apparently operate on a 'quantity over quality' business model. The truth is, however, their digital modeling tech has improved vastly since that reputation stuck and they definitely deserve renewed consideration. And that's all the more true when it comes to beginning players. As you'd likely be learning how to play songs by your favorite artists, this amp with its massive array of presets (128 to be exact) will allow you to mimic your idols with little, if any, effort. And, honestly, it'll sound pretty great. It even has a built-in tuner, metronome to keep you on time, and real drummer loops so you can get in the swing of playing live.
Type: Solid State
Watts: 30
Speaker: 1×8
Channels: 1
Orange Micro Terror Half Stack
When it comes to classic British amp manufacturers, Orange is certainly one of the most legendary. And while many of their amps are pretty inaccessible unless you have many many zeroes in your bank account, they do offer a few superb inexpensive options – one of the best being the Micro Terror half stack you see here. Sold as a set, this tiny titan of an amp has all the brand's classic style and sound in a package that's just a fraction of the size. You might think that, with such limited functionality, it's a bit of a one trick pony – and it is, except it does that one trick better than anyone else. Of course, if you're looking for a more aggressive hard rock sound, you could always opt for the Micro Dark version for the same price.
Type: Tube
Watts: 20
Speaker: 1×8
Channels: 1
Marshall Code 25
Fawned over by hard rock-loving guitarists the world over, Marshall is one of the few amplification brands that really needs no introduction. And if you're looking for aggressive, overdriven rock – this amp is one of the best beginner's options. What makes this one really special, however, is the sheer number of sound-shaping options it gives you – thanks to its ability to model a whopping 14 MST preamps, 4 MST power amps, and 8 MST speaker cabinets. That's 448 possible combinations, if you're keeping score. You can even connect it to your computer via USB or use it as a Bluetooth speaker. If versatility is your top concern (it probably should be), look no further.
Type: Solid State
Watts: 25
Speaker: 1×10
Channels: 1
Blackstar HT1
A bit underrated and under the radar, Blackstar makes some superb amplifiers at a fraction of the cost you'll find from bigger name brands. And while it's a shame they don't get more recognition, it's good news for you, the user. This particular amp might just be the best option for apartment living – due to its small stature and low-level volume paired with the fact that it is still a tube amp. But don't let the fact that it's only 1-watt fool you – thanks to the simple truth that it uses tube amplification, it can still get plenty loud. Of course, if you're overly concerned about noise, this option also comes with a headphone jack, and it's one of the few tube amps to even offer that convenience.
Type: Tube
Watts: 1
Speaker: 1×8
Channels: 2
Fender Super Champ X2
If anyone has earned the right to two spots on this list, it's Fender. Sitting squarely at the top of the guitar and amp game, this Southern California company might be at their peak at this very moment – and that's a very good thing for you, if you want to get into playing guitar. This Super Champ X2 amp is a hell of a value, boasting the welcome bounce of Fender's signature sound in a package that wont break the bank. And what's even cooler about it is that it has 16 different amp modeling selections – meaning you still get the warmth of tube amplification with the right amount of modeling amp versatility. It also comes with two channels that can be controlled via an optional footswitch, and it's equipped with a USB port for easy and quiet recording.
Type: Tube
Watts: 15
Speaker: 1×10 Fender Special Design
Channels: 2
12 Best Guitar Brands In The World
There are a lot of six-string manufacturers out there, nowadays. And that can make it hard to discern which are good and which aren't. If you're looking for the best, however, you'll want to pick from one of these 12 – they're the best guitar brands in the world.