GoPro's cutting-edge camera systems made waves when they were first introduced into the market, and after years of tested use, they've become one of the world's most trusted compact capture proprietors. From action sports to aerial moviemaking and everything in-between, the company's distinct platforms have provided buyers with a way to turn everyday life into a cinematic adventure, etching its name in the annals of history as one of the most dominant camera companies for modern explorers.
Naturally, a successful camera line and a handful of industry-leading filmmaking equipment would lead suppliers to craft a menagerie of accessories focused on the optimization and enhancement of said items, leaving many GoPro customers with a bevy of interesting peripherals that they can utilize while out-and-about. Below, we'll outline the most prominent accessories and mounting systems to take your GoPro footage in a more professional direction, whether that be through stabilization, utilization, or capability enhancement.
Mounts
The Perfect Foundation
GoPro Flat + Curved Adhesive Mounts
There are a plethora of different GoPro mounts out there, but perhaps the most versatile of the bunch are these Flat + Curved Adhesive variants. Each set contains three flat and three curved iterations, each with their own industrial-strength adhesive that will allow you to place your GoPro on a variety of different surfaces, without having to worry about it falling off. Plus, each mount is waterproof, so you'll be able to utilize these attachment points within any ecosystem. When you're done, pop them off with a little bit of heat, and you'll be good to go.
GoPro ASURF-001 Surfboard Mounts
While a number of GoPro mounts are versatile enough to take on a few different jobs, there are always more niche endeavors that call for a tailor-made system. The GoPro ASURF-001 Surfboard mount, for example, was built exclusively for on-ocean use, allowing you to mount your device to the nose or tail of your board for interesting POV shots. If you're worried that you'll only be able to use the adhesive anchor, camera tether, and FCS plug mount for surfing, however, you'll be happy to hear that the mount also works great alongside kayaks, SUPs, boat decks, and other marine items.
GoPro Chesty
If you're looking to capture some awesome footage from a first-person perspective, look no further than the GoPro Chesty. Despite its name, this torso-bound accessory is all business, allowing wearers to mont their GoPro directly to the middle of their chest, while still being able to partake in a variety of different activities. Comfortability and performance are the key aspects here, bringing a fully adjustable sling system and a quick-release buckle that will allow you to adapt the harness to fit over clothing, regardless of size or weight. This way, you'll be able to document your endeavors without having to worry about the awkward extension of a helmet or off-body mount.
GoPro Suction Cup Mount
Last, but not least, we have the GoPro Suction Cup Mount. While the other mounts in this section were built for high-octane action sports and athletic use, the Suction Cup was created with automotive and vehicular activities in mind. Whether you're attaching your GoPro to a car, motorcycle, boat, or UTV, you'll be able to capture footage at speeds of up to 150 miles-per-hour, allowing for a wide range of different uses and applications. It features a quick-release base that makes shooting from different angles a breeze, and even utilizes an ultra-compact persona to give it inherent motion and stability enhancements on top of the camera's built-in image stabilization.
Accessories
The Icing On The Cake
GoPro Quik Key
When it comes to accessories, there's never a shortage of interesting tools that can take your GoPro experience to the next level. The first one we'll cover is the GoPro Quik Key — an easy plug-and-play alternative that allows you to access footage from your device's microSD card while on-the-go. Thanks to the Quik Key's micro-USB connector, you'll be able to utilize the GoPro mobile app on a handful of different smart devices, bringing your footage to your fingertips, thanks to an all-encompassing, carabiner-style clip and weather-resistant construction.
Incase GoPro Accessory Organizer
If you're going to be utilizing your GoPro as you travel, you're going to need a protective case to keep all of your accessories in one place. This easily-accessible Incase GoPro Accessory Organizer is the perfect way to keep all of your important items within reach, while still being able to keep things compact and efficient. Each example boasts a durable 1680D nylon construction, transparent window panels, and a removable nameplate area that can be used to keep different adaptors and power cables neatly organized.
GoPro Floaty
Have you ever wanted to take your GoPro out on the water, but been worried about the possibility of it being lost forever? Thanks to the GoPro Floaty, you'll be able to utilize your photo/video companion in any body of water without having to think twice about its buoyancy, thanks to an easy-to-spot orange housing that helps to keep your device's head above water. Each example features a wraparound design that doesn't hinder access to your device's buttons and touch screen and even comes with a tether point if you feel that the floating case might not be enough.
GoPro Shorty
Every traveler needs a selfie-stick, especially if you're heading out into the great outdoors solo. The GoPro Shorty is the company's own iteration of the generational accessory, providing an extendable, 8.9-inch arm that makes group shots, difficult angles, and selfies a breeze. But if you're not the type to elongate your arm for the perfect photo, don't fret — you'll also be able to utilize the Shorty's built-in tripod, which can stabilize the camera on a number of different surfaces for that perfect shot.
GoPro Super Suit
GoPro's Super Suit is the Iron Man of the protective housing world, and its name is the only parallel that can be drawn to the high-powered superhero. If you're into extreme outdoor activities, deep-water diving, or are looking for a durable, protective layer you can place between your device and the elements, the Super Suit allows for unparalleled defense. But where it really shines is in the water, where you'll be able to utilize its 196-foot waterproof rating and skeleton backdoor to access your touchscreen and improve audio capture while below the surface.
GoPro Fetch
The GoPro Fetch is the perfect accessory for your four-legged companion, bringing you an entirely new view from the comfort of your pet's back. If you're looking to see the world from the eyes of your canine counterpart or monitor his/her movements throughout the day, this unique harness features a fully-adjustable, padded architecture tailor-made for dogs from 15 to 120 pounds. It comes with two different mounting positions — one on the chest, and one on the back — allowing buyers to attach their GoPro to their pet for an interesting alternative to everyday filming, rain or shine. When everything is said and done, you'll be able to remove the harness thanks to its quick-release clips and base system.
Joby GorillaPod Action Tripod
Joby's GorillaPod Action Tripod is a must-have accessory for any small camera owner, and the GoPro is no exception. This intuitive tripod is able to be utilized on a variety of different surfaces and comes with three adjustable legs and an integrated ball head to help you capture the perfect angle. Aside from proving you with a wide range of different shot types and perspectives, you'll be able to mount the GorillaPod to a handful of different surfaces, as long as the legs can wrap around and provide adequate support. Needless to say, this all-encompassing tripod solution will open up a number of creative avenues that you might not have had access to before.
GoPro Protective Housing
GoPro's Protective Housing is a baseline accessory that ever GoPro owner should pick up. Not only will it keep your device in great operating condition, but it also provides waterproof protection at depths of up to 196 feet, abrasion-resistant properties that can deflect flying debris and dirt, and a flat glass lens that will allow you to capture sharp, high-fidelity images whether you're hiking, flying, riding, or swimming.
GoPro Dual Battery Charger + Battery
GoPro's Dual Battery Charger + Batter is a lifesaving system that'll ensure you're prepared for any situation while out-and-about. There's nothing worse than finding out that you've traveled all the way to a scenic location, just to realize that your GoPro's battery is close to dying. With the Dual Battery Charger, you'll be able to charge up to two batteries simultaneously, calling upon a fast USB port connection, or an optional GoPro Supercharger dual-port variant, when you're overseas. Each example also features a spare 1220mAh lithium-ion rechargeable battery, meaning that you'll be able to utilize your camera as you charge your alternative power sources.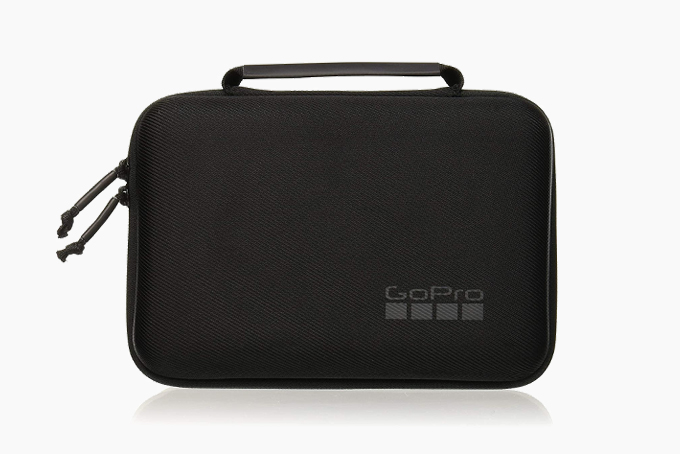 GoPro Casey
The GoPro Casey is the brand's own iteration of the all-encompassing carry case. Inside, you'll find zones for your camera, mounts, and accessories, while still being able to customize your loadout for any creative mission. It utilizes a weather-resistant design that can protect your gear from light rain and snow, a semi-rigid shell that works to protect and cushion gear upon impact, and a removable pouch that can house important peripherals like batteries and microSD cards for use in the field.
GoPro 3-Way
The GoPro 3-Way is an interesting design that bridges the gap between a selfie arm, camera grip, and tripod. Its unique three-in-one architecture can be utilized as a grip, allowing you to stabilize your shots and solicit more control as you hone in on your captures; a tripod, providing on-surface stabilization; and an extension arm, allowing you to capture interesting angles while still being connected to your device. The best part? The 3-Way is also waterproof, meaning that you can use to your heart's content as you capture in-water footage.
GoPro Hero 8 Display Mod
The GoPro Hero 8 Display Mod is a great way to take your filmmaking to the next level. If you own a Hero 8, you'll be able to utilize this unique accessory for enhanced video capture capabilities, allowing you to reference a two-inch flip-up screen, courtesy of a micro-HDMI connector and an integrated rechargeable battery. In turn, you'll be able to frame yourself more easily for vlogs, third-person shooting, or group shots, allowing you to bring a different perspective to your adventure-focused videos.
GoPro Hero 8 Media Mod
GoPro's Hero 8 Media Mod is yet another accessory to take your filmmaking to new heights. When paired with the aforementioned Display Mod, you'll be able to capture professional footage, thanks to a built-in directional microphone, 3.5mm external mic port, and Cold Shoe mounts that you can take virtually anywhere. As a result, you'll be able to turn your Hero 8 into a run-and-gun documentarian setup that's focused on professional sound and video quality, thanks to reduced wind and ambient noise and improved clarity throughout the audible range.
GoPro Smart Remote
If you're going to be setting up your GoPro in a variety of different locations and settings, you're going to need a remote control to be able to access all of its different settings from afar. Luckily, the brand has made its very own Smart Remote, allowing you to control your shutter, on/off, settings, and recording from distances of up to 600 feet. If you've got multiple cameras that you're looking to control, you're in luck — up to 50 different devices can be controlled via a single remote, meaning that you can take on your next big documentary with an air of professionalism that you might not have been able to capture before.
RØDE VideoMic GO
If you're looking to add a flair of professionalism to your projects, RØDE's VideoMic GO is the perfect accessory to invest some of your hard-earned cash into. The company's renowned audio peripherals are second-to-none, and with the VideoMic GO, you'll have access to the qualities of all of the brand's more elaborate models alongside your compact GoPro platform, delivering crisp audio, direction sound, and noise isolation at the touch of a button.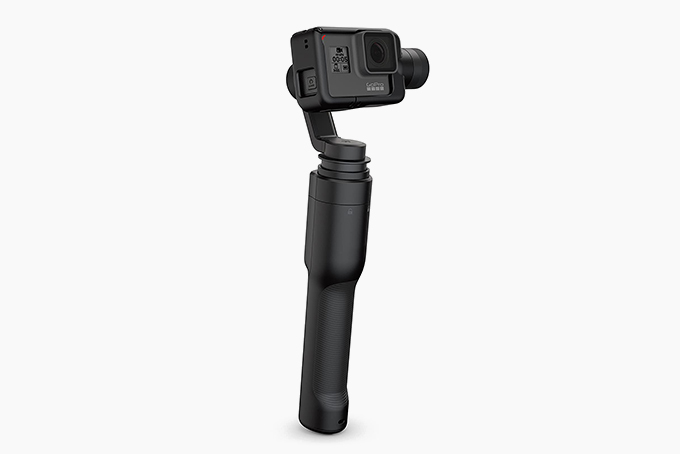 GoPro Karma Grip
Last, but not least, we've got the GoPro Karma Grip. This affordable accessory acts much like a gimbal for larger camera systems, bringing unprecedented stabilization and shake-free capture to your compact GoPro platform. Whether you're looking for a traditional handheld stabilizer or a body-mounted variant, the Karma Grip has you covered, allowing you to turn any ordinary shot into a cinematic experience. You'll even have access to a range of built-in camera controls, meaning that you won't have to worry about touching the GoPro to do things like power on/off, change shooting modes, or start/stop your recordings. Needless to say, if you're serious about taking your video projects in a more professional direction, this accessory won't disappoint.
8 Unexpected Ways To Use The New GoPro HERO8 Black
People like to think of the GoPro HERO8 Black as an action camera. And while it's well-suited to any measure of adventure, it's got a lot more going for it than that. Learn about some less obvious uses on our guide to unexpected GoPro HERO8 Black uses.