Photo: GoPro HERO7
Presented by
Technology is a fickle mistress, as things that were once state-of-the-art can often go by the wayside rather quickly to make way for newer better offerings. And while that can be a very expensive prospect for anyone who values the most up-to-date gear, it also means that the holidays are made a whole lot easier for anyone who needs to shop for a technophile.
From computers, audio equipment, gaming consoles, camping gadgets, and more — there's practically no end to the impressive applications technology has to offer.that'shat't not just limited to high-end high-tech gear, either, as there are worthwhile products across the whole budgetary spectrum. Whether you're on the hunt for the perfect gift for the picky gamer, savvy outdoorsman, or even yourself, you can find the right gift here on our technophile holiday gift guide.
SimpliSafe Home Security System
Smaller, five times faster, and 50% louder than SimpliSafe's original flagship product, the brand's new home security system is unlike any other on the market. And the 24/7 service doesn't just cover unwanted intruders — it also warns you in the case of carbon monoxide, fires, flooding, and can even alert you of doors or windows left ajar. If you value your home, this is one of the absolute best ways to keep it safe.
Amazon Smart Plug
Furthering their bid to turn everything in your home into a smart device, Amazon has released an Alexa-enabled Smart Plug. Essentially, this simple addition turns any outlet into one that can be controlled simply using your voice. You can also schedule things plugged into it to turn on and off automatically, and all you need is the Alexa app on your phone — you don't even have to have a smart hub.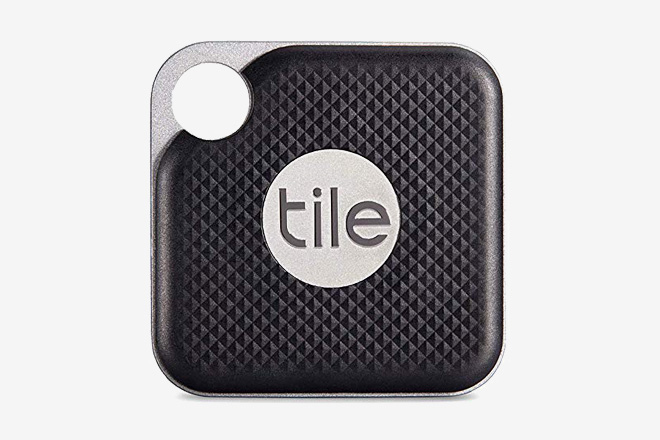 Tile Pro Tracking Device
Not everyone has a habit of misplacing their keys and/or phone, but if you know someone who does, you should probably look into getting them the Tile Pro. This tracking device is small enough to fit in even the most minimalist of wallets, but it also offers two-way location tracking (aided by audible cues, whether your phone is on silent or not) that can help you find whatever you attach it to. The best part of this upgraded version, however, is that it has a replaceable battery, which previous versions did not.
Nomad Ultra Rugged Lightning Battery Cable
Carrying a charging cable only does you any good if you can find an outlet or USB port. That is, unless your cable is the Nomad Ultra Rugged Lightning Battery Cable. This badass power cord is wrapped in kevlar, PVC, and ballistic nylon (which can withstand over 10,000 flexions) — making it one of the toughest on the market. But it also has a built-in 2,350mAh onboard battery that can charge up your phone even if you're not near a wall outlet. Plus, it will bypass directly to your tech if you are plugged in, then it will charge up once your devices are juiced up.
Twelve South PlugBug Duo
With the increased popularity of Apple devices, it seems like most folks have to haul a number of different battery packs, cables, and dreaded power converters. But, the Twelve South PlugBug Duo can help streamline that, as it turns your MacBook converter into a triple charger with outlets for your laptop, as well as two other USB-chargeable devices like your phone and perhaps a tablet. It also comes with five different plug attachments for international travel and has fast-charging capabilities.
Anker Roav Viva Alexa-Enabled Car Charger
Unless you have a brand-new car that came out over the course of the last few years, there's a pretty good chance your vehicle is not compatible with most AI assistants. However, if Alexa is your assistant of choice, things just got a whole lot sweeter, because this simple plug-in device (which uses a standard cigarette lighter port) can turn your car into a smarter ride. It works with Bluetooth, Carplay, Android Auto, or an auxiliary connection and will give you voice controls, the ability to play music and/or audio books, and so much more.
Logitech K600 TV Keyboard
Few things are quite as frustrating as trying to search for things amongst all your streaming services by punching in the search terms letter by letter with a standard remote. And with more and more brands announcing their own streaming services, it looks like using search functions isn't going to change anytime soon. But you can make it easier on yourself (or a loved one) thanks to the Logitech K600 keyboard. Compatible with TVs and PCs, this handy keyboard makes navigating your services a whole lot easier. And it has a 15-meter wireless range for even more versatility.
Caavo Streaming Control Center
Speaking of streaming services, how obnoxious is it that you have to go into and out of all your apps to search through each one individually? Well, it doesn't have to be that way, so long as you equip your television with the Caavo Streaming Control Center. This handy device amalgamates all your streaming services into a single central location, so you never have to jump in and out of your apps ever again. It also supports 4K, as well as Google Voice and Amazon Alexa, which is a nice little added bonus.
Leatherman Limited Edition Surge Multi Tool
Designed specifically for professionals and tinkerers alike, Leatherman's Surge multi-tool isn't tech itself, per se, but it is definitely built with high-tech applications in mind. Whether you want to build your own computer, tweak some existing electronics, or put together an interstellar satellite array on your rooftop, the 21+ built-in tools on this limited edition stainless steel device should get the job done. And, as an added contingency, it also comes with a 25-year warranty.
LaCie Portable SSD
As there are no moving parts, SSDs (solid state drives) are vastly superior to older HDDs in numerous ways. And now that they can be made small enough to fit in your pocket, the desirability is even higher. Take the LaCie Portable SSD, for instance. A bit bigger than a credit card, this device can hold up to two terabytes of information (that's roughly 500 hi-def motion pictures). And it also boasts lightning-fast transfer speeds. We're not saying this is the best SSD we've ever seen, but it's definitely not far off.
GoPro Hero 7 Action Camera
For years now, GoPro has set the standard for action cameras. That has not changed one bit with the release of their HERO 7 edition. Water-resistant to at least 33 feet, able to shoot in HD (both video and stills), featuring voice controls and a wealth of onboard features — including a handy touchscreen that makes operating it as simple as swiping right and/or left — and easy app connectivity all make these the best and most-reliable action cameras on the market.
Master & Dynamic MW07 Wireless Earbuds
Master & Dynamic are already known in the audio space for making top-quality gear. But they really upped the ante with their MW07 Wireless Earbuds. Still boasting marvelous hi-fi sound (courtesy of custom 10mm Beryllium drivers), what really sets these ones apart is their stunning handcrafted acetate exteriors — available in a quartet of finishes. They're also completely wireless, with Bluetooth connectivity offering 20+ meters of range, and they come in their own stainless steel charging case.
Marshall Kilburn II Bluetooth Speaker
Originally solely a guitar amplification brand, Marshall has masterfully paired their expertise into a series of audio entertainment solutions, ranging from headphones to offerings like their absolutely gorgeous Kilburn II Bluetooth speaker. Offering up 20+ hours of playback on a single charge, a wireless range of 30 feet, and a quick-charge feature that gives you two hours of playtime after 20 minutes of charging, this handsome portable device is a must-have for any audiophile who appreciates good design.
Apple Watch Series 4
When Apple came out with their Series 3 Watch, we weren't sure how they'd be able to improve upon it. But they managed to do it in glorious fashion with the Series 4. Boasting improvements over the already impressive array of functions, this new version also has a larger display, yet somehow slimmer profile, as well as the ability to perform an EKG on-the-spot. It will even alert the authorities if it detects that you're having a heart attack or other cardiac event. Of course, it's still waterproof, available in a number of finishes, and has everything else you might expect.
Insta360 ONE X 360 Action Camera
With the increase in popularity of virtual reality, it's no surprise we've seen a big boom in 360-degree action cameras. After all, experiencing your adventures in VR is a whole lot better than a boring slideshow. This particular camera can shoot in 7K resolution, takes 18MP still shots, has onboard stabilization, and can even connect to a Wi-Fi network for easy footage transfer. And that's just a fraction of the other stuff this impressive little action camera can do.
Sony Cyber-Shot DSC HX99 Camera
Despite the fact that smartphone-based photography has improved tenfold over the last few years, a standalone camera is still the best option for serious photographers. Of course, you don't have to be a professional to appreciate the ease with which you can snap some top-tier photos with the Sony Cyber-Shot DSC HX99 camera. Not only can it take stunning 18.2MP shots and 4K video, but it also has a remarkable Zeiss 24-720mm zoom lens — so you can snap sneaky hi-def shots from practically miles away.
Helm Personal Server
Millions of Americans have their identity and personal information stolen every single year. And some of the biggest offenders, when it comes to vulnerability, are email hacks. If you're worried about keeping your information private (or you have someone you care about who is), a great first step is getting the Helm Personal Server. This device will beef up your security by a massive margin, grant mobile access from your smartphone, and (honestly) it's one of the better looking pieces of tech we've seen in a long time.
Vitra Eames Radio
Charles and Ray Eames may go down as the greatest design duo of all time. After all, their Eames Lounge chair is a legendary piece of furniture beloved around the world. Hell, even their non-produced designs were absolutely gorgeous. Take, for instance, the Vitra Eames Radio. Built to near exact specifications, this unrealized product is a design- and tech-lover's must-have. And, since it was finally made just this year, it also benefits from modern onboard tech like access to music streaming services, as well as a standard AM/FM radio.
North Focals Augmented Reality Glasses
People have been trying to make augmented reality glasses for years now (we're looking at you, Google), but most of the designs have been bulky, ugly, or ineffective. The folks at North Focals, however, may have just released the most impressive and stylish pair of all time. These glasses can produce a holographic-like HUD right before your eyes, they come with a simple joystick-controlled ring and can do everything from display GPS to show you instant messages. The future is now.
Segway Ninebot Electric Go-Kart
Segways are a bit dorky but Go-Karts are beloved by everyone old and young. Well, guess what? This kit will allow you to transform your boring Segway into an exciting all-electric Go-Kart that can do up to 15mph, goes for over 12 miles on a single charge, and can charge fully in only 3.5 hours. It can even fit riders up to 6'3″ and 220 lbs. Just keep in mind that you do need a Segway miniPRO 320 in order for this kit to work.
DJI Mavic 2 Pro Drone
It's been years and years now but DJI is still the number one name in consumer drones. And that doesn't look to be changing anytime soon, especially when you consider their top-of-the-line Mavic 2 Pro & Zoom drones. These robo-birds boast flight times that are the highest in their category, automation to help make flying simple (even for beginners), and — the cherry on top — brand-new Hasselblad onboard cameras to take some of the most beautiful hi-res photos and HDR video available.
35 Best High-Tech Office Essentials
Searching for business rather than pleasure? Well, we've got you covered with our guide to the 35 best high-tech office essentials to deliver some convenience and efficiency to work.