Presented by
Any serious adventurer can tell you that, even when gear is extremely well-built, it still needs to be replaced every so often. And that means, if you've got a camper or hiker in your life, the holiday season is one of the best opportunities to help them get ready for the next year of exploration.
And while there are plenty of outdoor stores that are loaded to the gills with superb offerings, sometimes you're looking for that one item that's exactly right. We've endeavored to put together this collection of superb, backcountry-ready items to make your bushcrafting friends and/or family swell with graciousness, excitement, and pride. These are the 20 best gifts for the outdoorsman.
Olukai Huakaʻi Lī Adventure Sneaker
Inspired by the powerful, cascading Waimoku Falls on Maui's east side and crafted with an upper made from gorgeous waxed Nubuck leather, Olukai's Huakaʻi Lī sneakers are beautiful and water-resistant — making them perfect for casual adventure. That's doubled by the comfort of their EVA midsoles, single-density poured PU anatomical footbed, and handy pull loop for easier ingress.
Gerber ComplEAT Camp Cooking Tool
Comprised of four components — a spoon, spork, dual-sided spatula, and four-function multi-tool — this Gerber device is one of the handiest camp cooking utensils ever made. It can even turn into tongs, has both can and bottle openers, and packs into even crowded backpacks with ease.
Opinel No. 8 Outdoor Survival Pocket Knife
While most folding knives aren't built to survive in the great outdoors, the Opinel No. 8 Outdoor Survival Pocket Knife was made to take punishments even some fixed blades couldn't weather. On top of its Sandvik blade and extremely tough handle, it also boasts a built-in 110-decibel emergency whistle, a shackle key, and a Virobloc safety ring.
MSR TrailShot Pocket Water Filter
Small enough to stash in your backpack or even a jacket pocket, the MSR TrailShot water filter 99.9% of all bacteria, protozoa, and particulates from any water source. And it does it without the use of harsh chemicals. Best of all, it's good for filtering up to 2,000 liters before it requires replacing.
Snow Peak Trek Titanium Cookset
Sometimes camp cookware that's portable isn't very tough or is tough but not very portable. This offering from Snow Peak, comprised of two pots and two fry pans, is both — thanks to its lightweight and durable titanium construction. It's also easy to clean, won't rust, and is completely food safe.
VSSL First Aid Kit
Not only does the VSSL First Aid Kit contain everything you need to dress wounds of multiple types out on the trails, but it also has the added benefit of a durable military-grade container — designed to fit into a water bottle pocket — as well as a multifunction flashlight, a compass, tape, and so much more.
Canon IVY REC Outdoor Camera
Small enough to fit into a pocket, equipped with a handy carabiner-style clip to attach it to your clothes or packs, and both waterproof and shockproof, the Canon IVY REC is one of the handiest point-and-shoot adventure cameras out there. Alongside those features, it can also capture images with a 13MP sensor and has the ability to shoot full HD footage in up to 60fps.
Kammok Pongo Inflatable Sleeping Pad
Exceedingly compact, both inflated and when collapsed, Kammok's Pongo sleeping pad is perfect for either on-the-ground or in-a-hammock rest. It's also both durable and soft, making it ideal for a wide variety and large number of adventures.
Bellroy All-Conditions Essentials Pocket
It's rare to find cash and card carriers that are both beautiful enough to consider heirloom-quality and tough enough to weather any adventure. And the Bellroy All-Conditions Essentials Pocket is amongst the best of them. Crafted from water-resistant leather and boasting a water-resistant YKK zipper, this is the perfect stash for all your travel wallet contents — even if you're headed somewhere with inclement weather.
PDW SPD x Velvicut Hudson Bay Camp Axe
Made specifically with camping, hiking, and hunting in mind, the Hudson Bay Camp and Bushcraft Axe features a USA-made forged 5160 steel head alongside a grade-A American hickory handle. And the two brands that have unleashed this backcountry tool are so confident in it, they've slapped a lifetime warranty on the head.
BioLite FirePit Climate Neutral Edition
A limited-edition black-and-blue take on BioLite's FirePit, the Climate Neutral edition boasts all the same beloved features — including the ability to burn either wood or charcoal with virtually no smoke at all. It also serves as an ad-hoc campfire, transforms into a hibachi grill, and even boasts an onboard battery that transforms fire energy into electricity for your high-tech camping gadgets.
Arc'teryx Acrux TR GTX Boots
While these boots boast the same pedigree you'd expect from Canadian outdoor brand Arc'teryx, it's also got a couple of tricks up its sleeve you might not find anywhere else. For starters, though they are lightweight, they still boast GORE-TEX waterproofing and a Vibram outsole. But they're also equipped with SuperFabric armor plating — making them practically indestructible. They're not cheap, but they'll last for decades.
Filson Large Dry Duffel Pack
Perfect for the rainy and winter seasons, Filson's Large Dry Duffel is completely waterproof when closed and is even puncture- and abrasion-resistant — courtesy of a PU-coated nylon exterior. It also boasts a whopping 70L capacity, has tough heavy-duty plastic hardware, and features a rolltop for even more protection for whatever you stash inside it.
The North Face One Bag Sleeping Bag
Not everyone has the bank account that allows for multiple sleeping bag options to choose from depending upon the season. But you can still get that level of choice out of TNF's One Bag. This 3-in-1 sleep system boasts reconfigurable layers to allow for comfort in temperatures as low as 5-degrees or as high as 40. And that makes this a remarkably versatile campground sleeping solution.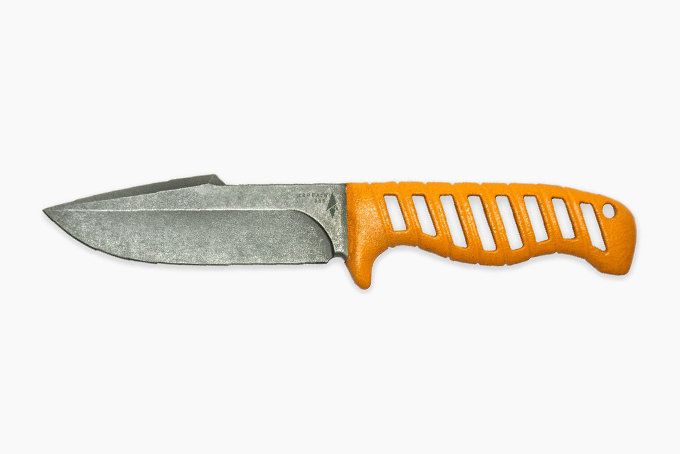 Terrain 365 Nautilus Alpha Fixed Blade
Designed to be one of the world's toughest fixed blades, especially for nautical usage, Terrain 365's Nautilus Alpha is equipped with a 3D-contoured textured epoxy handle, a guaranteed-for-life-against-rust Terravantium blade, and it comes with a Kydex sheath. Chances are you don't need a knife this tough and that makes it all the more desirable.
Askov Finlayson The Winter Parka
Although they might not be as well known as some of their competition, we imagine that Askov Finlayson is about to acquire quite a bit of clout in the outdoor space, as they've just unveiled their Winter Parka — the first garment equipped with 3M's Thinsulate 100% recycled featherless insulation, a down alternative that's thinner and warmer than goose feathers with far less of a negative environmental impact.
Casio Pro Trek WSD-F30 Outdoor Smartwatch
An upgraded version of the brand's lauded outdoor smartwatch, the WSD-F30 boasts an OLED full-color touchscreen, 50M of water-resistance, and a bevy of built-in onboard features. That latter bit includes a compass, barometer, altimeter, downloadable topographical maps, an onboard microphone, and a good deal more.
Garmin GPSMAP 66i GPS Satellite Communicator
One of the most impressive handheld adventure devices on the market, Garmin's GPSMAP 66i boasts the ability to function as a GPS pathfinder and a 2-way satellite communicator. It also features a full-color touchscreen, IPX7 waterproofing, up to 35 hours of battery life, and weighs just 8.5 ounces in total.
Combar Pro Outdoor Survival Multi-Tool
Combining a wealth of ultra-tough outdoor tools into a single, relatively-compact package, the Combar Pro aims to be perhaps the most comprehensive and versatile survival device around. It includes a hammer, axe, shovel, knife, and a magazine insert.
Vollebak 100 Year Khaki Pants
As you might have guessed from their name, Vollebak's 100 Year Pants were made to last through a century of hard usage. Of course, that's only half of the package. They're also comfortable, breathable, stretchy, soft, water-repellant, and were originally designed to enable military personnel to walk through fire. Yes, they're really that tough.
The North Face Assault 2 Futurelight Tent
Boasting an exterior made from The North Face's new Futurelight fabric — an innovative ultralight material that's still exceedingly weather-resistant and superb at reducing condensation in humidity — this is one of the best two-person adventure tents on the market. Whether you're a hardcore backpacker or you just won't settle for less than the best, this is the tent for you.
The 25 Best Outdoor Stores In America
If this list doesn't quite have what you need for the perfect outdoorsman's gift, you're bound to find what you're looking for at one of the best outdoor stores in America.