Over the course of the last several decades, there have been some pretty amazing advancements in outdoor-focused gear. Not only is a lot of it far tougher than that which came before, but more and more new technologies are being worked into their construction and features — making for gear that's handy as hell and built to last. Of course, for the hardcore outdoorsman, some stuff still needs replacing every once in a while.
Luckily, that bodes well for the holiday season, because it gives you the opportunity to pick out the perfect gift for the outdoorsman in your life. Whether you know somebody that has an old tent full of holes, have a friend or family member that's ready to upgrade their camping gear with some modern conveniences, or you just want to get yourself the latest and greatest outdoor-ready stuff for your next trip, you'll find all of it and more on our outdoorsman's holiday gift guide.
Sea To Summit Duffle Bag
Made to go anywhere and survive anything, Sea To Summit's Duffle Bag is built from ultra-tough 1,000D nylon with a waterproof tarpaulin laminate, features a small internal zippered pocket for better organization, has a lid that opens up to 40% wider than competitor's duffels, and it can be carried as a backpack, suitcase, or via an over-the-shoulder strap. Whether you need a bag for the back of your adventure motorcycle, a weekender duffel for short jet-setting getaways, or a weatherproof camping bag, this is it.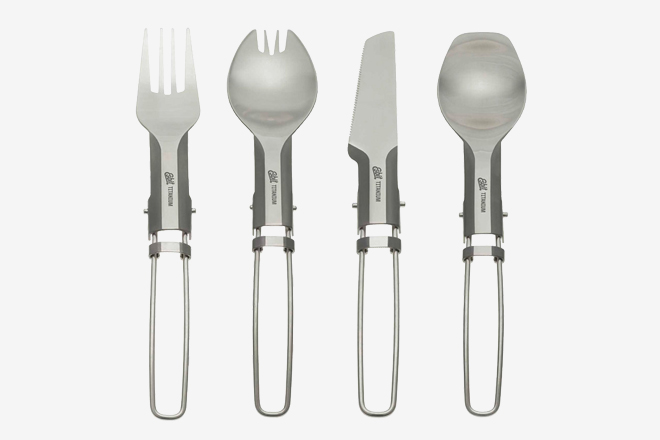 Esbit Folding Titanium Utensils
Eating with your hands can be a messy and frustrating prospect, especially if you want to avoid things like pizza and/or hot dogs when you're out camping. Luckily, Esbit makes these ultra-lightweight and super durable titanium utensils to make all that frustration and mess go away. Plus, they can fold down flat once you're done for much easier storage — great for space-saving outdoorsmen. And, once you get back to civilization, they can be washed in the dishwasher with no harm done.
Soto Pocket Torch
Disposable lighters are convenient but not particularly effective when it comes to lighting a campfire. But by simply stashing one in the Soto Pocket Torch, you can turn a basic lighter into one of the most formidable fire starters ever. This handy device burns fuel at a much more efficient rate (extending the life by up to 60%). It burns at a heat of up to 2,300 degrees Fahrenheit. And it makes a wind-resistant flame — perfect for starting a fire in bad weather. And it's much smaller than most other butane torches.
PyroVault Lighter Armor
A lighter is definitely a camping necessity, especially if you plan to be out for more than just a day trip. But most lighters are pretty susceptible to the elements, mud, and impacts — even the mighty Zippo. Of course, if you do prefer a Zippo, you can just stash your insert in the PyroVault and call it a day. This lighter armor is MOLLE ready, boasts excellent elemental resistances (it can even keep out mud), it has a spring-loaded cap for easy one-hand operation, and it's made in the USA.
ZipStitch Laceration Kit
We hope nobody ever gets hurt while out on a camping or backpacking trip, but we also know there is danger in traversing the natural world. Of course, a good survivalist or outdoorsman should already know how to treat a wound, but the job can be made a hell of a lot easier with the ZipStitch Laceration kit. Boasting surgical quality, this handy medical device can help close cuts in seconds by adhering to the surrounding skin and drawing the wound closed. It's not as effective as stitches, but it's a hell of a lot better than packing your cuts with mud until you can get to the ER.
Nordic Pocket Saw
While a camp axe is great for chopping small bits of wood, larger logs are a lot more easy to deal with if you have a saw in your gear. Unfortunately, saws can be cumbersome and definitely not pack-friendly — unless they're they Nordic Pocket Saw, of course. Made with a carbon steel blade and sturdy nylon handles, this saw can roll down small enough to fit inside your (you guessed it) pocket. But it's also durable and strong enough to cut through thick tree branches for shelter, fire, or other uses. This is an excellent outdoorsman gift if there ever was one.
Opinel No. 12 Explore Survival Knife
Opinel has been making iconic folding everyday carry knives for well over a century at this point, but their offerings are not strictly limited to EDC. In fact, their No. 12 Explore Survival Knife is built specifically for use in the great outdoors. Its construction includes a sturdy and reliable Sandvik steel blade, a fiberglass-reinforced polyamide handle (that's temperature, shock, and water-resistant). And it boasts a built-in fire starter, a 110-decibel survival whistle, a cutting hook, and the brand's signature Virobloc locking mechanism.
GCI Outdoor FirePit Rocker Camp Chair
A good camp chair can make or break how relaxing your time in the woods can be. And the GCI Outdoor FirePit Rocker is one of the all-time best, thanks in large part to a pair of pistons on the back legs that allow you to comfortably rock back and forth, like an old rocking chair. It's also collapsible for easy storage and portability, has a built-in cupholder, supports up to 250 pounds, and comes with a limited lifetime warranty. We dare you to find a better camping chair.
VSSL Camp Flashlight Flask
Nobody should ever enter the wilderness without a flashlight, but why leave it at that when you can get even more out of your portable illumination. Allow us to introduce you to the VSSL Camp Flashlight Flask — an all-in-one kit that includes a dual-mode 200-lumen LED lamp, an oil-filled compass, a bottle opener, dual collapsible stainless steel shot glasses, and a 10-ounce glass-lined flask. The flashlight is good for 40+ hours of operation, the whole rig is impact- and water-resistant, and it weighs just 18 ounces.
Sea To Summit Alpha Pot Camp Cookware
Even if you're just camping for a day or two, having a set of camp cookware is a much better idea than bringing a bunch of disposable, plastic-wrapped, pre-made food to the campsite. This particular kit, the Alpha Pot from Sea To Summit, features everything you need to camp cook for two people — an aluminum pot and lid with a stainless steel handle, dual bowls, and dual drinking cups. And the whole kit packs down inside of the pot to save on excess space. It's also non-stick to make cooking and cleaning easier and the whole thing weighs just 18.4 ounces.
High West Campfire Whiskey
Though it's not for everybody, a good bottle of whiskey can be an excellent thing to bring along on a camping trip, as it's a great way to relax with friends and take the edge off a long day. And few are quite as good as the Campfire Whiskey from High West. As you might imagine, this spirit boasts a smokey profile — courtesy of a blend that includes peated single malt, sweet bourbon, and rye whiskey. There truly might not be a better whiskey blend out there to sip around the fire with friends.
CRKT Pack Axe
Whether you're just headed out for the weekend or you plan to spend more than a week out in the woods, a camping hatchet should absolutely be on your list of necessary gear to bring along. After all, it will give you the ability to chop wood for a fire, build a shelter, and even defend yourself in a survival situation. And they don't come much better than CRKT's Pack Axe. Boasting a hot-forged 1060 high carbon steel head mated to a Tennessee Hickory wood handle, this backpack-sized axe is the ideal tool to keep at your side or attached to your camping backpack.
BioLite CampStove 2
Building a campfire can be hard to manage after a long day of hiking. And some locations won't even legally allow you to create a fire pit. However, you can mitigate both of those circumstances with the BioLite CampStove 2. This standalone device is a hybrid fire pit and camp stove, offering up warmth and something over which you can cook all your trail meals. Even better, it also boasts a rechargeable 2,600mAh onboard battery that will turn the energy from your fire into electricity for all your devices. Altogether, this is one of the best camping gadgets ever made.
AxisGo X Waterproof iPhone Housing
Even outdoorsmen like to bring their smartphones with them everywhere they go. Unfortunately, even with all the advancements made, the iPhone X is still pretty delicate when it comes to its construction. It can be made practically indestructible and waterproof, however, by placing it into the AxisGo X waterproof housing. Made for adventurers who like to dabble in photography, this imaging system will protect your tech from even the harshest weather, while still allowing you to take professional-level photos of all your exploration.
Danner Mountain 600 Insulated Boot
While Danner's Mountain 600 boots were already a great offering for anyone who likes to spend their time out in nature, they weren't quite prepared for all four seasons (and the weather therein). Lucky for us, Danner has rectified that issue with their new Insulated version of their wonderful hiking boots. Still made with a superb Vibram outsole, comfortable Ortholite footbed, and handsome full-grain leather exterior, the Mountain 600s now also feature warm insulation and waterproofing that even holds up when trudging through the snow. These boots really didn't need to be made better, but now they are.
BCX Wendigo Chopper
A machete is great for clearing brush and an axe is superb when it comes to chopping wood, but nether do the others' job very well. Base Camp X's Wendigo outdoor chopping tool, however, mixes the best of both worlds without any of the drawbacks. Hand-forged in Nepal, this tool is made from ultra-durable 5160 high carbon steel and is designed to hack, slice, chop, slash, chisel, and much more. And it also comes with a handy all-leather sheath and is available in 8, 10, and 12-inch lengths to suit any outdoorsman perfectly.
Terrain 365 Element Alpha-HD Knife
Nobody should ever head into the great outdoors without a sturdy survival knife at their side. And this one, from the folks behind Prometheus Design Werks, is about as good as they come. With its paracord handle, it's an excellent contingency plan if you need to build a shelter, food traps, or bind a wound. But it's also a superb cutting tool, courtesy of its proprietary, rustproof Terravantium Dendritic Cobalt steel blade. And it certainly doesn't hurt that it's made here in the USA.
Crua Hybrid Camping Hammock Tent
Hammocks are a great way to relax in the great outdoors but they tend to take up some unnecessary space perhaps better suited to a camping tent. Of course, you could split the difference with the Crua Hybrid Camping Hammock Tent. Equal parts tent and hammock, this sleeping solution will keep you up and off the dirty ground, but also offers protection from the weather and the ability to keep warm even in the coldest of nights via a rainfly, mosquito mesh, and more. Buy it alone or purchase it along with a mattress pad and sleeping bag for the whole kit and caboodle.
YETI Tundra Haul Wheeled Adventure Cooler
Even the most dedicated hikers know that once you get to your campsite, relaxing with a good meal and a beverage or two is key to enjoying your time. And you can keep all those perishables safe and sound within the YETI Tundra Haul. This wheeled adventure cooler is the perfect campsite companion, as it can keep ice frozen for up to ten days, it's practically indestructible (including its never-flat wheels), and it has a handy hauling handle to make traversing the wilderness a snap.
Casio Pro-Trek Outdoor Smartwatch
While smartwatches have mostly made their way into our collective lexicon, there are venues which they've yet to become ubiquitous, such as the world of the outdoors. That doesn't mean there aren't excellent options, however, as evidenced by the Casio Pro-Trek. This remarkable outdoor-ready smartwatch boasts a rugged exterior, a full-color touchscreen (completely with downloadable topographic maps), can function for up to 25 days without a charge, and it's even water-resistant to 50 meters. For the tech-savvy outdoorsman, this is the perfect timepiece.
Hyperlite Mountain Gear Ultamid 2 Pyramid Tent
Thanks to its Dyneema construction, Hyperlite Mountain Gear's Ultamid 2 Pyramid is one of the lightest, most durable camping tents ever to hit the market. And, while that makes it a great weekender sleeping option, it's even better for those who like to go backpacking, because it's easy to carry, easy to set up, and will keep you protected from the world around. It's also waterproof, slash- and puncture-resistant, and can be erected with either trekking poles or by suspending it from a tree branch above. A better 1-2 person tent, there is not.
25 Best Outdoor Gear Stores In America
Some folks prefer getting their hands on their gear before making a big purchase. If you fall into that group, you can check out pretty much everything on this list in one of the 25 best outdoor gear stores in America.