Nothing accents the holidays like a handcrafted cocktail, and as we celebrate the season with friendly gatherings, family events, and social endeavors, your "spirited" expertise is as valued as ever. Whether you're a hobbyist who enjoys a good drink or a professional mixologist who makes a living crafting the finest cocktails around, a well-rounded toolkit is always appreciated.
If you're the kind of person who likes to go all-out, a typical bar setup might not be your calling card. The creation of high-end alcoholic beverages deserves a bespoke touch, and as such, the admittance of the industry's finest accessories, peripherals, and staples into your quintessential arsenal is, for lack of a better term, important. Below, we've put together a list of all the season's most sought-after gear for the mixologist, including everything from jiggers, picks, and containers, all the way to coasters and barware sets. Celebrate the holiday's in style with these sensational essentials.
OXO SteeL Double Jigger
OXO's SteeL Double Jigger is the perfect measurement tool for your bartending needs. It uses a soft, non-slip grip to keep you in full control as you pour, and boasts laser-etched measurement markers that won't wear off over the life of the peripheral, giving you a reliable jigger for everyday use.
Tablecraft Glass Rimmer Set
Tablecraft's Glass Rimmer Set is made from professional silver polypropylene and black thermoplastic and boasts the same orientation as the ones you see at every high-end establishment. Add the perfect salty/sweet garnish to any finely-crafted cocktail with this small, simple bar accessory.
Viski Professional Bar Spoon
Don't be the guy who mixes your best drinks with a regular utensil. Instead, use Viski's Professional Bar Spoon, which has been built with true mixologists in mind. This long-stemmed spoon offers the perfect orientation for mixing at a hearty 15.75-inches and brings a precisely-balanced silhouette that's essential for professional use.
Prodyne MP-9 Stainless Steel and Pewter Martini Picks
The creation of a finely-crafted cocktail is an undeniable art, so why should you leave it looking drab? Prodyne's MP-9 Stainless Steel and Pewter Martini Picks ensure that your high-profile drinks look the part, thanks to their stylish, decorative heads, luxurious design, and utilitarian purpose.
W&P Design Carry on Cocktail Classics
W&P Design's Carry on Cocktail Kit is an essential gift for any alcohol enthusiast. This small, travel-ready tin is the perfect way to take the edge off of any trip and features everything to craft your favorite cocktails from scratch, including a recipe card, spoon/muddler, aromatic bitters, and cane sugar.
Glacio Silicone Ice Cube Trays
Glacio's Silicone Ice Cube Trays are as stylish as they come and give your drinks an equally enticing aura. Each pack comes with a spherical ice ball and square cube mold, allowing for the creation of six customized coolers. Better yet, each mold is made with proprietary non-stick technology, helping each cube to break free with ease.
W&P Porter Reusable Straws
W&P's Porter Reusable Straws kick plastic to the curb, thanks to these great-looking stainless steel accessories. They're both stylish and sustainable and provide the perfect environmentally-conscious addition to any bartender's bespoke kit.
Grovemade Wool Felt Coaster Set
Grovemade's Wool Felt Coaster Set is a stylish, but simplistic addition to any bartender's collection. This four-piece selection provides an ideal resting place for any finely-crafted cocktail thanks to its 3mm-thick virgin Merino Wool Felt, which has been conceptualized and constructed to fit-in at any workspace/home setting.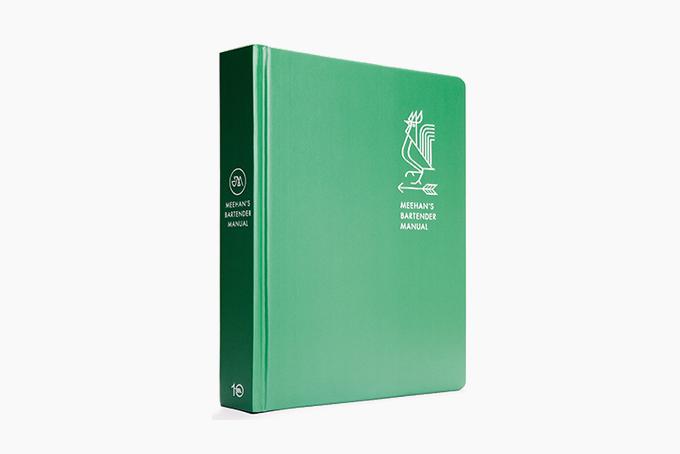 Meehan's Bartender Manual
If you've ever wanted to understand mixology from one of the medium's most influential minds, look no further than Meehan's Bartender Manual. This informational read chronicles bartender Jim Meehan's endeavors within the world of mixology, and looks at the history of cocktail making through the lens of an acclaimed contemporary.
W&P Bartender's Knife
W&P's Bartender's Knife is an aesthetically-pleasing tool that no bartender should ever be without. It boasts a polished hardwood handle, brass components, and a premium steel blade to slice through ingredients with ease; and at a perfectly-applied seven-inch size, it's a perfect addition to any high-profile cocktail kit.
Izola Stainless Steel 4-in-1 Bar Tool
Izola's Stainless Steel 4-In-1 Bar Tool is a well-rounded accessory that can break the ice, remove a cork, and open a bottle, while also providing access to a utilitarian measuring device. This sleek peripheral includes a jigger, bottle opener, corkscrew, and ice hammer to make your craft more efficient, attractive, and refined.
Moscow Mule Copper Mugs
No mixologist's collection is complete without the inclusion of a traditional Moscow Mule Copper Mug. These authentic, food-grade accessories are made with 100% pure copper and tested under stringent guidelines by third-party safety and quality testing to ensure their safety. If you've been looking for the perfect way to present your cocktails to your friends, search no further.
Daneson Whiskey-Infused Toothpicks
Sometimes, novelty is exactly what we need. If you're a fan of whiskey's unique taste and want to keep it around in an odd and uncanny way, Daneson's whiskey-infused Toothpicks are an interesting proposition. Each bottle of this four-piece pack contains 12 individual Northern White Birch picks, each with their own bespoke flavor profile. Choose from all-natural Cinna Mint No. 7, Mint No. 9, Single Malt No. 16, or Bourbon No. 22 to provide the perfect accent to any post-meal tooth care.
Hella Bitters Cocktail Bitters Set
Hella Bitters' Cocktail Bitters Set is a five-flavor collection that's undeniably chic. Whether you're a full-fledged professional or a hobbyist who's dipping their toes into the waters of cocktail making for the first time, these locally-made bitters are potent and pronounced, making them the perfect complement to any spirit. Each bottle is made with all-natural, vegan, and gluten-free ingredients, promoting a free crafting experience that's accented by aromatic, orange, citrus, smoked chili, or ginger undertones.
Craighill Ripple Bottle Opener
Craighill's Ripple Bottle Opener is a stylish, sleek accessory that makes opening your favorite brews an afterthought. This household EDC item is a great-looking addition to any mixologist's kit and features a seven-inch, US-made stainless steel orientation that's sure to please even the pickiest bartender.
Luigi Bormioli Mixology 5-Piece Barware Set
Luigi Bormioli's Mixology 5-Piece Barware Set is a stylish collection of the mixologist's most useful containers. This selection boasts three different sizes of Elixir Dash Bottle, as well as a bespoke 23.84-ounce mixing glass, and a 17-ounce Authentica Bottle with a silicone stainless pourer to store and apply all of your favorite oils and bitters. Keep your bartop looking fresh with these essential, Italian-made items.
Made By RBT Ice Bucket
Every great mixologist needs a dependable ice bucket. Luckily, Made By RBT has your best interests in mind, thanks to this unique offering. It features double-wall stainless steel insulation, an Acacia wood lid, and an 80-fluid-ounce capacity to keep one of the cocktail's most important additions at the ready, and comes complete with a set of hand-finished stainless steel serving tongs, to boot.
Crafthouse Fortessa Cocktail Shaker Set
Fortessa's Crafthouse Cocktail Shaker Set was brought to market by Charles Joly, a world champion mixologist, and one of bartending's most important individuals. This complete collection includes everything you'll need to make high-end drinks, including a two-piece Boston Shaker, Hawthorne strainer, jigger, and muddler, as well as a handsome gift box that speaks volumes of the selection's quality. Aside from the black walnut muddler, each accessory in the Crafthouse collection is made with a heavy gauge stainless steel, ensuring dependable, lifelong use.
Waterford Irish Dogs Madra Double Old Fashioned Set
Waterford's Irish Dogs Madra Double Old Fashioned Set is a barware collection for true alcohol connoisseurs. This eclectic selection boasts two specialized glasses that reminisce Ireland's most important breeds, with each encompassing a unique dog claw design that radiates from the base of the container. If you're a fan of man's best friend and want a barware collection to commemorate your passion, look no further than the Waterford Irish Dogs Madra Double Set.
West Elm Terrace Bar Cart
We've reserved a large portion of this guide for the appliances, peripherals, and accessories that will make your bar area a work of art, but we haven't focused on the bar itself. That's where West Elm's Terrace Bar Cart comes in. This unique craft cocktail station is a stylish addition to any room in the home and features a handsome, Deco-inspired silhouette that's ready to take on your most complex drink endeavors. Better yet, the Terrace Bar Cart comes outfitted with four wheels, making it the perfect mobile bartop for your next big party.
The 12 Best Bourbons You Can Buy
An absolute essential spirit for any home bar and a uniquely American whiskey at that, everyone should have a bottle or two of the best bourbons you can buy in their repertoire.