Presented by
Maybe it's just us, but the holiday season feels like the ideal time for indulgences. There's just something about the cold weather keeping us inside that makes us want to take a load off, put up our feet, and enjoy a stiff beverage or two. Thankfully, many of our friends and family share that sentiment. As such, the holidays are the perfect time to stock up on mixologist gear — be that for our own home bars or those of our loved ones.
Of course, there's an added bonus to stuffing our stockings with bartending tools around this time of year: we get to share in all the festivities and we have the opportunity to share our festivities with those who surround us. Spread some holiday cheer this season by picking up some of the offerings on our mixologist's gift guide. And toss one back for us, once the time
G-Shock G-Steel GSTB100XA-1A Watch
Most cocktails are about three things: the right ingredients, the right order, and the right timing. That last bit, however, can be a bit difficult to manage — unless you've got a watch that's up to the task. That's where the G-SHOCK G-Steel GSTB100XA-1A comes in. With its carbon fiber bezel, scratch-resistant sapphire crystal, comfortable and durable band, and 200m water-resistance, this timepiece can stand up to any damage that might be done behind the bar. And it's also got smart features and Bluetooth compatibility, which up its versatility through the roof. If more bartenders wore a watch like this, we might get our drinks more quickly.
Rabbit Compact Bar Tools Set
There are a few essential tools that no mixologist should do without — even if you're traveling. Lucky for you, the Rabbit Compact Bar Tools Set exists. Small enough to fit into just about any bag, backpack, or weekender duffel bag, this kit includes six tools — a zester, strainer, bottle opener, stir stick, jigger, and bar knife — that all nest within a handy case. And each of those tools is made from sturdy stainless steel.
Field Notes Expedition Pocket Notebook
Not everybody is brave enough to get experimental with their cocktails. If you are, however, you might want to keep a record of your more successful recipes. In that case, you'll want to pick up the Field Notes Expedition Pocket Notebook. Made in the USA and built to withstand the harsh Antarctic environment, these pocket notebooks are water-resistant, tear-resistant, and can even withstand extreme temperatures — making them ideal for the rigors of your behind-the-bar antics.
OXO SteeL Muddler
The ability to muddle fruit and/or herbs can make the difference between an alright cocktail and one that's truly stellar. And they don't get much better than this one from OXO. Made from die-cast zinc, each of these handy mixologist devices features a nylon head to keep from damaging your glassware. It also has a grippy non-slip handle and the whole thing is dishwasher safe.
The Complete Cocktail Manual
Some folks will tell you that you don't need a fancy book to instruct you on how to make a great cocktail. We imagine those same folks might say that an old fashioned doesn't need an orange peel. The long and short of it is, we disagree. Both as a means to learn a craft and as an excellent coffee table book, The Complete Cocktail Manual is superb, and it definitely deserves consideration by newcomers to bartending and seasoned mixologists, alike.
Libbey Modern Bar Garnish and Condiment Tray
While some folks are fine believing that drink garnishes are an unnecessary indulgence, we can tell you otherwise. In fact, sometimes the garnish is one of the biggest highlights of the drink (we're looking at you, blue cheese-stuffed olive martinis). Of course, if you really want to elevate your home bar, you'll need somewhere to put your condiments and garnishes — like the Libbey Modern Bar Tray. It's a simple minimalist addition, but it's also a good deal classier than keeping everything in ugly labeled jars.
Woodford Reserve Bitters Dram Set
Originally created and sold as a serum to cure all your ailments, bitters has become perhaps the most important cocktail additive in the entire world. And it's not just for whiskey drinkers, either, as it can be found in recipes requiring vodka, gin, rum, cognac, and more. This particular set gives you five different flavor profiles perfect for crafting iconic and interesting cocktails across a wide range of recipes. And a little bitters goes a long way.
Bulu Pineapple Barspoon
A bar spoon is most definitely one of the most important tools any bartender or mixologist can have in his set of gear. But this essential doesn't have to be boring and basic — it can be imbued with style. Take, for instance, the Bulu Pineapple Barspoon. It's rendered in a beautiful polished gunmetal gray and boasts a beautiful pineapple icon at the reverse end of the spoon. It won't make you a better bartender, necessarily, but it will make you look like a better one.
Stanley Happy Hour Shaker Set
Crafting a solid cocktail doesn't have to be limited to the borders of human civilization, not so long as you've got the Stanley Happy Hour Shaker Set. Made to take with you out on the trails, this handy self-contained kit boasts nearly everything you need to make a stiff drink, even if you're sitting around the campfire. Boasting dual stainless steel double-wall tumblers, a jigger cap, a citrus reamer, and a built-in strainer, this is the trail-going mixologist's best friend. It's also dishwasher safe, making it easy to clean once you get back home.
The Bartender's Knife
Designed specifically to suit the needs of the seasoned bartender, this unique cocktail-focused cutting tool is made from high-quality steel, polished brass, and beautiful hardwood. Whether you need to peel an orange for an old fashioned, slice a lime for a Cuba Libre, or just pick the perfect Luxardo cherry from your condiment tray, this is the knife for you. Plus, it comes with its own sharpening stone, so you can keep the edge razor sharp at all times.
Whiskey Cocktails Book
If you want to learn the ins and outs of whiskey cocktails, you can fumble around the internet, watch videos, and listen to the accounts of your friends and family. Of course, that could get frustrating and be very time consuming. You'd definitely be better off thumbing through the pages of the Whiskey Cocktails book. From its gorgeous photography to its pleasantly stylized recipes, everything you need to know about crafting the perfect whiskey cocktail can be found between its covers.
Craighill Ripple Bottle Opener
No red-blooded man should go without a bottle opener — even if you opt for bottles of soda rather than cold beers. And the bottle opener you choose to carry and/or use can say a good deal about you. If you value high-quality gear and style, then you can't go wrong with Craighill's Ripple. Made from solid stainless steel with a nitrocarburized coating, this device is super tough. But the unique design also makes it a beautiful addition to your everyday carry or home bar. And if that's not enough, it's also made in the USA.
Alkemista Infusion Vessel
While liquor purists decry anything other than spirits in their purest form, we believe there's a lot to be gained from infusing other flavors into your alcohol of choice. And there is no better way to make that happen than via the Red Dot Award-winning Alkemista Infusion Vessel. Both beautiful and effective, this device is made from lab-grade borosilicate glass and stainless steel. And it can be filled with anything from fresh fruit, spices, herbs, botanicals, and whatever else you can come up with. Inspired by Japanese teapots, this is a handsome and handy addition to any bar.
Vitreluxe Stump Cocktail Glass Set
While good glassware doesn't necessarily make drinking more enjoyable from a flavor standpoint, stylish and unique glasses can really tie your whole home bar together. And they don't get much more unique and stylish than the Stump Cocktail Set from Vitreluxe. Molded from an actual oak branch, these textured tumblers are absolutely stunning. The set also comes with a cocktail vessel — so you can mix enough for 2-4 drinks — a stir stick, and either two or four rocks glasses.
The Frequent Flyer Carry On Cocktail Kit
Air travel can be extremely stressful, even if it means you're going on vacation. But alcohol can help ease the tension. Of course, you'll be stuck with only the most basic options aboard most airlines, unless you have one of the Carry On Cocktail Kits found in W & P's Frequent Flyer Set. These handy, packable sets contain everything you need to make your favorite cocktails — whether that's a bloody Mary, Moscow mule, old fashioned, or gin and tonic. The only thing they don't include is one of those little airplane bottles of booze — but you can get that from the flight attendant.
Search And Rescue Denim Bartender Apron
Much like cooking, crafting cocktails can get pretty messy pretty fast. So, unless you want to get yourself covered in liquor, liqueur, citrus, bitters, etc, you should probably invest in a bartending apron — like this one from Search And Rescue Denim Co. Not only is it handsome and made from a combination of 12oz indigo denim and full-grain leather but it also boasts a bevy of pockets in which you can put all your bartender tools.
Victorinox Wine Master Swiss Army Knife
The Swiss Army Knife might be the most versatile folding multi-tool of all time, but even they sometimes require a bit more specialization in certain contexts. Take, for instance, the Wine Master. Equipped with everything you could need to pop open a corked bottle, this is definitely the SAK for bartenders, mixologists, and all measure of alcohol enthusiasts. It's also built from a gorgeous combination of stainless steel and your choice of either walnut or olive wood handle scales.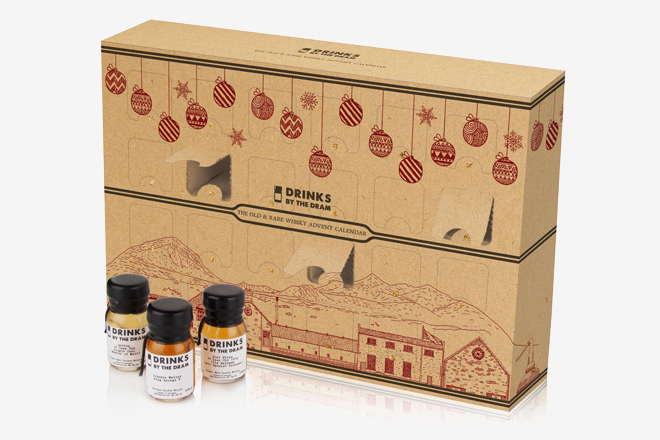 Whiskey Advent Calendar
An advent calendar is an excellent way to count down the days until Christmas. But one in which each date box is filled with a dram of high-end whiskey is especially tantalizing. And while we wouldn't want to spoil the surprises to be found within this excellent mixologist gift box, we can tell you that you'll find whiskies inside from all the best parts of the world — Scotland, Ireland, USA, and Japan. Of course, if you're gonna give this one as a gift, you won't want to wait until the 25th of December.
Crafthouse Cocktail Smoking Box
A part of the joy of drinking can be found in the wide variety of flavor profiles possible. And one of our favorites — present in the likes of whiskey, mezcal, and many other aged spirits — is smokiness. If you like making hand-crafted cocktails and you want to elevate them to the next level, you'll definitely want to get your hands on the Crafthouse Cocktail Smoking Box. Functioning much like a smoking gun used in cooking, this device is a handy and quick way to imbue all your favorite cocktails with a smoky flavor.
Waterford Dungarvan Decanter Set
A whiskey decanter certainly isn't an absolute necessity but it can elevate the drinking experience out of the realm of normalcy and into something a bit more high-class — an affair the likes of Don Draper might partake in. And there are few if any options quite as elegant as the Waterford Dungarvan decanter set. Made from gorgeously crafted crystal with the inclusion of dual 7oz tumblers, this is drinkware anyone could be proud to own.
The Balvenie Bar Cart
Every cocktail enthusiast should have a solid bar cart, though some stand head and shoulders above the others. Take, for instance, the Balvenie Bar Cart — this marvelous piece of furniture is actually made from reclaimed barrels, showcasing the inextricable bond between the distilling process and the delicious end result. Even without a drool-worthy collection of spirits, this is a stunning piece anyone would be lucky to have in their home.
20 Best Home Bar Essentials
While these gifts are an excellent start to putting together a home bar, there's a lot more you need to really fill yours out. And you can find it all here on our list of the 20 best home bar essentials.