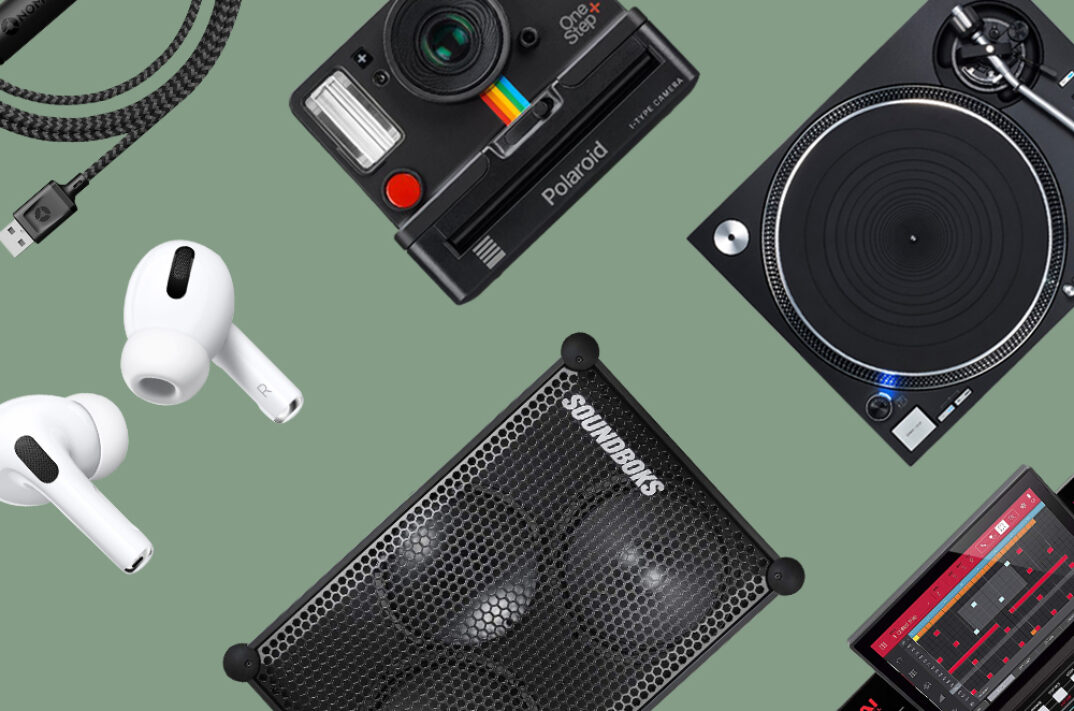 Presented by
Up until the last decade or so, the media that the majority of us consumed was almost entirely decided by a select number of "gatekeepers" at major labels and television and movie networks. Now, with the rise of outfits like iTunes, Soundcloud, and Youtube, anyone with an internet connection and a desire to create has the ability to broadcast themselves and their work to the world. This new era for media has given rise to an unprecedented influx of content. This spike in popularity has also forced the existing players to adapt to the changing landscape.
The overall outcome from all this has yielded what is undeniably the most media-rich period of all time. Of course, this enormous selection of music, television, podcasts, movies, and games to pick from can't be enjoyed without the right gear. However, with such a hugely oversaturated market, it can be difficult even knowing where to start, especially if you aren't one to keep up with the latest headlines in media and tech. For that reason, we've put in the legwork and research to help you hone in on the best gifts for the media junkie.

Soundboks The New Speaker
As the world's first Bluetooth-connected professional speaker system, the New Soundboks packs quite the auditory punch. The 34lbs speaker boasts Poplar housing fortified via silicone corner guards; IP65-rated electronic coating; and powder-coated aluminum frame, grill, and handles. Inside the Soundboks offering are three 72W RMS Class D amplifiers, an Advanced Bass DSP, and a Merus Audio eximo amp that give the system's dual 10-inch subs and one-inch tweeter crisp, distortion-free sound. A swappable 12.8V, 7.8Ah Lithium Iron Phosphate battery offers a cool 40-hours of life, too.

Spotify Subscription
With well over 20,000,000 songs to chose from, Spotify is one of, if not the world's leading music streaming service, attracting some 180 million active users and accounting for approximately 40% of the planet's music streaming market. A Spotify subscription comes with unlimited skips, the ability to play any song and/or download music. It also gets rid of commercials.

Steve McQueen Movie Box Set
A collection of some of the King of Cool's most iconic and celebrated films, with this four movie box set including The Great Escape, The Thomas Crown Affair, The Sand Pebbles, and The Magnificent Seven.

Nomad Ultra Rugged Lightning Battery Cable
One of the most hardwearing iPhone chargers on the market, this 5' cable boasts a PVC jacket and Kevlar core wrapped in a 1000D ballistic weave nylon exterior. Built to withstand more than 10,000 flexions, this cable also includes a built-in 2,350 mAh portable power bank for those times when you can't get to an outlet.

Mophie Power Bank
This nifty iPhone case and power bank combo from Mophie harnesses a 10,000mAh cell that can be wirelessly transmitted to your phone through its case. In addition to powering the phone, the case also provides increased protection. With pass-through charging, when this device is connected to a power source the phone is given a direct charge until full, at which point the power bank starts taking the charge.

Echo Show 5
The newest iteration of Amazon's popular state-of-the-art smart home assistant, the Echo Show 5 boasts all the voice-controlled functionality of its predecessors, while also sporting a compact 5.5" smart display. Offered in Sandstone or Charcoal, this trick piece of tech is compatible with Amazon's suite of software, as well as Skype, iTunes, and many, many more of today's biggest media apps.

Roku Ultra
The latest and greatest streaming device from the popular brand, the Roku Ultra includes all the functionality and convenience of its predecessors and lower-spec models, while also featuring a Quad-core processor, lost remote finder, advanced voice controls, and new personal shortcut buttons and fast channel launch. The HD/4K/HDR device also includes a pair of premium headphones from JBL, too.

Nomad Base Station Apple Watch Edition
Combining old-school elegance with modern-day wireless charging technology, this padded, leather-bound Base Station from Nomad boasts the Realestate and Qi-certified coils to simultaneously juice up your iPhone, Apple Watch, and AirPods Pro. It's also got LED charging indicator lights with ambient light sensors and auto-dimming.

SYMFONISK Table Lamp W/ WiFi Speaker
Born out of a collaborative project between Ikea and Sonos, this contemporary piece of Swedish homeware looks the part of a modern table lamp while secretly hiding a WiFi-connected speaker. Compatible with AirPlay 2 and the Sonos app, this 16" lamp/speaker combo is the perfect addition to any minimalist setting.

Polaroid TheOneStep+ Starter Set
This starter bundle from Polaroid is a fun mix of old-school photography tech coupled with modern smartphone connectivity. Comprised of a new analog instant camera model that pairs with the Polaroid Originals app via Bluetooth, plus three packs of "I-Type Film" (2 color, 1 black and white), this kit comes with everything needed to scratch that photographic itch.

Apple AirPods Pro
The newest premium wireless earbuds from Apple, the AirPods Pro feature active noise-canceling technology, hi-fi-quality audio, and an impressive battery life which can be replenished via the AirPods Pro's wireless charging case.

AKG K701 Headphones
A stellar pair of open-back shells from one of Austria's finest, the AKG K701 headphones sport a phenomenal mix of studio-quality HiFi sound and sleek, modern aesthetics with its tobacco leather and grey fabric construction.

Series 5 Apple Watch
The newest wearable tech from the Silicon Valley powerhouse, the Series 5 Apple Watch comes loaded with a host of new features and functionality housed in a package now offered in a myriad of new cases, including a trick titanium version.

GoPro MAX 360
GoPro's most sophisticated action camera to date, the MAX 360 boasts a bevy of advanced features like HyperSmooth stabilization, digital lenses, a 270-degree panoramic mode, MAX TimeWarp (time-lapse), SuperView, and a dual-lens 360-degree camera. The MAX 360 also comes loaded with on-the-fly editing software and smartphone connectivity.

Samsung Gaming Monitor
A state-of-the-art 49-inch ultra-widescreen, curved gaming monitor from Samsung that was awarded the Best Innovator Award at CES 2019, this super trick screen offers a 32:9 aspect ratio, 120HZ refresh rate, height-adjustable swiveling stand, and a super-bright rating of 1,000 nits for a deep, dynamic, and vibrant color range.

Technics SL-1210GR Turntable
The latest version of what has been the professional standard for DJ's for decades, Technics' SL-1210GR is a premium turntable with a full-torque, direct-drive motor from the classic SL1200, coupled with some modern digital features integrated into the iconic wheel of steel.

Akai MPC X
The newest version of the legendary Akai MPC; The MPC X. On top of a classic 16-pad setup, this all-in-one production center features a built-in (tilting) screen for on the fly visual editing. Unleash your inner Primo or Dilla with this high-tech beat machine.

Steel Speaker
Weighing a whopping 44lbs, this unique speaker was made by hand on the island of Morko near Stockholm by master blacksmith, Jonas Majors. Limited to only ten units in total, this ultra-high-end tri-cone speaker yields an 80-100W output and boasts full steel construction, making it unlike anything else on the market.

Woolsey Smart Desk
Sold in either a White oak or premium American Black Walnut held via a black-powder-coated frame, the Woolsey Smart Desk delivers a classic wood workstation jam-packed with a host of modern amenities including half-a-dozen outlets, two USB ports, Qi wireless fast charger, electronically-adjustable height ranging from 24.5" to 49.5", a remote with four pre-set heights.

Astell&Kern AK380 Stainless Steel
With a stainless steel body, four-inch color touchscreen, 20-band EQ, 256GB internal flash memory (plus microSD slots), Wifi connectivity, and a matching headphone amplifier, the Astell&Kern AK380 is objectively one of the best mobile audio listening devices that money can buy. For those that demand the very best in HiFi, it really doesn't get much better than this.

Leica SL2
The newest camera from Leica, offering a powerful Maestro III image processor, 47-megapixel full-frame CMOS sensor, a color depth of 14 bits per RGB channel, and an ultra-high-resolution, capable of snapping 187-megapixel photos.
The 50 Best Gadgets For Men
Still haven't gotten your fix of techno-wizardry? With so many new offerings being introduced on a near-daily basis, honing in on the good stuff can be easier said than done. Fear not, however, as our best gadgets for men guide is jam-packed with fifty exceptional options.