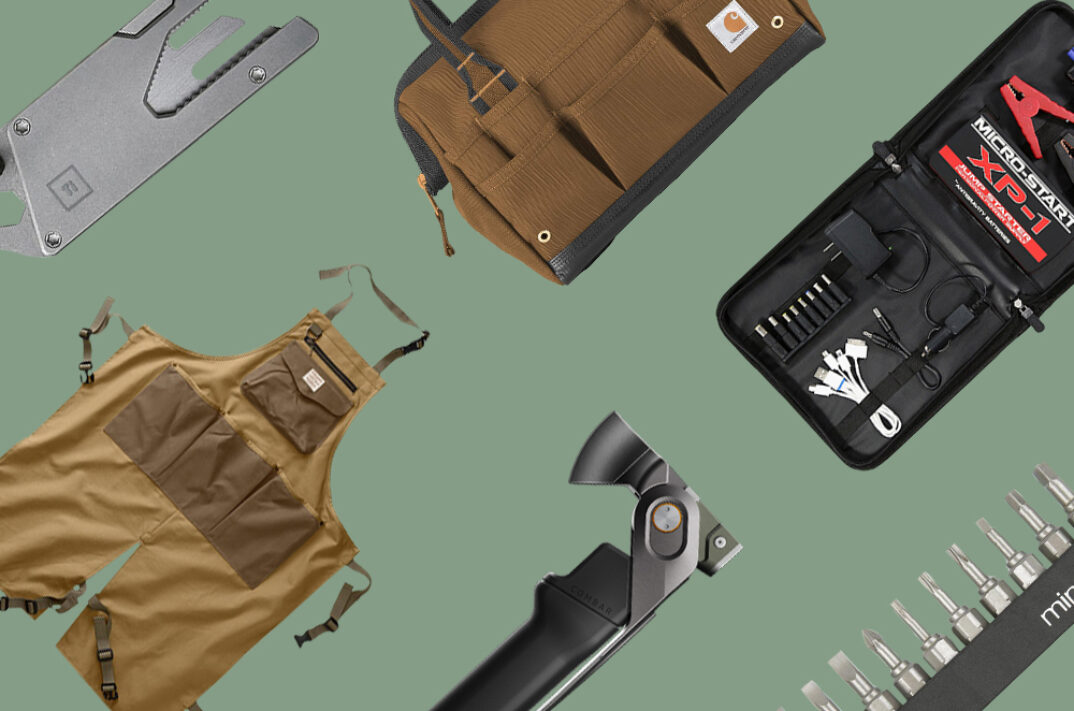 An unfortunate reality of life is that stuff around the house tends to break. And when it does, it's crucial to have someone around who knows a thing or two about DIY repairs. These Murphy's Law-defying individuals can be lifesavers when something is in need of fixing, so it's wise to show your gratitude towards these helpful handymen when the holiday season rolls around.
If you aren't the type that's proficient at working with your hands, selecting a gift for these masters of maintenance can be an arduous task. Luckily, we just so happened to be well-versed when it comes to tools and accessories for around-the-house repairs, so we've compiled this list that's sure to satisfy the handyman in your life.
Klein Tools Tradesman Pro Magnetic Wristband
This ultra-convenient magnetic wrist band puts an end to the days of trying to haphazardly hold nails or screws in your mouth while working on a job. Made from 1680D ballistic nylon, featuring a breathable mesh interior, and boasting a contoured, ergonomically shape, this is one intuitive offering that every handyman should own.
TEC Accessories Inchworm Titanium Keychain Ruler
This simple-and-straightforward keychain attachment is extremely handy for the DIY enthusiast, as it allows you to take small measurements on-the-fly — whenever you've got your keys on you. And while this beautiful piece of functional art is plenty handy, the titanium construction also makes it exceedingly durable.
Grypmat
This wonderfully handy catch-all tray is made from a flexible yet sturdy and grippy material that can hold tools at up to a 70-degree angle without slipping. It's also anti-static, chemical resistant, and can withstand temperatures of up to 500-degrees F. With built-in measurement cues and nine separate storage areas, the Grypmat adds a dose of convenience to any task around the house, office, or shop.
Fiskars Hatchet
This uniquely-shaped 9-inch hatchet from Fiskars boasts a heavy weighted blade supplemented by a hooked section, making it ideal for gardening, landscaping, and chopping wood, alike. The rubber handle provides plenty of grip and the cutting tool comes with a nylon sheath and lifetime warranty.
Wrap-Ties
A unique and innovative tie-down system made up of elastic and velcro sections that can be secured using the looped ends and grab handles. These versatile items offer an immense range of uses, from securing luggage to a motorcycle, hauling lumber, you name it and these rugged tie-downs are up for the job.
Carhartt Legacy Bag
Constructed from rugged DWR-coated 1200-denier heavy-duty polyester and sporting an abrasion-resistant Duravax base and internal metal chassis, this robust tool bag from Carhartt provides plenty of Realestate for your tools. Standing at 14" tall, and measuring 10.5" wide and 9" deep, this convenient and hardwearing bag features 10 inner pockets and seven outer compartments.
Big Idea Design 10-In-1 Titanium Pocket Tool
One of the most compact and versatile pocket tools on the market, this tricky little offering affords ten different tools and functionalities, including a universal wrench, blade, screwdrivers, 1/4" hex bit opening, bottle opener, and pry-bar, just to name a few. Constructed from aerospace-grade 5 6AL4V titanium, this awesome little item from Big Idea Design is a stellar addition to anyone's EDC loadout.
Mininch Pen Tool
Constructed from 6061 aluminum with a sand-blasted finish, this handy pen-sized tool contains 16 bits (a trio of slotted pieces, four-star bits, three square bits, four hex bits); six of which can be stored in the tool's handle. Less than 6" long and weighing less than 0.25lbs, the Mininch Tool Pen allows you to carry almost 20 different screwdrivers in your pocket.
Worx 20V Switchdriver
The Worx Switchdriver lets you go from drilling to driving with a simple twist of its rotating head. Variable two-speed gearing with an adjustable torque control makes this cordless power tool conducive to a wide array of tasks. It also comes with two swappable "MaxLithium" 20V batteries.
Dremel High-Performance Rotary Tool Kit
From detail-oriented grinding work to small-scale polishing, a Dremel rotary tool is actually a good deal more valuable than you might first consider. And this kit includes everything you need for a wide variety of jobs. Alongside its bevy of tip attachments, it also comes with a handy carry case, so you can take it to and from your job site with ease
Makita Portable Coffee Maker
Capable of whipping up a 5oz cup of joe in just 5-minutes, this portable coffee maker weighs less than 5lbs and comes with a three-year warranty. The 5.0Ah LXT battery is good for making at least three cups on a single charge. This machine accepts ground coffee or single-serve packets, and thanks to its permanent drip filter, no disposable paper filters are ever needed.
Leatherman Wave+ Multi-Tool
Weighing just over 0.5lbs and measuring just 4" (when closed), this limited edition black and silver stainless steel Leatherman multi-tool incorporates two-and-a-half dozen locking tools — including removable/replaceable wire cutters – into its sturdy design. The Wave+ also comes with a nylon sheath and a 25-year warranty.
ISOtunes Wireless Bluetooth Hearing Protection EarBuds
Save your favorite handyman's hearing with these OSHA-approved wireless Bluetooth noise-canceling ear-protection earbuds. Made to withstand water, dirt, sweat, and dust, these high-tech pods offer 7-hours of battery life, come in a portable charging case, include a one-year warranty, weigh only 4.5 grams each, and boast Dual omnidirectional microphones with CVC background noise canceling, enabling the user to take phone calls (in one earbud or both) while in extremely loud environments.
DeWalt 205-Piece Mechanics Tool Set
This 205-piece mechanic toolset from DeWalt comes loaded with the most commonly-used sockets, Allen keys, and bits for basic upkeep and repairs. Boasting DeWalt's DirectTorque Technology, this kit includes 72-tooth rachets that afford five-degrees of pivot range for easier access when working in those hard-to-reach places. Thanks to its durable locking blow-mold case, keeping all 208 tools organized and at the ready is a breeze.
Antigravity XP-1 Power Bank
A compact little gadget from top-shelf Lithium-Ion auto/moto battery purveyors, Anti Gravity, this premium power bank packs quite the punch, boasting enough juice to jump-start your car or charge your phone, laptop, or tablet. Weighing less than one pound and measuring 6.25 inches in length, the XP-1 includes an integrated LED flashlight and comes in a carry case, complete with clamp-style jumper cables and an array of adapters (mini USB, micro USB, Apple 8-pin, Apple 30-pin, etc).
Petzl NAO+ Bluetooth Headlight
One of the latest and greatest headlamps from one of the world's most renowned headlamp purveyors, the Petzl NAO+ packs a cool 750 lumens in its multiple light cones. Powered by a rechargeable 3100 mAh Lithium-Ion battery, this modernized headlamp is Bluetooth compatible and pairs with the Petzl My Light App.
Filson Tin Cloth Utility Apron
This premium Tin Cloth Utility Apron from Filson is the garage dweller's go-to garment of choice. The abrasion and water-resistant shop apron features a D-ring for hanging tools, three utility pockets, a single flap pocket, and a single zippered pocket — all of which are oil-finished and water-repellent to mitigate the chance of tools rusting. Unlike regular aprons, this Filson item is split at the bottom, enabling it to be secured at the thighs via its adaptable buckle-closure straps at the waist and legs.
COMBAR Pro Survival Multi-Tool
The COMBAR Pro is a cleverly-designed survival multi-tool that sports a pivoting 420HC steel head that enables it to transform into a hammer, spade, or axe on the fly. The robust glass-reinforced nylon handle conceals a separate fixed-blade drop-point knife and folding saw.
Milwaukee Mobile Work Bench
As any handyman can tell you: no matter how many tools you have, no collection is complete without proper storage, which is where this fantastic rolling chest from Milwaukee comes into play. With 12 different lined drawers and compartments, plus a corkboard, and hardwood top, this 20-gauge steel workbench is an organizational godsend. Six casters wheels make maneuverability a piece of cake, even when loaded up to its 1.1-ton capacity.
Yamaha EF2000iSv2 Inverter Generator
Worksites and workshops don't always have ample power for all your power tools — and sometimes they don't have power at all. That's where Yamaha's Inverter Generator comes in handy. This device, which weighs in at 44.1 pounds, is easily portable to and from wherever it's needed. But it also boasts the ability to pump out 2000 watts of power — and that makes it practically invaluable for the handyman.
The 40 Tools Every Man Should Own
If the handyman in your life is all stocked up on the gear you see here, there's bound to be something they need on our comprehensive guide to the tools everyone should own.