We all have a friend we can rely on when things literally fall apart in our lives. They're usually getting down and dirty on some project in their garage or attending to something broken around their house, armed with a trusty tool belt and a passion for making things "better than new." Building or repairing something with your own two hands gives you a feeling of closure, which is a rare sentiment in a world decorated with question marks.
For the handyman who has an army of tools in their garage, it can be hard to pinpoint the right gift this holiday season. In scouring the web for the latest and greatest tools, we'll save you from wandering a hardware store without an idea of what you might be tracking down for a handyman who has it all. We've taken the time to carefully select the best tools, gadgets, and accessories that will put an authentic smile on any handyman's mug. We're sure you'll find the perfect gift from our handpicked selections below.
Carhartt Ground Force Work Boots
Comfort and protection for a handyman's feet are a necessity, and both those aspects are covered with Carhartt's Ground Force Composite Toe Work Boots. The lightweight oil-tanned leather work boots are built tough with a 'Storm Defender' waterproof membrane, abrasion resistant rubber heels, 'FastDry' lining to wick away sweat, cement-constructed Ground Force rubber outsoles, composite toes, and EVA midsole shock-absorbing inserts. They also have secondary protection against contact with electrical circuits of 18,000 volts or less.
Soto Outdoors Pocket Torch
Place any disposable lighter into a Soto Outdoors Pocket Torch and you'll have a fire starter able to burn for 20 minutes. This wind-resistant gadget is capable of reaching up to 2,300 degrees Fahrenheit and boosts the life of any disposable lighter by 60%.
DeWalt Demolition Hammer
The DeWalt Demolition Hammer is a multi-functional beast with its oversized strike face for smashing through drywall, elongated claw curve to pry nails with ease, and upgraded standard hammer features for demolition duty. It also has an ergonomic grip, making prying floorboards and framing a breeze.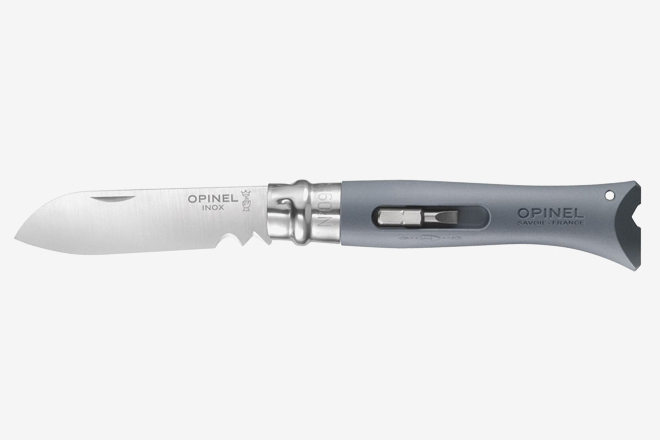 Opinel No. 09 DIY Knife
Opinel makes some of the finest blades on the planet and their No. 09 DIY Knife is one of the best designs they have. It has a durable 12C27 Sandvik steel blade, a fiberglass-reinforced polyamide handle, and a Virobloc Safety Ring locking mechanism. With built-in bit storage and a magnetized bit driver slot at the base, this is one of the best knives for on-the-go maintenance.
Gerber Pack Hatchet
With a solid, full tang stainless steel construction and a rubber over-mold handle, Gerber's Pack Hatchet is an indispensable tool for any handyman. It has a tall grind for superb sharpness, a convenient lanyard hole, and a nylon sheath for mounting on your backpack or belt.
Mechanix Cut Resistant Pursuit E5 Gloves
Pursuit E5 is the right pair of gloves to protect your golden hands in your hectic workspace or garage. They're made with carbon-infused touchscreen-capable synthetic leather and lined with Armortex cut-resistant material. With Thermoplastic Rubber closures to fit perfectly and breathable 'TekDry' material to keep your hands dry and cool, these gloves are the right fit for any repairman.
Bradley Mountain Tool Roll
Made from Martexin heavy-waxed canvas, Bradley Mountain's Tool Roll is perfect for taking your primary tools to the worksite. The American-made tool roll has an oiled leather strap and four 6-8" deep pockets along with two pen pockets, making it perfect for projects in and out of the workshop.
Wraptie Multifunctional Straps
Wraptie Multifunctional Straps are reliable for safe transport because they'll keep your tools and oversized gear strapped down securely, Boasting an auto-grab feature for faster tie downs and an adjustable fastening system for multiple applications, straps don't get any better than this.
These straps are strong enough for the long haul thanks to their construction of high-strength industrial grade elasticized webbing materials.
Best Made Co. The Utility Apron
Protect yourself from wood chips, metal shavings, motor oil, and varnish with The Utility Apron by Best Made Co. It's built with sturdy 10 oz duck canvas, riveted webbing side utility loops, and brass hardware in high-stress areas. The apron has two front tool pockets, two side entry pockets, and a front pocket with a leather-reinforced brass snap.
Bosch EasyCut 12 NanoBlade Mini Chainsaw
Ditch the garden shears and invest in Bosch's mini-chainsaw to get the small jobs done faster. This cordless tool utilizes vibration-free 'NanoBlade' technology that allows you to make precise cuts without the need for clamping down the workpiece. It comes with a 12V battery pack and there's no oiling or sharpening required.
Worx ExacTrack Circular Saw
Make straight cuts in your workshop easier with the Worx Circular Saw and its innovative 'ExactTrack' function that keeps the blade flush against the cutting guide board. The saw is capable of 90-degree cutting, bevel cutting, and more with its 20V max battery. The 'ExacTrack' Circular Saw comes with a carbide-tipped wood-cutting blade.
Bostitch Rolling Tool Box
This modular rolling tool-carrying unit can go just about anywhere with its seven-inch rubber wheels. The top portion pops right off and can be used as a convenient stand-alone toolbox. It has a load capacity of 70 lbs and heavy-duty ball-bearing slides to carry all the tools you need to execute the project.
Bosch Max Flexiclick 5-in-1 Drill
Drilling is made easy with Bosch's Max Flexiclick 5-in-1 Drill. It has a swappable attachment system for changing bits and angles in mere seconds. The cordless tool comes with numerous attachments for a variety of jobs, including a keyless chuck, locking bit holder, and an offset angle. Tight spaces won't be a nuisance anymore with the Flexiclick.
Leatherman Charge TTI Multi-Tool
The Leatherman Charge TTI Multi-Tool provides you with 19 tools in one compact piece of gear so you can fix what you need to wherever you are. You're not always going to have your full tool belt but this multi-tool includes a variety of instruments, including an S30VN blade, large bit driver, scissors, imperial-metric hybrid ruler, medium screwdriver, and hardwire cutters. This one-hand operable titanium multi-tool is the perfect handyman companion.
DeWalt 2 Max XR Cordless Impact Wrench
DeWalt's rugged Impact Wrench has 700 ft-lbs of fastening torque and 1,200 ft-lbs of breakaway torque. It features a brushless motor for smooth efficiency and a generous runtime. The cordless Impact Wrench is tough enough to shake off a drop from eight feet high.
Makita Job Site Coffee Maker
Built to take a beating, Makita's cordless coffee maker is able to brew five cups of your favorite java per charge. It runs on the same rechargeable lithium-ion batteries as your power tools and accepts multiple battery sizes. The 1.5-pound Jobsite Coffee Maker works with the brand's coffee pods and instant coffee.
Veto Pro Pac Tech LC Tool Bag
Constructed with 53 pockets, including two neoprene pockets, the Veto Pro Pac Tech LC Tool Bag can lug around all your heavy-duty tools. The waterproof bag has industrial strength double nylon stitching, powder-coated D-rings, and a stainless steel tape clip. This bag is built to last and can accommodate technicians' tools.
Yost Multi-Purpose Reversible Combination Vise
The Yost Multi-Purpose Vise is equipped with replaceable hardened top jaws designed to grip objects securely. The vise comes with a reversible jaw, which you can switch from serrated to smooth in no time at all. It's made from heavy-duty 65,000 pounds per square inch ductile iron and built with a swivel base so you can mount it securely to your workbench.
Muyshondt Aeon MK. III S2 Titanium
Every repairman needs a trusty flashlight and Mushondt's Aeon MK III S2 shines the brightest in terms of quality. It's packing 160 lumens with three settings via a Calibre 515 Light Engine, an MPC-CR2L Power Cell which can last months, and it comes in a titanium or a copper body. The brand also put it through some rough testing, including sending it up 100,000 feet in the air unprotected in near-outer space and it was still fully functional.
Bedslide Truck Drawers
Turn your pickup truck bed into a weather-resistant sliding drawer capable of supporting up to 2,000 lbs with the Bedslide. Borrowing the concept of a kitchen drawer, this innovative slide-out rack system gives you the convenience of having quick access to all your tools in seconds. Made in the USA, the Bedslide has 'Bedtrax T-slots' for succinct gear organization and comes with a lifetime warranty.
Handyman Essentials: 40 Tools Every Man Should Own
So you've picked a gift to wrap up for the handyman on your list. Well, it's time to think about your own tool box. Check out our comprehensive list of the 40 essential tools every man should own and make sure you're up to par.