Especially with how popular food shows, blogs, and social media foodie stuff has gotten, culinary gear has never been more widely available nor of better quality. That also means, if you've got a home chef in your life, the holidays are the perfect time to help them improve the quality and content of their kitchen.
Of course, for every one reliable piece of gear, there are dozens of imposters that are poorly made — sometimes to the point of being dangerous. Rather than taking your chances with questionable offerings hanging on the racks at your favorite home superstore, you could turn to our guide here and find the perfect gift that won't let you or your recipient. These are the 20 best gifts for the chef of 2019.
Pyrex Simply Store Meal Prep Containers
Even the most practiced chefs in the world sometimes make too much food. But those old storage containers can leech plastic into your food and aren't particularly good for the environment. Opt instead for these handy Pyrex containers that are made from sturdy, BPA-free, microwave- and dishwasher-safe glass.
A Very Serious Cookbook: Contra Wildair
Made by legendary culinary duo Jeremiah Stone and Fabián von Hauske of Contra and Wildair, this isn't your grandpa's stuffy cookbook. Rather, this one boasts a bevy of interesting and unique recipes, full-color photography, and a heaping helping of good humor.
Lodge Blacklock Cast Iron Cookware
Lodge makes some of the most well-respected and sought-after cast iron cookware around. But they may have outdone themselves with their latest Blacklock collection — named after their fabled forge. The set is fairly limited — including a number of different-sized skillets, a grill pan, a double burner griddle, and a dutch oven — but each piece is superb.
Smith & Truslow World Traveler Spice Set
If variety is the spice of life, the spices are what add variety to your food. With enough good spices, you can practically turn a leather boot into a gourmet meal. And this kit boasts 9 pre-mixed seasonings from around the world. This is a gift set that's perfect for the adventurous chef in your life.
Filson Tin Cloth Apron
Cooking can be a messy business. But since you and yours probably aren't interested in wearing your meals on your clothing, the Filson Tin Cloth Apron can be a lifesaver. It's made in the USA, has five utility pockets, is completely machine washable, and has adjustable nylon straps.
Best Made Ceramic Kitchen Shears
You might not think of scissors as a kitchen tool, but that's a big mistake in our opinion. Not only are kitchen shears great for opening packages, but they can help with trimming fresh garnishes, smaller vegetables, and various other cutting tasks. And they don't get much better than this beautiful ceramic-coated stainless steel pair from Best Made.
Meater+ Smart Thermometer
There are a lot of different techniques for cooking meat, but there's one constant you need to keep in mind no matter your process: undercooked meat can make you and your fellow eaters extremely sick. But the Meater+ Smart Thermometer was designed to ensure that never happens by making gauging the internal temperature of your steak, chicken, fish, or whatever else as simple as opening a phone app.
Chrome Industries Chef's Knife Roll
Designed in collaboration with Chef Chris Cosentino, Chrome Industries' Chef's Knife Roll is intended to be the ultimate kitchen tool transportation container. It's made from ultra-tough abrasion-resistant 1050D nylon, it has individual slots for all your gear, and it saves a lot of space when compared to other options.
Simplehuman Stainless Steel Trash Can
Do not underestimate the importance of having a hands-free trash can in your kitchen. After all, contamination is a very real risk — especially when it comes to raw animal products. You can save yourself a lot of trouble and aggravation if you don't have to lift up the lid of your trash can to toss stuff out and it also helps stave off unpleasant smells.
BakerStone Pizza Oven Box
Not everyone is fortunate enough to have a woodfired oven in their kitchen. But you can still make woodfired-style pizza on your stovetop or atop a barbecue grill, so long as you've got the BakerStone Pizza Oven Box. It accommodates dough up to 14″ in diameter, has a ceramic baking chamber, and even boasts a unique airflow system to make sure every pizza is perfect.
Williams Sonoma Striped Cutting Board
Despite their convenience, plastic cutting boards are not particularly great for cooking — especially if you often find yourself dressing meat. By contrast, this wood option from Williams Sonoma is made from sustainably-sourced maple and walnut, is resistant to stains and even has minor antibacterial properties, and has handles for easier carrying.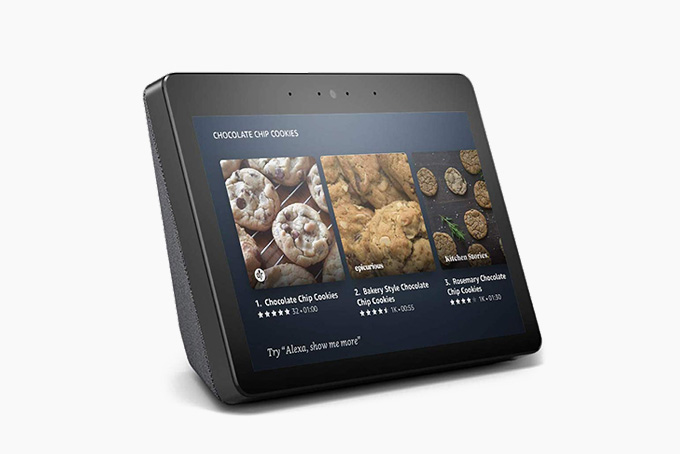 Amazon Echo Show
While Amazon's Echo Show is just a good all-around smart device, it's also extremely useful in the kitchen. Not only can it play music, pull up news and alerts, and make calls (both voice and video) — all with just voice-instructions — but it can actually walk you through recipes step-by-step with help from Alexa.
Le Creuset Cast Iron Dutch Oven
Trusted by some of the industry's top professionals, Le Creuset is perhaps the number one name in enamel cookware. And while their offerings can cost quite a bit, they're heirloom pieces you could pass down to your children and their children. Perhaps their signature offering, the dutch oven is a versatile cooking device that can be used to make single-pot meals (like soup or stew), bread, and can even be used as an ad hoc deep fryer. And that makes it an excellent gift for the chef in your life.
Anova Culinary Sous Vide
Perhaps obviously, sous vide is a French cooking technique that hinges on immersing your food in a pot of heated water — which makes for healthier meals, more even temperatures, and can even impart more flavor and tenderness to your meals. And the Anova Culinary smart sous vide you see here makes it even simpler with Bluetooth smartphone connectivity and an included app.
Snow Peak Smokemeister Camp Smoker
Smoking can impart a depth of flavor into your food that's unattainable using any other technique. But smokers typically don't travel well, making it nigh-impossible to have a smoked meal anywhere but your home (or restaurants). But the folks at Snow Peak have just remedied that issue by creating a portable smoker designed for the campsite.
KitchenAid Artisan Series Stand Mixer
For bakers, mixing is an essential skill. But it's also time-consuming and messy if done by hand. That's why KitchenAid's industry-topping Artisan Series Stand Mixer is so valuable. This set-it-and-forget-it device will ensure that every batter, dough, or whatever else is mixed perfectly and properly every time and it will free you up to prep other parts of your meal.
Emerson Knives Signature Series Carver
Camp cooking can be extremely gratifying, but most culinary tools don't travel well — especially chef knives. That's where Emerson Knives comes in. They've built an ultra-tough carving knife made especially for outdoor chefs. Even if you don't use it to cook, this fixed blade is an exceptional cutting tool.
Philips Premium Digital Airfryer XXL
It's no secret that fried food is delicious, but it's also one of the least healthy ways to prepare anything — which is troublesome for those who are health-conscious. However, there is an answer to be found in the Philips Premium Digital Airfryer XXL. This device will crisp up your food with a good deal less oil and, therefore, less unhealthiness. If you can't give up fried food, this is a pretty solid alternative.
Hinoki S1 Gyuto Chef's Knife
A chef knife is, undoubtedly, one of the absolute most important tools in any kitchen. And the Hinoki S1 Gyuto is amongst the best ever made — boasting the same tamahagane steel of ancient Japanese swords, gorgeous wood handles in a trio of options, and a gorgeous geometric silhouette. It's not quite on the level of a katana, but it's not far off, either.
Noori Modular Grill
Besides its obvious beauty, the Noori Modular Grill is also remarkably versatile — paring four traditional cooking styles into a single device. That means it can be customized to the meal you want to prepare and can easily be swapped out for other styles on-the-fly. It's also on wheels for easier transporting — not that you'd ever want to put this beautiful barbecue away.
The 30 Best Kitchen Gadgets
If the gastro-scientist in your life likes to trade in high-tech gizmos, you could probably find the perfect gift for them on our list of the best kitchen gadgets.