The home chef is the hero of the household — the person who spends countless hours in a hot little room working hard to fill your stomach with love-filled sustenance on a regular basis. If you're lucky enough to have one in your home, you'd be smart to pay back their countless kitchen hours with a gift that not only shows your appreciation for their culinary aptitude but also rewards you with more delicious meals.
We set out to develop a comprehensive list of kitchen essentials for the chef who sees mealtime as an opportunity to flex those creative muscles and produce tantalizing food from scratch. Whether your chef knows how to grill the perfect steak, has their great-grandma's recipe for the world's best spaghetti sauce, or creates delicious meals from what's left in the refrigerator, help them up their game this holiday season with some new kitchen gear that's sure to impress and be appreciated. After all, a gift for a chef is really just a deposit on a future meal you're sure to enjoy — so don't hold back this holiday season.
Harold Import Co. Dual-Action Potato Masher
The chef on your list is destined to struggle through the holidays without a spud tool like this. The stainless steel rustproof 2-in-1 kitchen essential smashes and rices softer cooked foods like potatoes, yams, apples, and pumpkins with ease. It's dishwasher safe, easy to clean, and far more efficient than a standard open-wire masher.
OXO Good Grips Flavor Injector
From marinades and brines to chicken stock and minced garlic, a literal injection of flavor is almost always a welcome addition to any meat or poultry preparation. OXO's flavor injector comes with two stainless steel needles for a thin or thicker marinade and a BPA-free Tritan tube with measurements up to 2 ounces. Just make sure you don't mention the last dry Turkey your favorite chef served at Thanksgiving while they're opening their gift.
Kyoto Bamboo Kurochiku Chopsticks
These artisan bamboo chopsticks are crafted by a fifth-generation atelier who utilizes traditional shaping techniques through the lens of modern design. The lightweight and sturdy eating tools are made from kurochiku bamboo and covered with a woody vine grip from Wisteria plants native to Japan.
Oxo Steel Garlic Press
The average American consumes over 2 lbs of garlic each year. But if the average American was being fed regularly by a great chef, garlic consumption would skyrocket. While any chef worth his salt utilizes garlic in a litany of recipes, few chefs love the tedious task of breaking open a bulb and mincing it to perfection. Using OXO's durable zinc and stainless steel tool is almost cheating — its large chamber and built-in cleaner turn heads of garlic into pure flavor with the simple squeeze of a hand.
Victoria Cast Iron Tortilla Press
Authentic tortillas can make or break Mexican food. Because the combination of salt, masa harina, and water is as simple as it sounds, it's really the shape and thickness that makes or breaks a great tortilla. If you want to make yours like a local, look no further than this Columbian made heavy-duty cast iron press that's perfect for tortillas, empanadas, dumplings, pie shells, and more.
Japan: The Cookbook
For many chefs, cooking is a flavorful gateway to other cultures, customs, and ways of thinking. Renowned food writer Nancy Singleton Hachisu guides you through Japan's iconic and traditional regions with more than 400 recipes organized by course, with full-color photos to help make the journey more enjoyable.
Opinel Le Petit Chef Box Set
Few things are more enjoyable to pass down to future generations than a closely guarded family recipe and the skills to "make it like Grandma." If the chef on your list has only recently graduated from Kitchen Porter, an educational tool to teach them how to cook safely is a no-brainer. This three-piece is recommended for ages 7-11 and includes a knife, vegetable peeler, and finger guard designed to show kids the correct finger positions for safe use. The anti-corrosive blades are made from Sandvik 12C27 modified stainless to ensure you can get a few semester's worth of education out of them.
Fellow Stagg Pour Over Kettle
While the debate for how to make the perfect cup of coffee may never be settled, most in the discussion will agree that drip coffee plays second fiddle to the quality and control found in pour over methods. Help your home chef step up their caffeine game with the kettle used by the brewing pros at the U.S. and Dutch Brewers Cup Champions. This style-forward coffee essential has stainless steel body and lid, making it compatible with Gas, electric, and induction ranges.
Milo Dutch Oven
This thick-walled cooking pot with a tight-fitting lid has been a cooking essential for literally hundreds of years. And while the format is not new, Milo's tasteful take on the French-inspired Dutch oven is refreshing. The 5.5-quart kitchen essential is ideal for making stews, sauces, baked bread, and slow-cooked braises. It's dishwasher safe, oven safe to 500°, and comes with a lifetime warranty.
Marcato Atlas Pasta Machine
The gold standard in pasta machines, the Marcato Atlas cuts and rolls pasta dough for authentic spaghetti, fettuccine, lasagne, and much more. Each machine is made in Italy and comes with a 10-year manufacturer's warranty. Roll dough to perfection up to 150mm wide with 10 different thickness settings (0.6 to 4.8-millimeter). If your favorite chef has a great recipe for pasta sauce, a high-quality pasta machine is an obvious choice for a holiday gift.
Victorinox Rosewood Steak Knives
Ask any craftsman and they'll tell you, it's all about having the right tools for the job. And if a great piece of steak is on the menu, the right tools include a quality set of knives. Victorinox is famous around the world for their Swiss Army Knives, but their aptitude for sharp tools shines the brightest on the dinner table. This set of six straight-edge, pointed-tip steak knives features carbon stainless-steel blades stamped from cold-rolled steel with rosewood handles designed for and comfort. Hand washing is recommended for these lifetime-guaranteed knives.
Teakhaus Reversible Teak End-Grain Cutting Board
Unless your chef's home kitchen is blessed with granite countertops, they're going to need a high-quality wood cutting board to prepare all of your favorite meals. And if you're going to use wood, you'd be doing the planet a favor by utilizing a sustainably grown teak wood from trees cultivated without the use of toxic fertilizers or irrigation. Teakhaus' reversible cutting board features hand grips for use as a serving tray. Teak is a durable wood that's easy on cutlery and able to withstand years of heavy use.
Zwiesel 1872 Handmade Wine Decanter
Few things compliment the complex flavors of a dish like the right wine. This thoughtfully designed red wine decanter is made from Tritan crystal — a titanium and zirconium oxide that's resistant to chips, scratching, and breakage. Each decanter is handmade and blown by mouth in Germany. The decanter has 1-liter of capacity, stands at 9 inches tall, and offers beautiful patterns as red wine flows down the sides when poured in.
The Field #10 Cast Iron Skillet
A cast iron skillet is probably the most important tool in the chef's arsenal. Whether you're frying up the quintessential American breakfast, searing a steak to perfection, working with flaky pie crusts, or crisping fresh vegetables, the heat retention and naturally non-stick surface of cast iron make this the best choice. Every one of Field's cast iron skillets is made in the USA and durable enough to pass down to future generations, along with a few guarded family recipes.
Kamado-san Double-Lid Rice Cooker
The double-lid rice cooker is an artisan-crafted Japanese kitchen essential that's used for much more than just making premium-grade rice. Each handcrafted donabe (clay pot) is unique, with slight variations in every detail that make each piece special. The clay from the Iga region of Japan consists of prehistoric fossilized microorganisms that leave the pot porous when fired, offering the remarkable heat-retention that's made these so popular for hundreds of years. Donabes are perfect for making rice, stews, soups, or hot pot meals and they get better with age, developing character as the glazed surface forms "kannyu" or vein-like cracks with use.
The Iconics Kitchen Essentials
If you really want to help spruce up your favorite chef's kitchen, the best bang for your buck is this kitchen essentials kit from Iconics. It's a stylish and functional 10-piece collection that includes three knives, three spoons, tongs, a spatula, an air whisk, and a handsome wood base to keep everything organized. The 8" knife is certainly the standout with a full-tang design in Japanese steel with a razor edge and a comfy grip. Choose between wood colors of walnut, maple + beech, or midnight black + walnut and pair them with one of four handle colors.
KitchenAid Artisan Mini Stand Mixer
The Kitchenaid stand mixer is without a doubt the undisputed king of mixing. While the handmade approach in the kitchen usually yields the best results, the human hand just can't keep up with this powerhouse when it comes to baking preparation. The mini version is 25% lighter and 20% smaller than its classic stand counterpart but still offers enough power to take on any task. The tilt-head design offers easy access to the bowl and attachable beaters for easy use and cleaning. With a veritable rainbow of colors to choose from, there's an Artisan Mini Mixer that's perfect for your favorite chef's workshop.
Calphalon Premier Space Saving Nonstick 6-Piece Set
Founded in Perrysburg, Ohio in the late 1960s, Calphalon was the first company to apply technology developed in the aerospace industry to create a professional line of cookware utilizing treated raw aluminum. And they continue to push the boundaries of home cookware with their Premier series of hard anodized nonstick pots and pans with tempered glass covers. This dishwasher-safe space saving set shrinks the overall footprint by 30%, saving precious space in your favorite chef's counter or racks. The set includes 8" and 10" diameter cookware with a three-layer nonstick interior made to withstand metal whisks, spoons, and spatulas.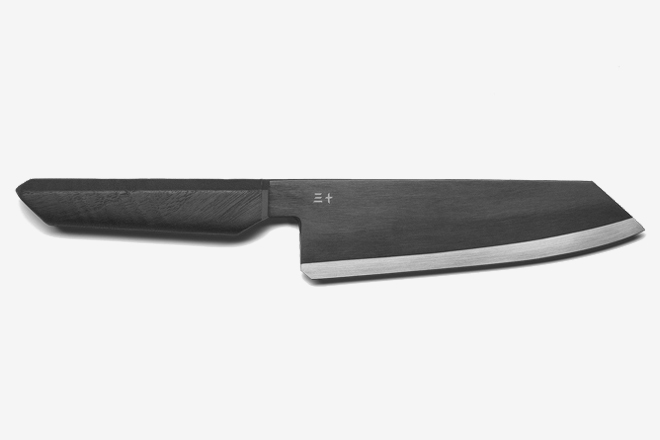 Hinoki S1 Gyuto Chef's Knif
Nothing gets a chef more excited than a drool-worthy knife. And few blades can make a chef salivate like this minimalist pure black carbon steel blade constructed from White Steel #1, the closest material to the tamahagane steel used in traditional samurai sword making. Hinoki lets you personalize your gift with a charred walnut, American walnut, or European oak handle and you can also have your chef's initials engraved near the hilt. This 182MM blade from Osaka, Japan will be the best gift your chef gets this year.
Breville Smart Oven Pizzaiolo
While there's nothing quite like the flavor and consistency of a pizza cooked in an old school wood-fire brick oven, not every kitchen has the space for a dedicated pie cooker. If the master of pizza in your life has been relying on a traditional oven or even a nice pizza stone, help them take their game to a new level with a smart oven pizzaiolo from Breville. This compact stainless steel oven hits temperatures of 750°F to create the optimal environment the perfect 12" Neapolitan-style pizza. The smart home essential features an innovaetive Element IQ system to maintain the perfect temperature for a variety of pizza styles, pumping out the perfect pie every time.
35 Essentials For Every Man's Home
Now that you've checked the kitchen items off your list, perhaps you'd like to expand your gift search to the rest of the home. We've got you covered with the 35 essentials for every man's home, so let the holiday spirit shine.
HiConsumption is reader-supported. When you buy through links on our site, we may earn an affiliate commission. Learn more