The transition from photography and still capture into that of cinematography is a natural one; rather, it seems to be a natural progression for those who have a passion for telling stories, immortalizing moments, and taking your creativity into an entirely new realm. That being said, the world of filmmaking is decidedly more complex, with the cost-of-entry for the medium soliciting no favors in terms of accessibility.
While there's certainly a steep learning, investment, and commitment curve that everyone must undergo to create the best content possible, that doesn't mean that the genre can't be equally as impactful without high-end gear. For those who don't want to drop a ridiculous amount of cash on items that they may, or may not use, we've created a nice entry-level guide that will outline beginner, mid-range, and semi-professional gear to cover most of the bases surrounding the medium. From lenses and accessories, all the way to larger, more expensive items like camera bodies and drones, we'll help you to create a well-rounded arsenal to bring your filmmaking dreams into reality.
For every aspiring filmmaker, there's one piece of gear that's absolutely essential: the camera. As obvious as it might seem, the real difficulties come when trying to find an entry-level system that's both capable, and affordable, giving you the desired results and acting as the perfect medium for your creative expression. Below, we'll talk about three of the industry's most versatile beginner's cameras.
Sony A6500
As a beginning filmmaker, you're going to have to come to terms with the fact that many of the medium's high-end cameras will be well outside of your price range. For many, this means that turning to a DSLR or mirrorless camera is likely the best option. While there are a plethora of notable handheld variants to take your cinematic endeavors to the next level, few manufacturers do it quite like Sony, with the compact, intuitive A6500 taking top honors. Built-in five-axis stabilization, an APS-C 24.2-megapixel Exmor CMOS sensor, and a BIONZ X image processor bridge the gap for aspiring videographers yearning to dip their toes into the 4K realm. Better yet, you'll be able to take advantage of the camera's powerhouse video recording without pixel binning, meaning that the entirety of the sensor is at your disposal.
Blackmagic Pocket Cinema Camera 4K
A perfect midrange option for aspiring moviemakers arrives under the moniker of the Blackmagic Pocket Cinema — a 4K powerhouse that's both affordable and capable. This camera even gives top-end platforms a run for their money, calling upon characteristics that were once reserved for the industry's most illustrious models. You'll be able to tap into game-changing aspects like dual native ISO (0-25,600), RAW video file recording, a full 4/3 HDR sensor, and an insane 13 stops of dynamic range, allowing you to capture your vision in a way that many of the genre's similarly-priced platforms could never hope to achieve. With one of the industry's most respected names at its back, it would be a severe understatement to say that the Blackmagic Pocket Cinema 4K camera is a bargain.
Canon C200
When it comes to mid/high-range movie-making, documentary work, and entry-level cinematics, Canon's C (or Cinema) line is hard to beat. Aside from its intuitive nature, excellent interfacing, and legendary color reproduction, Canon's C200 exemplifies the finest aspects of the company's Cinema selection, calling upon a built-in electronic viewfinder (EVF), four-inch LCD screen, and peripheral-ready top handle to make your run-and-gun filmmaking easier than ever. As the cherry on top, you'll be able to utilize the camera's Super 35mm CMOS sensor — an industry standard for movie making — and dual-pixel autofocus to ensure that you capture the best-looking shots, every time. Pair that with Canon's tried and true EF lens mount, which provides plug-and-play access to the company's gargantuan catalog of professional lenses, and you've got a high-end (albeit, expensive) setup that will fulfill all your cinematic needs.
Lenses
The Underrated Essential
One of the most undervalued, and understated aspects of photography and filmmaking, in general, is the acquisition of great lenses. It goes without saying that high-end glass can take your content from mediocre, to amazing, and if you're willing to invest in a number of different focal lengths, you'll have an arsenal of peripherals to ensure you're ready for any shooting situation.
Rokinon 35mm
Buying a camera body can only take you so far, and with Rokinon's lauded 35mm lens, you'll be able to capture your favorite scenes at one of the industry's favorite focal lengths. These semi-wide lenses are revered for their diversity, allowing you to shoot from afar, at medium range, or just feet away from your subject, acting as a preferred focal length for many entry-level artists. For now, Rokinon's affordable 12-element, F/1.4 lens is a great basis for any aspiring filmmaker looking to make the most out of his kit, without spending a gratuitous amount of money on differing lenses and focal lengths.
Sigma 18-35mm DC HSM Art
While a fixed (or prime) lens is a great starting point for entry-level videographers, variable glass can offer a range of opportunities that might not be afforded through a static focal length. For our favorite mid-range offering, we've turned to Sigma's 18-35mm F/1.8 DC HSM Art — a fan-favorite photo lens that's equally as viable for filming. At an aperture of 1.8, you'll be able to capture aesthetically-pleasing scenes in low-light situations, while also taking advantage of the company's lauded bokeh during brighter shoots. Looking to set the scene? Dial the lens back to 18mm to utilize its wide-angle capabilities, without worrying about loss of detail. Turn it up to 24mm and use the lens' ring-type, ultrasonic autofocus to keep your subject as sharp as possible, while giving you a great way to hone in on characteristics and give your footage a unique look. And finally, utilize the lens' 35mm focal length to produce that classic filmic look.
Zeiss Milvus 50mm
Anyone who's been around the cinematic medium for a period of time recognizes Zeiss, and with the Milvus line comprising some of the industry's finest glass, it's not farfetched to see it on a handful of the web's "best of" lists. Like many of the Milvus' professional counterparts, a dedicated approach to the medium's finest focal lengths comes standard. Zeiss' 50mm, for example, is a classic focal length that's been touted as one of the greats, providing a perfect composition for detail shots, portraiture, and general photography. As you might expect, this translates well into the realm of cinema, where the lens' complex Distagon optical concept, anomalous partial dispersion elements, and aspherical inclusions pave the way for immaculate clarity and sharpness throughout its entire aperture range. On the exterior, the Milvus has been dressed in a ZEISS T anti-reflective coating to keep ghosting and lens flare to a minimum, providing unparalleled results that will help your footage to look exceptionally beautiful.
If you're going to focus on run and gun filmmaking, documentary work, or interview-style commercial videography, you'll need to invest in a decent onboard audio kit. Whether that be something as simple as a Rode Videomic, or a full-fledged boom, shotgun, or lavalier setup, audio quality is an important aspect of every filmmaker's workflow. Below, we've outlined a few of the industry's favorites.
Rode Videomic Pro
As one of the most underrated/undervalued aspects of entry-level videography, audio can take a green moviemaker by surprise. That's where Rode's Videomic Pro comes in. This affordable, but high-end piece of hardware is great for run-and-good shooting, mobile journalism, and vlogging, while also being able to take on traditional shooting styles like interviews, music videos, and venue-oriented events. Unlike a number of top-tier models, the Videomic Pro mounts directly to your camera or portable recorder, gifting users up to 70-hours of run time, impeccable sound sensitivity, and adjustable levels to improve capture, overall. If you're looking for a fast, affordable way to take the quality of your content to the next level, search no further than the Rode Videomic Pro.
Rode NTG 4+
If we're being honest, Rode is a trusted name in the audio industry, regardless of the cost of their products. For a viable mid-range mic, look no further than the brand's NTG 4+, a shotgun variant that's trusted for use in documentarian work, indie filmmaking, and television. This intuitive peripheral features internal, or Phantom power, an adaptable treble and -10dB boost pad, and a customizable layout that gives the shooter access to variable frequency settings, low-noise circuitry, and versatile tone customization to make professional audio capture seem like it's second nature.
Sennheiser AVX MKE2 Wireless Microphone Kit
If you're looking for the best-of-the-best when it comes to high-end audio, Sennheiser's AVX MKE2 Wireless Microphone might just be your go-to peripheral. While it differs in use from the shotgun-style microphones we've presented earlier in this list, the MKE2 is an essential piece of any filmmaker's kit. Most notably, the AVX takes on interviews, documentary, and realistic capture with ease, providing professional-sounding audio to journalists, vloggers, or indie filmmakers who hope to take their content to an entirely new level. Simple, intuitive controls allow for quick setup while on-set, while the kit's MKE 2 Professional Omni Lav Mic, lightweight bodypack transmitter, and compact plug-in receiver provide concealed, moisture-resistant performance for any project. Plus, the company's omnidirectional lavalier microphone was built to deliver natural, broadcast-quality sound, without needing a degree in audio engineering.
Drones
The Illustrious Viewpoint
Looking at things from a different perspective is always refreshing, and for viewers who are hoping to enjoy your work, nothing shouts professionalism and awe quite like an aerial shot. Drones have become a staple of many videographers' work over the past decade, and now that they're as accessible and affordable as ever, it makes sense to integrate them into your projects, too.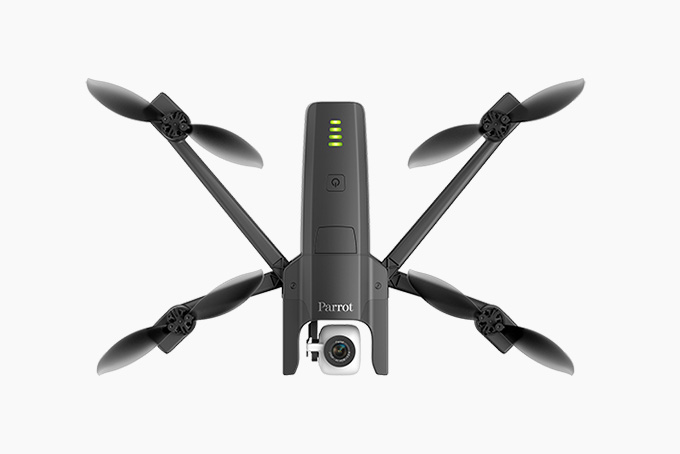 Parrot Anafi
Regardless of your experience in the filmmaking realm, a wealth of different compositions, perspectives, and unique angles can always be used to your advantage. Luckily, affordable, consumer-level drones like the Parrot Anafi have become an essential aspect of the filmmaking market in recent years, driving prices down, and quality up. This next-gen model is a perfect example of a lightweight, compact platform that can make your footage look extremely professional, offering 4K HDR, a 180-degree tilting gimbal, and 2.8x lossless magnification to close in on details from the skies above. A 25-minute flight time and inclement weather resistance mean that you'll be able to fly the Anafi in even the worst conditions, capturing epic B-Roll, scene setters, and one-of-a-kind footage, while also utilizing the drone's embedded artificial intelligence to automate amazing shot lists.
DJI Mavic 2 Pro
DJI has been a mainstay in the drone world for over a decade now, and when it comes to cinematic capture, there are few who can stand up to the monolithic brand. In the past five years, the outfit has created and innovated its way to the top, with the DJI Mavic 2 Pro arriving as its most recent contender. This compact platform utilizes a powerful 20-megapixel CMOS sensor to capture 4K images and videos while giving users access to an adjustable-aperture lens for precise capture. If you're a proponent of aerial videography and photography, you'll realize how important it might be to be able to adjust things like F-Stop, ISO, and Shutter Speed on-the-fly. That, coupled with the drone's compact size and up to 128GB of microSD storage, means that you'll have peace-of-mind when heading out to each and every filmmaking endeavor.
DJI Inspire 2
DJI is making yet another appearance on our list, and this time, it's with the mother of all mid/professional-range drones, the Inspire 2. This all-encompassing platform is an industry staple and is used by a variety of different directors, operators, and creatives to capture the best footage around, courtesy of its 50 mile-per-hour flight speed, precise movement, tracking, and weather resistance. While the Inspire 2 boasts an array of professional qualities, a high-definition, 5.2K camera comes standard on the drone, giving it a leg up on nearly any other platform in its price range. Luckily, this camera can also be removed and replaced with a handful of other mounting setups to support cinema cameras up to a certain weight, making the Inspire 2 an adaptable, versatile offering that's trusted by a number of today's finest indie filmmakers and documentarians.
Accessories
The Small Things
No kit is complete without a handful of helpful accessories. Things like external monitors, viewfinders, memory cards, hard drives, and tripods can all make a world of difference when you're in the field, so be sure to outfit yourself for the job at hand. Below, we've highlighted some "must-have" items to round out any amateur filmmaker's gear bag.
SanDisk Extreme PRO 256GB SDXC UHS-I Memory Card
Another thing for filmmakers to keep in mind is in-camera storage, and that's where SanDisk excels. The company's micro and traditional SD cards have been trusted and used by industry veterans, proponents, and beginners for years, and with the PRO 256GB SDXC UHS-I, you'll never have to worry about cumbersome codecs, fast data writing/transfer, and underwhelming performance while in-the-field. Instead, you'll be met with reading speeds of up to 95MB/sec, providing a perfect basis for optimized data transfer, as well as the ability to recover accidentally deleted files. Better yet, the SDXC UHS-I is resistant to water, shock, X-Ray, and extreme temperatures, making it the king of in-camera storage.
LaCie Rugged Mini 4TB External Hard Drive
When you're on-the-go and looking to create, there's nothing more valuable than a secure, high-functioning external hard drive to store all of your priceless footage. That's where LaCie's Rugged Mini 4TB HDD comes in. Boasting a crush, drop, and water-resistant exterior that's exclusive to the LaCie brand, this durable companion is the perfect confidant when it comes to the protection of your shots, utilizing USB 3.0 connectors and transfer speeds of up to 130MB/s to ensure an adequate workflow while on-the-road.
Neewer Film Shoulder Rig
Neewer's Film Shoulder Rig isn't necessarily a "must-have" when it comes to film making, but it's a great introduction to the full-blown setups you'll become acquainted with, should you continue down the road of cinematic expression. Each rig features a C-Shape bracket, handle grip, matte box, shoulder rest, and 15mm rod, allowing you to mount and stabilize your camera (and a handful of accessories) with ease. A built-in follow focus allows you to operate your camera from the shoulder, while providing precise, incremental focus changes that are paramount to film production. Although this setup is affordable and simplistic, it's a great solution for shooters who are looking to utilize a traditional shoulder unit for those documentarian/indie-like shots that wouldn't be possible handheld.
Zacuto Z-Finder Pro 2.5x
Nailing your focus and composition in bright, harsh lighting can be difficult. Luckily, Zacuto's Z-Finder Pro 2.5x optical viewfinder can remedy your issues, helping to cut out extraneous rays thanks to an enclosed LCD apparatus. With its 2.5x magnification, you'll be able to ensure that your shot is sharp, perfectly-exposed, and great-looking from the get-go, saving you time in post-processing. But that's not the Zacuto's only strength. It also acts as a point of contact for additional stabilization and comes with anti-fog coated covers, a diopter (for enhanced focus tuning), and extender frames to work alongside any three-inch LCD with ease.
Manfrotto 535BK 2 Stage 535B Carbon Fibre Tripod w/ 504HD Fluid Head
Any filmmaker can benefit from the use of a high-end fluid head tripod, and as one of the most trusted names in the industry, Manfrotto is committed to the support of the world's creatives. Although there are many great tripods on the market today, the 535BK 2 Stage 535B Carbon Fibre Tripod and 504HD Fluid Head are perhaps the finest pair you can get for the money, calling upon smooth, seamless panning, lightweight character, and versatile design to create the perfect affordable foundation for your camera. Revel in precise control thanks to the tripod's two-stage, three-section architecture, and utilize its dependable ergonomics to keep your shots stable and jitter-free, hauling it wherever your cinematic endeavors may take you.
The 12 Best Entry-Level DSLRs For Beginners
Diving into the deep end of photography/videography can be a bit daunting, so head over to our guide on the best entry-level DSLRs for beginners, where we outline some of the industry's most user-friendly platforms for artistic endeavors.