Over the past year, we've dealt with pandemic-induced lockdowns, pivotal mail-in electoral races, and a host of other unprecedented realities, so if you're feeling the fatigue of everyday life, you're not alone. Because let's be honest. In a time in which our plans are few and our uncertainty is excessive, even the most trivial of tasks can feel a bit overwhelming, whether that's shopping for groceries or cutting your hair. Granted, under normal circumstances these things would be of little concern; however, when every decision seems like an ethical proposition, we're often faced with a case of analysis paralysis.
As such, food subscription boxes make for an excellent way to simplify your daily routine because they eliminate the stress of meal planning, they save you the trouble of going to the store, and they're far quicker to make than cooking a meal from scratch. But alas, even they are not without their choices; for the fact is, there are now more meal delivery services than ever before. Thankfully, though, this is one decision you don't have to make by yourself. On the contrary — having scoured the market to see what's worth your time and money, we've since put together this guide (complete with some helpful considerations to get you started) in order to make your life a little bit easier. So kick back, have a drink, and read on to see what we've picked for the best food subscription boxes.
Disclaimer: With the exception of Bokku, Winc, and Flaviar, all prices are on a per-meal or per-portion basis.
Getting The Most Out Of Your Box
What To Look For
When deciding on the best box for your particular requirements, it's not as simple as picking the first one you come across. Rather, because there are so many options out on the market, it's important that you consider the following:
Frequency: As with any subscription-based service, food boxes offer a range of delivery intervals depending on your needs. In most cases, you get to choose how frequently you'll receive an order, be it weekly, bi-weekly, or even monthly (and usually with the option to skip). But that's not all — you also have control over the number of meals that you'll get with each box as well as your portion size (i.e., single, double, or family). Whether you go for two meals or six is entirely dependent upon how often you want to use your box. If you find yourself without time to get a good grocery run in, go for more — the convenience of having your menu planned ahead of time will pay for itself.
Meal Selection: What's more, each service will offer a different selection of meals based on its own in-house recipe collection. For the vast majority of boxes, this will be limited to dinner entrees, however, some will also include options for breakfast and lunch should you want to make your box more of a main feature in your weekly menu. Regardless of which service you choose, be honest with yourself about your dietary tendencies. If you're a more adventurous eater, a service with more variety will ensure that you don't get tired of your boxed meals. But if you're a creature of habit and find yourself with a few favorites, it'll be far less of a priority.
Dietary Requirements: As food subscription boxes have grown in popularity, so too has their accommodation for different diets. In practice, this means that no matter if you're vegan, gluten-free, or paleo, there's bound to be a box that can adhere to your particular restrictions. It's worth noting that while there are plenty of services specifically catered to a particular diet, others are increasingly expanding their menu to include different meal options. Just specify your requirements accordingly and they'll be able to tell you if they have enough recipes to satisfy your needs.
Involvement: Above all else, you subscribe to a food delivery service for the convenience that it adds to your daily routine. For those who want to do as little chopping as possible, a pre-packaged meal box will be the best course of action, as they won't have you using much more than a microwave. However, if you're comfortable doing a little culinary experimentation of your own, you'll want to go for something that requires a bit more involvement. That being said, no matter which subscription you spring for, it'll arrive pre-portioned with all of the right ingredients. At the most, you'll have to supply things like oil and sugar.
ButcherBox
First up we have ButcherBox, a meat and seafood-based subscription service that provides you with 9-14lbs of high-quality cuts per month. And the best part is — you're not limited to any one type of red meat. On the contrary, because although you can opt for the all-beef box, there are also beef and pork, beef and chicken, mixed, and even custom options available depending on your particular dietary preferences. Sure, it's not an out-and-out food delivery box, but it takes care of a big part of the equation.
Dinnerly
If you're considering getting into food subscription boxes but you're unsure of whether they'll work with your budget, do yourself a favor and give Dinnerly a look. Starting at just $4.69 a portion, it's easily the most affordable of the lot. And while it may mean that you have to do more of the prep work and rely on digital recipe cards instead of printed ones, the ingredients are just as high-quality as those from higher-priced alternatives.
Daily Harvest
When you've had it with your current eating habits and you're looking to make a switch to a healthier lifestyle, Daily Harvest presents an ideal means of jumpstarting your fitness journey. The menu consists of exclusively fruit and vegetable-based meals, with everything from smoothies and oat bowls to soups and flatbreads just waiting to be delivered to your door. And the best part is — apart from a little bit of blending, most of the recipes are ready to go.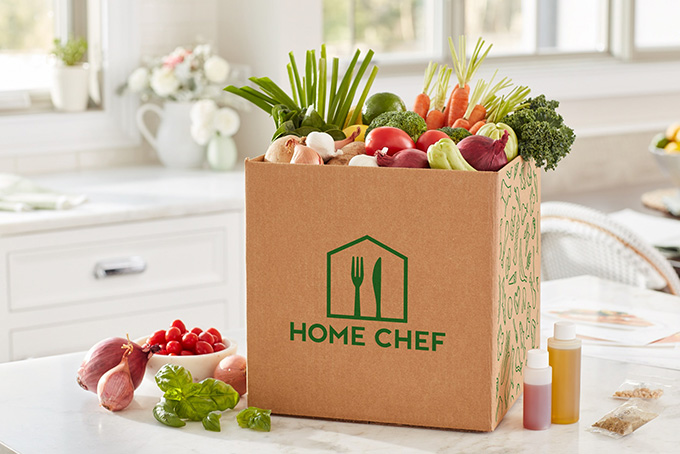 Home Chef
With up to 26 different recipes to choose from, Home Chef is easily the best subscription box for those who need some variety in their meal rotation. When you set up an account, you'll be prompted to fill out a personalized taste profile — be sure to give it some thought, as it'll make some menu recommendations based on your preferences. Along with each meal, you'll even be able to customize the protein content, with the option to upgrade swap or double it to your liking.
Hello Fresh
While Hello Fresh might not offer as many alternative diet options or boast quite as diverse of a recipe lineup, it's easily one of the most well-rounded services of the bunch. In addition to providing you with simple easy-to-read instructions, it also uses exclusively farm-fresh ingredients. Having tried some of the meals for ourselves, we were surprised on more than one occasion with just how tasty delivery can be.
Freshly
In the case of most pre-packaged meals, you'll find that the added convenience comes at the expense of its ingredients' quality. Freshly, however, is an exception to the rule. That's because despite taking as little as three minutes to prepare, each recipe is free of gluten, refined sugar, and artificial flavors and preservatives. Delivered fresh straight to your door, Freshly is one service that takes TV dinners to the next level.
Sunbasket
Out of all of the boxes we've featured on this list, Sunbasket is easily the most accommodating. It offers 10 different plans depending on your lifestyle, with alternatives for paleo, pescatarian, vegetarian, gluten-free, carb-conscious, Mediterranean, diabetes-friendly diets across each of its 18 recipes. Should you be feeling adventurous, there's even a 'Chef's Choice' option in which you'll get receive some of Sunbasket's most highly-regarded recipes.
Blue Apron
As one of the O.G.'s in the food subscription box segment, Blue Apron is a name that needs no introduction. Over the years, it's grown from a simple meal delivery service into a diverse lineup of plans that includes signature, vegetarian, and Weight Watchers varieties. Oh, and, in the event you want to flesh out your appreciation for fine wine, Blue Apron even offers an option for that too.
Martha Stewart & Marley Spoon
No matter if you're a kitchen newcomer or a seasoned chef, chances are good that you'll have heard of Martha Stewart. Marley Spoon is effectively a subscription to her cookbooks, because in addition to offering a diverse selection of 29 different Stewart-approved weekly recipes (each one taking only six steps to complete), it also comes with some of her tips and tricks for improving your culinary chops.
Veestro
One of the biggest challenges of switching to a plant-based diet comes in the form of menu planning. Because let's face it. When you're trying to make do without your beloved meats and cheeses, the last thing you want is for a dinner to disappoint. Luckily, Veestro makes vegan eating easy, because each of its meals — from both the 'A La Carte' and 'Weight Loss' plans — comes packaged and ready to heat.
Gobble
Just because you live a full lifestyle doesn't mean that you should have to go about your day on an empty stomach. Gobble's 15-minute recipes come with all of the ingredients pre-cut and precisely measured, meaning that making your own means has never been more efficient. Whether you go for classic, vegetarian, or low-carb 'Lean & Clean,' a subscription to Gobble means that never have to skip your lunch again
Purple Carrot
Although the above option from Veestro makes for an ideal entry into the world of plant-based diets, we'd recommend Purple Carrot for those who are a little more comfortable in the kitchen. Available as both a kit or as a completely prepared meal, each box comes with the option to add an appetizer, breakfast, lunch, or snack. If you're looking to fully fill out your daily menu, it doesn't get much better than Purple Carrot.
Bokksu
For those who want a break from the monotony of store-bought munchies, Bokksu's subscription service presents a welcome alternative. Within each box, you'll receive a selection of 20-24 assorted Japanese snacks, candies, and teas as well as a 16-page guide magazine that dives into each item's cultural significance and origins. When you consider that it comes with free shipping directly from Japan, it makes for an option that's too good to pass up.
Winc
One of the main benefits of food subscription boxes is their ability to let you discover new flavors without getting overwhelmed at the store, and with Winc's wine delivery service this proves especially true. A membership starts off with a quick 6-question quiz to establish your baseline tastes, after which you'll receive a selection of four wines each month in order to better dial in your druthers.
Flaviar
And by the same token, Flaviar makes for a great way to get into spirits without the pomp and pretension that's typical of the space. With over 20,000 bottles on tap, you'll not only have access to a diverse liquor lineup but also some helpful insider jargon, tasting notes, and in-depth comparisons. If you're wanting to walk the walk and talk the talk, look no further than Flaviar.
The 20 Best Meat Delivery Services
Meal boxes are an easy way to add some convenience to the kitchen; however, not everyone needs their prep work done for them. If you're curious about other available food-based subscriptions, be sure to check out our guide to the best meat delivery services.