In today's travel-heavy climate, cycling has become a means of escape. Whether that be an escape from the monotony of the same streets and stoplights every morning, or the ability to free yourself from your metal coffin to take part in a healthier, more active lifestyle, bicycles have always served as a natural alternative to motoring — but what happens when, like many others, you find that bringing your bike to the workplace, eatery, or store is a bit more of a hassle than you once thought? That's where folding bikes come in.
The advent of foldable, compact commuters isn't new, but few people are aware of their existence. It's safe to say that they aren't the best-looking or most performance-oriented platforms in the cycling market, often warranting the bare essentials to keep things slimline and lightweight. But the ability to pack and carry their mid-sized cycle is something that avid foldable bike riders wouldn't trade for the world. We figured it was about time that we put their lauded reviews to the test, so we've aggregated a handful of our favorites in the guide below, giving you some insight into why they might just be the perfect urban alternative for everyday commuters.
Zizzo Campo
The original Zizzo Campo was an immediate hit among fans of the folding bicycle space due to its affordability, dependable design, and stylish appearance. However, the company felt that an upgrade to the platform might do it some good, shaving its weight from 29 to 28 pounds, and introducing a handful of redesigned parts/systems to make it more intuitive for everyday riders. The newly-revised Campo now features an easy, single-folding aluminum stem, an upgraded crankset, and a magnetic catch to ensure that it remains folded as you tote it from one location to the next. This, paired with the cycle's seven-speed Shimano Tourney Derailleur and Revo Grip Shifter, make the best-selling bike a great choice for inner-city riders who want a quick, pain-free way to traverse their area's established roadways.
Citizen Rome
Citizen's Rome bicycle uses a play on words to market its impeccable roaming capabilities, and the truth is, it's one of the finest foldable commuting bikes you can own, especially at its price point. This low-maintenance rider clocks in at only 20 pounds, making it a joy to carry when compared to its heavier counterparts. It also boasts a grease-free belt drive, airless Muffin tires, and an airplane-friendly roller bag that makes it easier than ever to stow and utilize, allowing you to whip it out whenever your feel like traveling a bit faster than the foot traffic.
Schwinn Adapt 3
Schwinn is a legendary name within the cycling community, so naturally, the company would strive to bring its influence to every genre of riding. The Adapt 3 is its quintessential folding variant, calling upon a convenient nine-speed SRAM X5 drive train and a Shimano gearset, which includes twist shifters, and a Tourney rear derailleur to make even the most formidable hills and climbs seem less daunting. On the bike's exterior, you'll find a handful of visibility-enhancing components, including reflective sidewalls on its wheels, full-wrap fenders, and a nylon storage bag that helps to contribute to its city-faring persona.
Montague Boston
In a world full of multi-speed bikes and heavy, oversized commuting platforms, Montague's Boston has opted for simplicity. Thanks to the bike's 700c wheels and a single-speed flip-flop hub that allows you to swap between fixed-gear/free-wheel riding, you'll be able to adapt the bike to your needs, while also being able to pack down when not in use, removing the need for cumbersome locks and peripherals. And with a complete set-up time of fewer than 20 seconds, the Boston makes it easier than ever to utilize the bike on your urban commute, giving you a fast, lightweight offering that's ready to take on short rides to the train, supermarket, or coffee shop.
Dahon Launch D8
Dahon's bikes might seem a little bit bland and unimpressive, but you'd be wrong to assume that the company's mission isn't centered around the creation of unassuming, performance-oriented platforms. The Launch D8 is one such model, calling upon the company's trademark low-key design to house its newest folding-hinge technology, the DAHON LockJaw. This innovative iteration boasts a sturdy tooth-lock midsection that allows it to fold in half at the touch of a button, working alongside its hydro-formed aluminum frame and eight-speed drivetrain to make mincemeat out of any urban roadway. When paired with the D8's Schwable Road Cruiser wheels and a Shimano Trigger rear derailleur, the underwhelming road bike becomes a formidable commuter for everything from short, block-long rides, to cross-town meetups.
Bike Friday PakIt
Bike Friday's PakIt is the smallest, and lightest folder in the company's catalog, and that's saying a lot, considering it specializes in lightweight urban commuters. This performance-oriented city bike boasts a 15-pound persona that makes it easy to carry alongside your other gear, while a customizable one-to-11-speed drivetrain, 16-inch wheels, a 20-second fold time, and a grease-free, maintenance-free Gates Carbon Belt Drive help to set the PakIt apart from its competitors, allowing you to tailor the bike to your specific needs. Better yet, the bike can also be ordered in a variety of different sizes, meaning that whether you're short, or tall, you'll be able to take part in the joys of a foldable commuting bike.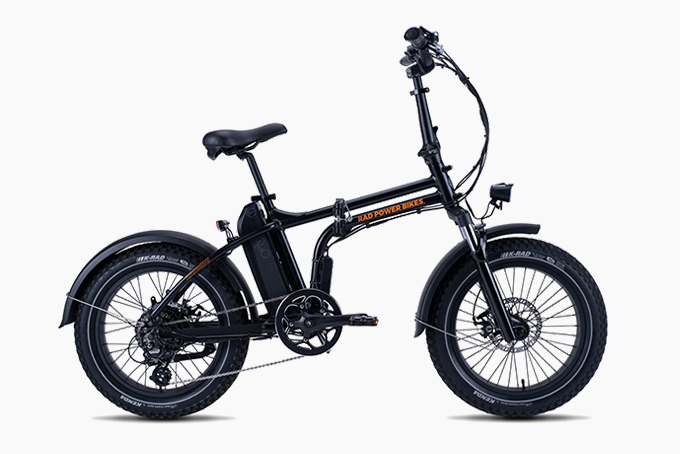 Rad Power RadMini
Rad Power's RadMini is a formidable on- and off-road fat bike that folds down into a carryable platform for everyday use. While most bikes of its size and stature remain static, the RadMini's foldable nature is a godsend, working alongside the company's exclusive Kenda K-Rad multi-terrain tires, narrower handlebars, and ergonomic components to make it one of the swiftest models on the roadway. But what sets the bike apart from its peers is the implementation of an electric drivetrain, meaning that whenever you get tired of pedaling, or need some quick assistance, you'll be able to utilize its brushless, 750W motor and 12 magnet cadence sensor to give you some extra "oomph."
Blix Vika+
The Blix Vika+ is one of the genre's best-selling bikes, and for good reason. Not only does the cycle boast an adaptable orientation that's been built to take on a variety of different riding styles and types, but it's also placed an emphasis on practicality and design-forward thinking. Aside from looking great, this performance-focused bike brings an ultra-low frame design, smart mounting points, and a powerful 500W hub-motor to the forefront, giving riders the opportunity to apply various different bags and carriers, as well as up to 105-pounds of weight, for a range of 45 miles. If you feel like using some old-fashioned leg strength, you'll be able to take advantage of the Vika+'s reliable disc-brakes and seven-speed drivetrain, pairing with the bike's safety-oriented integrated LED lights and Smart Bell system to ensure you're always visible.
Brompton M6L
Brompton's M6L might just be one of the genre's most desirable bikes. Aside from the company's lauded commitment to quality and dependability, you'll find that the M6L puts its best foot forward with the implementation of a sophisticated six-speed drive train, Version L front and rear fenders, Marathon Racer tires, and a steel frame that's been built to stand up to the harsh realities of urban riding. Add a handsome black lacquer finish and a foldable, 26-pound silhouette into the mix, and you've got a formula for one of the finest compact cycles around. Our personal favorite.
Tern BYB S11
Tern's BYB S11 rounds out our list as one of the most futuristic-looking offerings to-date. This functional folder features a silhouette that's 30% smaller than traditional 20-inch frames and calls upon the company's innovative TFL joint and 3D interface to pack down in a matter of seconds. A 3D-forged Physis RF handle post and Kinetix Pro X wheels combine to give the S11 an undeniably-advanced aura, working alongside paired spoke technology and an 11-speed Shimano Ultegra/Shadow RD derailleur to make the navigation of hills and urban obstacles a breeze. It even comes with a Metro Transit Rack, allowing you to trolley the bike to-and-from your destination thanks to the addition of built-in spinner wheels.
The 10 Best Commuter Bicycles
If you're looking for a full-sized bike to take on the urban environment, there are more than a few modern variants that stand out from the pack. Head over to our guide on the best commuter bicycles to take a gander at some of our foldable picks' larger siblings.