In much the same way that you can't build a great building without a solid foundation, you can't expect to perform your best without proper recovery. Sure, your training sessions may be going swimmingly and you might even have your diet down pat. However, if you're not taking care of yourself come time for a pre-workout warm-up and a post-work cooldown, it's only a matter of time before that occasional nagging discomfort becomes a full-on performance-halting injury. And one of the best tools to keep you feeling fresh is the venerable foam roller.
That being said, choosing a foam roller for your needs is a bit like trying to find the best toothbrush — you appreciate the fact that using one is to your advantage, and that each one offers something unique, but deciding on one versus another is enough to make your eyes go crossed. Can you use just any old roller? Are there advantages to be had from higher-priced options offering a different shape or some added features? The truth is, it depends. For some, even a basic foam roller will do just fine. But for others looking to maximize their recovery potential, it may be necessary to spring for something with a bit more under the hood. Lucky for you, we've done our homework so that you don't have to. So read on to see what's made the cut for the best foam rollers.
Why Should You Use One?
Improving Performance And Everyday Life
Aside from injury prevention, foam rolling is proven to provide a host of other benefits in athletic applications. For instance, it doesn't just keep you flexible; it also improves your mobility. Sure, you might not need to drop into a full split like a gymnast or have the range of motion of a wrestler, but you'll certainly move (and feel) better if you're willing to put in that little extra effort. What's more, foam rolling is ideal for easing the build-up of lactic acid, a side-effect produced during strenuous exercise. In practice, this means that you'll be less inclined to cramp and your post-workout soreness will be much less severe.
Even in everyday life, a bit of foam rolling here and there will do you right. Much like a massage that helps to relieve tension at the end of a long day, a quick roll-out after work will relieve you of stress that's surfaced in the form of knots and sore spots. And because it improves blood circulation by stimulating fluid through the lymphatic system, it ensures that your immune system is firing on all cylinders (a luxury that most of us would be willing to work for right now).
All that is to say — you're only doing yourself a disservice if you haven't implemented some kind of foam rolling recovery practice.
ProsourceFit Flex Foam Roller
For those who are looking for a basic, no-frills foam roller, this option is your best bet. Made from non-toxic EPE foam, it's ideal for beginners in that it's not as dense as some of the other picks featured further down the list. It comes in 12″ and 36″ lengths, as well as round and half-round shapes, so you can grab several of them in order to fill out our foam rolling arsenal and attack every angle. As an added bonus, the half-round versions are great for balance training and improving body awareness.
Pro-Tec Athletics Orb
If you have yet to try trigger point therapy, you're doing yourself a disservice. Massage balls make for one of the most effective methods of reducing muscle fatigue because they have a multi-directional roll and a small surface area. To put it another way — because they concentrate their pressure much more than cylindrical foam rollers, they allow you to really target that deep tissue tension. While it can be used on pretty much anything, it's especially suited to tight arches, IT Bands, and calves.
Tiger Tail
Traditional foam rollers are great if want to hit a large area in one pass, but if you're after a more precision approach, it's in your best interest to snag a massage stick like this one from Tiger Tail. For starters, it comes with a cushioned cover rather than a hard-plastic shell, making it more forgiving to work on your muscles. And thanks to Tiger Tail's trademark gription material, it strikes a perfect balance between grip and friction so you can really knead those pesky knots.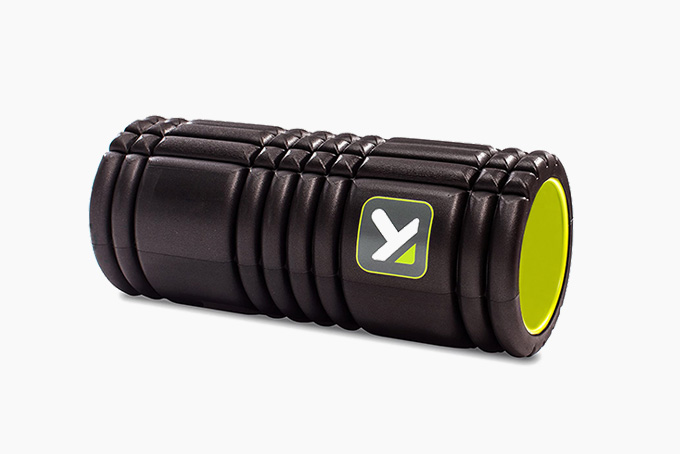 TriggerPoint Original
Widely endorsed by everyone from sports therapists to personal trainers, TriggerPoint is a name that needs no introduction. Their innovative offering takes the traditional foam roller and improves upon it with a patented multi-density design. What results is a roller that features a rigid hollow core with an EVA foam exterior, a combination that lets you roll out tight muscles with ease. TriggerPoint even includes a fully-stocked online library of tips and tricks to help you reap the most benefits from your recovery practice.
SKLZ Hydro Roller Water Bottle
If you're one to forgo foam rolling because it makes for cumbersome carry, this option is for you. Pairing the packable convenience of a water bottle with the recovery benefits of a roller, the SKLZ Hydro Roller Water Bottle is a necessary addition for any athlete who finds themself on the go. In addition to holding 28oz. of fluid, the inner stainless steel bottle has been specifically designed to prevent dents or crushing. Wrapped in a layer of high-density foam, it ensures efficient massage wherever you are. Sure, it's not as big as some of the other options, but it's a great space-saving pick to cut down on the number of items in your gym bag.
Rollga Foam Roller
This award-winning foam roller from Rollga is particularly well-suited to runners because of its contoured form factor. Unlike traditional designs, it doesn't make contact with sensitive areas like the spine, shoulder blades, and shins, allowing you to massage your muscles without unwanted bruising. But that's not all — because of its unique shape, the Rollga Foam Roller allows for a much more targeted technique, so you can get plenty of pressure in those hard to reach areas. If you struggle with shin splints or back pain, this one has your name written all over it.
RumbleRoller Original
Designed to mimic a thumb-like deep tissue massage, the RumbleRoller is the one you want when the competition just won't cut it. Because of its knobby finish, it's extremely effective at breaking up knotted muscle fibers and reducing tightness. What's more, it's available in two different levels of hardness, so you can cater your recovery to your needs. The original design is a bit softer, making it a better choice for beginners switching over from more conventional rollers. Should you want an even more aggressive option, the Xtra Firm model is 36% firmer — buyer beware though, it's not for the faint of heart (or especially sensitive).
Moji Heated Foam Roller
Pairing myofascial pain relief with built-in heat therapy, this option from Moji makes for a great one-two punch. It features a unique 2-piece design, allowing you to put it together or take it apart in order to hit muscle groups both large and small. And because it can be heated up to 140°F, after just 3 minutes in the microwave, it'll provide up to 30 minutes of heat rolling. In addition to its ability to reduce tension and soreness, this one also has the benefit of improving circulation and releasing endorphins, guaranteeing maximal recovery between workouts.
Brazyn Morph Bravo
Take your recovery on the road with this innovative travel-ready roller from Brazyn. Made from over 60 different pieces of bamboo and recycled aluminum, it instantly collapses for space-saving storage — just give the endcaps a push and it packs down to a less than 2″ thick. And when you're ready to bust it out and get to rolling, tug on the pull tabs and it'll pop right up. But the best part is that even with its compact construction and lightweight design (only 1.5lb), it's been proven to support up to 350lb.
Premvida Airow
When you're building up to a race or peaking for a meet, the sheer volume of work required can make it difficult to achieve adequate recovery between training — even with the most diligent of stretching routines. But thanks to this pick from Premvida, you can kiss the days of DOMs (delayed onset muscle soreness) goodbye. Because of its extra firm foam and built-in vibration feature, it enables up to 2x faster recovery when compared to conventional foam roller designs. And with 3 different speeds to choose from as well as a battery life of up to 5 hours, you can customize the intensity exactly to your liking and use it over multiple sessions. So, whether you're after a moderate massage or deep penetrating power, this is one option that's well worth a look.
Roll Recovery R8
If you find the above options too cumbersome or painful to use, the Roll Recovery R8 will do just the ticket. Unlike most foam rollers that rely on your bodyweight in order to provide adequate pain-relieving pressure, this purpose-built tool comes with all the necessary force built into it. As such, it's incredibly easy to use and also mobile enough to bring with you wherever you go. Made with self-adjusting stainless steel hardware and soft TPU inserts, it fits a variety of different body shapes and sizes, allowing you to hit everything from your arms to your IT bands.
Hyperice Vyper 2.0
Taking the top spot on our list is the Hyperice Vyper 2.0, a premium pick that offers some of the best recovery features in the biz. Like the above option from Premvida, it comes with 3 different vibration speeds to ensure efficient warm-ups and effective cool-downs. However, that's where the similarities end. As the most powerful vibrating roller on the market, it can be set anywhere from 48Hz to 72Hz. Paired with a dual-zone exterior — both smooth and grooved — made from eco-friendly foam, there's no knot that's too gnarly for this roller to knead. Oh, and if you're looking for an option that'll maximize your range of motion, this is it. Whereas a regular roller will only improve things by some 18%, the Vyper 2.0 is proven to provide an increase in mobility of up to 40%.
How To Use A Foam Roller
Now that you're well-versed in what the market has to offer, it's important that you study up on the best practices in order to put these tools to good use. Be sure to head on over to our guide on how to use a foam roller — your sore glutes and tight calves will thank you.