We've all been spending a considerable amount of time inside of the home, these days, and with each passing second, our lust for light and illumination seems to deepen. Whether you're working in your dwelling's office area, lounging in your living room, or reading your favorite book in the study, a capable lamp setup is almost a necessity — especially if you're planning to take on your projects and pursuits in the later hours of the day.
Sadly, shopping for lamps isn't as simple as "does this look good," or "is this a good fit for my room?" There's also a ton of other characteristics and traits to consider, including the harshness of light, the lamps diffusing qualities, and the difference between traditional incandescent and LED bulbs. With all of this in mind, it's obvious that the complexities of lamp buying might be a bit difficult to nail down. So, we've educated ourselves on the iconic designs from the past century, looked to our favorite proprietors for their modern take, and aggregated a list revolving around the illumination-savvy accessories that you should have in your home. So turn off that old-school light source, throw on some reading glasses, and let's dive into the best floor lamps that you can buy right now.
IKEA YPPERLIG
IKEA continues to bring some of the industry's finest and most affordable furniture to the masses, and interestingly enough, that's also the case for in-home illumination items. Not only does the lamp feature some cutting-edge features like built-in touch dimming, an adjustable beam, lamp arm, and head, and a non-glare LED light source, but it also consumes up to 85% less energy (and lasts 20 times longer) than traditional incandescent light bulbs. If that hasn't sold you, maybe its 25,000-hour lifespan will? Either way, you're going to come out a winner.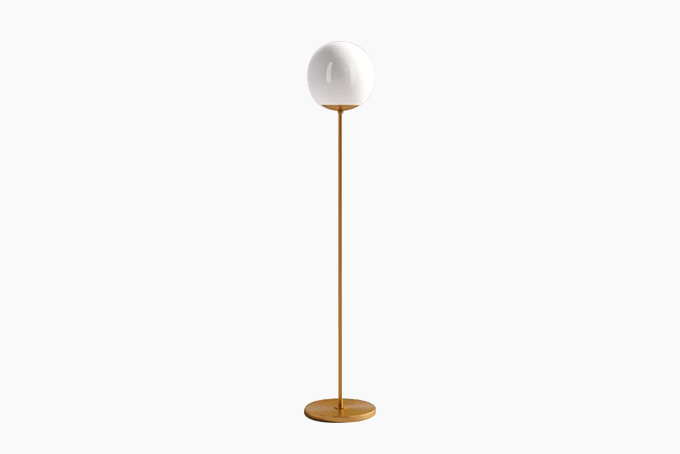 AllModern Emory
AllModern's Emory lamp is a great example of modern pleasantry, bringing a splash of interesting architecture, light, and taste to any room in the home. It boasts a subdued metal base, tubular body, and a white globe that diffuses light as it's emitted via the lamp's E26-base bulb. To control the light, an intuitive foot switch has been implemented, so you won't have to worry about unsightly cables, plugs, or in-line controllers that can take your room from fab to drab in a heartbeat.
Brightech Carter
If you're looking for a mid-century design that will serve as the primary talking point for any of your dwelling's social areas, Brightech's Carter might be the perfect example. This Amazon Alexa-compatible light brings an inherent feeling of timeless elegance to any room, calling upon its classy architecture to incentivize your room's most important traits. Thanks to its neutral linen drum lamp shade, walnut wood finish, and brass accents, the Carter's cylindrical stature helps to diffuse light and create an ambient glow, thanks to its 20,000-hour illumination cycle. As a result, you won't be blinded by the lamp's harsh rays while trying to enjoy your favorite book, complete your work, or illuminate your favorite nook.
Project 62 Valencia
Project 62's Valencia lamp boasts one of the finer mid-century finishes on this list, and thanks to its glossy brass finish and all-metal body, you'll be able to take advantage of its sleek silhouette in virtually any area of the dwelling. It stands at a perfect height, not towering, nor too small, and provides the perfect flow of light thanks to its adjustable metal shade, placing emphasis on downward-focused illumination. And, at only five pounds, it's the perfect companion for placement in multiple different areas, since you'll be able to unplug, pick up, and move it with ease.
Poly & Bark Celeste
Poly & Bark's Celeste lamp is an interesting specimen, not because of its ability to shed light, but due to its abnormal architecture. It takes on the role of a tripod, calling upon three distinct legs, tapered characteristics, and mid-century design to solicit the perfect amount of tasteful style within your living area. If illumination is your calling card, though, don't fret; the Celeste also boasts a great-looking white-fabric drum to bestow true, diffused illumination upon you and your surroundings, complementing its subtle hues with natural wood, satin nickel, or antique brass, should you opt for the more refined iteration.
Regency Hill Jensen
Regency Hill has never let us down in terms of interesting, eye-catching interior pieces, and if the company's Jensen lamp is anything to go off of, it doesn't seem like they're going to, anytime soon. The Jensen brings adjustable illumination to any room in the home, calling upon a maximum 60-watt standard base bulb and a traditional, pharmacy floor silhouette to provide adequate lighting at an attractive price. It's not static, so if you're hoping to swing it left or right, adjust its direction, or bring it a bit closer to your reading material, the lamp is as versatile as they come. Pair that with its aged-brass finish and all-metal construction, and you've got the perfect recipe for timeless design.
Greyleigh Fishel
Greyleigh's Fishel lamp is yet another Pharmacy floor-inspired model, and like the Regency Hill Jensen, you can't go wrong if you're looking to utilize its timeless silhouette alongside your more modern interior design pieces. As a striking contrast to the rest of the room's elements, the Fishel calls upon a brushed metal construction, a dual-arm frame, and an arched silhouette, dialing in that traditional look that we've all come to know and expect from the genre's mid-century examples. To round things out, a single light located in the lamps shade has been included, distributing light in an even, diffused manner around your work area, study, or living room.
CB2 Reynold
CB2 never ceases to amaze with its exclusive furniture pieces, and in the case of Brett Beldock's "Reynold" lamp, it seems that simplicity continues to reign supreme. To give the lamp an allure all its own, Beldock found inspiration in modernist French art deco, and proceeded to create something that he called "timeless, and handsome." We'd be inclined to agree, on account of the peripheral's all-metal base, distressed leather shade, and three-arm design. As a result, the Reynold serves as an ample illumination piece that adds a flare of tasteful professionalism to your home and enhances the overall ambiance of your living room or study.
DWR Type 75
DWR's Type 75 lamp draws some striking similarities to another well-known lamp in the genre, but we'll leave that to you to piece together. Instead, we'll focus on the lamp's animated silhouette, which boasts clean modernist lines, no-frills functionality, and a revered design that harkens back to the contemporary furnishings of the 1970s. As such, its adjustable frame has become a favorite of architects, designers, and homeowners alike, thanks to its long-running lineage, timeless qualities, and its devotion to the 1950 Anglepoise Apex 90 — one of the most revered lamps of the era.
West Elm Overarching Linen
West Elm's Overarching Linen lamp is as close as you're going to get to a modern classic. Thanks to its antiqued bronze metal fame, a gravity-defying arc, and simple linen shade, you'll be able to partake in classic elegance from the start of your day, until the last bit of glistening light, thanks to its smart, overhead design. Because of this, users will be able to utilize an even spread of warm, diffused light throughout their space, while also catering to the design-focused aspects of their favorite in-home areas.
Anthropologie Broome
Anthropologie's Broome is a hybridization of the classic "arch" lamp and its more angular counterparts. Not only does it fulfill the role of both, but it's also been designed in such a way that it's aesthetic is placed at the forefront. Instead of producing a mish-mash of different traits and qualities, the Broome revels in simplicity, calling upon its cotton slub shade, three-tier design, and subtle, 100-watt lightbulb to shower the area in soft, ultra-appealing light.
Herman Miller Ode
Herman Miller's Ode is an intriguing take on the genre's most notable lamps. It introduces up-to-date characteristics like touch control, integrated LED lighting, and an included power adapter while maintaining a close relationship with the handsome, spun-steel variants of decades past. As a result, the Ode takes on a notoriously-simple design, showering the area in filtered light from the top of its single arm. At its peak, a small, partially-rounded shade ensures that light isn't cast in awkward, abnormal directions; focusing instead on the creation of smaller "pods" of light.
Schoolhouse Great Jones
Schoolhouse has a knack for the creation of our favorite minimalist furniture, and they haven't disappointed with the Great Jones lamp. Thanks to its large cloth drum, black walnut base, and brass body, the Jones remains elegant, despite its lack of complexity. If you asked us, we'd say that that's exactly what Schoolhouse's well-informed designers were going for, especially since the lamp is marketed as a versatile, all-encompassing light-source for reading and general ambiance.
Isamu Noguchi 'Akari' UF3-Q
Isamu Noguchi's 'Akari' UF3-Q lamp is decidedly the most unique and abnormal on this list. However, that doesn't detract from its importance. As one of the most prominent icons of the modern design movement in the 1950s, Isamu Noguchi's Akari sculptures are well-known within the world of furniture and interior design. They were introduced in 1951 and handmade for over half a century before taking the form that you see here. As a result, they're imbued with the culture of Japanese handcraft and persevere as an unrelenting application of the modernist principle.
Restoration Hardware Apollo Floor Lamp
We're rounding out our list with a bit of a doozy: the Restoration Hardware Apollo Floor Lamp. Forget about affordability and understated design; this large, overbearing lamp boasts one of the most eye-catching silhouettes around and clocks in at an equally-as-jarring $5,759. With that out of the way, the Apollo is relatively interesting. It's inspired by the structure and form of vintage stage lights and utilizes a pair of concentric disks to create a flow of artificial light throughout your space. The first, a brushed brass disk, helps to reflect light through its translucent white linen, providing even dispersal as you read, work, or relax.
The 20 Best Work From Home Essentials
Now that you've got your illumination station all squared away, head over to our guide on the best work from home essentials, where we dive a bit deeper into that you'll need to create the ultimate contemporary workspace.