At their core, the fixed gear is the most rudimentary form of bicycle rolling, and though these race machines have seen vast technological improvements over the years, they continue to embody the basic spirit of cycling – man connecting to machine. The simplistic drivetrain was a staple of the early bicycle manufacturing industry, as it was the only option available, though it has continued to be a favored mechanical feature through to modern times despite being viewed as antiquated or downright dangerous.
The feeling of being connected to the bicycle without any freewheel, a true direct drive, is unmatched by any other experience in cycling. While most often seen pounding laps at a velodrome, or bicycle race track, the fixed gear has seen a cult-like following hop off of the track and onto city streets propelled by the bicycle messenger scene. Today it seems the "fixie" is a household name branded to anything that remotely appears to be a simplistic single speed bike, so this article will give you some background intel on what truly defines a fixed gear and let you know why our picks for the best models available.
The Breakdown
Fixed Gear DNA
Put bluntly, a fixed gear bicycle is just that – a bicycle in which the drive gear, or crank, has a fixed drive system to the driven gear, the cog attached to the rear wheel hub. If you push the crank forward the wheel will turn forward; conversely, if you turn the crank backward the wheel will move backward. This means that this drive system will not have the ability to shift between multiple gears and is only available as a single-speed, which in effect leads many to incorrectly believe that single-speeds and fixed gears are one and the same. Bikes referred to as single-speeds are often employing a freewheel in the drivetrain, allowing for the ability to stop pedaling while rolling forward, a term called coasting.
Due to this direct drivetrain on a fixed gear, there is no ability to stop pedaling or coast, so the riding experience will be unlike any other for newer riders. This also means the luxury of a controlled ride with hand-brakes will be a thing of the past, as now your legs are not only the engine power but also the stopping power, which gives the super-connected feel that many enthusiasts are looking for. Though these bikes are essentially intended for a closed-circuit race, with a little practice a technique can be developed for slowing on the street and stopping with a skid, but beware of the beating you may take getting this move down.
The Flipside
Freewheelin'
If you are looking to get into a fixed gear more for the style and simplicity but are looking to retain your sanity with a normally controlled riding experience, many of the bikes on this list will offer the ability to quickly convert to a single speed thanks to an ambidextrous rear wheel hub known as a flip flop. With this option, you will have the choice to be locked in for the full race experience with a fixed cog, or switch things up by turning the rear wheel around to activate a leisurely cruiser mode with the freewheel. Most bikes on this list will also be delivered with a full set of hand brakes due to consumer safety laws, so if going fast isn't your thing, feel free to gear up for life in the slow lane.
Here is a quick review of the terms you should know when shopping for a fixed gear, and you will found all of these attributes called out for each bike on the list.
Steel: The original bicycle frame material, steel provides a classic feel that is both forgiving and relentless in nature, though it does add a few grams of weight.
Aluminum: A more modern frame material, aluminum is revered for being both rigid and lightweight, meaning it transfers power efficiently but is rough on the rider.
Carbon Fiber: The most space-aged material used in bicycle frames, carbon fiber does a superb job of absorbing vibration without adding weight, but comes at a steep cost.
Drop: The handlebar shape most commonly associated with road bicycles, the drop handlebars curved shape provides many hand placement options and the ability to tuck deep into an aerodynamic position.
Upright: The handlebar shape most commonly associated with mountain bikes or cruisers, the falter profile inhibits an upright riding posture for a more comfortable position, while still maintaining the ability to be pulled on when cranking hard.
Flip Flop: As previously discussed, a flip flop rear hub will allow you to set the bike up as either a fixed gear or single speed based on your riding preference.
Fixed: A fixed rear hub is purpose-specific and will only allow for a cog and lockring to be installed.
Sizing: All bikes listed have their sizing shown in centimeters and the figure is based on the distance between the center of the bottom bracket and the top of the centerline of the top tube, measured along the seat tube.
Retrospec Harper
If you are just looking to get your feet wet and not dive into the deep end, the Retrospec Harper is a great choice for a wallet-friendly fixed gear that will have you out on the road spinning miles without crushing your bank account. The nondescript steel frame and fork are rolling on a set of 30mm deep-v wheels wrapped in a sleek 28c tires, all controlled by a low riser flat-bar. A sealed-bearing bottom bracket is used to create solid crank performance, though the threaded headset and cup-and-cone style wheel hubs will be less than stellar in their servitude. With 11 different color variants and sizes from XS to XL, you'll be sure to find a bike that is a perfect fit for your style.
Frame/Fork: Steel/Steel
Handlebars: Upright
Rear Hub: Flip Flop
Sizing: 43, 49, 53, 57, 60
Pure Cycles Original Series
Keeping it simple is always one advantage of riding a fixed gear bike, and Pure Cycles has found that their Original Series proves this being the bread and butter of their lineup. Based on their proven geometry and component spec, the Classic is on the upper end of the entry-level offerings from this list, with many nods to the higher-end category features. The high-tensile strength steel frame receives integrated axle tensioners for reliable adjustment on the rear end, and sealed cartridge bearings on the hubs, bottom bracket, and headset keep all of the other systems tight. Whether it is another addition to your quiver or your first entry, this is an all-around great build for the budget, verifying the philosophy that less is more.
Frame/Fork: Steel/Steel
Handlebars: Upright
Rear Hub: Flip Flop
Sizing: 43, 47, 50, 54, 58, 61, 64
Crew Ace
As the origins of all fixed gear bikes are rooted in track racing, it is no surprise that some race-level features trickle down to the showroom level rides. The Crew Ace shows its speedy heritage with a hydroformed alloy frame and carbon fiber fork, both featuring tight, responsive geometry that mimics the pro feel while providing a supple ride that is ready for the road. High flanged hubs and deep-v rims give an extra bit of rigidity to the wheelset, and the drop handlebars provide a roomy cockpit for a variety of hand positions, but welcome additions when really putting the torque down on this rig. Available in a matte Black or glossy Lava Orange, this looks as fast on a rack as it does on the track.
Frame/Fork: Aluminum/Carbon Fiber
Handlebars: Drop
Rear Hub: Flip Flop
Sizing: 52, 55, 58
Aventon Cordoba
While it is hard to say that there is one bike that will be the perfect ride in all conditions, anyone can agree that there are some bikes that just seem to be fun anywhere it goes. Setting out to be the fixed gear bike that is a blast to ride anywhere, the Aventon Cordoba utilizes an aluminum frame and carbon fiber fork in a modest geometry to build a bike that performs as well in an alley cat as it does on the boardwalk. A slacker geometry than some of the more race breed packages will have this bike feeling like a bike that could be good for an all-day ride into the hills, but the lightweight and compliant parts spec will have the steed ready to throw down on cross-city sprints.
Frame/Fork: Aluminum/Carbon Fiber
Handlebars: Drop
Rear Hub: Flip Flop
Sizing: 49, 52, 55, 58, 61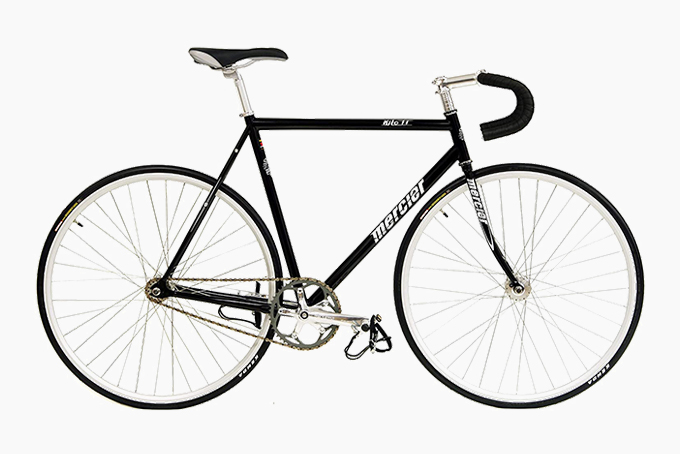 Mercier Kilo TT
Sometimes there is no substitute for the proven classics, and with the billions of miles that have been logged in the history of cycling, some of the most enjoyable rides have been on the truest of rigs. Rooted in the thought that the greatest quality bicycles are made simply with the greatest quality materials, the Mercier Kilo TT utilizes the legendary Reynolds 853 steel tubing known for its superior strength-to-weight ratio and plush ride quality. Simple but tight componentry will provide years of reliable riding and ample serviceability, guaranteeing that this prototypical fixed gear will be a sturdy companion for the long haul, and high-quality componentry from Truvativ will make sure ever mile is a good one.
Frame/Fork: Steel/Steel
Handlebars: Drop
Rear Hub: Flip Flop
Sizing: 50, 53, 55, 57, 60
Brooklyn Bicycles Wythe
Looking good while on a bike can be a tough objective sometimes, as almost all the factors of riding are working to have you sweaty and haggard through normal use. It is helpful to start off on the right track by having a machine that has a well-contrived design that takes a fashion-forward approach, and the Brooklyn Cicyles Wyhte does all that, without sacrificing any marks for on the road performance. The clean steel  4130 Chromoly frame is built to be lightweight while providing a supple ride quality, and the mid-tier componentry keep the total curb weight manageable enough to lug up flights of stairs in downtown dwellings. If you are wanting a bike that has you styling on the way to the office in the morning and rocketing you down the boulevards after clocking out, the Wythe is the fixed gear for you.
Frame/Fork: Steel/Steel
Handlebars: Upright
Rear Hub: Flip Flop
Sizing: S, M, L, XL
Subrosa Rixa UTB
Not all fixed gear bikes are born to go fast, as recent trends have seen the rise of the BMX inspired fixed-gear freestyle scene, and not surprisingly, their own take on the full locker rides. Taking the best of what it has learned from years in the BMX game, Subrosa put their design team to the test with their Rixa UTB, or Urban Terrain Bicycle. Built to hop up curbs and down stair sets, ready to take on rails and crush trails, the Rixa is all about having fun on two wheels. The compact geometry of the steel frame and fork allows enough room for barspins, all while keeping the effective top tube height low in the interest of throwing some extra style into your daily ride. Stacked with a component offering fitting for taking a real beating in the streets, this well-rounded rig is ready for any adult looking to feel like a kid.
Frame/Fork: Steel/Steel
Handlebars: Upright
Rear Hub: Flip Flop
Sizing: 41, 47, 52, 54, 56
State Bicycle Co. 6061 Black Label V2
Finding the right balance of aggressive attack-oriented geometry and everyday rideability in a fixed gear can be a harmony that most bike manufactures will never get down. Built equally to crush the sprints and stack miles on sunny weekends, the State Bicycle 6061 Black Label V2 is a bold aluminum and carbon build made to dominate the pavement in any environment. The beefy parts package includes CNC'd crank arms and the option of wide riser bars, giving you a plenty stable cockpit for mounting an attack, whether that's in the crit or just dropping your boys on the way home from the pub. Softening the blow of these ultra-rigid and compliant components is a full carbon fork, giving just enough flexibility to allow for a smooth ride on unforgiving city streets.
Frame/Fork: Aluminum/Carbon Fiber
Handlebars: Upright or Drop
Rear Hub: Flip Flop
Sizing: 52, 55, 57, 59, 62
Bianchi Pista
As cycle racing has always held a special prestige in Italy, it is no surprise that we would include one of the most legendary names in bicycle racing on our list. Making top-shelf racing machines for over 130 years, the Bianchi name is synonymous with two-wheeled competition, and the Pista fixed gear pays homage to those countless pedal strokes that paved the way for modern cycle sports. Available as a race-ready model, the Chromoly steel frame is delivered with any braze-ons, meaning no mounts for a water bottle cage, and definitely no rack or fenders – this bike is all business. All with an FSA crankset bolted to a monster 48 tooth chainring drive a 16 tooth cog, you better have your go-fast pants on for the Pista.
Frame/Fork: Steel/Steel
Handlebars: Drop
Rear Hub: Flip Flop
Sizing: 49, 53, 55, 59, 61, 63
Specialized Langster
There is something to be said about those that know how to have all of their rawest, most fundamental elements packaged in a way that somehow looks like a million bucks no matter what. To call them the "preppy kids" this scene would be no stretch, but Specialized has always had a way of feeling like the best, and the Langster is fixed gear akin to no other. With proprietary processes involved in the manufacturing of nearly all aspects of this bike, the A1 aluminum frame arcs with variable width tubing that meets seamlessly to a carbon fiber fork for well balanced craking compliance and ride quality. Completed with a spread of Specialized factory components and offered in sinister black or heroic red colorways, the Langster is hot and ready to bang bars equally on the track or street.
Frame/Fork: Aluminum/Carbon Fiber
Handlebars: Drop
Rear Hub: Fixed
Sizing: 46, 49, 52, 54, 56, 58, 61
Cinelli Tipo Pista
Being born from long a lineage of race prestige, the Cinelli brand has made some of the most monumental product innovations that are so well designed they have become everyday staples in the modern cycling world. Taking this same approach to a complete fixed gear bike, the Tipo Pista is a race-ready machine that will feel just at home on an urban boulevard. The stiff Columbus alloy aluminum frame provides an excellent pedaling platform and the tight front end lines keep the handling nimble, making the ability to jump out of line and burst out ahead of the pack a walk in the park. With the unrelenting nature of this race bike provides, Cinelli does you a favor and cushions all of the contact points for the rider in their signature accouterments.
Frame/Fork: Aluminum/Carbon Fiber
Handlebars: Drop
Rear Hub: Flip Flop
Sizing: 47, 50, 53, 56
BMC Trackmachine 02 One
If there is one thing that a fixed gear bicycle is designed to do, it is to go fast. While there is definitely no shortage of style here, the BMC Trackmachine 02 One puts speed as a priority above all else, and it shows. Developed in aerospace wind tunnels specifically for the Swiss National Track Team, the hydroformed aluminum tubing uses the same engineering methods as the pro-level time trails bikes, providing optimally low wind resistance without sacrificing any performance when laying down the torque. A top-shelf component package has this bike ready to roll from the showroom floor straight to your local velodrome, including a DT Swiss wheelset and Miche drivetrain, and the 48:15 gear ratio will have you cranking more gear inches than of the other bikes on the list.
Frame/Fork: Aluminum/Carbon Fiber
Handlebars: Drop
Rear Hub: Fixed
Sizing: 52, 55, 59
The 15 Best Commuter Backpacks For Cyclists
Once you decide which of these fixed gears is right up your alley, you are going to need to find a bag that equals the steez of your new steed, and our list of best commuter backpacks will give you some ideas for that perfect matching satchel.