Presented by
While exercise and fitness have always been instrumental to achieving a balanced and healthy lifestyle, working out has become even more critical in this regard as of late, with the ongoing global pandemic and remote work situation making fresh air, physical activity, and much-needed endorphins arguably more valuable now than ever before. Because the fitness world is so broad and multifaceted, however, it can be exceedingly difficult to shop for an athlete, with different exercises and workout applications requiring various types of equipment, garments, and gear.
With the holidays rapidly approaching, we've taken the time out to pore over the last year's best releases in the workout sector, compiling this athlete-focused guide of items that's sure to resonate with the fitness fanatic in your life, whether they're into power-lifting, pilates, or pickup games. Best of all, not only does every item on this list wonderfully lend itself to an enormously wide range of workout types, styles, and applications, but each entry has also been selected for its accessibly-priced MSRP, with every product coming in at under $50.
oHHo Full Spectrum CBD Repair Balm
Formulated to naturally remedy sore muscles and joint pain, this full-spectrum topical CBD balm affords a potent combination of anti-inflammatory, antioxidant, and antimicrobial properties. Infused with moisturizing shea butter, cypress oil, black pepper, camphor, and cedarwood, this balm provides powerful therapeutic qualities without any drowsiness or intoxicating effects whatsoever.
Bravo Sierra The Hygiene Ready Set
Something of the ultimate mobile shower, Bravo Sierra's Hygiene Ready Set is comprised of a solid cleanser body bar for clearing away sweat, dirt, and grime, and an additional antibacterial wipe that uses a Benzalkonium Chloride-based formula in lieu of traditional alcohol to sanitize the skin.
Rogue Kettlebells
Constructed from a proprietary single-piece casting technique using premium iron ore and fortified with a heavy-duty matte powder-coated finish, Rogue's kettlebells are manufactured in a whopping 17 different sizes ranging from 9lbs up to 203lbs.
Vargo Insulated Stainless Steel Para-Bottle
Capable of keeping ice cold for a full 24-hours, this Vargo vacuum-insulated bottle sports a double-walled food-grade stainless steel and a geometric-shaped lid that's mated to the main body via a 7' customizable paracord carrying loop.
Falke TK2 Crest Men Trekking Socks
While socks typically make for a fairly lackluster Christmas gift, this isn't the case with Falke's TK2 Crest Trekking socks, with the purpose-engineered athletic items offering medium padding, and a polypropylene and polyamide-infused merino wool construction with quick-drying, moisture-wicking, and humidity-regulating properties.
Brazyn Morph Stick Compact Massage Roller
A highly-compact yet effective recovery tool, Brazyn's Morph Stick is a 13" foam massage roller that comes paired with a set of adjustable rings that allow for relief across a wide range of muscle areas.
Whatafit Resistance Bands Set
Made from all-natural latex, Whatafit's Resistance Band Set is made up of 11 items, including 10, 20, 30, 40, and 50lb bands, all of which are color-coded. These bands can also be used together to provide as much as 150lbs of resistance.
Wyze Band Activity Tracker
With 24/7 heart-rate tracking, a full 14 days of battery life, a 0.95" AMOLED display, Alexa compatibility, an onboard pedometer, and a 164' water-resistance rating, the Wyze Fitness Tracker is a seriously impressive piece of tech that can still be had at a shockingly accessible sub-$50 price.
Skullcandy Sesh Evo Wireless Earbuds
Skullcandy's Sesh Evo true wireless earbuds cram a wildly-impressive suite of features into an incredibly accessibly-priced package, with a collective 24 hours of battery life, built-in Tile GPS trackers, an adjustable EQ, and an IP65-rating.
TRX Buddy Lee Jump Rope
A modernized take on a bonafide workout staple, the TRX Buddy Lee Jump Rope features a PVC-Constructed rope that's mated to a patented swivel-bearing system that was designed to mitigate drag.
lululemon The Towel
Produced in seven different color options, this item was designed from the ground up to be the ultimate workout towel, and as such features an advanced microfiber construction that's incredibly absorbent while still being extraordinarily soft to the touch.
On Lightweight Cap
This shockingly lightweight and breathable training cap is equipped with strategically-placed laser-cut ventilation holes and a high-performance, quick-drying, breathable, and "Tearproof" fabric construction. Manufactured in five colors, the hat also boasts reflective panels and a low-profile adjustment strap.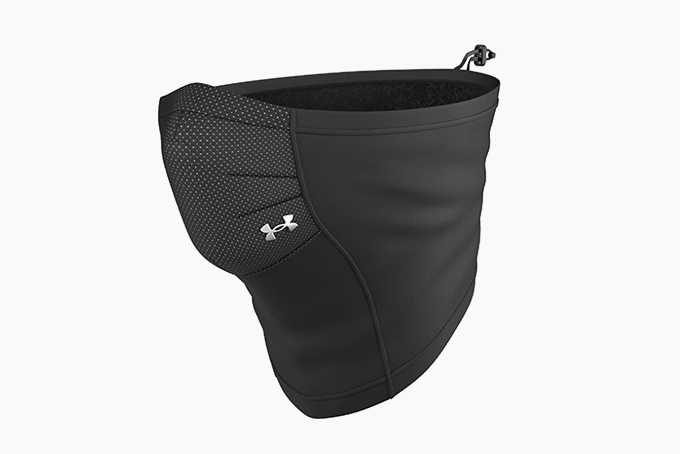 Under Armour UA SPORTSMASK Fleece Gaiter
A winterized version of Under Armour's already stellar UA SPORTSMASK, this protective cold-weather training mask features a multi-layered construction, including the brand's antimicrobial-treated UA Iso-Chill fabric, simultaneously affording ample protection and airflow.
Vuori Strato Tech Tee
Made from a calculated blend of elastane-infused polyester, the Vuori Strato Tech Tee is a more high-performance alternative to traditional cotton workout shirts, with a stretchy, moisture-wicking construction that also provides 30+ protection from ultraviolet light.
Biolite Headlamp 200
The perfect headlamp for pounding the pavement after sun-fall, this item from Biolite packs a cool 200 maximum lumens and a potent, micro-USB-rechargeable battery all in an extraordinarily low-profile and lightweight package, weighing just 0.11lbs.
Matador Transit30 Pocket Duffel 2.0
No matter their sport or discipline, every athlete can use a quality gym bag, and Matador's Transit30 boasts 30-liters of storage, internally-sealed seams, water-resistant zippers, and a waterproof Cordura construction—all while being able to neatly stow away in a stuff-sack that fits in the palm of your hand.
The 45 Best Men's Workout Essentials For Every Exercise
Want to check out some additional gift possibilities for the athlete in your life? Well, then be sure to read our guide to the best workout essentials for every exercise for nearly four-dozen pieces of gear for everyone from boxers to bicyclists.