Presented by
We all have a friend or family member who wakes up before the crack of dawn to run a few miles and hits the gym to lift heavy at night as if they were training to battle some biblical beast in the matchup of the century. The athlete in your crew will be right there too when the New Year dawns upon us and you realize you've eaten one too many cookies during the holidays. So, it would be nice for you to hook them up with a fitness gift they'll love.
The holidays are the number one cash-killer, and although we can't stop your wallet from bleeding green, we can definitely slow it down. We've decided to hook you up with a list of gifts perfect for any athlete in your life. Whether they're fans of running, cross-fit, combat sports, or any other athletic activity requiring an iron will, you'll be able to find an affordable gift for them right here.
NanoCraft CBD Oil Pure Formula
NanoCraft's CBD (Cannabidiol) will help you crush your fitness goals and improve your overall wellness. Containing no additives whatsoever, this high-quality hemp-derived CBD formula uses 'NanoPlex' technology for maximum absorption. It will help center your mind so you can hit your PR or train consistently to cut weight and look good for all those holiday photos. And, it has a delicious citrus flavor so you don't have to dread taking it.
Instantly save some coin (10% off) on your purchase using the HiConsumption exclusive discount code: HICONSUMPTION
Blender Bottle Prostak
Nobody likes a chunky protein shake, so blend your protein powder or supplements the right way with the Prostak. Utilizing the patented 'BlenderBall' wire whisk, you can mix the thickest ingredients just by shaking them up in this blender bottle. It also has an integrated 'StayOpen' flip cap, adjustable carry loop, and interlocking jars with individual lids so you can carry a variety of snacks and supplements. The BPA-free bottle has a leak-proof guarantee, keeping your gym bag dry.
Eleven Rings: The Soul of Success
Ask any true athlete and they'll tell you sports are more about your mindset than the size of your muscles. By reading Eleven Rings: The Soul Of Success, you'll get into the mindset of the legendary Phil Jackson who won six NBA championships with the Chicago Bulls and five more with the Los Angeles Lakers. Learn about how meditation, Buddhism, and basketball from the Zen Master himself while exploring the ways of a true champion in this 386-page book about sports and life.
Venum Challenger Speed Rope
Coming from a trusted brand in combat sports, the Challenge Speed Rope will help you shed a ton of calories. It features a no-slip grip for maximum performance and a high-end ball-bearing for smooth movement when you go double-time to jack up your heart rate. If you're into martial arts or combat sports and looking to upgrade your cardio or simply want to shed pounds fast, pick up the Venum Challenger Speed Rope.
Darn Tough Vertex Micro Crew Socks
Darn Tough makes products that stay true to their name and their Micro Ultra-Light Cushion Socks are no exception. They're made with merino wool and nylon for outstanding moisture-wicking capabilities and durability to withstand any workout. They also have a seamless design for a smooth feel during cross-fit or marathon training.
SKLZ Slidez Gliding Discs
Any athlete knows your core is arguably the most important part of your body when it comes to sports. The lightweight SKLZ Slides double-sided gliding discs provide you with a total body workout while highlighting your abs. You're able to use them practically anywhere with no friction, including concrete, turf, and carpet. Upgrade your stamina and flexibility with several low-impact, high-intensity workouts with these gliding discs.
Goodr OG Sunglasses
Goodr truly gives you the most bang for your buck when it comes to shades. Their OG Sunglasses have glare-reducing polarized lenses with UV400 protection to block 100% of UVA and UVB rays and a special non-slip grip coating so the glasses stay on even if you sweat profusely. Ideal for biking, running, and going beast mode, these sunglasses are quite the steal.
Levin Bluetooth 4.1 Earbuds
It's quite difficult to find a quality set of affordable wireless earbuds, but here's a rare pair worth considering. Levin's Bluetooth 4.1 Earbuds are compact and sweat-proof, making them perfect for the gym. They provide you with 13 hours of uninterrupted music in superior hi-fi stereo and come equipped with a comfy neck bar so they won't be a nuisance while you get a good pump.
SKLZ Recoil 360 Resistance Trainer
If you want to increase your explosiveness, the SKLZ Recoil 360 Resistance Trainer is the perfect piece of equipment. This resistance trainer features an adjustable belt with a free motion ring, meaning your exercises can simulate true sports movements and surprise your muscles for a better workout. You'll be able to train like professional and Olympic athletes with this resistance trainer that's able to stretch up to 22 feet, yielding 15 to 50 lbs.
OPTP Axis Foam Roller
After a long, grueling gym session, cooling down by rolling out your muscle knots feels heavenly. The high-density 36-inch Axis Foam Roller will help you massage your tight muscles so you'll feel refreshed the next day instead of sore and annoyed. Use this foam roller before a workout as well to loosen up your muscles in preparation for an intense workout.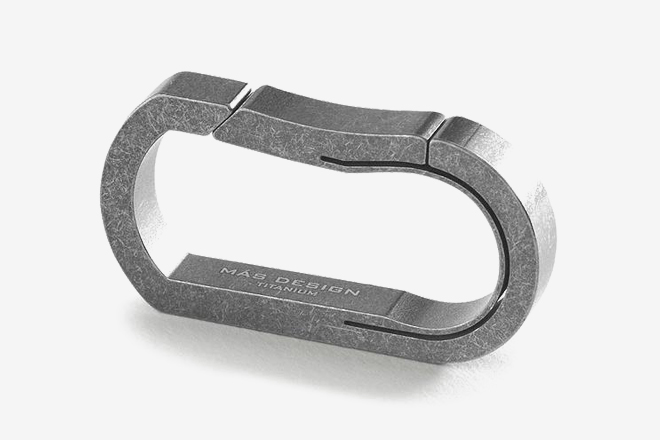 Handgrey Bauhaus C10 Titanium Carabiner
Keep your keys and other small essentials together during your workout session with this sturdy Bauhaus C10 Titanium Carabiner. Constructed with 6AL4V titanium with a stone-tumbled finish, you can haul your keys securely when you head to the gym. Just attach it to a loop inside your gym bag and you won't have to dig for your keys when your sweat session is done.
Lululemon Stay Hot Keep Cold Bottle
The sleek Lululemon Stay Hot Keep Cold Bottle can carry about 20 oz of your favorite beverage to replenish your fluids as you exercise. The double-walled stainless steel water bottle will keep your water cold for 24 hoursor a hot beverage hot for nine hours. The beautiful minimalist design and reliable twist-off lid also contribute to making this bottle one of the best on the market.
GORUCK TAC Hat
Constructed from super tough 1000D Cordura, GORUCK's military-grade TAC Hat will keep your face shaded whether you're going for a morning run, executing drills outdoors, or training for your next obstacle course. It has a reliable low profile six-panel construction, velcro closure, and patch-friendly front velcro. This may be the last hat you'll ever need for your outdoor workout sessions.
Onnit Steel Club
Tap into your primal self with Onnit's Steel Club made for a 100% machined piece of steel. This powder-coated club has a chip-resistant matte finish so it can handle any grueling workout you've planned for it. Improve your grip strength, rotational core power, and your shoulder strength with this modern caveman club.
Salomon Agile 5 Short
Perfect for trail running or crossfit workouts, Salomon's Agile 5 Short is made from 100% polyester with an elastic drawcord for a breathable, lightweight feel. It also has reflective details for nighttime workout sessions and a zippered back pocket to hold your smartphone and keys securely. Don't let anything hold you back with these mobile shorts designed to help you get to the next level.
Ten Thousand Distance Shirt
When you're out on your route, the last thing you want is for your running shirt to cling to your skin and disrupt your natural motion. Ten Thousand's 100% polyester Distance Shirt is made with no-cling fabric so your stride will feel smooth every time. It's also welcome in the gym with its polygiene anti-odor silver ions.
The Wishlist: The Athlete's Holiday Gift Guide
After looking at some of the most affordable fitness gifts on the market, you still might need a few more options. Take a look at our list of the 20 best gifts for the athlete for more gear to please the health nuts in your crew.