Dec 13, 2018
Category: Gear
We count ourselves very fortunate to live in this particular era for so many reasons — one of them being the most comprehensively widespread range of everyday carry gear. Truly, there has never been a better time for those of us who like to stay prepared via a daily loadout of pocketable tools. Of course, that also makes it a lot harder to narrow things down when the time does come to purchase new stuff.
Of course, our indecision — meaning those of us who partake in the everyday carry community — can also be a boon for anyone seeking out gifts. Even on a microscopic budget, there's impressive gear to be stuffed into our stockings that will bring a smile to even the scroogiest of faces. Seriously, for just $50 or less, you can gift someone literally any of the following 20 pieces of everyday carry gear.
Opinel No. 04 Keychain Knife
Boasting the brand's iconic silhouette and a construction that's remained largely unchanged for over a century, the No. 04 keychain knife from Opinel is a tiny cutting tool with a beech wood handle and Sandvik steel blade. And it's an excellent way to add cutting power to anyone's EDC loadout without weighing them down.
Field Notes 56-Week Planner
Keeping your life on track is a tough prospect. But it's made far easier if you use the Field Notes 56-Week Planner. With more than a year's worth of space, this USA-made notebook planner is an excellent tool for the already-organized and a great way to help your loved ones to get themselves coordinated.
KA-BAR Mark 98 Flipper Knife
Having already earned themselves tons of clout in the world of fixed blade knives, Ka-Bar has set their sights on more everyday carry-friendly offerings with their first ever Mark 98 flipper knife. With a 5Cr15 SS spear point blade and textured G10 handle scales, this EDC folder comes with an impressive pedigree and some top-tier styling.
Handgrey Knox Titanium Keyring
Though often overlooked, the keyring is one of the most common and important items in anybody's everyday carry. After all, it's what you trust to keep all your keys secure and organized. This holiday season, ditch the old and boring one that came with your house key and swap in this unique, lightweight, titanium option from Handgrey. It's tougher, lighter, and even easier to get keys on and off.
Fisher Space Pen Bullet
Boasting the same technology used by astronauts, the Bullet from Fisher Space Pen can write upside down, underwater, or in zero gravity. And, though it collapses into a super-tiny pocket-ready format, it opens into a perfectly-balanced full-length pen. This might just be the best EDC writing utensil ever made.
Everyman Porter Key Knife
Whether you're seeking discretion or just a space-saving way to carry a cutting tool, you can't go wrong with the Everyman Porter Key Knife. Made from stainless steel, this tiny device boasts a straight cutting edge, as well as a bottle opener for a bit of extra functionality. And it's the same size and shape of a normal key.
MecArmy Illuminex-4S Keychain Flashlight
The world's smallest micro USB-rechargeable flashlight, MecArmy's Ulluminex-4S is an impressive EDC tool, to say the least. With a simple twist operation, it gives users up to six hours of light at an output of up to 130 lumens. And it can be charged up completely in only an hour. Not bad for something that's only about the size of a pinky finger.
Izola 5oz Hip Flask
If you're looking for a stocking stuffer or even just a holiday contingency plan, you can't go wrong with the Izola hip flask. Small enough to stash in just about any pocket, this screw-top stainless steel vessel can hold up to five ounces of your liquid of choice — though we suggest you make it a decent sipping whiskey.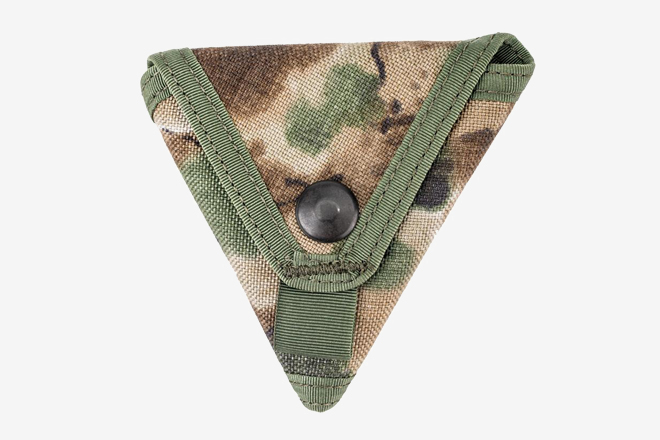 MIS EDC Coin Case
Even though much of the world has gone digital, coins still serve a few specific purposes — like for use in vending machines or to help you make on-the-spot decisions. If you're the type that still carries cash, you can keep your coinage well-organized, so long as you stash it in the USA-made, PU-coated, Cordura nylon MIS EDC Coin Case.
Timex Expedition Camper Watch
Every man deserves a good watch — but you don't have to spend an arm and a leg to get one. In fact, you can get your hands on this solid Timex quartz ticker for a fraction of what you might pay for other similar offerings. It's simple, durable, comes with a comfy nylon strap, and even has INDIGLO tech built in so you can see the face even in low-light conditions.
Trayvax Armored Summit Wallet
Boasting a melonite-coated stainless steel frame, a nylon cash strap, and an ultra-durable armored plate, the Trayvax Armored Summit Wallet is one of the toughest minimalist cash and card carriers out there. It also holds up to seven cards and five bills, blocks RFID signals, and was made in the United States.
CRKT Knife Maintenance Tool
Anyone who owns a knife should know how to keep their cutting tool as sharp as a razor. But that can be hard to do unless you carry a sharpening tool around with you. And this one, from CRKT, is small enough to fit on your keychain. It also boasts a bottle opener, dual Torx drivers, and folds down for easier carry.
Nomad Lightning Carabiner
Part keychain carabiner and part iPhone charging cable, the Nomad Lightning Carabiner kills two birds with one stone. With a USB-to-Lightning hideaway cable, a stainless steel reinforced frame, and a Dow DuPont polycarbonate exterior, this handy high-tech device is as tough as it is handy.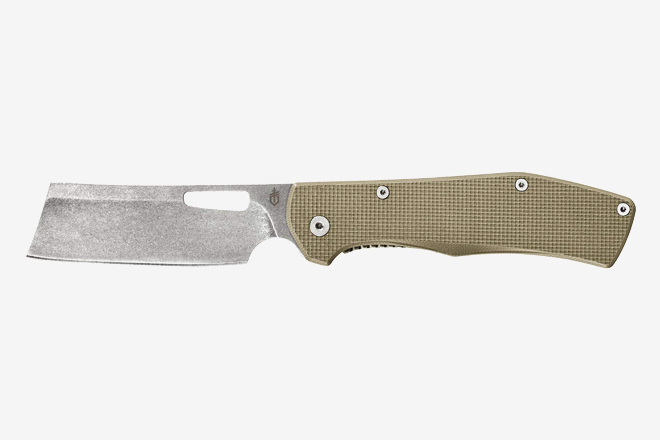 Gerber Flatiron Folding Cleaver Knife
One of the best knives to come out over the course of the last year or so, Gerber's Flatiron is a gorgeous example of a budget-friendly folding cleaver. From its 3CrMoV steel blade to its G10 handle scale and sturdy frame lock — this knife means business and will stay by your side for a good long while without breaking the bank.
Victorinox Swisscard Lite Multi-Tool
Roughly the same size and shape as a credit card, the Victorinox Swisscard Lite is actually a comprehensive and compact multi-tool that boasts a whopping 13 built-in tools. Ranging from an emergency blade to a magnifying glass, a pen, and even an EDC flashlight, this is practically a Bond-worthy EDC device great for anyone frequently on-the-go.
Matador Droplet XL Dry Bag
Even kept solely as a contingency plan in your car emergency and/or camping kit, the Matador Droplet XL Dry Bag can be a lifesaver. Small enough to fit on your keychain when collapsed, this bag expands to hold up to 20 liters of gear — be that clothes (wet or dry), tech, or otherwise — and it's completely waterproof and safe from leaks when the roll top closure is secured.
Douk Douk Le Tiki Friction Folding Knife
Crafted by the same family for the better part of a century, the French-handmade Douk Douk is a legendary friction folding knife with a beautiful and iconic blade crafted from carbon steel mated to a silver folded steel handle. This non-locking knife, however, isn't just a showpiece — it was made to be used time and time again and makes a great addition to any everyday carry loadout.
Griffin Pocket Tool Mini Titanium
Measuring up smaller than a thumb, the Griffin Pocket Tool Mini boasts nine onboard functions, making this an impressive one-piece multi-tool, to be sure. But this one gets an even bigger upgrade, thanks to a construction of high-grade titanium. With drivers, wrenches, a bottle opener, and more, this handy keychain tool is top-tier.
Bull & Stash The Market Journal
The handwritten word is a dying art but an art nonetheless. And still, no kind of writing is quite as tied to positive recollection as hand-written notes. Keep your mind sharp and never forget your best ideas by scrawling them in the Bull & Stash Market Journal. It's got a gorgeous leather cover, 50 lined and perforated pages, and there's even an internal stash pocket for receipts or pages you've torn out.
Herschel Heritage Backpack
Whether you're a Top Ramen-eating college student or a seasoned 30-something city-dweller, you still sometimes need a vessel in which to stash gear that's too big or bulky to fit in your pockets. And it's hard to beat something as classic and iconic as the Herschel Heritage Backpack. With room enough for all your daily carry — including a sleeve for a 15″ laptop — this bag is a solid daily carry choice.
Hitch And Timber Flat Jacket Wallet
As beautiful as the bifold your granddad carried but a fraction of the size and bulk, the Hitch and Timber Flat Jacket wallet is the perfect carry solution for anyone who appreciates both minimalism and solid design. It's also handmade in the USA, holds up to eight cards in total, and weighs just five ounces.
MecArmy EK12 Titanium Keychain Utility Knife
For those who want the benefits of a cutting tool but not the burden of carrying around a pocket knife, the MecArmy EK12 Titanium Keychain Utility Knife is a superb compromise. It's tiny, lightweight, and beautiful — but it still packs a punch when you need it. And the blade it comes with is completely replaceable, so you can swap it out for a new one whenever it gets too dull.
Leatherman Wingman Multi-Tool
Weighing just seven ounces and measuring up at 3.8″ in length when closed, you might find it hard to believe that Leatherman's Wingman multi-tool features 14 built-in tools — but it does. With drivers, pliers, a knife blade, and so much more, this is a superb tool for any everyday carry arsenal.
Nagao Higonokami Brass Friction Folding Knife
Popularized by the same blacksmiths who used to make samurai swords, the Nagao Higonokami brass friction folding knife is an elegant non-locking folder that's been made by the same craftsmen for roughly a century — and the design has hardly changed at all. It doesn't have all the fancy bells and whistles, but this beautiful blade is a hard worker through and through.
The James Brand Halifax Keychain Multi-Tool
Beautiful, simple, and straightforward — The James Brand's one-piece multi-tool, the Halifax, is an everyday carry wonder you can be proud to carry. It's constructed from black Cerakote-finished titanium, boasts a handful of built-in functions (ranging from a pry bar to a bottle opener), and it's completely TSA-friendly — making it perfect for travel.
25 Best Everyday Carry Gifts
For those who are not hampered by a confined budget, there's still a world of options out there for sturdy gift-appropriate pocket gear. And you'll find the best of it on our list of the 25 best everyday carry gifts.