The holiday season is already upon us, whether you like it or not. And while that spells excitement for a lot of people, it also has a tendency to cause a bit of anxiety, especially when it comes time to shop for gifts. There are, however, some great go-to options you can always rely on to be a big hit. And many of those can be found in the category of everyday carry.
Perfect as standalone gifts or even as stocking-stuffers, EDC gear is perfect for the holiday season because, as anyone who carries can tell you, we're always on the lookout for new and exciting stuff. From keychains, pocket knives, multi-tools, and so much more — there's something here for everyone. Whether you need the perfect present for your favorite DIY enthusiast or you've got a notoriously hard-to-shop-for gearhead, you'll find the answer here on our list of the 25 best everyday carry gifts.
I-Clip Carbon Wallet
Based on a patented design, the ultra-functional minimalist I-CLIP Carbon Wallet wallet astoundingly weighs just over half an ounce — due to the construction of a super durable plastic composite frame and full-grain leather cover complete with a carbon fiber appearance. Yet it still easily keep your cash at the ready — compliments of an integrated money clip — and holds up to 12 cards which can be easily accessed thanks to a handy selection window on the back. A true everyday carry marvel, this front pocket wallet is certain to be a winner this holiday season.
Field Notes Pocket Notebooks
Even with the world continuing to go more and more digital, a handy pocket notebook is still one of the best ways to jot down all your ideas, schematics, sketches, phone numbers, doodles, and more. And they don't get better than those from Field Notes, as they're made in the USA, have some beautiful specialty cover designs, come in a variety of formats, and are easy to stash in just about any pocket — be that on your person or in your backpack.
Opinel No. 4 Keychain Knife
With the brand's signature more-than-a-century-old silhouette, this minuscule folding slipjoint cutting tool is an iconic and reliable addition to any keychain, carabiner, or backpack attachment. It features a Sandvik steel 1.97″ blade, a beech wood handle, and an attached chain and key ring.
Gearward Keychain Duct Tape
Duct tape might actually be the most valuable tool anyone can ever have on them, but the big rolls can be a bulky and inconvenient thing to carry. Luckily, Gearward's Keychain Duct Tape pares the miracle tape into a format that fits on your keychain. Available in brass or stainless steel, this keychain accessory offers up to 24″ of tape, yet can still be stashed alongside all your keys or other everyday carry gear. It doesn't hurt, either, that it's made in the USA.
Fisher Space Pen Bullet
Utilizing the same technology that NASA has been sending up with every manned space mission since the 1960s, the Fisher Space Pen Bullet is a magnificent EDC pen that can write underwater, upside-down, or in zero gravity. And, while it's small enough to stash in even the most crowded of pockets, it also opens into a fully-balanced full-sized writing utensil. They're also made in the USA and come with an unconditional lifetime guarantee.
Nomad Lightning Key
With our ever-increasing reliance on technology, it's a good idea to have a way to keep your phone charged on your person. But most cables are a bulky pain in the butt. Nomad simplifies charging with their Lightning Key. This high-tech tool is small enough to put on a keychain, flexible and durable, and can charge up your iPhone anywhere there's a USB port. Of course, there's also a micro USB version, if you're an Android user.
Bradley Mountain The Good Bottle Opener
Nobody should ever be without a bottle opener, just in case the mood strikes to crack open a cold beer. And the Bradley Mountain Good Bottle Opener is one of the best out there. Made from solid zinc with oxidized brass plating, this bad boy is both tough and lightweight. It also comes with a leather lanyard for easy pocket access, can easily fit on your keychain, and is made in the USA.
FinalStraw Titanium Folding Straw
Lately, disposable straws have become a hot-button issue, due to their absurdly bad impact on the natural world around us. Whether you want to keep your footprint in check or you just don't want the hassle of having to track down a straw every time you want a sip, you can mitigate that by carrying the FinalStraw folding titanium straw. It comes with a handy carry case, folds down to pocket-size, has silicone tips so you don't cut your lip, and even comes with a cleaning kit. It's even dishwasher safe if you don't want to clean it by hand.
CRKT Knife Maintenance Tool
Everyone should be carrying an EDC knife, but keeping yours in working condition — especially if you use it all the time — is not such an easy task. It can be made a lot simpler, however, by carrying the CRKT Knife Maintenance Tool. This glass-reinforced nylon keychain device boasts a tungsten carbide sharpener, ceramic honer, T6 and T8 Torx drivers, and folds down for easy and out-of-the-way storage.
Douk Douk Friction Folding Knife
Made for nearly a century by the same French family of craftsmen, the Douk Douk friction folding pocket knife is about as iconic as they come. Constructed with a carbon steel blade and a ferro-blackened forged steel handle, this no-nonsense cutting tool is as beautiful as it is functional. And the history gives it an added boost (it was even named after the Melanesian spirit of destruction). Plus, it was made to last, giving it an heirloom quality not found amongst more modern blades.
Victorinox Cadet Swiss Army Knife
The Cadet is about as classic and iconic as Swiss Army Knives come. In fact, it's not dissimilar to the original Victorinox offering made nearly 100 years ago. Boasting textured Alox handle scales along with nine built-in stainless steel tools — ranging from a cutting blade to can and bottle openers, drivers, and more — this is an everyday carry staple that every man should own.
Matador Droplet XL Dry Bag
Life takes strange turns, especially in inclement weather or when you're near bodies of water. If you find yourself with some gear that you can't afford to get wet, you'll be thankful if you've got Matador's Droplet XL Dry Bag. With up to 20L of internal storage, this bag can collapse down to about palm-sized — and it even comes with its own handy carry case that can attach to a keychain or backpack strap. It also boasts a Hypalon roll top closure, comes with an aluminum carabiner, and weighs almost nothing.
The James Brand Halifax Keychain Multi-Tool
This is perhaps the most beautiful one-piece multi-tool ever made. But it is also remarkably useful and tough — as it is made from black Cerakote-finished billet titanium and boasts 5+ built-in tools. Those tools, by the way, include a bottle opener, combination screwdriver, pry bar/box opener, and more. It's also small enough to attach to your keychain or fitted with a lanyard for easy pocket carry.
Peak LED Solutions Eiger Ultra X Flashlight
The original Eiger flashlight from Peak LED Solutions really didn't need to be improved upon, as it was already one of the best ever made. But that didn't stop them from giving it some big upgrades in the Ultra X — like a brightness that's improved by 50%, an unequaled battery-to-output ratio, an unbreakable polycarbonate window (the same kind used in bulletproof glass), and shock- and water-resistance. It's also designed and manufactured in the USA.
The Sneerwell Noble Flask
Whether as a groomsman gift or just a part of your everyday carry, flasks are about as iconic as pocket gear comes. But the folks at Sneerwell have managed to elevate them to an as yet unheard of level — thanks to their wild hand-etched designs, unique patina application process, and magnificent presentation packaging. Of course, they're also made from stainless steel, can carry six ounces of whiskey (or your preferred spirit of choice), and they're completely food safe.
Craighill Nocturn Valet Tray
At the end of the day, even the most dedicated everyday carry enthusiast has to empty their pockets. But, rather than just tossing your gear haphazardly onto a countertop somewhere, why not keep it safe and organized in Craighill's frankly gorgeous Nocturn valet tray? It's built from solid American walnut, has a center ridge to make organizing and picking up your gear much simpler, and it is made entirely in the USA.
Handgrey HG Titanium Carabiner
An everyday carry keychain carabiner is a great way to keep your keys and keychain accessories organized, safe, and stop them from cluttering your pockets. But the HG titanium carabiner from Handgrey takes it a step further by making one from lightweight and nearly-indestructible metal, including a separate key loop to make sure nothing ever falls off when removing it from your belt loops, and adding an integrated bottle opener to boot. We're not saying this is the best carabiner ever, but we're also not denying it.
Dango T01 Tactical Spec Ops Wallet
If everyday carry is about paring as much functionality as possible into as little gear as necessary, then the Dango T01 Tactical is certainly amongst the most impressive wallets ever made — with a removable 14+ function multi-tool insert, RFID blocking, a 12-card capacity, a silicone cash strap, and more. And the Spec Ops version is even better with a specialty, water-resistant DTEX material and aerospace-grade 6061 aluminum construction. And the whole thing is made in the USA.
Leatherman Wave+ Multi-Tool
Leatherman's Wave was already one of the absolute best folding multi-tools ever made — with its stainless steel construction and 18+ built-in functions — but that didn't stop the brand from making it even better with the addition of replaceable wire cutters. Of course, the tools are still all locking, accessible without having to unfold the tool, one-hand operable, and the whole thing comes with the brand's 25-year guarantee.
Mophie Charge Stream Powerstation Wireless XL
With a whopping 10,000mAh battery (that's good enough to charge up an iPhone X 3+ times) and a format that's small enough to stash in your pocket, Mophie's Charge Stream Powerstation Wireless XL is a formidable portable battery pack. But this one also has the added bonus of Qi charging, so you don't even need a cable to plug this bad boy into your smartphone. Of course, if you do have any wired gear, it does still have a high-output USB-A port.
Silver Piston Indian Nickel Zippo Lighter
There's no denying that Zippo makes the most iconic lighters of all time. But Silver Piston went ahead and made them even better with the addition of a soldered-on authentic Indian nickel and a unique oxidized finish. Whether you know an outdoorsman who needs to be able to light a campfire, or you've got a person in your life who appreciates a good cigar, this is a superb everyday carry gift.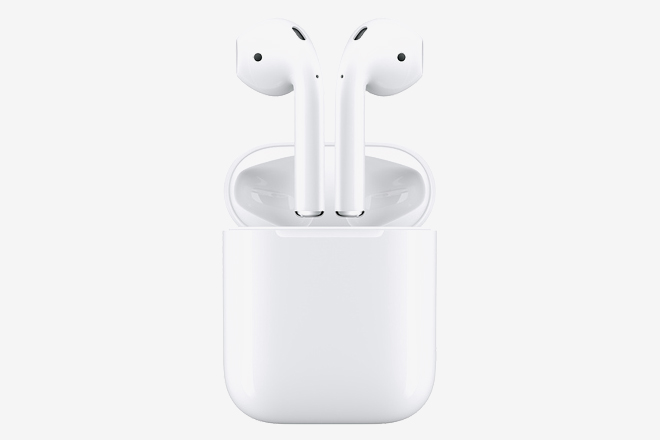 Apple AirPods
There was a time when Apple's AirPods might've seemed wholly unnecessary — but then Apple did away with the headphone jack on the iPhone. Now, these wireless earbuds are practically a necessity for anyone who wants to listen to music, take hands-free calls, or even stream television on the go. They're also worlds better than just about any of their competitor's offerings, making them an easy holiday buy for any audiophile with an iPhone.
Rexford RUT V3 Titanium Utility Tool
Even if the Rexford RUT V3 Titanium Utility Tool was just a knife, it would still rank as perhaps the best utility cutter ever made. From its laser-etched, light heat colored titanium scales to the inclusion of a driver, pry bar, and bottle opener, this black razor blade-clad tool is simply stunning and remarkably useful. And it certainly doesn't hurt that it is made in the USA and comes with a lifetime warranty.
Jack Mason D101 Diver Watch
The dive watch is about as iconic and essential as any timepiece. And this version from Jack Mason, the D101, is an especially elegant example — boasting a stainless steel case and matching link band. But it's also super functional, featuring 300 meters of water-resistance, a reliable Japanese quartz movement (with a 10-year warranty), luminous markings on the dial, and so much more.
Benchmade 781 Anthem Knife
One of the best and most impressive folding knives to come out in the last couple of years, the Benchmade 781 Anthem features a handle made from a single piece of billet titanium — making it both remarkably strong and incredibly lightweight and slim. Yet it still boasts the brand's signature AXIS locking mechanism and comes with an ultra-reliable high-end CPM-20CV drop-point plain edge blade. For good measure, it's also made entirely in the USA.
30 Best Everyday Carry Backpacks
If you're a college student, commuter, or a wanderer, you'll probably need something in which you can stash all your EDC gear. You can find the ideal bag here on our list of the 30best everyday carry backpacks for men.