Spending more time in your home can lead to some sanitary realizations that never materialized during your traditional work/life regimen. For instance, before lockdown, you could dwell in your space without having to deodorize every single piece of furniture in the room, week after week. While we're firm believers in the power of Febreze, there are a plethora of ways to ensure that your home stays fresh and odor-free, including, but not limited to, the little-known essential oil diffuser.
This fantastic little device is a godsend for individuals who don't want to spend copious amounts of time seeking out every culprit in the room when it comes to abnormal fragrance. Instead, it allows for a "plug-and-play" dynamic that provides intermittent fragrance dispersal, thanks to an ultrasonic motor that helps to break up natural oils and propel their agitated particulates into the air. As a result, your favorite living area will remain fresh, habitable, and healthy, allowing you to go about your day without having to worry about any additional upkeep. Not to mention, these welcoming scents can actually help you relax and feel a bit more centered, even if the rest of the world is in chaos. Below, we've outlined our favorite choices from around the industry, but first, let's learn what an essential oil diffuser really is.
How does it work?
The Power Of Scent
If you're new to aromatherapy, there's something that we need to clear up from the get-go: synthetic fragrances do not provide you with health benefits, and if they're being marketed as such, it's likely untrue. This is why essential oil diffusers have become so widely-accepted (and lauded) by their users. Instead of synthetic aromas filling your home with a hollow scent, essential oils provide viable healing and fitness qualities, as well as natural fragrances that can help to mask odors that have accumulated over long periods of time. As a result, this makes them perfect for any individual who's looking to keep their home or living area as fresh as possible, without using abnormal chemicals and compounds.
But how do they really work? The truth is, there are a lot of different types of oil diffusers out there, including more modernized ultrasonics, vaporizers, and aroma stones — all of which use a heating element and some type of vibrating/atomizing element to break the essential oil into ultra-fine particulates. They provide a purposeful alternative to traditional scent accessories like candles and incense, due to their ability to humidity, adapt to different room temperatures, and run on intermittent timers, meaning that you won't have to worry about burning your house down if you forget to turn it off or become preoccupied with something else. As an added bonus, these particulates are also able to be absorbed by the body, leading to increased vitality, nervous relief, and a more grounded mental state. But be wary; as with anything, moderation is key. Too much fragrance/essential oil absorption can lead to adverse effects. Now that we know a bit more about these interesting devices, let's jump into our list.
ASAKUKI Premium Essential Oil Diffuser
ASAKUKI's Premium Essential Oil Diffuser is a compact aromatherapy device that brings five unique features to its user, allowing them to minimize the amount of time it takes to promote the perfect aura within their living area. Inside each model, a 500-milliliter water tank, multiple mist diffuse modes, and a safety-auto switch provide care-free particle dispersal. Unlike other models, ASAKUKI's aromatherapy example boasts a smart on/off system that protects the device from overheating when it runs out of water, as well as a humidifying effect that serves to mask odors and other unpleasant smells within the room. To ensure that you'll be able to partake in better air quality for longer, each oil diffuser has been crafted from an ultra-high grade, eco-friendly material, resulting in a long-lasting and dependable device.
VicTsing Essential Oil Diffuser
While most oil diffusers perform well and good during their allotted time, some individuals might want a more "omnipresent" aromatherapy device. That's where VicTsing's Essential Oil Diffuser comes into play, allowing for up to 10 hours of continuous use. With only a 300-milliliter tank and a 50-70ml/h output on its medium mist level, it surely won't last the full 10 hours that are advertised, however, meaning that you'll have to settle with the device's lowest setting. That won't be an issue, though, since it will still provide more than enough aromatic particulates for most small/medium-sized living areas. It even comes with a one, three, and six-hour timer, as well as an auto-off function that keeps the device from overheating once it's run out of water.
Round Rich Design Essential Oil Diffuser
Round Rich Design's Essential Oil Diffuser is one of the more fun-loving on our list, but don't let its pineapple silhouette fool you. This quiet and purposeful device fulfills an array of interesting uses thanks to its humidification capabilities, night light function, and extra-fine ceramic filters, which provide one of the most uniform spreads of aromatic particulates in the genre. This, paired with the oil diffuser's advanced ultrasonic technology, allows or up to 2.4 million vibrations per second, helping to break up essential oils into fine micro-particles. As a result, they're easier for your body to absorb, and provide the perfect masking aroma to cover up stubborn scents like smoke or pet odor. Plus, it'll shut off whenever it runs out of liquid.
Stadler Form Jasmine Aroma Diffuser
Stadler Form's Jasmine Aroma Diffuser is a powerful device that deviates from the abnormal aesthetic of its counterparts. Instead, it takes on the role of a familiar-looking, in-home smart device, helping it to blend seamlessly with your living area's furniture and entertainment peripherals. It uses ultrasonic technology to break up and disperse non-synthetic, natural oils, providing adequate masking and beneficial health characteristics to its user. Aside from its unique styling, the Jasmine Aroma Diffuser also features a stress-reducing interval mode that allows it to switch on for 10-20 minutes at a time, providing the perfect amount of understated aromatic pleasure throughout the day.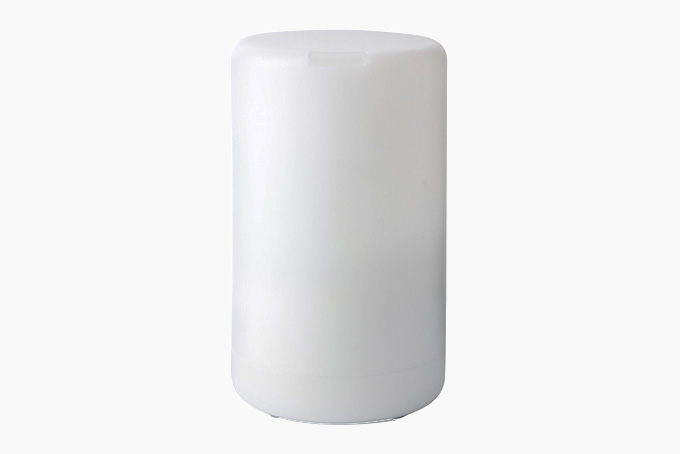 Muji Ultrasonic Aroma Diffuser
Muji's in-home products are all created to bring their user a sense of unparalleled tranquility, and with the brand's Ultrasonic Aroma Diffuser, it's easier than ever to bring subtle smells and replenishing oils into your favorite living area. Like its counterparts, it utilizes ultrasonic waves to break down aromatic oils and disperse them into the air. But, what makes it truly special, is that its small, unassuming design is much more compact than others, allowing for only 100-milliliters of liquid, and a maximum duration of three hours. This means that if you're not interested in all-day dispersal, the Muji Aroma Diffuser will provide just the right amount of masking fragrance to your space, without you having to worry about troublesome timers and problematic overheating.
Vitruvi Stone Diffuser
Vitruvi's Stone Diffuser is one of the more aesthetically pleasing on our list, and if it were up to us, this would be the perfect model to utilize in any room of the home. It features a unique matte ceramic finish and a BPA-free plastic water reservoir that looks like any other design-focused furnishing in your home, allowing it to blend in without becoming an eyesore. Plus, you'll be able to run it consistently for up to three hours or take advantage of its 7.5-hour intermittent dispersal, providing a timed limit on just how much fragrance is emitted.
Aera Diffuser
Aera's Diffuser is an intuitive smart device that takes a different approach to fragrance and oil dispersal. Its unique architecture allows for the utilization of separately-purchased fragrance capsules that you can plug-and-play, providing you with different aromas and effects throughout the day. Unlike its counterparts, it also boasts an insane 800-hour operating time (on medium mist levels), as well as variable adjustment settings that are tailored to small, medium, or large living areas. The best part? All of the company's capsules are 100% safe and hypoallergenic, meaning that you'll be able to use them without having to worry about the health of your family and pets.
AromaTech Aromini
AromaTech's Aromini is a groundbreaking model, in its own right. Not only does the smart diffuser allow for all of the same aromatic health pleasantries as the genre's other offerings, but it elaborates on them by offering users the ability to control the intensity of each scent, providing the perfect backdrop for any atmosphere or room size. If you're in a smaller area, dial back the scent's intensity to keep headaches or agitation at bay. If you're throwing a party in the main living area of your home, turn it up to provide a bit of aromatic healing for friends and family. It uses cutting-edge cold-air diffusion tech to create a residue-free mist, preserving the natural healing characteristics of your chosen oil, while still remaining whisper-quiet, meaning that you'll be able to enjoy your favorite room's atmosphere without any disturbances.
The 30 Best Indoor Essentials
We're all spending a lot more time trapped inside our own homes nowadays. But you can make that inconvenience a lot more palatable by outfitting your living space with any or all of our picks for the best indoor gear.