Crafting the perfect dinnertime entree can be a bit difficult for the inexperienced cook, and even for the seasoned veteran, there are times when a massive amount of meal prep just doesn't seem plausible. Whichever you are, there are a handful of ways to create amazing dishes without spending the entire afternoon slaving over the stovetop, including crock pots, steamers, and the revered Dutch Oven.
The Dutch Oven is a versatile cooking tool that can be used for almost anything. It can take on everything from soups, and stews, all the way to full-fledged delicacies like braised beef, Korean ribs, or wild boar ragu with ease, thanks to the intuitive nature of the stovetop peripheral. As a result, you'll spend minimal time in the kitchen, while achieving results that you never thought possible; transitioning your tabletop selection from something drab and boring, into one that's more colorful, and bold. Below, we've aggregated a handful of our favorite recipes from around the web in hopes that you'll have an easier time taking dinner to the next level.
Baked Risotto
Risotto might have a questionable reputation within the cooking world, as it can be deceptively difficult to cook well. But that doesn't mean that the dish can't translate to an easy-to-make dutch oven dish, especially with ingredients like Arborio rice, white wine, chicken stock, peas, and freshly grated parmesan cheese making up its primary portfolio. When everything is said and done, you'll be left with a perfectly-creamy side dish fit for a star-studded appearance alongside any number of your go-to entrees.
Beef Bourguignon Pot Pie
If you're looking for a quick meal with minimal prep time, this Beef Bourguignon Pot Pie might not be for you. However, if you're looking for an artisanal dish that looks great, tastes better, and leaves you wanting more, it's certainly worth the effort. It's chock full of high-end ingredients like boneless beef chuck, garlic, leek, bourbon, thyme, and crimini mushrooms, complementing the dish's chicken broth and red wine base. Bold flavor abound, this puffy, flaky pastry is sure to satisfy any refined palette — and based on the serving size, you'll have plenty of leftovers.
Creamy Mac-and-Cheese Chicken Soup
Chicken noodle soup is a classic, but that doesn't mean there aren't a number of ways to spice it up for the more seasoned chef. While the original dish is a bit boring, this Creamy Mac-and-Cheese Chicken Soup recipe is sure to make dinnertime a treat, thanks to a menagerie of tasty ingredients, a hearty composition, and bold flavors that blend a handful of favorites into one quintessential staple. A healthy mixture of chicken, bell pepper, onion, dijon mustard, flour, broccoli, chive, and grated sharp cheddar cheese ensure that you'll be coming back for more, even after you've eaten your fair share.
Ginger Garlic Chicken Ramen
Every dinner table would do well to include more Eastern dishes, but people often shy away from them due to fear of complexity. Luckily, staples like this Ginger Garlic Chicken Ramen fuse essential ingredients with an intuitive cooking process to keep things simple. That doesn't mean that it's short on flavor, though, calling upon tender skinless chicken breasts, ginger, garlic, shiitake mushrooms, toasted sesame oil, bok choy, and snow peas to complement the dish's texturized ramen noodles. The best part? There are only two steps to the creation of this entree, making it an easy, but impressive recipe for solo, or party use.
Kale and Cannellini Bean Stew
Dutch Ovens aren't used exclusively for any specific type of cooking, and that notion is proven further by this mouthwatering Kale and Cannellini Bean Stew. The dish's colorful trappings bring a dash of personality to any meal and make a statement through the use of hot sausages, onions, kale, diced tomatoes, and cannellini beans, resulting in a thick, stew-like mixture that straddles the line between soup and its more luscious counterpart.
No-Knead Bread
In a sea of complex offerings and multi-step Dutch Oven dishes, there are few recipes that can be construed as "entry-level." No-Knead Bread, however, is one of the simplest staples around, thanks to its minimalistic ingredient pool, and near-foolproof baking process. Calling upon all-purpose or bread flour, instant yeast, salt, and wheat bran, this iconic dish will leave you feeling as if you can take on any baking endeavor. It might even become one of your go-to recipes to enamor guests — or serve as a guilty pleasure for that midnight trip to the kitchen in search of a snack (or two).
One Pot Three-Cheese Ziti With Sausage
Whether or not you're a fan of carbs, pasta is a tasty, affordable way to spice up any meal. It doesn't hurt that it's also one of the easiest dishes to elaborate upon, allowing you to take nearly any base-level recipe, and catapult it into the realm of an entirely new entree. This One Pot Three-Cheese Ziti is one such example. Boasting three different kinds of cheese, a hearty tomato base, and sweet Italian sausage, this go-to pasta dish owes virtually all of its renowned reviews to the combination of Mozzarella, Parmesan, and Ricotta — a powerhouse trio that would make almost any questionable meal into a surefire hit.
Pesto Chicken Minestrone
Pesto and chicken go together like two peas in a pod, and whether you're pairing them on pizza, for a unique snacktime treat, or for an entree that'll be the talk of your family's daily dinner gathering, we're willing to bet that you'd never have thought about combining them into a soup. Luckily, there are individuals out there who have taken the leap, and the result is this awe-inspiring Pesto Chicken Minestrone. A hearty mixture of boneless skinless chicken breast, onion, olive oil, four-cheese tortellini, curly kale, and carrots brings this recipe to life, soliciting mouthwatering tastes that expand and overtake your palette with each and every bite.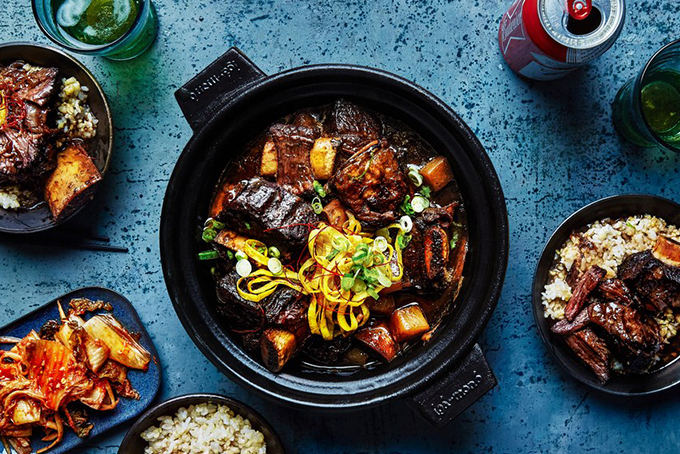 Red Wine and Soy–Braised Short Ribs
Although it might not be chock full of traditional Korean flavor like the recipe claims, these Red Wine and Soy-Braised Short Ribs are nothing short of magnificent. As you might expect, scouring the market for the thickest boneless beef short ribs you can find is a recommended first step. Only then can you combine them with this specialized dish's extra-virgin olive oil, onion, garlic, Japanese rice wine, soy sauce, mu radish, and Shilgochu to create something that will take your taste buds into an entirely new realm of admiration.
Rigatoni with Sausage, Beans, and Greens
There are few kinds of pasta as widely-recognized as Rigatoni, and with a reputation that precedes even its most lauded dishes, it's safe to say that there are more than enough noodle-based recipes for chefs to last a lifetime. This unique selection calls upon a mixture of sausage, beans, and garnish to give it a leg-up on the competition, making it one of our favorite go-to dishes. If you're a fan of bold Italian sausage, garlic, Swiss chard, grated parmesan, Cannellini beans, and firm al dente noodles, look no further than this easy-to-make dish.
Simple Carbonara
If you're a fan of simple dishes that get the job done but seem like they're expertly crafted, this aptly-named Simple Carbonara is the right route to take. As the ultimate comfort food, this creamy staple doesn't call upon an entire suite of fattening dairy products and overpowering sauces to get it where it needs to go. Instead, freshly grated parmesan, eggs, bacon, minced garlic, parsley, and al dente spaghetti combine to form a thick, hearty dish that's lauded for its reliance on natural ingredients.
Sriracha-Braised Brisket Sandwiches
Beef brisket is a timeless dinner staple that's earnt its place in the annals of cooking history. But sometimes, the original recipe can get a little bit monotonous, especially when its the only one you've ever gone out of your way to make. To shake things up a bit, this Sriracha-Braised Brisket is here to save the day. And the best part? It's made to work effortlessly alongside a suite of toasted buns to create the ultimate brisket sandwich. Utilizing a hefty portion of brisket, ground cumin, onion, seasoned rice vinegar, soy sauce, Worcestershire sauce, and of course, Sriracha, this bold offering is the perfect choice for meat lovers who are looking to take their traditional brisket to the next level. But be warned — while the cooking process is relatively straight forward and easy, the prep for this dish is rather lengthy. Prepare a day in advance.
Tuscan Ribollita Soup
There are a ton of go-to soups that you can spin up on a cold winter day, but instead of turning ot the classics like chicken noodle or split pea, how about you take the road-less-traveled with this Tuscan Ribollita? A combination of onion, carrot, celery, garlic, pancetta, peeled tomatoes, Cannellini beans, and toasted bread crumbs make this parmesan-imbued dish a warm, delightful recipe for those days when you're stuck inside during a chilly, snow-filled afternoon.
Ultimate Chicken Noodle Soup
For as much as we've spoken on chicken noodle soup throughout this list, you're probably wondering why we haven't included a traditional chicken noodle recipe? Well, look no further. This Ultimate Chicken Noodle Soup was conceptualized to give the simplistic trappings of the original a kick in the rear, thanks to an elaborative range of high-end ingredients. Calling upon a healthy portion of bone-in chicken thighs, onions, cloves, celery ribs, carrots, bay leaves, egg noodles, and fresh thyme, this unique take on the timeless classic is sure to leave you satisfied after a long day. And we'd be lying if we said that it wouldn't change your outlook on chicken noodle soup, as a whole.
Wild Boar Ragu Bolognese
We're rounding out our list with one of the most lavish dishes around, the Wild Boar Ragu Bolognese. Instead of settling for traditional pork, you'll have to spring a bit more cash to order Wild Boar, as it's specialized meat served alongside various kinds of pasta and polenta in Italy. The payoff, however, is a dish that's filled to the brim with robust taste, thanks to the inclusion of red wine, celery, carrot, garlic, rosemary, sage, onion, tomato paste, and (believe it or not) milk. After everything is said and done, serve it alongside a heaping portion of noodles, and you'll have a high-class plate that could make anybody believe you know what you're doing in the kitchen.
The 10 Best Japanese Cookbooks
If you're looking to expand your cooking knowledge even further, head over to our guide on the best Japanese cookbooks, where you'll be able to find a selection of intriguing reads regarding the country's finest dishes.