As a photographer, you have a million different things to worry about on a daily basis. On top of booking gigs, getting in contact with models for your upcoming shoots, and working on your craft, you have to make sure that your kit is set up for every possible shooting style, job, and outing. While it might become easier to gear up for the correct shooting type as you carve out your niche within the photography world, as an amateur photographer, you want to be prepared for anything and everything — that's where we come in.
The truth is, if you're starting out as an enthusiast, you never know what you're going to be shooting — you might be outside one day, photographing models on a city street, and inside of a studio the next, performing under drastically different lighting, styling, and environmental conditions. While you can't be prepared for absolutely every single style of shoot, it's possible to create a well-rounded kit that can stand up to everything (on some level). Ultimately, your photography is tied to your ability to adapt, create, and utilize the tools at your disposal. Below, we'll outline some of the common things you'll find in a photographer's pack — everything from additional batteries, grips, and storage, all the way to compact tripods and filters to cut out troublesome light. Keep in mind, these are just recommendations and not the do-all-be-all of the photographer's quintessential kit, but with everything we've chosen to touch on below, you'll be more than prepared, no matter what the situation throws at you.
The Accessories
Create A Well Rounded Kit
Battery Grips
A Different Orientation
Whether you're a professional photographer who's decided to head outside of the studio for the day or an enthusiast who spends most of your time shooting away from a power source, battery grips are one of the most essential pieces of kit for any creator. One of the biggest hindrances to travel, adventure, or day-long shoots is the inability to utilize a power outlet to recharge your vital, powered components during and after use. This is where the introduction of a great battery grip can change the game for you and your subjects by allowing for a full day of shooting, doubling the life of your original single-battery setup, and providing an anchor for grip styles that make shooting in portrait mode that much easier and less awkward.
While battery grips come in a variety of shapes, sizes, and styles, they're all meant for one thing — prolonging the shooting abilities of your camera due to larger battery capacity. Most trusted variants will allow for the introduction of another compatible battery into the mix, doubling your shooting time and allowing for greater periods between charges. Alongside this notable upgrade, the grip will also give you much more "real estate" when shooting — essentially, delivering an entirely new area of the camera that will feature its own shutter button, aperture control, and dials that can be easily accessed in a variety of shooting situations. One thing to note, though, is that the vast majority of battery grips are meant to be paired with a single camera type (or model), so be sure to do your research before picking one up — it could mean the difference between a great shoot or immense frustration when you realize that your newly acquired grip isn't built to pair with your specific camera.
Neewer BG-E20 Battery Grip
Neewer have spent a lot of time crafting and honing their aftermarket products within the photography industry, and BG-E20 battery grip stands to the same staunch standard as the rest of the company's well-built products. As one of the most affordable third-party grips on the market today, the BG-E20 can carry up to two LP-E6 or LP-E6N batteries for extra shoot time and features a sealed body that mimics the same dust- and water-proof designs found in its adjoining camera body. An anti-shake mechanism and improved durability help to keep your grip tight and secure, while the BG-E20's intuitive, multi-button layout offers the consumer an easy-to-understand control point for the camera's vital functions.
Vello BG-C14 Battery Grip
Vello has a wide range of third-party battery grips in its arsenal, all of which stand up to the original manufacturer's variants in look and feel. The BG-C14 battery grip is a perfect example of the craftsmanship put into an aftermarket grip and utilizes many of the attributes of a high-end grip, without many of the drawbacks of a more affordable setup. This grip, in particular, is built to pair with a Canon 5D Mark IV and holds up to two LP-E6 or LP-E6N batteries for prolonged shooting. On its grip area, the BG-C14 utilizes an integrated multi-controller, multi-function, and vertical position button layout — perfect for those who still want access to their top-camera controls while shooting in a portrait orientation. A great-feeling non-slip rubber surface and tactile design help to impede any exhaustion of your hands while shooting.
Cleaning Kits
In Operating Order
When it comes to shooting on a consistent basis, it's inevitable that your camera is going to garner some sort of wear and tear. Whether it be in the form of body scuffs, peripheral damage, dirt, and grime, or any other outside influencer, you're going to have to come to terms with the fact that, eventually, the camera and its accessories are going to need a little bit of TLC. This is where photography-oriented cleaning kits come into play.
While there are a number of different peripherals for cleaning the various components of your camera, the most widely "understood" maintenance that your camera should undergo is that of the sensor system. While it's not recommended that you tamper with the sensor (or any of the internals of your camera) unless you're comfortable, it goes without saying that the necessity of a clean sensor is imperative to the operation of your system, overall. If a sensor has dirt, dust, microfibers, scratches, or anything of the sort, your photos will suffer in kind — so it's always a good idea to do some general upkeep to ensure things are cleaned well and running smoothly.
VisibleDust EZ Sensor Cleaning Kit
The VisibleDust EZ Sensor cleaning kit is an intuitive collection of swabs and solutions that can help you keep your camera's sensor in optimal condition. To remove water, oil, and dust stains that often plague the sensor, the EZ kit comes complete with five Vswabs, two cleaning solutions, and a guide teaching you how to care for your specific system. Don't worry, the collection leaves your sensor streak-free and evaporates at an accelerated rate when compared to other cleaners. Since this specific offering is catered toward sensors up to 16mm, be sure to research your own sensor size prior to picking one up.
Delkin Devices DSLR Sensor Cleaning System
Delkin Devices' DSLR Sensor Cleaning System is another quintessential cleaning platform for DSLR users, offering a "complete" kit that's been optimized to leave your sensor spotless. It features the brand's proprietary SensorSolution cleaning fluid, SensorScope system, and SensorSafe cleaning wands — all of which have been tailor-made, tested, and regulated to give you the best possible results when clearing your camera's sensor of obstructions. To round things out, an additional SensorPen polishing tool, cleaning cloth, and full-fledged guide give you everything you need to maintain one of the most vital parts of your photographic device.
Filters
Cut Back On Glare
While small in size, filters are one of the most important parts of an everyday photography setup. It's not very often that professional shooters brave the outdoor elements without some form of filter in front of their lenses, whether it be a glare-reducing Neutral Density (ND) filter or an anti-ultraviolet (UV) filter. While these two filter types are the most basic, they're a great starting point for photographers who are looking to cut down on unwanted glare, improve dynamic range, and shoot at lower apertures without the need to dial in exceedingly high shutter speed.
Among the various types of filters that are marketed for photographers far and wide, the UV and ND filters are a mainstay in every professional shooter's kit. To maintain a well-rounded resistance to less-than-desirable conditions, these two filters help to create a solution for those who will battle the adverse effects of sun, glare, and overexposed backgrounds that will often ruin a perfectly good set of photographs. ND filters are primarily utilized to darken the whole image, allowing photographers to shoot at lower shutter speeds while maintaining control over the exposed areas of the image. A UV filter, on the other hand, absorbs ultraviolet light and helps to reduce glare in your photos. As an aside, lens filters are also great for protecting the primary glass element on the front of your most prized lenses, serving as an invaluable inhibitor to irreparable damage caused by scrapes, hits, or drops.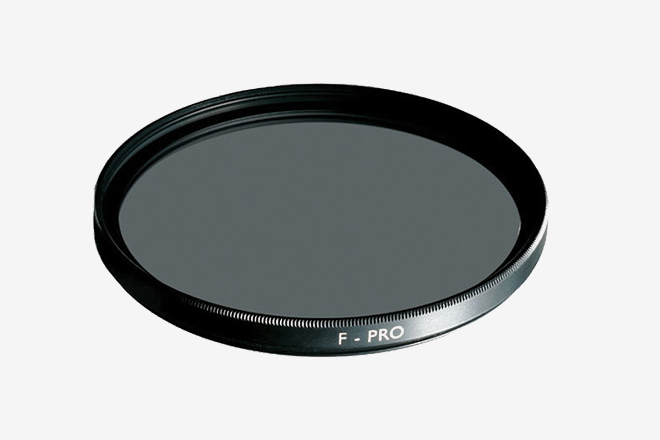 B+W 37mm 106 Solid Neutral Density 1.8
B+W are among the industry's leading filter manufacturers, and their solid Neutral Density accessories are both highly-reviewed and highly-prized within the professional photography realm. While ND filters are often available in a wide range of values and darkening factors, this specific offering utilizes a 1.8 filter factor, 6-stop range — allowing for the use of slower shutter speeds, wide aperture use, and improved dynamic capture. A high-quality brass filter ring secures the peripheral to your lens, alongside a revered Schott glass element that will give you wider control over your shooting situation than ever before.
Hoya 37mm EVO Antistatic UV(0)
Hoya's EVO Antistatic UV(0) is one of the industry's best performing ultraviolet light inhibitors, as well as an invaluable protective filter. It uses a water-, stain-, and scratch-resistant 16-layer Super Multi-Coating and EVO Antistatic properties that repel dust and grime — providing the photographer with an all-around accessory that can prolong the life of your camera. A one-piece, low-profile filter ring and additional threading for filter stacking give this anti-glare companion a place in any avid photographer's kit — especially since the EVO Antistatic does double-duty as both a protector and a UV battling behemoth.
Flashes
Illuminate The Scene
While they might not be the most vital piece of kit, it's always a good idea to have an external flash around — even more so if you're looking to capture that professional "in-studio" look while you're out and about. There are a number of easily accessible variants on the market today with their own lists of pros and cons. But one thing's for sure — if you're interested in product and lifestyle photography, portraiture, and even general light manipulation, an external flash is always a welcome addition to any photographer's kit.
While most manufacturers tend to slap a couple of lights together into a slave unit and call it a day, there are a few trusted proprietors that have become a mainstay within the industry. These companies are trusted far and wide by both photographers and videographers alike to meet (and often exceed) their everyday lighting standards. Below, we've picked out two different illuminators that will take your shots to the next level.
Metz Mecablitz 24 AF-1 i-TTL Digital Flash
The Metz Mecablitz 24 AF-1 i-TTL Digital Flash is the company's smallest system flash, utilizing a 35mm focal length, ISO 100/21deg., and guide number of 24m/79' — but what you really need to know is that it's a novice illumination device that's aimed at entry-level photographers. For those who are just beginning their foray into the wide world of capture, the Mecablitz offers a refined, user-friendly platform that will help them perform light bounces and creative lighting effects without the need for the underperforming integrated flash that comes on most modern cameras.
Flashpoint Zoom R2 Thinklite TTL Flash
The Flashpoint Zoom R2 Thinklite TTL is a great middle-range flash, providing users with a capable accessory that can bounce, fill, and illuminate with the best in the industry. A 197′ guide number at ISO 100 and 200mm are perfect companions to the system's 2.4 GHz X wireless radio system, which was designed to be utilized alongside Nikon's X1T-N trigger for adaptive effects. Better yet, you can utilize up to five separate flash groups on one (of 32) different channels at distances of up to 328 feet — making the Zoom a tried and true professional competitor in the external illumination space.
Lenses
The Optical Element
Everyone understands the necessity of a good camera body, but the vast majority of individuals significantly undervalue the importance of a good lens. While the primary optical element of your camera might not seem like a good investment now — especially since some of the best platforms cost as much, if not more, than a good body — trust us when we say that you'll be utilizing a professional lens for far longer than any specific model of camera.
Many of today's top lens manufacturers (ex. Canon, Nikon, Zeiss, Sigma, etc.) are in a heated battle for fan adoration, but with such strict competition, comes even greater acumen. As a result of the constant strife within the lens industry, photographers have been given a wide breadth of choices — far greater than ever before. Whether you're looking for an ultra-sharp portrait lens, a supreme, wide-angle landscape lens, or a closely cropped macro lens with the smoothest bokeh you've ever seen, there's often an affordable choice for everyone.
Sigma 18-35mm f/1.8 DC HSM
Sigma's 18-35mm f/1.8 DC HSM is the ideal midrange lens for those who want an adaptive experience that can capture anything. From wide-angle landscape photography to pronounced details at the 35mm range, the EF-mount/APS-C formatted 18-35mm has become a mainstay in Sigma's lineup and critically acclaimed by all who use it. An aperture range of f/1.8 to f/16 and four aspherical elements give the photographer a breadth of shooting capabilities, while a super multi-layer coating and internal focusing and zoom design keep your system safe from external harm. A hypersonic AF motor gives the Sigma a fast, responsive feel, while five SLD glass elements within the lens provide users with industry leading sharpness and detail.
Canon EF 16-35mm f/4L IS USM
The Canon EF 16-35mm f/4L IS USM lens is the quintessential prosumer lens, combining a ring-type ultrasonic motor AF system, optical image stabilizer, and weather-sealed construction to bring shooters a well-rounded solution for everyday shooting. The EF-mount/full-frame formatted 16-35 features all of the pro's you'd expect from a rounded 9-blade diaphragm, like sharpness, exquisite detail, and exceptional light control. Three aspherical elements and two ultra-low dispersion elements make up the lens' general architecture, while an f/4 to f/22 aperture range gives the shooter even more control over incoming illumination, sharpness, and depth of field.
This one's a little simpler to understand — in order to store, archive, and retrieve your photographs at a later date, you need to outfit your camera with a decent memory card. There are a lot of different companies out there that create everything from micro-SD cards, all the way to monstrous 1-terabyte storage units that are often the same size as a fingernail — all for the sake of storing and compiling data that's captured during your photographic endeavors.
While you can theoretically use a small memory card to store your photos, it's recommended to always have something larger than 32-gigabytes (GB) within your kit — this way, you'll be able to store around 1,100 RAW (uncompressed) photos, and even more, if you're shooting in JPEG. To be extra safe, we've decided to only touch on 64GB variants below.
SanDisk 64GB Extreme PRO SDXC
SanDisk is a well-known name within the SD card industry, and for good reason — their Extreme PRO SDXC cards are a force to be reckoned with. The 64GB variant of their flagship card is catered toward professional shooters who demand the highest post-production workflows, highest write and read speeds, and the added security of data recovery, should your files become corrupted. The 64GB Extreme PRO SDXC utilizes read speeds of up to 95MB/s, which is more than enough for general photography, as well as 4K video recording capabilities, and the brand's RescuePRO Deluxe data recovery download — giving you peace of mind when you're out on an expedition and you have to rely solely on a few memory cards within your kit.
Lexar 64GB Professional 1000x UHS-II U3
Lexar's 64GB Professional 1000x UHS-II U3 is one of the top performing memory cards on the market today, blazing a trail for video speed class cards that are rated for V30/V60 use. The 4K video capabilities and highspeed file transfers accelerate your professional workflow while giving you enough space to shoot however, whenever, and whatever you want, without constraint. The card's UHS-II technology bolsters the internal drive for insane read and write speeds — allowing you to spend less time worrying about your storage capabilities and more time focusing on the task at hand.
After you accrue more gear, you're going to be in dire need of a pack that can organize, carry, and orient all of your peripherals in a clean, concise manner. While most individuals will grab the first bag they can find, the search for the quintessential photography backpack is often full of unique elements — what kind of compartments do you need for your specific lens quiver? What are the dimensions and weight capacities you need to adhere to in order to fit all of your gear while carrying your everyday tools, wallet, keys, and whatever else you decide to bring along? There's a lot more that goes into bag selection than meets the eye.
That being said, there are a number of photography-oriented brands that have made it their mission to provide the community with tailor-made variants that are comprised of tough, durable materials, great compartmentalization options, and a slew of quality-of-life characteristics that make your life as a shooter that much easier.
F-Stop Dalston
F-Stop is one of the photography community's greatest contributors — personalizing the experience of buying great gear that's been catered toward the wants and needs of the conventional photographer. Whether you're an avid, Instagram shooter, or a professional who just wants a great pack for weekly use, the Dalston's unique architecture might just be what you need. A DWR-treated, 420D Ripstop nylon and TPU laminate keep your prized possessions free of outside interference from the elements, while weather-sealed zippers and Hypalon detailing add the durable, quality-of-life attributes for which most shooters yearn. A large zip pocket and well-built internal organization system round out the tailor-made bag.
Black Ember V4M
Black Ember pride themselves on the creation of the photography community's most modular, adaptable bags, and the V4M serves as a great foundation for your own customized build. The bag's eight mag-lock mod-panel allows you to easily attach and detach a number of the brand's modular pieces, allowing you to adapt and overcome based on your preferred gear loadout for the day. Better yet, you can pick up one of the company's specialized modular cubes, which are custom built to house different lenses and gear setups, and utilize it as an insert within the bag.
Shutter Releases
No Outside Influence
If you're interested in long exposure photography or perhaps even looking to dabble in the art of astrography, the shutter release is a quintessential piece of gear that every photographer should have in their kit. It might seem minimal but the ability to control your camera's shutter, intervals, and exposure from a remote location is vital for the perfect shot.
With long exposure photography, the smallest movement of the camera can result in a less-than-desirable result — significant ghosting, unsharp detailing, and a slew of other factors can turn a great photograph into an absolute nightmare. That being said, the ability to control the camera without any interference comes as an overwhelming positive. Through the use of an external shutter release/intervalometer, the photographer can define everything from shutter speed to the interval time between photos — allowing for spectacular results.
Bower LCD Remote Shutter
Bower's LCD remote shutter utilizes a traditional architecture and has been adapted for use alongside Canon's most popular DSLR platforms. A 4-line backlit LCD display allows for easy viewing when shooting at night, as well as a 1 to 399 continuous-shot drive function that can be traded out for unlimited shooting. The remote shutter's long exposure, continuous shooting, and interval shooting functions allow the photographer to create stunning time lapses, mesmerizing astrography, and elaborate low light photographs without the need for on-camera controls.
Flashpoint Wave Commander
Flashpoint's Wave Commander remote shutter isn't that far removed from other offerings, ensuring that the photographer has a surefire way to control things like timers, intervalometers, exposure times, and the primary shutter release from a distance. You can manipulate everything from time lapses, self-timers, delayed exposures, and interval shooting through the use of Flashpoint's well-built device. It can even open up the door for animated stop-motion, wildlife, and object photography — all of which would benefit from a lack of human contact.
Straps
Personalization Is Key
Camera straps are one of the most customizable aspects of a camera, and while they might seem troublesome to most, you'll be thanking your lucky stars when they save your prized camera body and attached lens from an impending drop. The problem is, most of the stock offerings from camera companies are the same — they feature a flimsy nylon architecture that cuts into your shoulder or neck (depending on the weight of your setup), look drab, and don't do anything to illustrate your personal style.
Sure, you might not be looking for a colorful, outlandish camera strap, but there are a number of aftermarket companies that have taken it upon themselves to create the perfect, premium quality securer for your pride and joy. Below, we'll talk about two niche offerings that are among the most impressive strap solutions we've seen.
Peak Design Slide
Peak Design's Slide is an interesting take on the traditional camera strap, offering nylon webbing that's internally padded for additional comfort and even a smooth siding that glides effortlessly over clothing and skin. A grippy shoulder sling prevents unwanted slippage, while dual quick-adjustment tabs allow you to configure the system in any way you'd like, depending on your preferred setup for the day. A one-of-a-kind anchor link system allows you to utilize two separate points of connection to keep your camera system stable and secure — which can't be said for most modern day strap platforms.
Hardgraft Hang
Hardgraft's Hang strap is a unique system that works in harmony with its various components. A grey felted wool and premium, vegetable tanned leather provide a handsome heritage look, while adjustable components and metal split rings allow you to orient your camera in any way you see fit. As one of the most aesthetically pleasing platforms on the market today, the Hang is sure to set you apart from the masses of stock-strap wearing photographers while also giving you a trusted system that won't let you down during your daily shooting excursions.
Support
A Firm Foundation
Last but not least, we have the tripod/mount system — a staple of every photographer's kit, and the component that should be included in nearly every setup from portraiture and lifestyle photography all the way to shooting styles associated with architecture and landscape.
While a number of today's high-end tripod setups are bulky and durable, we've decided to focus on the lightweight, travel-oriented setups. Whether you're looking to take these three-leg support systems on a hike, down to the beach for an afternoon shoot, or to your cousin's wedding, it's important to understand that weight is always a factor — and as a photographer, fatigue is not your ally. In order to fulfill its role as the firm stabilization system for your camera, you'll need a tripod that can stand up to the wear and tear of everyday use, while also cutting back on the meaty bits so you can carry, pack, and stow it with ease.
MeFOTO BackPacker Travel
MeFOTO's BackPacker Travel tripod is a highly-rated, lightweight system that clocks in at just under three pounds, making it the perfect solution for adventure photographers who want a durable system but don't want to carry around a large chunk of metal. Utilizing an expandable five-section leg setup, the BackPacker can be folded down to fit in a backpack and even deployed to a height of 51.2-inches, giving it all the reach you'll ever need as a travel photographer. An Arca-type compatible ball head, nine-pound weight capacity, and separate ball and pan locks allow a wide range of adjustability and leveling capabilities — giving you a well-rounded tool for your numerous photographic endeavors.
Manfrotto BeFree Compact Travel
The BeFree Compact Travel tripod is yet another offering from the trusted photography professionals at Manfrotto, bringing a sub-three-pound architecture and minimalist folding capabilities to the limelight for everyday use. A maximum height of 56.7-inches and load capacity of just under nine pounds makes this platform a gem for outdoor photographers who are looking for a lightweight adventure setup. But don't be fooled, Manfrotto's fabled attention to detail is still pulsing throughout the BeFree, making it one of the most durable offerings in the industry.
How To Buy Your First DSLR Camera
Now that you've familiarized yourself with the quintessential pieces of kit that every photographer should have, head over to our guide on how to buy your first DSLR camera — especially if you're looking to pick up the best entry-level camera for your newfound hobby.