If you're a responsible and worthy dog owner, you love your pet like they're a bonafide blood relative (perhaps even more). But adopting a dog comes with responsibilities that must be met to ensure your pet has a long, happy life. That includes (obviously) giving them food, water, exercise, and putting a roof over their head. But that's just the first tier of necessities.
You'll also want to ensure that your dog is equipped for daily life, just like you would for yourself. And what's better than plopping down on your comfortable bed for some rest at the end of a long day? Well, turns out your dog needs a place to sleep, too. And unless you want to share that comfortable mattress with Fido, you'll want to get your dog their own sleeping accommodations. You'll find the best of the best on our list of the 10 best dog beds below.
Carhartt Dog Bed
Is it really a surprise that everyone's favorite workwear brand also makes one of the best dog beds around? It probably shouldn't be. Available in a trio of sizes perfect for any pooch, this durable padded sleeper boasts a tough duck canvas exterior, a water-repellent coating, has a removable and washable shell, and comes with a sturdy and reliable YKK zipper. And if you're really serious about backwoods styling, it even comes in a Mossy Oak camo print.
Tuft & Needle Dog Bed
Interestingly, there are actually quite a few higher-end mattress brands that have paired their designs and technology into beds for your animals. Tuft & Needle is one such brand, offering up this handsome and comfortable dog bed in a trio of available sizes and an equal number of different colorways. And while the brand's use of their signature foam as the base for this bed is a handy feature, we're even more excited about the fact that the base can be removed and taken with you as a handy on-the-go sleeping pad for when you're going to be away from home with Fido at your side.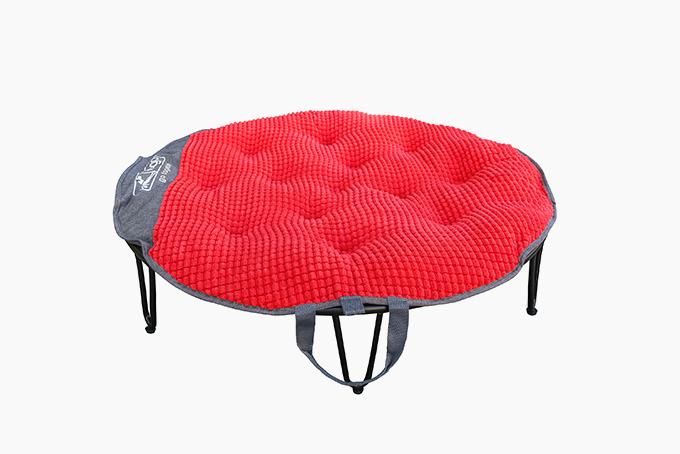 Kurgo TaGo Bed
If you've ever heard the fairy tale of the princess and the pea, you're probably aware that — no matter how comfortable your mattress — imperfections underneath can make the whole bed uncomfortable. That doesn't change for your four-legged friends, which is probably one of the reasons Kurgo made their TaGo Bed — which boasts an above-ground cot-like frame to help elevate them regardless of the surface underneath. The steel frame also folds for easier storage and transport and the topper can be removed and taken on-the-go by itself, a handy fact that's aided by the fact that it has a water-resistant bottom. They even thought to include an integrated bottle opener, which is a handy, if unnecessary addition.
Casper Dog Bed
Casper's mattresses are touted as some of the best, most comfortable DTC offerings around. And they pared that same technology beautifully into their aptly-named Dog Bed. What's better is that, while it comes in your choice of three sizes and a trio of colorways, it also includes a removable and washable nylon cover, it has built-in pockets to stash the zipper pulls so they don't damage your floors, and the design is fortified to ensure it doesn't sink or sag over time — even through extended periods of use.
Purple Pet Bed
Purple has been disrupting the mattress industry for several years now — you've probably already seen their quirky commercials. As it turns out, they've also turned their focus to pet beds utilizing the very same ultra-comfortable and supportive technology that's made their mattresses favored by so many humans. The bed boasts the brand's patented Purple Grid tech, it has a scratch-resistant antimicrobial cover that's also resistant to odor and moisture, and it is just as well-reviewed as the brand's human-sized offerings.
RuffWear Urban Sprawl Dog Bed
If you have a dog and you're not familiar with RuffWear, you're doing it wrong. This brand makes a huge variety of some of the best pet gear around — and their Urban Sprawl Dog Bed is definitely no exception. It's crafted from 100% recycled materials, it boasts a two-sided construction (one more soft and the other a bit firmer), the microsuede top is soft and easy to clean, and it boasts a waterproof non-skid bottom. Best of all, its unique construction makes it ideal for use both in your home and our at the campsite.
Pendleton Kuddler Pet Bed
A brand that really needs no introduction, Pendleton has been making some of the best and most stylish American heritage gear since their founding way back in 1863. Turns out their specialization in handsome, durable, warm fabrics also pares beautifully into a pet bed, as is apparent in their Kuddler you see before you. A part of their National Parks series, this particular handsome animal sleeper is their Grand Canyon print, but this bed (and several others) are also available in numerous other colorways — so you can customize it to your home's style and the park of your choosing. Best of all: the print is available across a wide variety of human-focused gear, too, so you can match your pup if you want to.
K9 Ballistics Dog Bed
Just because your dog is getting older, that doesn't mean they don't deserve comfortable sleeping accommodations. Of course, with age comes some challenges — which are tackled brilliantly by the K9 Ballistics Dog Bed you see here. You see — aside from its comfortable CertiPUR-US foam base, easy-in and easy-out access, and a quartet of colorway options — this bed is also super easy to clean and boasts a waterproof membrane to ensure that the bed isn't ruined by any accidents. It's also easy to spot clean, is machine-washable, and even resists dirt and hair.
YETI Trailhead Dog Bed
While it might come as a surprise that YETI has taken a swing at building a dog bed — seeing as how they specialize in coolers — it shouldn't be a shock to discover that it's one of the best, toughest dog beds available now or ever before. While the construction — including EVA foam, a waterproof bottom, and a durable exterior — is superb, the best part of this particular bed is actually that it comes in two parts: a sturdy walled bed base and a removable center pad — which can be removed and taken on-the-go, making it perfect for adventure. It's undoubtedly pricey, but you'll probably never need another dog bed, so consider it an investment.
MiaCara Letto dayBed
While it's certainly not for everyone, some people like to pamper their pets more than themselves. If you fall in that category and you've got a big budget and an eye for mid-century style, then it's hard to beat the MiaCara Letto dayBed. This magnificently-designed dog bed is so beautiful that it was awarded a Red Dot Design Award back in 2015. Furthermore, it's built from high-end materials in Germany and even boasts some measure of customization options. If nothing but the best will do, even when it comes to dog beds, this piece of "fur-niture" is your best bet.
The 15 Best Pieces Of Dog Camping Gear
If your dog truly is your best four-legged friend, then you're likely not going to leave him or her at home the next time you head out on an adventure. In that case, you're going to need to make sure they're just as well-outfitted as you, which is easy to manage with our list of the best dog camping and hiking gear.