Photo: Rapha Pro Team Shoes
As is the case with any endurance-related activity, cycling will make for a markedly better experience if you're wearing the right footwear. In addition to saving your feet from discomfort throughout a bout of heavy pedaling, a decent set of cycling shoes will also ensure that you're supported and efficient in your efforts, resulting in fewer wasted watts and more movement up the road (or trail). But that's not all: cycling shoes also have the benefit of giving you more control while you're in the saddle, whether that's because of the added pull in each pedal stroke, the improved bunnyhop potential over logs, or even just the ability to stand out of the saddle without having your feet fly off the platforms. Suffice to say — if you haven't tried a pair of true purpose-built cycling shoes for yourself yet, believe us when we say that they'll make a world of difference in your riding.
Even still, given the sport's diversity, it can prove to be quite the tall order to find the best pair of cycling shoes for your needs. Sure, it's easy enough to determine that a lightweight road shoe will be optimal for tackling tough climbs, a grippy mountain bike shoe for scrambling over rocks, and an ultra-breathable indoor shoe for spin classes. However, once you start to get into specifics, the buying process becomes considerably more complicated. For instance, you have to consider what kind of closure mechanism you're looking for, with choices ranging from laces and velcro to dials and other proprietary systems. What's more, your requirements will be highly dependent on what type of riding you'll be doing. So, while a stiff carbon-soled shoe may give you the power you want on the road, chances are pretty good that it'll be an absolute nightmare to walk in while out on the trail. Thankfully, we've got you covered no matter your particular riding discipline. Having trawled the web for everything the bike community has to offer, here are our picks for the best cycling shoes.
As you'd expect, road cycling shoes are those that are intended to be used on paved surfaces. Because you won't be unclipping as frequently as you would on a mountain bike, they're typically pretty minimalist in their traction provisions, instead built to be as light as possible.
Stiffness: If you're really looking to maximize your performance potential, you should buy the stiffest pair of shoes that your budget (and feet) will allow. That's because the more rigid a cycling shoe is, the more efficient it will be at transferring power with each pedal stroke. In practice, this means that less of your effort will go to waste — instead propelling you both farther and also faster up the road. Typically, less expensive road shoes will use some form of nylon for the sole, while the higher-end models will almost always feature a carbon or a composite material.
Closure: Although there is no shortage of proprietary fastening mechanisms, cycling shoe closures can generally be classified as one of three types: laces, velcro, or dial. Laces have the benefit of being simple, stylish, and easy to repair, but they don't allow for fine-tuning when you're on the move. On the other hand, velcro setups are quick to adjust, requiring just a quick pull of the straps to get your fit. That being said, it's worth noting that the hook-and-loop system can lose its grip over time. Last but not least are dial closures. Compared to laces and velcro, these offer the most security and customization, with the added benefit of being element-proof. They can break, but your warranty will usually cover a replacement.
Cleat Type: Road shoes are pretty much exclusively compatible with triangular, three-bolt mounting patterns — the wider contact patch further improves pedaling efficiency and keeps you locked in when standing out of the saddle. As such, your cleat will most likely come from either Shimano, Look, or some other rebranded Look alternative. In the event that those systems aren't to your liking (or that they don't work with your fit), there's always the option to fit an adapter so that Speedplay's four-bolt pedals will work your shoes.
Fizik Tempo Powerstrap R5 Reflective
Fizik is a brand that's built its reputation on high-quality, budget-friendly cycling shoes, and the Tempo Powerstrap R5 is no exception. For starters, the powerstrap closure system offers an updated take on the tried and true velcro formula, making use of a pair of bandage-like straps to provide snug, evenly distributed compression. And because they're built around Fizik's nylon R5 outsole, they're forgiving on your feet whilst still being plenty efficient to pedal. With the Reflective version, you're getting a microtex upper that redirects incoming light for an added element of safety.
Shimano RC7
Much more than a lower-priced alternative to Shimano's flagship RC9 offering, the RC7 is a shoe packing a performance that punches well above its weight. Up top, it features a pair of BOA L6 dials for a quick, precise fit, with the Powerzone wires specifically anchored to reduce hot spots. Underfoot, you'll find that RC7's stiff Dynalast carbon fiber sole (Shimano rates it at a 10 out of 12) makes for a powerful yet accommodating platform. If you're looking for a shoe that's comfortable enough for training yet refined enough for racing, you can't go wrong with these puppies.
Giro Empire
Giro's Empires were true trendsetters upon their debut back in 2014, for they were one of the first shoes to bring the lace-up style of the pro peloton to the cycling masses. Some six-plus years later, they're still going strong with an Easton EC90 SLX2 carbon outsole and an arch-adjustable SuperNatural Fit system; however, they've also been updated with a premium one-piece Teijin Samo microfiber upper. When you consider that they weigh just 225g a shoe for a men's size 42, they make for a pair of kicks that are as aesthetically-inclined as they are performance-inspired.
Rapha Pro Team Shoes
In the past, Rapha's cycling-specific footwear has been somewhat hit or miss amongst the cycling community, but the Pro Team Shoes prove that the brand is good for much more than elegant style-minded apparel. Everything about the shoe is designed to promote comfort, such as the supple single-piece Powerweave upper, the ergonomically padded tongue, and the molded heel cup. But just because they feel great on foot doesn't mean that they're not a top-tier race shoe. Rather — thanks to their lightweight full-carbon sole, BOA fit system, and EVA insole — they offer everything you need to stay ahead of the pack.
Specialized S-Works Ares
When you're after one of the best road shoes that money can buy, don't waste your time with anything else — just get the S-Works Ares. As the most powerful and efficient Specialized shoe ever made, it makes for a true competitive advantage, offering such features as a Dyneema-reinforced tongueless-upper, an industry-first closure system, and a set of highly-adjustable titanium alloy cleat nuts. Better yet, Specialized designed the Ares to reduce injury, fitting it with a longitudinal arch, a varus wedge, personalized insoles, as well as a cradled heel construction.
Any time on the trail can be pretty hard on your kicks, meaning that mountain bike shoes should be — at the very least — hard-wearing in design. Because absolute lightness isn't usually a main priority, they'll often be made from more durable materials and feature lots of reinforced protection with a good deal of traction underfoot.
Walkability: Stiffness isn't everything when it comes to mountain bike footwear; you also have to consider a shoe's walkability. Because let's face it. While you might only have to unclip at red lights when riding on the road, chances are pretty good that you'll be spending some time on your feet when dodging trees on the trail. As such, you'll want to look for a shoe that offers enough flex for scrambling over rocks, trudging through mud, and doing anything else your hike-a-bike travels may require.
Traction: By the same token, the best mountain bike shoes will feature some sort of built-in tread to ensure that you have plenty of grip when walking. In the case of flat pedal skate-style shoes, this will typically come in the form of a sticky outsole. For shoes to be used with clipless pedals, you'll often find deep lugs, shanks, and even some Vibram rubber. If you're after the most traction available, look for a shoe with a deep tread with an open pattern — it'll keep you upright in mud without picking up excess debris.
Pedal Type: Mountain bike shoes offer two types of pedal compatibility: flat and clip-in. With the former, you'll be able to dismount faster in the event of an unexpected tumble, making it a great option for newer riders as well as those who are looking to try their hand at tackling more aggressive lines. However, what you gain in confidence, you lose in power transfer, because flat pedals effectively remove the pulling component of each pedal stroke. It follows, then, that clip-ins are best for those who are looking to maximize their efficiency uphill. Because of their dual-sided pedals, they're far easier to operate than their road equivalent.
FiveTen Freerider
Although most mountain bike shoes on the market look like little more than some repurposed sci-fi footwear, FiveTen's Freerider is one option that proves an exception to the rule. When it comes to the upper, the brand has opted for brushed nubuck and mesh, a combination that ensures the shoe doesn't just look the part; it's plenty breathable too. Underneath, they feature FiveTen's climbing-developed Stealth Rubber compound, so it goes without saying that they're grippy, durable, and hardy enough to keep your feet firmly planted when traveling over bumpy terrain. All in all, if you're looking for some budget-friendly shoes with a dose of skate-inspired style, you can't go wrong with the Freerider.
Ride Concepts Transition
But should you find that a bit more foot security is in order, the Transition from Ride Concepts is one option well worth a look. For instance, it rides on a clipless-compatible Kinetics outsole, giving you consistent, confident traction with the added benefit of being able to snap into your pedals. What's more, the welded microfiber upper comes with an ankle strap, a reinforced PowerDrive internal pad, as well as some molded rubber guards to protect against impact in the event of a fall. If that wasn't enough, Ride Concepts even fitted the Transition with a set of D30 insoles to make those hard landings just a bit more manageable.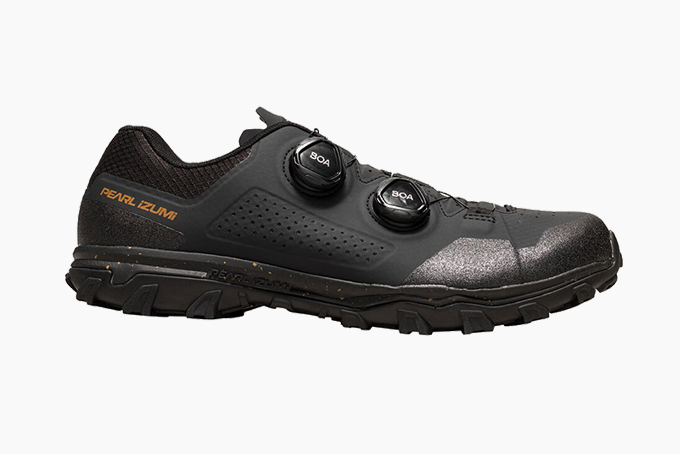 Pearl Izumi X-Alp Elevate
As the flagship model in Pearl Izumi's X-Alp line, it should come as no surprise that the Elevate gets treated to all of the brand's bells and whistles. So, along with a quick-to-adjust dual-dial BOA Fit System, it also features a synthetic, seamless upper, a perforated tongue, as well as a Vibram ECOSTEP rubber sole. In practice, this means that the Elevate is truly one of the most comfortable mountain biking shoes money can buy, as equally adept at scrambling over rock gardens as it is powering up a steep climb.
Sidi Trace 2 Mega
Ever since its founding in 1960, Sidi has served as one of the cycling industry's premier footwear suppliers, combining world-class performance, cutting-edge design, and superior style within each and every one of its shoe offerings. In the case of the Trace 2 Mega, you'll find that the stiff composite-reinforced carbon plate, grippy outsole lugs, and intuitive closure system offer the perfect balance of efficient pedaling and natural walkability. But the best part is that despite their featherweight construction, the three-layer politex upper means that the Trace 2s will be kicking it for many a riding season to come.
Giro Code Techlace
Were you to take the convenience of velcro and pair it with the comfort of laces, you'd likely wind up with something that looked a lot like Giro's Techlace system. Much more than a mere marketing gimmick, it amounts to an entirely new closure design in which a set of laces handles the main tension, velcro straps add some security, and a BOA L6 dial finishes off the micro-adjustments. Add to that a compliant Evofiber upper, a SuperNatural arch fit it, and a molded Vibram rubber outsole, and the result is a shoe that sets a new standard in off-road performance.
Airy Essentials
Indoor Training
Okay, so you're more than welcome to use your road shoes for indoor training. In fact, many seasoned cyclists do just that. However, if you're exclusively an indoor spinner, you'll want a shoe that wears its breathability on its sleeve.
Stiffness: As with road shoes, stiffness should be one of your top priorities when buying footwear for indoor cycling. For starters, you'll get far more out of your workout if you're not having to fight a flimsy sole when pushing through each pedal stroke. What's more, spin classes tend to be short, intense, and heavy on the climbs, meaning that power transfer often trumps comfort unless you're planning on walking to and from the bike.
Breathability: Because you're doing without the open air to cool you down, riding indoors makes for a considerably hotter experience. Thus, you should primarily look for a shoe that's well-ventilated and built to breathe, since things like aerodynamic efficiency and weight don't really apply. You might think that you can get around it with a clever fan setup, but even that'll go so far.
Compatibility: Many indoor spin bikes come with their pedals already attached, so you should check your particular setup to determine what cleats you'll need. For instance, if you're working with a model that uses three-bolt Look-style platforms, ideally you'd buy a pair of shoes to suit; otherwise, you'll have to complicate things with adapters and conversions.
Nike SuperRep Cycle
Nike may not be the first name you think of when it comes to shoes for spin class, but the Big Swoosh actually has a long history of making cycling-specific footwear. In any case, the SuperRep Cycle comes with everything you need to get your sweat on indoors, including a lightweight vented mesh construction, a set of secure straps, as well as a dual-plate design for superior stiffness. And that's not all; because of the shoe's innovative cleat-mounting mechanism, it's compatible with both two-bolt and three-bolt configurations right out of the box, requiring only a quick removal of the insole to get the appropriate clip installed.
Nobull White Cycling Shoe
Nobull is a brand that's built its reputation on simple, no-nonsense performance footwear, and with their Cycling Shoe, you'll find this proves especially true. That's because it eschews everything that's unnecessary in the pursuit of a shoe that's not just incredibly lightweight but also maximally breathable. As such, the upper comes chock-full of large air vents, and the nylon plate has been reinforced with carbon fiber. Oh, and like any of Nobull's other offerings, the detailing on the Cycling Shoe is top-notch, with an elastic strap to hold laces and a heel loop for ease of entry.
The 15 Best Bike Racks For Any Vehicle
Now that you have an idea of what footwear's required to keep you pedaling in comfort, it's time to turn your attention to the security of your bike transport. If you're looking to load up your ride in search of paths less pedaled, be sure to check out our guide to the best bike racks for any vehicle.