Pickup trucks are an immensely popular genre of automobile, currently accounting for one out of every five new vehicles sold. Like SUVs, pickups have slowly but steadily grown larger and larger over the last few decades, gaining additional power and cargo space along the way. At the same time, however, manufacturers have also been rolling out ever-more competent compact pickup models that offer serious workhorse capabilities in a surprisingly small footprint — making them increasingly viable alternatives to full and mid-sized trucks.
Once dominated primarily by foreign makes, as of late, the compact pickup market has experienced a significant influx in popularity, leading to more and more major OEMs tossing their hat in the compact pickup ring. And while this gives buyers a wealth of different options to choose from, the oversaturated nature of the segment can make it tricky to hone in on the model that's right for you. So, with this in mind, we've scoured all of today's available options to deliver this guide to the best compact pickup trucks that you can currently buy.
Potent Yet Pint-Sized
The 8 Main Factors To Consider When Buying A Compact Pickup Truck
The compact pickup sector offers a fairly straightforward buying experience, though there are still a handful of factors that are important to take into account before deciding on your purchase. Below, we'll briefly touch on eight of the most pivotal areas to think about when shopping for a new compact pickup.
Powertrain: As the heart of any pickup, the powertrain is of extreme importance, as this one part will play an enormous role in determining a given model's power output, hauling capabilities, fuel economy, and a plethora of other areas. When reviewing a petrol-powered truck's engine, you'll want to explore factors such as the engine's configuration, displacement (i.e. size), whether it features a full or partial hybrid drive system, and if it's naturally aspirated, turbocharged, or supercharged. In addition to pointing out that several of today's compact pickups utilize fully electric powertrains, it's also worth noting that, just like with full-size truck and SUV models, quite a few of today's compact pickups are offered with multiple powertrain options.
Power Figures: Considering most pickups are engineered to serve as workhorses, it's unsurprising that power output figures are another incredibly important area to review when shopping. Horsepower and torque numbers help to give a real-world sense of a truck's capabilities and are pretty much always readily advertised by OEMs.
Hauling & Towing Abilities: Additionally, horsepower and torque figures also play a direct role in a truck's hauling capabilities, both in the form of payload capacity and towing capacity. There are also numerous compact pickups on the market that offer upgraded towing packages that at times can actually double a given base model's towing capacity.
Cabin & Bed Configurations: Again, just like with mid and full-sized trucks, a great many of the compact pickups currently in production are not only offered in a variety of trim levels but are also available in numerous bed and cab configurations — such as single or double-cabs and short and long-beds.
Off-Road Performance: Compact or otherwise, most pickup trucks offer at least some level of off-roading abilities right off of the showroom floor, however, certain models – or trim levels — are designed specifically for all-terrain use. Offered as turnkey trim level models or upgrade packages, these high-performance off-roaders afford solid ground clearance, suspension travel, crash protection, and approach, break-over, and departure angles.
Fuel Economy: It's no secret that pickup trucks tend to not offer the best mileage. As such, it's important to review a pickup's fuel economy, as this factor will determine how often you're visiting the pump — an area that's especially important if the truck is being used for work, as it can ultimately affect your bottom line. The good news here is that, with ever more efficient engines, today's compact pickups are actually able to offer some decent miles-per-gallon ratings — especially when utilizing a hybrid powertrain.
Interior: As purpose-built workhorses made for use on the job site, pickup trucks have traditionally featured largely spartan interiors, though in recent years this trend has taken a 180. As such, quite a few of today's compact pickup trucks boast surprisingly plush, well-appointed cabins with levels of comfort that can rival that of a luxury SUV or sedan. And, as the part of the vehicle that we interact with most, a truck's interior is of immense importance, as this one area will play a huge role in the overall user experience.
Technology: No matter what type of new car or truck you're shopping for, chances are it comes outfitted with a decent amount of modern technology in the form of 360-degree camera systems, Bluetooth-connected touch screens, self-driving capabilities, Head-Up displays, and onboard diagnostics systems, just to name a few. When shopping for a new model, we highly recommend looking into the available tech being offered either as standard or as an optional upgrade.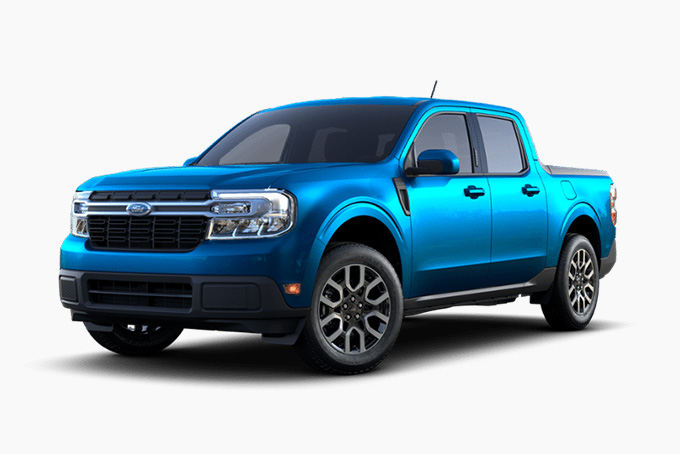 Ford Maverick XL
Sharing its name with the Blue Oval's 1970s-era sedan, the new Ford Maverick is a freshly-released compact pickup truck that benefits from a host of modern technology. This includes the Ford Co-Pilot 360 system, auto high-beam headlights, connectivity to the FordPass app, and a rear-view camera, all as standard. Equipped with Ford's FLEXBED system, the base model XL-spec comes loaded with a 2.5-liter four-cylinder full-hybrid engine that boasts incredible fuel economy, getting more than 40 miles per gallon. In addition to selling the optional FX4 and Tremor Off-Road packages, Ford also offers an available 2.0-liter EcoBoost engine that can be coupled with a 4K Tow Package to unlock a tow rating of 4,000lbs
Engine: 2.5L Hybrid Inline-Four
Power: 191HP & 155FT-LBs
Towing Capacity: 2,000LBs
Payload Capacity: 1,500LBs
Miles-Per-Gallon: 42 City/33 Hwy/37 Combined
Hyundai Santa Cruz SE
Touted by the South Korean carmaker as its first-ever "Sport Adventure Vehicle," the Hyundai Santa Cruz is a crew cab-style compact pickup that offers the comfort and amenities of a modern crossover SUV along with the convenience and utility of a pickup. Powered by a 191-hp GDI MPI 2.5-liter inline-four engine, the base model Santa Cruz SE features a plush and thoroughly modern interior, as well as a host of standard amenities including blindspot and rear cross-traffic collision avoidance assistance systems, a proximity key and push-button start, and an electronically-adjustable driver's seat. For less than $8,500 over the base model, Hyundai also produces the better-appointed SEL Premium-spec that boasts a 281-hp turbocharged 2.5-liter four-banger, HTRAC all-wheel drive, paddle shifters, a digital key, and a 10.25" digital instrument cluster.
Engine: 2.5L Inline-Four
Power: 191HP & 181FT-LBs
Towing Capacity: 3,500LBs
Payload Capacity: 1,411LBs
Miles-Per-Gallon: 21 City/26 Hwy/23 Combined
Nissan Frontier
Known as the Navara outside of the North American market, the Nissan Frontier is an immensely capable pickup that blurs the line between compact and mid-sized trucks. First introduced in 1997, this pickup offers above-average off-roading capabilities in its stock form. Currently in its third generation, the truck is offered in king and crew cab versions and with 4×2 or 4×4 drivetrains. Mated to a nine-speed automatic transmission, the base model Frontier's engine offers best-in-class horsepower figures with the 3.8-liter V6 putting down 310hp. This ultimately allows the Japanese-made model to achieve a 6,720-lb tow rating and a payload capacity of 1,600lbs.
Engine: 3.8L V6
Power: 310HP & 281FT-LBs
Towing Capacity: 6,720LBs
Payload Capacity: 1,600LBs
Miles-Per-Gallon: 18 City/24 Hwy/20 Combined
Jeep Gladiator Sport
While the Jeep Gladiator isn't typically what springs to mind when discussing compact pickups, the fact the truck has a 60" bed, impressive payload and towing capacities, and phenomenal off-roading potential collectively earn this revived nameplate a spot on our list. Powered by a 285-hp 3.6-liter V6, the Sport-spec base model of this Trail-rated pickup packs a 4,000-lb towing capacity, seating for five, a galvanized steel and aluminum body set atop an ultra-rugged frame, 35.5 cubic feet of cargo space, up to 30" of water fording capability, 10" of ground clearance, and approach, break-over, and departure angles of 43.6, 20.3, and 26-degrees respectively. Jeep also sells even more off-road-capable versions of the Gladiator such as the Rubicon and Mojave variants. There are also countless aftermarket parts and upgrades available for this 4×4 model.
Engine: 3.6L V6
Power: 285HP & 260FT-LBs
Towing Capacity: 4,000LBs
Payload Capacity: 1,700LBs
Miles-Per-Gallon: 16 City/23 Hwy/19 Combined
GMC Canyon AT4
Kicked along by a 3.6-liter V6 engine that's good for 308hp and 275ft-lbs of torque, the GMC Canyon AT4 is an off-road-focused compact pickup that's ready for adventure right off of the showroom floor. Highlights of the AT4-spec pickup include off-road-ready wheels shod in 31″ Goodyear Wrangler Duratrac all-terrain tires, an off-road-specific suspension package, StabiliTrak electronic stability control, a transfer case shield, advanced hill descent control, and premium leather seats, all as standard fair. On top of an available Bose audio system, the truck can also be fitted with an optional integrated trailer brake controller and an automatic locking rear differential. What's more, GMC also offers the option to take the AT4's off-roading capabilities one step further via the addition of the AT4 Off-Road Performance package that features a suspension leveling kit, skid plates, off-road rocker panel protectors, package-exclusive 17" gloss black wheels, a removable front air dam, and numerous other upgrades.
Engine: 3.6L V6
Power: 308HP & 275FT-LBs
Towing Capacity: 7,000LBs
Payload Capacity: 1,445LBs to 1,575LBs
Miles-Per-Gallon: 18 City/25 Hwy/22 Combined
Chevrolet Colorado ZR2
Undoubtedly one of the greatest high-performance all-terrain pickups currently on the market, the Chevrolet Colorado ZR2 has been engineered from the ground up for off-road adventure while still lending itself to work and hauling duties — with a turbocharged 2.7-liter four-cylinder mill that puts down 310hp and 430ft-lbs of torque, allowing for towing and payload capacities of 6,000lbs and 1,151lbs, respectively. Built on a wider chassis, Chevy's ZR2-spec Colorado also gets 17" wheels wrapped in 33" OD MT tires, an off-road performance display, tow hooks, skid plates, five selectable drive modes, and a high-performance lifted suspension package complete with segment-exclusive Multimatic DSSVTM dampers. Sold in eight color options, the Colorado ZR2 also boasts integrated tailgate storage that's both lockable and watertight, a tailgate measurement tool, and 17 available tie-down points — the latter of which earns the ZR2 a best-in-class figure.
Engine: Turbocharged 2.7L Inline-Four
Power: 310HP & 430FT-LBs
Towing Capacity: 6,000LBs
Payload Capacity: 1,151LBs
Miles-Per-Gallon: 19 City/25 Hwy/22 Combined
Honda Ridgeline Black Edition
Representing the top-of-the-line version of Big Red's user-friendly compact pickup truck, the Honda Ridgeline Black Edition is an incredibly practical pickup that boasts a slew of cleverly-designed features such as a dual-action tailgate that opens to reveal a lay-flat bed, an in-bed audio system, an available power outlet, and a lockable in-bed trunk. Equipped with a unibody construction paired with an independent suspension setup, the pickup features Honda's iVTM4 all-wheel-drive system which works in conjunction with the Japanese brand's intelligent traction control — the latter of which offers a trio of specific settings for driving in sand, snow, and mud. The Black Edition also gets a black paint job complemented via a black trim accent package, black leather seats, and black wheels, all juxtaposed by red ambient LED lighting. The Ridgeline is also available with numerous off-road upgrades from the Honda Performance Development (or HPD) package including a sport grille and flared fenders that open up space to accommodate a set of black or bronze 18" HPD alloy wheels.
Engine: 3.5L V6
Power: 280HP & 262FT-LBs
Towing Capacity: 5,000LBs
Payload Capacity: 1,509LBs
Miles-Per-Gallon: 18 City/24 Hwy/21 Combined
Toyota Tacoma TRD Pro
The range-topping Toyota Tacoma TRD Pro was designed to serve as an effective workhorse Monday through Friday, and then act as an equally-capable adventure rig on the weekends. Sporting a double-cab configuration with a 5' bed, the pickup is powered by a 278-hp 3.5-liter V6 that allows for a 6,400-lb towing capacity and a fuel economy of up to 22 miles per gallon. Standard amenities on this TRD Pro-spec truck include all LED lighting with Rigid Industries fog lights, a TRD Pro cat-back exhaust, FOX internal bypass shocks, a deck rail system, TRD Pro skid plates, an integrated color-keyed tailgate spoiler, an electronically locking rear differential, a TRD Pro hood graphic, Multi-Terrain Select, and Crawl Control. Other highlights on the truck consist of a camera-equipped multi-terrain monitor, ten-way power-adjustable black TRD Pro leather-trimmed front seats, a smart key system, a premium JBL audio system with dynamic navigation, and blindspot and rear-cross traffic monitoring.
Engine: 3.5L V6
Power: 278HP & 265FT-LBs
Towing Capacity: 6,400LBs
Payload Capacity: 1,135LBs
Miles-Per-Gallon: 18 City/22 Hwy/20 Combined
Alpha Motor Inc. Wolf Dual Motor 4WD
While most compact pickups are more geared towards work and job site duties, the Alpha Motor Inc. Wolf is much more of an adventure lifestyle vehicle, designed for all-terrain exploration and behind-the-wheel thrills. The top-shelf Dual Motor 4WD-spec Wolf features daytime running lights, LED Signature headlights, front and rear steel off-road bumpers, a bed cargo slide system, roof and front bumper-mounted LED auxiliary lights, bed-mounted axe and shovel racks, rock sliders, a roof rack, and fender flares. The Wolf's fully-electric powertrain affords the EV a 3,000-lb towing capacity, a 0-60mph time of 6.2 seconds, and a range of between 250 and 275 miles on a single charge. This fully-electric off-roader also sports a driver's display supplemented via a central digital display, a Bluetooth-connected sound system, a full-sized bed, seating for two, and 43.3 cubic feet of cargo space. In addition to also offering a Wolf+, Alpha also sells the regular Wolf in a single motor RWD version, too.
Engine: Dual Electric Motors
Power: N/A
Towing Capacity: 3,000LBs
Payload Capacity: N/A
Range: 275 Miles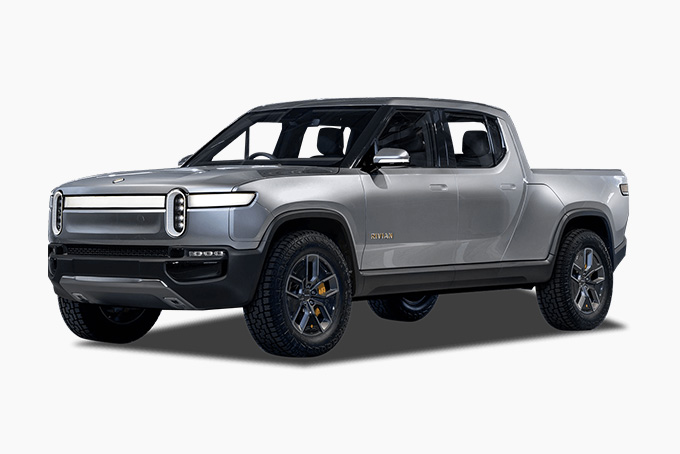 Rivian R1T
Winner of MotorTrend's latest "Truck Of The Year" award, the Rivian R1T is almost certainly the best electric pickup truck that money can currently buy. Absolutely brimming with tech and connectivity, the AWD EV is powered by a quad motor setup that makes a whopping 800hp and an even more impressive 900-ft-lbs of instantaneous torque — translating to a towing capacity of 11,000lbs and the ability to reach 60mph from a complete standstill in just three seconds flat. All the while, the R1T delivers a range of up to 400 miles on a single charge. The R1T also features up to 3' of water fording capability, more than 62 cubic feet of storage space, an onboard air compressor, a pair of 120-volt outlets, and a set of cargo crossbars that can accommodate a rooftop tent, skis, mountain bikes, or a myriad of other items or pieces of gear. Rivian also sells a wide range of lifestyle accessories including an optional camp kitchen created in collaboration with Japanese outdoor brand Snow Peak.
Engine: Quad Electric Motors
Power: 800HP & 900FT-LBs
Towing Capacity: 11,000LBs
Payload Capacity: 1,760LBS
Range: 400 Miles
The 5 Best Hybrid Pickup Trucks to Buy
Interested in a slightly larger workhorse that still offers great fuel economy? Then be sure to check out our guide to the best hybrid pickup trucks for eight additional options that offer solid hauling capabilities while sipping fuel.