Whether you're a hardcore carnivore or a full-blown vegan, a quick-and-easy snacker or detail-oriented meal-planner, an amateur cook or an Iron Chef, a knife is hands-down the most important kitchen tool you can own. A good blade can make the difference between edible inelegance and food art, and it'll definitely make your experience all the more rewarding — whether you're cooking for one or a whole family.
But not all kitchen cutlery is made equal. Walk into any grocery store or home goods retailer and you'll see dozens if not hundreds of options, but not all of them are worth your time — not, at least, if you're even remotely serious about the craft of cooking. A discerning foodie requires a specialized cutting tool, just like a seasoned warrior needs a worthy weapon. If you want to take your prowess in the kitchen to the next level, you'll want to pick from our list of the 12 best chef's knives.
Choose Your Weapon
What To Look For In A Chef Knife
Picking the perfect chef's knife is going to be different for every person.Like a lot of gear, picking the perfect chef's knife is going to be different for every person. And while there's nothing we can do to help you figure out your personal preference (other than encourage you to get out there and try some stuff out), there are a few things you can look for that will ensure you're not wasting your time with a sub-par kitchen blade. Even if you're shopping on a budget, these are the metrics you should pay attention to:
Blade Material: As kitchen knives fall somewhat onto the utilitarian side of the spectrum, we wouldn't expect everyone to want a knife made from high-end steel — especially if money is a concern. But you should at least be acquainted with the types of steel used to construct a kitchen knife. For instance, 440 steel is going to make for a very inexpensive blade but it also comes with the caveat that it could break, chip, or even rust — and that's regardless of whether you take good care of it or not. S30VN steel offers much greater overall quality, but it's a good deal more expensive. We're not suggesting you have to buy something with a high-end blade to get your money's worth, but you should at least be aware of the steel in which you're investing.
Handle Material: Secondary to your knife steel but plenty important on its own, the handle material is integral to the performance of your blade. And that's heavily influenced by the type of material out of which the handle is made. Commonly, chef knife handles are made from wood, but you'll also see knives with synthetic handles (like thermoplastic polymers, fiberglass, etc.) or even metal. Wood knives will have a better hand feel but are more susceptible to environmental factors (like getting waterlogged and warping or drying out and cracking), whereas synthetics and/or metal might last longer but won't be as comfortable in your hand or look as good.
Overall Construction: The blade and the handle have to be mated together in some manner and the quality of their joints can make a huge difference in the longevity of the knife and its overall usefulness. If the handle and blade are mated poorly, the blade might wobble during use (known as "play in the blade") — making for poorer cuts overall and an increase in the chance that you might hurt yourself. Well-constructed chef's knives should have little to no play in the blade. Even budget-friendly options should meet this requirement.
Size: Chef knives come in a wide variety of sizes, ranging from as short as five inches to as long as over ten. Typically, standard range (and that which is preferred by chefs around the world) is around eight inches. This gives enough of an edge for complex and voluminous cutting tasks but still allows for agility. Too short and a knife might not be well-suited for large-scale projects; too long and it becomes a cumbersome thing to use. Of course, the best way to find out what the right length is for you is to try out some different knives for yourself.
Balance: Like the overall construction of a chef knife, the balance between the blade and the handle can make a big difference in its performance. Whether the handle or blade holds most of the weight, the performance of the knife will suffer, as it will require the chef to overcompensate for the imbalance — which is unnecessary and can be detrimental to your cooking experience. It doesn't have to be perfect, but a clear difference in the weight between the handle and blade should probably be avoided.
Factory Edge: Obviously, as time goes by, you'll have to sharpen your chef knives. But whatever blade you choose should come razor-sharp out of the box. If it doesn't (and there isn't a good reason for this), it might mean that the manufacturer is more interested in volume than quality. This does not necessarily mean the knife itself isn't of good quality, but it does speak to the merits of the brand that makes it.
Victorinox Fibrox Pro Chef's Knife
While Victorinox is certainly best known for their Swiss Army Knives and wristwatches, they also have a much larger catalog of offerings that includes some excellent kitchen cutlery. And the Fibrox Pro is one of the best in their collection, especially when you consider how budget-friendly it is. Of course, budget-friendly doesn't have to mean cheap, as is exemplified by the quality of the stainless steel blade and the durability of the thermoplastic elastomer of the handle. It's also worth noting that this particular option is dishwasher safe — though we'd always suggest hand-washing your knives to help extend their lifespan. It's also worth noting that, while we've selected the 8″ option, this series ranges from as small as 5″ to as long as 10″.
Blade Steel: Stainless Steel
Handle Material: Thermoplastic Elastomer
Length: 8″
Kyocera Advanced Ceramic Chef Knife
Ceramic is an unusual material for a knife blade, as it has a tendency to be a bit on the brittle side of the spectrum and is, therefore, prone to breaking with too much pressure. But if you're a careful chef using good ingredients, that shouldn't be too much of an issue. And it has some pretty major benefits. Namely, it's completely rust-proof and can hold an edge quite well, which cannot be said for even the most stainless of steels. In fact, this particular blade is said to hold an edge up to ten times longer than traditional materials. It's also extremely easy to clean, as you need not fear the effects of moisture. It doesn't hurt, either, that the all-black colorway looks as handsome as they come.
Blade Steel: Zirconia Ceramic
Handle Material: Pakka Wood
Length: 7″
Wusthof Classic Chef's Knife
Another option that comes in a wealth of formats and lengths ranging from as short as 4.5″ to as long as a whopping 12″. Our favorite of the options, however, is the classic 8″ chef's knife. Boasting a forged, full-tang blade, this sturdy mid-tier piece of cooking cutlery is a reliable blade used by chefs both amateur and professional the world-round. And we credit that to its sound construction of high-carbon stainless steel, a riveted polymer handle with an ergonomic shape, and Wüsthof's Precision Edge Technology — a proprietary tech that keeps their blade up to 20% sharper than the competition with double the edge retention. It's not a flashy piece of hardware, but it's handsome and will get the job done right every time.
Blade Steel: High-Carbon Stainless Steel
Handle Material: Synthetic Polymer
Length: 8″
Miyabi Artisan SG2 Chef's Knife
While it's always a good idea to be a bit wary of pomp and flash, that's certainly not necessary with the Miyabi Artisan SG2 chef's knife. This gorgeous piece of hardware was handmade in Seki, Japan — the country's knifemaking mecca — out of hammered stainless steel and Colobolo-style Pakkawood (a synthetic composite of wood and plastic with excellent longevity and durability). In fact, the makers are so confident in their product that they've included a limited lifetime warranty on every blade. If that doesn't instill some confidence in you regarding picking up this workhorse chef knife, then nothing will.
Blade Steel: Stainless Steel
Handle Material: Cocobolo Pakkawood
Length: 8″
Kramer By Zwilling Euroline Carbon Chef Knife
For 18 long years, Bob Kramer has been forging gorgeous and effective cutlery. And he brought that expertise along with him when he partnered with Zwilling on the Euroline collection of kitchen cutting tools. The Carbon Chef Knife is an especially enticing entry in this series, as it's actually an exact replica of the high-end blades he crafts in his own Olympia, Washington workshop. The design features a consciously wide blade to allow for maximum finger clearance in all cutting tasks — perfect for those with larger hands. And while all that, plus its premium construction, would be enough to earn it a spot on this list, it's only bolstered by the fact that each knife is hand-finished by Japanese artisans in Seki, Japan.
Blade Steel: 52100 Carbon Steel
Handle Material: Grenadille Wood
Length: 8″
Sharp Edge ZDP-189 Bunka Black Chef Knife
With looks that harken back to the time of the samurai, this absolutely stunning chef knife was crafted in the smithery of Yoshida Hamono in Japan — a real-life bladesmith workshop with a history of handmaking actual swords. And, as if getting your hands on what amounts to the equivalent of a kitchen katana isn't enticing enough, it also benefits from a blade crafted from a specially-selected laminated steel, called ZDP-189, which is renowned for its ability to hold an edge. Mate that to its Kuro-uchi finish, the unprocessed black top side of the blade, along with the Japanese walnut handle, and it's easy to see why this is Sharp Edge's bestselling blade.
Blade Steel: ZDP-189 Steel
Handle Material: Japanese Walnut
Length: 7.5″
Shun Hiro SG2 Chef's Knife
Falling under the same umbrella as the everyday carry mavens at Kershaw and Zero Tolerance, Shun certainly has the resources and expertise to make some of the world's best kitchen blades. And that can be seen quite clearly in their Hiro SG2 chef's knife. Not only is it an absolutely gorgeous piece of hardware but its beauty is backed up by a blade construction of 32-layer Damascus, made up of a combination of nickel and stainless steel, and a black and deep red Pakkawood handle. It also comes with a hammered tsuchime finish that adds to its beauty but also serves to help keep food sticking to the blade. Handcrafted in Seki, Japan, this chef knife is the perfect blend of style and substance.
Blade Steel: SG2 Japanese Steel & Damascus
Handle Material: Pakkawood
Length: 8″
Hinoki S1 Gyuto Chef Knife
If the Hinoki S1 Gyuto chef knife looks like a piece of modern art to you, you're right… in a sense. Yes, its angles are unusual and the appearance is striking, but not at the cost of functionality. Rather, the two seemingly opposing viewpoints are blended together into a minimalist piece of kitchen cutlery that could very well be hung up on your wall, but will definitely serve you better in your hand, prepping for every meal. And while its looks are something to write home about, they'd be nothing without its double-beveled Black Carbon 1 steel blade and hardwood handle. Just keep in mind, however, this knife is so popular, order completion times are at least two weeks out.
Blade Steel: Black Carbon 1
Handle Material: Charred Walnut, American Walnut, Or European Oak
Length: 7.2″
Cut Throat Sabatier Chef Knife
Take a cursory glance at Cut Throat Knives' catalog and you can probably ascertain why they can't keep their shelves stocked: their knives, put simply, are functional pieces of art. The small operation is in such high demand, in fact, that they are accepting orders for fulfillment at the end of 2019. That's a long time to wait, to be sure, but if you really care about your chef knife (which you should), the wait might just be worth it. Especially if you end up with their Sabatier French-style workhorse blade in hand. Custom made to order, this hardcore cutter is made for high-volume cutting tasks but definitely has the ability to manage precision as beautifully as any competitor's blade.
Blade Steel: High-Carbon Steel Or Stain-Resistant Steel
Handle Material: Australian Hardwood
Length: 9.5″
Carter #1484 Kurouchi Funayuki Chef Knife
Few blades, chef knife or otherwise, can boast the same level of uniqueness to their construction as the Carter #1484 Kuroichi Funayuki chef knife. That's because the blade itself is made from Japanese-sourced Hitachi Blue #2 steel laminated with Gokunantetsu Mild steel mated to an Arizona Desert Ironwood handle. This brilliant blend of east and west makes for an exceptionally unique blade that, while not cheap, is a bargain compared to the value a clever chef can derive for it over his or her lifetime. If you're looking for a piece of kitchen cutlery that looks as good as it functions, this is the one.
Blade Steel: Hitachi Blue #2 Steel & Gokunantetsu Mild Steel Laminate
Handle Material: Arizona Desert Ironwood
Length: 6.77″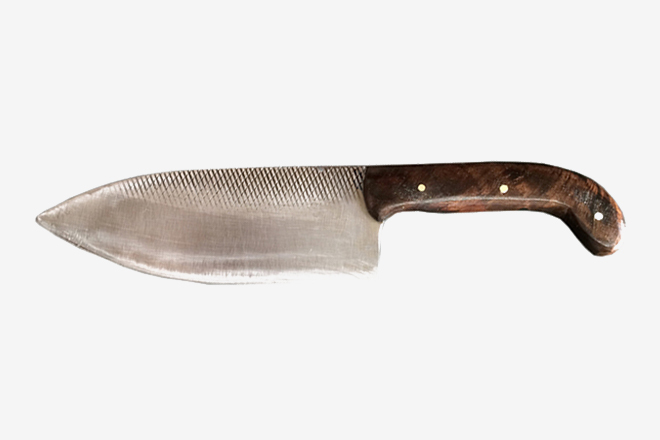 Chelsea Miller Chef Knife
Many knifemakers, be they in the EDC community or specializing in kitchen cutlery, can trace their story in a very personal way. But few can say they've actually sourced the materials they use in their craft from their actual family home. Chelsea Miller can, however, with this near-perfect chef knife. You see, what makes this knife special (aside from its obvious beauty and brilliant craftsmanship) is that the blade was actually made from repurposed Vermont Farrier's horseshoe rasp high-carbon steel and walnut found on Chelsea Miller's childhood farm. This chef knife probably isn't for everyone, but those who can see the value in its uniqueness will have a stunning tool made to last a lifetime.
Blade Steel: Repurposed High-Carbon Steel
Handle Material: Locally-Sourced Walnut
Length: ~6″
Lignum Skid White Ebony Chef Knife
Lignum made some waves back when they first released their Skid series of knives, as their unique format was in stark contrast to the norm — boasting a largely all-wood construction with a blade that was little more than the edge of the knife itself. The truth is, this design was more than just a visual choice; it made for a better-balanced tool overall. And when you pair that with how truly magnificent the appearance of this limited Laotian white ebony offering is, you've got yourself one of the most unique chef knives ever envisioned. And that goes double when you look at the quartet of magnificent steel options. The price is high, but that's what you pay for perfection.
Blade Steel: Niolox, 120-Layer Carbon Damascus, 240-Layer Inox Damascus, Or 320-Layer Hand-Forged Damascus
Handle Material: Laotian White Ebony
Length: 7.3″
How To Sharpen Your Knife
Purchasing a high-quality chef's knife is only the beginning of the journey. If you expect to get a lifetime of use from your new kitchen essential, you'll want to learn how to sharpen a knife like a professional.