Aug 21, 2019
Category: Style
Sunglasses are a staple in any guy's fashion-forward arsenal, but with prices for iconic styles skyrocketing in recent years, it's harder than ever to find a pair of reputable peripherals at an affordable cost. While we're not condoning that you replace all of your high-end glasses with a set of bargain-bin offerings, it's no secret that you can find virtually any style, shape, and silhouette for less than what the big-name companies are asking — but, as with most things, it's a highly involved process that involves hours of research, testing, and implementation.
Luckily, we've gone out of our way to do the heavy lifting for you. Below, we'll outline the best sunglasses you can buy for under $100, providing readers with the ultimate in exceptional UV protection, quality, and construction. From classic silhouettes like the Wayfarer, Round, and Rectangle, all the way to niche offerings that blend some of the industry's most prolific shapes, now's your chance to pick up a new pair of dependable sunnies without breaking the bank.
Knockaround Paso Robles
Knockaround is one of the most stylish, but affordable, companies around, and to that end, the Paso Robles stay true. The blacked-out peripherals draw influence from the coastal lifestyle, providing wearers with a great looking pair of glasses that won't let them down during the heat of the moment. Each pair features UV400 protection and FDA-approved, impact-resistant lenses for the ultimate exercise in functional fashion.
MVMT Icon
MVMT are known for their tasteful wristwear offerings, but that doesn't mean they can't make a pair of genre-defining sunglasses. The company's aptly-named Icon silhouette boasts an attractive design that's been engineered for optimal balance, alongside sleek grey lenses and a brushed gunmetal stainless steel frame. If you're looking for handsome eyewear that won't break the bank, MVMT's Icon might be right up your alley — especially since they resemble glasses that are oftentimes double the price.
Sunski Dipseas
Sunski has built its brand off of great-looking, affordable eyewear, and the company's most popular offering, the Dipseas, is a must-have peripheral for every guy. Named after the team's favorite SF Bay Area hiking trail, the Dipseas were conceptualized for avid outdoor use; but somehow, they still find a way to embody Sunski's urban spirit. They boast an iconic round shape, medium-sized frame structure, and the company's proprietary SuperLight recycled resin, which is made from scrap plastic that the team intercepts straight out of the waste stream.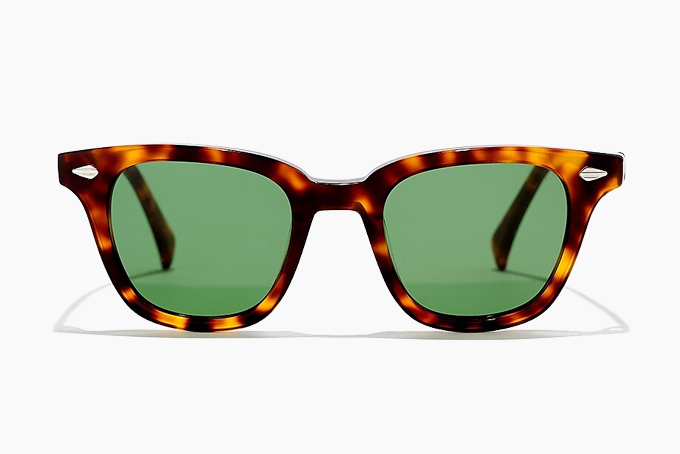 J.Crew Cape
J.Crew is an industry leader when it comes to the creation of essential menswear, and the Cape sunglasses are no different. These hand-crafted frames utilize UV-protected lenses, stylish colorways, and iconic silhouettes that have been popularized through celebrated use. And, unlike many of the offerings in this price range, they're made from high-quality acetate, ensuring years of aesthetic use.
American Optical Bayonet
No eyewear list is complete without a pair of iconic aviators, and American Optical's Bayonet silhouette has no issues filling that niche. These performance-tested peripherals sport a durable silver frame, Calobar Green Glass lenses, and distortion-free optical glass that's been chemically hardened for additional impact and scratch resistance. If you're looking for a pair of glasses that have seen active use as one of the military's favorite silhouettes for the past 50 years, look no further.
RAEN Vale
RAEN's Vale glasses are a pair of attractive-looking peripherals that won't weigh you down upon use. They feature a lightweight acetate frame construction, universal fit, and a sleek, polished finish to keep you looking great day in, and day out. RAEN's proprietary hardware, barrel hinges, and wire-core embedded temples offer wearers the ultimate in durable donning, while Smoke-hued CR-39 lenses from none other than the legendary optic manufacturer, Carl Zeiss Vision, adorn their exterior.
Banana Republic Ervine
While the Banana Republic might be on the opposite end of the spectrum when it comes to heritage style, they sure do make a pair of reputable glasses. The company's Ervine silhouette boasts a great-looking acetate frame, European gradient lenses, and spring hinges that offer a tailored fit, no matter your face shape. Better yet, each example features custom temple tips, nose pads, and iconic colorways that promote Banana Republic's commitment to exclusivity.
TOMS Traveler
TOMS earned its chops as a minimalist footwear proprietor, but, as they've gained popularity, the company has expanded its elaborate catalog into other avenues of style. The brand's Traveler glasses represent its expansion into the realm of eyewear and boast a pliable SOLAFLEX construction, lightweight polycarbonate lenses, and a geometric bridge that works actively alongside the variant's five-barrel rivet hinges to provide comfortable, form-fitting qualities. Much like the company's footwear offerings, for every pair of eyewear you purchase, TOMS will also give to a person in need, thanks to their One for One program.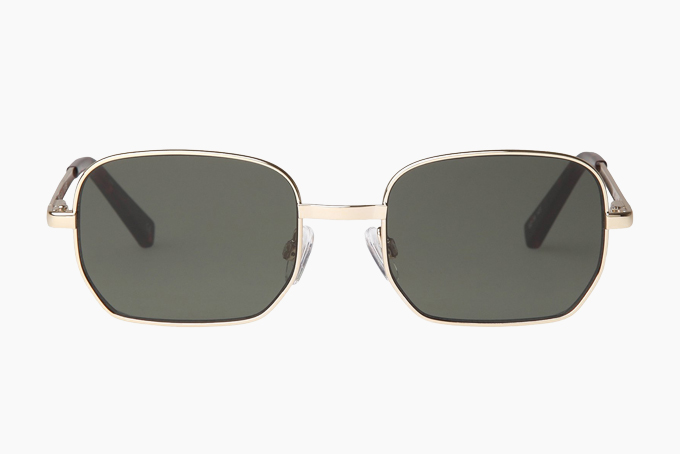 Le Spec Flash
Le Specs is committed to the creation of man's finest eyewear styles, and the slim, rectangular Flash silhouette is the perfect exemplification of that. Not only does the Flash boast a refined metal silhouette that's been catered toward millennial style, but they also maintain a retro look that many examples in this price range just can't beat. Fashion-forward design isn't their only strong suit, however; each pair is also rated to provide Category 3 UV protection, shielding your eyes from the harmful effects of the sun.
Shwood CAMP Mesa
If you're looking for a pair of refined wooden glasses, Shwood is one of the only brands that you need to know. The company's CAMP Mesa silhouette boasts a durable cellulose acetate construction, wood inlays, stainless steel spring hinges, and TAC polarized lenses for the perfect unison of style and supplemental wear. These minimalist offerings are at the forefront of fashionable function, and with such an appealing price point, their inclusion in your world-weary wardrobe is something of a no-brainer.
Fetch Eyewear Dash
When it comes to Portland's Fetch Eyewear, the proof is in the pudding. The company's Dash eyewear line is outfitted with high-quality optical plastic polarized lenses, scratch-resistant qualities, and a durable, long-lasting frame that's tailored to your exact specifications upon order. These handsome variants are more than a pair of affordable throwaways — they're a "generous window into the world."
Warby Parker Barkley
Warby Parker is something of a household name within the eyewear industry, and the company's Barkley silhouette has helped to get them where they are. These attractive examples blend the best qualities of both contemporary and mid-century styles, making them the perfect proposition for every shape, and size, of the face. A hand-polished cellulose acetate construction, UVA and UVB-resistant lenses, and a stealthy black orientation make the Barkley a quintessential style for every fashion-forward guy.
Electric Knoxville
Electric had the right idea when they made the Knoxville sunglasses, combining a timeless design terminology, Italian quality, and dependable attributes into one all-encompassing example. Each of these iconic silhouettes is comprised of a base mold injected Grilamid frame, barrel hinge, and melanin infused polycarbonate lenses, providing wearers with 100% UV protection and up to 98% blue light protection. Better yet, they're also available with Polarized plastic, offering 99.9% premium glare reduction to keep your eyes relaxed, and stress-free.
Oakley Frogskins
Oakley's Frogskins are a staple in most guys' wardrobes, and since their creation over 30 years ago, they've only become more popular. They offer industry-leading clarity, courtesy of distortion-reducing HDO technologies, and refractive minimalization to ensure that your eyes aren't working overtime while trying to compensate for rogue magnification. To keep you protected from the sun's harmful rays, they also boast 100% UVA, UVB, and UVC protection, and even reduce the harmful effects of blue light.
Spy Optic HELM
Spy Optic's HELM glasses are equal parts style and function, offering wearers a menagerie of qualities that fit well within either realm. These modern-retro variants sport an aggressive architecture, Trident polarization, and the brand's nearly-indestructible Grilamid construction, making them one of the most capable options on the market. The brand's proprietary Happy Lens technology enhances colors, contrast, and clarity, while 100% UV protective qualities help to reduce eye fatigue over long periods of wear.
How To Clean Your Sunglasses
Just because you're not spending a whole paycheck on your shades, that doesn't mean you should accept them getting grimy and covered in fingerprints. Learn how to keep those lenses in order with our guide outlining how to clean your sunglasses.
HiConsumption is reader-supported. When you buy through links on our site, we may earn an affiliate commission. Learn more