We all wish we could afford the latest and greatest supercar, hypercar, custom SUV, etc. But we're also reasonable enough to realize that's not going to happen anytime soon. We do, however, still need a motor vehicle to get us around town and – sometimes – just out for a nice drive. Thankfully, not all motor vehicles worth purchasing cost hundreds of thousands of dollars.
That's right, for less than a year's tuition at a private college, you can get yourself a set of wheels you can be proud of – or at least satisfied with – driving around upon. And that's the case whether you want something sporty with two doors, a rugged off-road ready SUV or truck, or a city-dwelling sedan. All you have to do is know where to look. To help you out, we've put together the following list of the 25 best vehicles you can purchase for less than $30,000.
Chevrolet Camaro
Starting At: $25,905
The Camaro is a legend of American Muscle and it still holds tightly onto that status to this day. And even the base model still comes with a turbo-charged 2.0-liter engine capable of pumping out 275 ponies and 295 foot-pounds of torque. Sure, that's not going to knock most gear heads' socks off, but it's definitely still an impressive bunch of figures for something that costs barely more than $25k.
Pro Tip: Bumping up to a convertible will put you well over the $30k mark, but opting for an engine upgrade in a hard top up to the 3.5-liter V6 wont. You will, however, get an upgraded horsepower rating of 335.
Dodge Challenger
Starting At: $26,995
The present iterations of Dodge's American Muscle powerhouse, while slightly sleeker, still has all the bravado and aggression of its bygone predecessors. And, for styling alone, it's one of our favorite examples of a 2-door coupe. But styling isn't all this car's got, either. It also comes with a suite of technological options – including keyless entry, a Sport driving mode in non-manual transmission engines, and rain-sensing wipers.
Pro Tip: Upgrading from the base model to the SXT Plus will get you nothing in regards to performance, though it will still be below the price mark. However, if you can spare just $2,995 over the $30k mark, you can get the R/T – which offers 375 horsepower and a 5.7-liter HEMI V8 engine.
Fiat Spider
Starting At: $24,995
If you want something on a little bit of the more European side of the spectrum or aggressive American muscle cars aren't really your thing, you might want to opt for the Fiat Spider. This turbo 2-seater roadster comes standard with a drop top, gets up to 36 miles per gallon, and was just named "Best Sports Car For The Money" by U.S. News & World Report.
Pro Tip: At just $28,195, the Abarth edition of this vehicle is the one to go for, thanks to its performance tuned exhaust system and Bilstein front and rear performance suspension.
Ford Mustang
Starting At: $25,185
While the 'Stangs of the 1990s and early 2000s were middling in regards to styling, the newer versions have certainly gotten back some of the bite they has previously lost. And that's very good news for anyone with even a speck of loyalty to Ford and an appreciation of well-styled vehicles. What's really great about the Mustang, however, is that 300 horsepower is literally the lowest you can get out of them. And that's a welcome bit of oomph.
Pro Tip: Unless you desperately want 30 mpg (rather than 27), there's not a whole lot of reason to upgrade to the EcoBoost option here. In fact, you're better off looking at it as if the upgrades start with the GT Fastback.
Toyota 86
Starting At: $26,255
Toyota killed of the Scion brand not too long ago, but some of it lives on in the 86. That is to say, this sporty car has a mild-mannered name that doesn't quite do it justice. It comes with a neat little 4-cylinder boxer engine – which is plenty for such a small coupe – and offers some impressive handling figures, thanks to its center of gravity-optimizing advanced chassis. Though they had a bad habit of being very ugly, Scion actually produced some neat vehicles, so we're glad to see some of that chutzpah live on.
Pro Tip: An upgrade to the Special Edition of the 86 will cost you less than $3,000 and still falls short of the $30k mark. And that upgrade will get you heated leather seats, a Multi-Information display, and dual-zone climate control.
Ford Focus
Starting At: $16,775
By far one of the most reasonably priced offerings on our list, the Ford Focus might not be a head-turner, yet it still offers quite a bit of value and fun if you know where to look. For instance, the Focus ST – a roughly $5k upgrade from the base model comes with a 2.0-liter turbo engine and an independent rear suspension with stabilizer bar. Sure, it's no race car, but it's still definitely worth the price you pay.
Pro Tip: The Titanium edition and the ST cost the same to upgrade, but only the ST comes with an engine performance boost. Of course, if you're really looking for some excitement, the RS is your best bet – although it starts at over $36k.
Honda Civic Hatchback
Starting At: $19,700
Admittedly the styling of the Civic Hatchback outshines its performance, at least on the lower end of the pricing spectrum. But that doesn't make it a bad offering in the least. Especially if you have budgetary constraints. For instance, even the basest model comes with a 1.5-liter turbocharged engine that has 174 horsepower. And it only gets better from there. In fact, the highest upgrade still sits more than a grand beneath the $30k price point.
Pro Tip: The engine upgrades stop at a turbocharged 1.5-liter capable of 180 horsepower, but – knowing that the highest upgrade is still below the mark – you might as well just go for it.
Mazda3 Hatchback
Starting At: $19,700
A bit closer to a station wagon than a traditional hatch, the Mazda3 is a bit on the bigger side of the spectrum. But that's not a drawback if you're looking for available hauling room. And you shouldn't be afraid of its size affecting performance, as even the basest model still comes with a 2.0-liter engine that will get you 37 miles to the gallon. And, as an added bonus, this is another vehicle on our list whose whole range of upgrades all sit well under the $30k mark starting.
Pro Tip: If you're going to upgrade this one, skip the Touring option, because – for just $100 more – you can get the Touring 2.5 which bumps the engine size up to (you guessed it) 2.5-liters. Really, though, you should just opt for the Grand Touring. It has all the same upgrades as the 2.5, but also comes with a Bose sound system and leather trimmed seats.
Mini Hardtop
Starting At: $26,900
Whether you're a fan of the little guy or not, there's no denying the iconic nature of the Mini – especially because it appeared in legendary car film, The Italian Job. And in recent years, they've expanded their vehicle catalogue to include much more versatility to their lineup. That includes this offering: the 4-door Hardtop (although we count 5 with that rear hatch). The base model offers 134 horsepower, does 0-60 in 7.7 seconds, and has seating for 5 people in its surprisingly large cab.
Pro Tip: For just $4,000, you can upgrade to the S version of the Mini Hardtop. And that will give you 189 ponies, a top speed of 145 mph, and cut down the 0-60 time by a full second.
Volkswagen Golf
Starting At: $19,895
The Volkswagen Golf is definitely the closest on our list to what the Europeans call a "hot hatch." And that's because it has the perfect mesh of a small stature, clever styling, and solid performance – especially in some of the upgraded models. It's also got a whole range of optional upgrades from a premium infotainment system to driver assistance. And, if you're concerned with storage space, there's also an Estate model with a larger trunk area.
Pro Tip: The GTI is your best bang-for-your-buck option in regards to performance – probably more so than any of the other hatches on this list. And with a starting price at around the $25k point, you can still afford to tack on some extra amenities.
Honda Civic Si
Starting At: $23,900
With much of the other vehicles on this list, we have selected a base model and presented upgraded alternatives. In the case of the Civic Si, we'd be remiss in our duties if we didn't single this one out specifically. Yes, you can absolutely get a regular Civic for far below $30,000, but the Si, which clocks in at $23,900 starting, has a 205 horsepower 1.5-liter turbocharged engine which offers up to 38 miles per gallon.
Pro Tip: The Civic Si, while the best of the Civic offerings, does have an engine upgrade beyond the standard one – so there's really no reason to even bother with the optional upgrades, because it already looks quite good, comes loaded with tech, and (unless you think making your car look more aggressive will make it go faster) they're not going to really do much for you.
Hyundai Elantra Sport
Starting At: $21,650
Much like the Civic Si, the Elantra Sport is the way to go if you're learning toward Hyundai's small sedan. It comes with a turbocharged 1.6-liter 201 horsepower engine, your choice of manual or automatic transmission, and is loaded with a decent amount of tech. In fact, apart from a very slight and probably unnoticeable difference in power and styling, the cars are altogether similar. Your reason for choosing this one over the other: personal preference.
Pro Tip: You'll want to stay firm on the Sport version of this vehicle, unless you're looking strictly for milage rather than performance. The upgrade to the limited will cost you more than 50 horsepower, but the benefit is the gas mileage jumps to a possible 37 from 33 highway.
Subaru WRX
Starting At: $26,995
For a long time, some version of the WRX was the rally- or street-racing car of every young car enthusiasts dreams. And, to be honest, we don't see any reason for that to change anytime in the near future. Of course, you can't get the best version – the legendary STI – for less than $36k, but that doesn't mean the budget option is a bad one. In fact, it's 268 horsepower is the best of any sedan on this list – by a long shot. That does mean, however, that the gas mileage isn't great – topping out at 27 mpg.
Pro Tip: Only the STI upgrade will bump up the performance of this vehicle. That means most of the other upgrades are cosmetic or interior tech. That being said, only one falls under the $30k mark and, frankly, it doesn't really seem worth it.
Toyota Prius Prime
Starting At: $27,100
No it isn't the fastest or prettiest car in the world. But it does offer a whopping 133 possible miles to the gallon. If you're going strictly for economy, it's hard to beat this plug-in hybrid. And while the base model will give you remote A/C, a smart key, and push-button start – at least in this case, the $1,700 upgrade is worth it for the 11.6-inch touchscreen display, wireless smartphone charging, and heated front seats.
Pro Tip: Yes, we know there's nothing glamorous about driving a Prius. And if you have any car-loving friends, you'll never hear the end of it. But, a 3-prong plug that goes into a normal outlet allows you to charge this vehicle and results in a range of up to 640 miles of driving. To us, that might actually be worth it.
SUVs/Crossovers
Off-Road Rides
Honda HR-V
Starting At: $19,465
Honda's newest (and smallest) SUV – or crossover, whatever you choose to call it – is a surprisingly capable and good-looking little vehicle. In fact, it gets up to 28 miles per gallon, which isn't half bad for something with 58.8 cubic feet of cargo space. Just remember, this is a rather small SUV – like, fits-in-sedan-sized-parking small. So if you wan't something beefy, you might want to keep looking.
Pro Tip: We can't really be mad at the upgrades for this one. They're reasonably priced for what they include and each will have its own benefit for the right person. Our favorite, however, is the EX-L, which offers satellite navigation, SiriusXM and HD radio, and roof rails for some extra storage of outdoor gear.
Jeep Wrangler
Starting At: $23,995
In our minds, Jeep is still the reigning American king of SUVs – especially the wrangler range. So it's pretty exciting that you can get one of these badass off-road vehicles for less than $30k. In fact, one of the special upgradable options – the Big Bear Edition – falls under that price point. And it's pretty excellent in regards to both features and styling. If you're looking to tackle the trails in your reasonably priced ride, make this one your choice.
Pro Tip: In case we haven't made it abundantly clear and if you definitely can't spring for one of the more expensive ones, we wholeheartedly endorse the Big Bear Edition. It has 285 horsepower, 260 foot-pounds of torque, and was designed specifically for rocky adventures.
Mazda CX-5
Starting At: $24,045
Although not something you'd likely ever want to take off-roading, the CX-5 still has plenty to offer your average commuter that can't be found in sedans or even most hatches. For instance, it's a good deal more spacious, thanks to both the hatch-style back and the extra headroom. It's also a 2017 IIHS top safety pick. And, for how big it is, it still manages up to 31 mpg on the highway.
Pro Tip: All of this vehicle's upgrades are either technological or cosmetic, but they're all under the $30k mark starting. Just be aware of that when picking between them.
Nissan Juke Nismo
Starting At: $24,830
The Nismo badge is a prestigious one in the Nissan fan world. But, usually, it means a big sticker price, too. The Juke might not be the most pleasing vehicle to look at, but it's certainly the most reasonably priced brand-new with the Nismo badge. Of the two available models, the base clocks in at 188 horsepower and 177 foot-pounds of torque, but we think you'd be surprised at how fast that can feel in a tiny crossover.
Pro Tip: For less than $2,000 you can upgrade to the RS, which will bump up the the horsepower to 215 and the torque to 210 and give you a performance braking upgrade. It would be a shame not to take advantage of that.
Subaru Outback
Starting At: $25,895
While it certainly looks a lot more delicate than, say, a Jeep, this offering from Subaru is more than capable on both the city streets and dirt, mud, snow, or otherwise. It also offers 8.7 inches of ground clearance, 73.3 cubic feet of storage space, symmetrical all-wheel drive, and can do up to 32 mpg. All in all, this is a solid SUV if there ever was one.
Pro Tip: Only two of the trims offered by Subaru clock in under $30,000 – so you can stick with the base and get a better deal or you can opt for dual-zone climate control for about two grand.
Toyota Rav4
Starting At: $24,410
The Rav4 has maybe never been the best looking SUV out there, but it's still one of the best performing. And we might go so far as to say that the lean toward conventional crossover-type styling has done it some good. In any case, it's safe to say that the Rav4 is plenty reliable, capable, and great for outdoor-goers (thanks to the standard roof racks).
Pro Tip: If there's any big drawback to the Rav4, it's gas mileage. However, the XLE hybrid (which comes in under the price mark) boasts a more than decent mpg rating of up to 34. That's a hybrid we can get behind.
Chevrolet Silverado 1500
Starting At: $27,785
While, by far and large, the pickup truck industry is loaded with vehicles that have only slight differences, it's those litter tweaks that can make or break a sale. For instance, Chevrolet holds the title for longest-lasting and most dependable pickups on the market, of which their 1500 is a part. It also offers an available best-in-class horsepower and the potential for 12,500 pounds of towing.
Pro Tip: Don't get too exited about performance numbers if you can't spend too much, because even the most meager of upgrades will place you over $30,000.
Ford F-150
Starting At: $27,110
Though Chevy has (perhaps questionable) claims to "longest-lasting" and "most dependable," Ford's F-150 has an arguably stronger metric: it's the most popular pickup truck in the United States by a very long shot. It's up to you to choose which of those is more important to you. As if that's not enough, the F-150 also has a litany of awards from Kelley Blue Book's "Best Buy" to Edmunds' "Most Wanted."
Pro Tip: We know it's way, way above the price point, but we implore anyone who wants an F-150 to at least consider upgrading to a Raptor. Simply put, they're just amazing vehicles (and they'll even give you the opportunity to attend Ford's Performance School in Utah).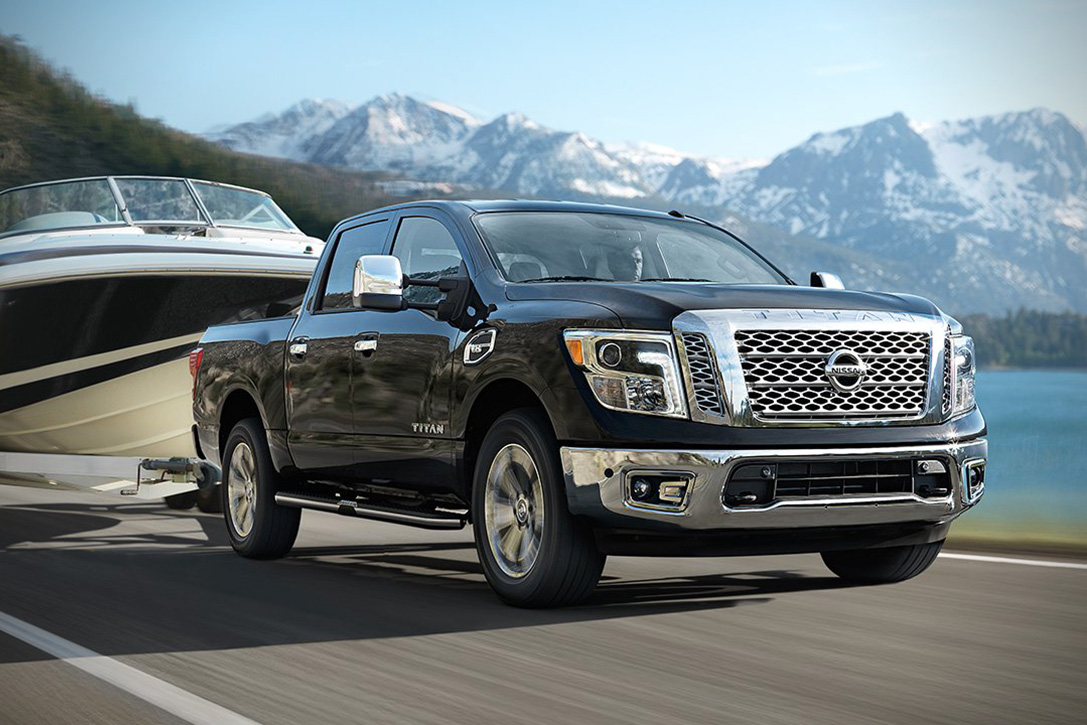 Nissan Titan
Starting At: $29,580
With the fight between Ford, Chevrolet, and Ram raging, it can be easy to forget that there are some worthwhile imports out there in regards to pickups. The Titan from Nissan is one of them. Though you'd have to do some tricky maneuvering to get one for under $30k, it's still an extremely capable full-sized pickup and is really worth the consideration of anyone looking for a big bedded truck.
Pro Tip: Every single Titan offering has the same horsepower and at least a ballpark's similarity in regards to towing capacity, so don't plan on basing your purchase around those metrics.
Dodge Ram 1500
Starting At: $26,495
Though it shares a moniker with Chevrolet, Dodge's Ram 1500 is its own beast. For starters, the lowest available option – the Tradesman – has a 3.5-liter V6 engine that pumps out 305 horsepower and 269 foot-pounds of torque. But that's also upgradeable to a beastly 5.7L HEMI V8 – though at a cost that would put you above the $30k limit. Still, it's tempting.
Pro Tip: The 1500 Express is the next level up from the Tradesman and costs a little under $1,500 to bump up. Most of that is in cosmetics and, though we don't always endorse cosmetic upgrades, the monochromatic look is pretty killer on the Express.
Toyota Tacoma
Starting At: $24,320
Like many vehicles made by Toyota, the Tacoma is one of the most reliable pickup trucks on the market, if not the most reliable. It's handsome, just the right level of aggressive, and reasonably comparable when it comes to all the other pickups on this list. It's only real downside is the limited nature of its upgrades in regards to affordability.
Pro Tip: The TRD Sport will put you over $30,000 by $685. But, if you're willing to compromise in that way, you're better off paying just a tad bit more and getting the TRD Off-Road – especially if you have dreams of taking this bad boy out to the desert, quarry, beach, or wherever.
Best Vehicles Under $50,000
For those with slightly bigger budgets and whomever didn't quite find what they're looking for here, we've also rounded up the best vehicles for under $50,000 on the market.