With so many options on the market, car buying can be an extremely time-consuming task. That being said, there are a few things you can do to make your life easier when seeking out a new vehicle. For starters, you should be aware of what you need the vehicle to do – like putter around tight city streets versus towing a trailer full of horses. You should also consider the performance you're looking for, how many people you frequently drive around, and even the importance of safety ratings.
One of the most important things to hash out toward the beginning of the experience, however, is your budget. How much you are able to spend is going to deeply affect your vehicular options. For instance, if you only have $100K to spend, you're definitely not going to be getting that brand-new hypercar. That doesn't necessarily mean you have to completely compromise on what you want and need. In fact, there are a lot of really great vehicles – coupes, wagons, sedans, SUVs, and trucks – you can drive off the lot for less than $100,000. Just remember, these are major manufacturer vehicles, not one-off customs or out-of-production limited editions. And we've collected the best of them in the following list.
Audi RS 5
There was a time when Audi was just barely able to keep up with brands like BMW and Mercedes-Benz. That time is long over, however. Now, this German brand is on the up-and-up, producing some of the best sporty cars on the road today. Take the RS 5 for example; this handsome coupe has the kind of performance and looks that give it the ability to go toe-to-toe with the best of them. And even if you go deep in the upgrades, you can still keep the price tag under $100K.
Engine: 2.9L Biturbo V6
Horsepower: 444
Acceleration: 0-60 in 3.7 Seconds
MPG: 21/30
Corvette Stingray
There's certainly something to be said for Chevy's American Muscle classic, the Camaro – lots of very good things, actually. But, if we're given the choice between that and the pedigree of the Stingray, we're taking the latter for its sleek style, low stance, and overall uniqueness. Sure, you'll miss out on a bit of flat-out power when compared to the Camaro ZL1, but we think that's more than made up for by the fact that you'll be the only one on the road in a Stingray.
Engine: 6.2L V8
Horsepower: 460
Acceleration: 0-60 in 3.7 Seconds
MPG: 16/25
Dodge Challenger SRT Demon
When we first got word about the Dodge Demon, we got a little hot under the collar. When we finally saw it with our own two eyes, that feeling came back in full force. This American Muscle car is a monster through-and-through. It's also technically street legal – though tapping into its crazy abilities on the road isn't just a bad idea, it'll end you up in the slammer and they'll likely throw away the key. That being said, if you have the scratch, this is every red-blooded, steak-eating, flag-waving American man's dream car – or it should be. And if you can't get your hands on the super-rare Demon, the Hellcat is nothing to scoff at, either.
Engine: 6.2L HEMI Demon V8
Horsepower: 840
Acceleration: 0-60 in 2.3 Seconds
MPG: 13/22
Mercedes-AMG C63 S
If you're the type to cut the sleeves off your t-shirts, American Muscle cars are great. But if you want something a little more refined, you could do a whole lot worse than the Mercedes-AMG C63 S. This coupe might not look it, but she's got plenty of power underneath the hood – the kind of performance numbers that will keep you glued to the seat. But, while you could certainly tear down the track, this car's sophisticated looks wouldn't be out of place in, say, Beverly Hills or the Upper East Side of Manhattan.
Engine: AMG 4.0L Biturbo V8
Horsepower: 503
Acceleration: 0-60 in 3.8 Seconds
MPG: 22/30
Porsche 911 Carrera
While it barely skirts the $100,000 cutoff, this list would just not be complete if a Porsche 911 wasn't on it. You'd think that, with so many of these German sports cars we've seen over the years, that we'd be sick of them. The truth, however, is quite the opposite. There's something viscerally special about the 911; it's a classic car that looks as good as it performs and stands out from the crowd in just about every circumstance. And while we're sure that a small, super quick, absurdly good-looking sports car isn't for everyone – there are enough of us out here that appreciate them to keep Porsche firmly at the top of many best-of lists.
Engine: 3.0L Twin-Turbo 6-Cylinder Boxer
Horsepower: 370
Acceleration: 0-60 in 4.4 Seconds
MPG: 18/24
Hatchbacks/Wagons
Long-Cabin Cars
BMW 330i XDrive Sports Wagon
The Griswold's Family Wagon is an excellent and iconic staple of comedic cinema, but we wouldn't be caught dead driving it in our day to day. In fact, that used to be true for most wagons. How the times have changed. Thanks to the introduction of things like BMW's Sports Wagon, we're more onboard with this style of vehicle than ever before. It helps, too, that this bad boy has plenty of get-up-and-go, as well as sleek lines and a solid amount of cargo space – especially nice on longer road trips.
Engine: 2.0L TwinPower Turbo 4-Cylinder
Horsepower: 248
Acceleration: 0-60 in 5.9 Seconds
MPG: 23/33
Ford Focus RS
It doesn't even hit the halfway mark of the $100K benchmark, but Ford's Focus RS is still one of the absolute best hatchbacks you can get in the United States. It's small; it's quick; and it has the looks to back it up. Besides, though we know his is souped-up to all hell, this is still one of the cars that Ken Block, master drifter, has driven. While the U.S. market is woefully lacking in the "hot hatch" department, we're abundantly thankful that this native son is available to purchase.
Engine: 2.3L EcoBoost I-4
Horsepower: 350
Acceleration: 0-60 in 4.6 Seconds
MPG: 19/26
Jaguar XF S Sportbrake
If you're still skeptical about whether or not a wagon can be a sports car, look no further than the Jaguar XF S Sportbrake. With the images that the term "station wagon" stirs up, we're not surprised at the vehicle class' reputation. If more of them were like this British shooting brake, however, we imagine they'd get a lot more respect. If you want to go fast, but you'd also like to be able to haul a good amount of gear, this is the vehicle for you.
Engine: 3.0L Supercharged V6
Horsepower: 380
Acceleration: 0-60 in 5 Seconds
MPG: 22/31
Subaru Outback 3.6R Touring
Another "station wagon" stereotype smasher, the Subaru Outback is something of an outlier in the car world. It's not quite an SUV, but it's not exactly a hatchback, either. You could call it a crossover, if you want, but it still doesn't really fit in with the vehicles in that category. Whatever you want to call it, one thing is for sure: it's one of the most capable off-road adventure vehicles around and anyone can count themselves lucky if they have the opportunity to get behind the wheel of one. Whether taking a trip out to the shores for some surfing or hauling it up a mountain for a snowboarding trip, this car won't let you down.
Engine: 3.6L Subaru 6-Cylinder Boxer
Horsepower: 256
Acceleration: 0-60 in 6.9 Seconds
MPG: 20/27
Volkswagen Golf GTI
Perhaps the only other 5-door available in the U.S. that can stand up to the Ford Focus RS from a sporty "hot hatch" standpoint, the Golf GTI is a true diamond in the rough. And it's the best option for anyone who wants a sporty non-sedan with a bit of cargo room, but doesn't like the prospect of buying from Ford. While we don't agree with that sentiment, necessarily, we know you folks are out there. Between the GTI's light weight, bulldog-like stance, and a turbocharged 220-horsepower engine, this bad boy was built to blitz through town.
Engine: 2.0L Turbocharged TSI
Horsepower: 220
Acceleration: 0-60 in 5.9 Seconds
MPG: 25/33
Alfa Romeo Giulia Quadrifoglio
Though they've been around since 1910, Alfa Romeo has had a really difficult time breaking into the American market. And while we're not entirely sure why that's the case, we think things might be ready to go through a change – especially when introduced to the Giulia Quadrifoglio. This sporty sedan has everything we could want in a car and more – an aggressive yet stylish appearance, an impressive beating heart under the hood with class-leading horsepower, and all the bells and whistles made available by modern technology (some upgradeable for a price). If this car can't get us Yankees onboard with the Alfa brand, we may never be.
Engine: 2.9L Twin-Turbo V6
Horsepower: 505
Acceleration: 0-62 in 3.9 Seconds
MPG: 17/24
BMW M3 Sedan
There are actually quite a few lovely BMWs you can get for under $100,000 – including models of their X-Series SUV, 7-Series Sedan, and 6-Series Gran Turismo. None of those, however, quite have the pedigree of the legendary M3. Yes, it's not the most expensive option the brand has to offer, but it doesn't have to be. The M3 is the one that we, and so many others like us, keep going back to. It's a classic and it will likely always be a classic and, for that, it ranks amongst the best cars ever made available to the public throughout the course of human history.
Engine: 3.0L M TwinPower Turbo Inline 6-cylinder
Horsepower: 425
Acceleration: 0-60 in 3.9 Seconds
MPG: 17/25
Mercedes-Benz S 560
When it comes to top-tier luxury sedans that can also perform well, it's extremely hard to beat Mercedes-Benz. Take their S 560, for instance. This sleek 4-door is certainly on an elite level when it comes to class, but it can also beat plenty of big-time sports cars flat-out off the line. And while much of its performance can be credited to the beefy 463-horsepower engine beneath the hood, it's also got some high-tech additions that aid in your driving endeavors – like torque-vectoring brakes, an adaptive dampening suspension system, and smartphone connectivity. It's on the pricier end of the spectrum, but if you can swing $99.9K, it's worth every penny.
Engine: 4.0L Biturbo V8
Horsepower: 463
Acceleration: 0-60 in 4.6 Seconds
MPG: 17/27
Subaru WRX STI
Though even the most high-end trim option of the WRX STI skirts below the $50K mark, there's no denying the performance and pedigree of this particular Subaru – thus earning it a solid spot on our list. Sure, you're not gonna get a star-dotted ceiling ala Bentley, but the trade off is that you get to drive one of the most aggressively fun performance sedans that has ever graced the tarmac. In the case of packages, the Limited gets you some neat upgrades (like leather-trimmed Recaro seats, a moonroof, and built-in GPS navigation) and it will still only cost you about $41K. And, if your budget is $100,000, that's practically pennies.
Engine: 2.5L Turbocharged Subaru 4-Cylinder Boxer
Horsepower: 305
Acceleration: 0-60 in 5.3 Seconds
MPG: 17/22
Tesla Model S 100D
If you're going to go electric, you should probably just get a Tesla. Elon Musk's brand is at the top of the electric game and that doesn't appear to be changing anytime soon. And while we'd much prefer to get behind the wheel of the famous P100D (the car that does 0-60 in 2.5 seconds), we're also keen enough to recognize that settling for the 100D will save you nearly $40,000 and you get a better range – about 20 miles per charge. That might not seem like much, but it can makes the difference between being stuck at a charge station and making it all the way home. Plus, at the end of the day, it's still a Tesla.
Engine: Electric
Horsepower: 518
Acceleration: 0-60 in 4.1 Seconds
Range: 335 Miles Per Charge
SUVs/Crossovers
Roomy Rides
Dodge Durango SRT
Though it is oft-forgotten, Dodge's Durango is definitely worth more consideration than it's been given – especially in the case of the SRT trim option. That's even more true now with the vehicles up-to-date aggressive styling that we can't help but notice was borrowed a bit from the Challenger and Charger. And it certainly doesn't hurt that it has a massive 6.4-liter HEMI V8 under the hood that can do 0-60 in 4.4 seconds. For those who are counting, that's exactly the same time it takes a base-model Porsche 911 Carrera to get up to that speed. And it will cost you a good deal less. Not bad, Dodge; not bad at all.
Engine: 6.4L HEMI SRT V8
Horsepower: 475
Acceleration: 0-60 in 4.4 Seconds
MPG: 13/19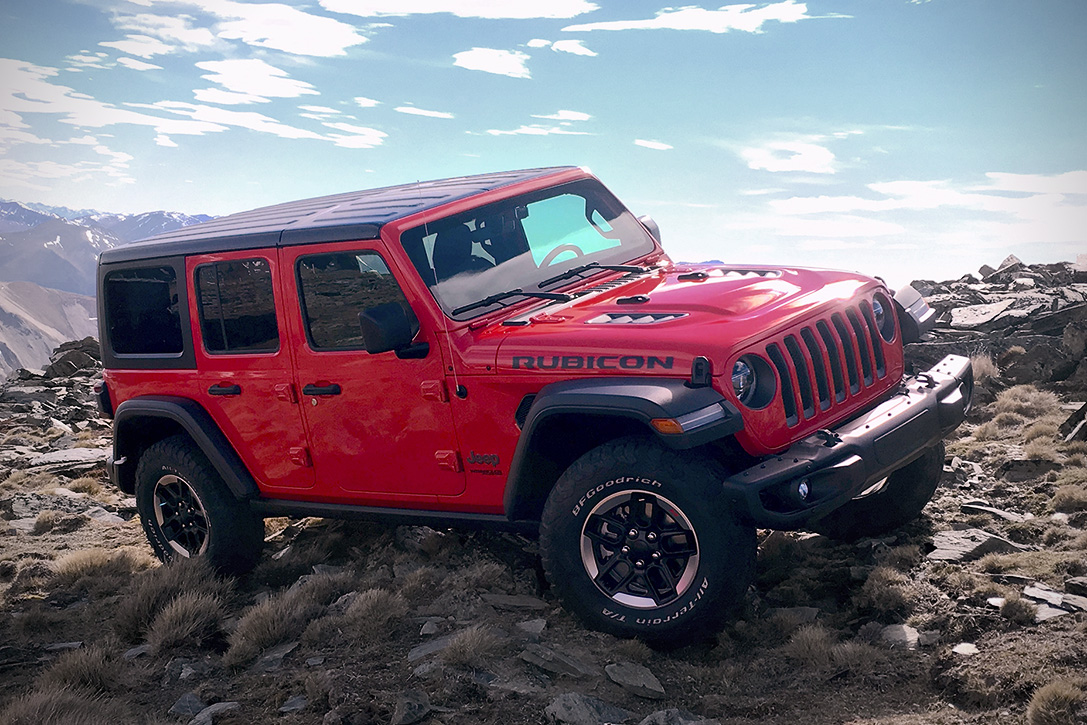 Jeep Wrangler Rubicon
With the 2nd-lowest entry price of all the vehicles on this list, the Jeep Wrangler Rubicon is a relative steal when it comes to what you actually get. And while it costs merely a 1/4 of the overall $100,000 price point, the overall value and performance of this 4×4 vehicle propels it well within contention of even the highest priced vehicles on this list. A Jeep is a Jeep is a Jeep and this American icon will forever rank as one of the absolute best off-the-lot SUVs you can get, even when price is no object.
Engine: 3.6L V6
Horsepower: 285
Acceleration: 0-60 in ~7 Seconds
MPG: 18/23
Porsche Cayenne GTS
Of course, there are those who want the looks and carry capacity of an SUV, but have no intention of ever taking their vehicle bouldering. And that's fine; there are options for you – namely, the Porsche Cayenne GTS. Now, this isn't the first year the German brand has put out this particular performance SUV, but the newest edition is still a little murky when it comes to the numbers. For instance, the 0-60 time has yet to be released. Still, if history is to be believed, the number won't disappoint. Whatever the case, this luxury sport utility vehicle definitely ranks at the top, even if the price barely falls beneath the $100,000 cutoff.
Engine: 3.6L V6
Horsepower: 440
Acceleration: TBA
MPG: 16/23
Range Rover HSE
Land Rover is to the U.K. what Jeep is to the U.S.A. As such, we'd be doing a disservice if we didn't have one of the brand's legendary SUVs on our list. Yes, the HSE is on the more expensive side of the spectrum and will put you above the mark in taxes alone, but that doesn't diminish the vehicle's pedigree one bit. The good news is, however, you'd likely not need any upgrades, as this package comes with a ton of bells and whistles (both mechanical and in regards to aesthetics) – including everything from the brand's Terrain Response, to Dynamic Stability Control, to Hill Descent Control, and so much more.
Engine: 3.0L Supercharged V6
Horsepower: 380
Acceleration: 0-60 in 7 Seconds
MPG: 18/24
Toyota 4Runner TRD Pro
If you're not too keen on European or American autos, don't worry – you'll not be left waiting in the wings. For you, we've got the Japanese-born Toyota 4Runner TRD Pro. The base vehicle is already a legendary SUV, popular amongst the likes of adventurers, off-roaders, surfers, hikers, etc. And the TRD Pro edition only piles more goodness onto that platform. For instance, the package includes performance shocks, skid plates to protect the undercarriage, an electronically controlled locking rear differential, and crawl control. Remember, that's on top of its existing 4×4 all-terrain capabilities. You can't go wrong with this one.
Engine: 4.0L V6
Horsepower: 270
Acceleration: 0-60 in 7.5 Seconds
MPG: 17/20
Trucks
Utilitarian Transports
Chevrolet Colorado ZR2
While we aren't sure we would call this a Raptor-killer, we certainly understand why someone might opt for a ZR2 over Ford's beefed-up F-150. This bad boy is equipped with performance shocks, front and rear electronically-controlled locking differentials, skid plates and rock sliders, a whole suite of in-cab tech options, and several available special editions. If you want an off-road capable pickup truck and you don't jive well with one of Chevy's Colorado ZR2 options, maybe you need to reassess what you actually want out of a vehicle.
Engine: 3.6L DI DOHC VVT V6
Horsepower: 308
Acceleration: 0-60 in 7.1 Seconds
MPG: 17/24
Ford F-150 Raptor
The Ford F-150 is America's favorite pickup truck for a reason. And that reason is only compounded and multiplied when you have a look at the Raptor edition. Basically, you take everything that's great about the standard F-150 – good looks, big performance, lots of options – and you make all of it even better. This beefy bedded 4-wheeler is aggressive in its styling, has a well-tuned V6 engine that can back it up, and was built to tackle just about any terrain out there. This ain't your grandaddy's pickup.
Engine: 3.5L EcoBoost Twin-Turbo V6
Horsepower: 450
Acceleration: 0-60 in 5.3 Seconds
MPG: 15/18
GMC Sierra 1500 Denali
For a long time GMC has seemingly played second fiddle to the likes of Ford and Chevrolet. But, with the new reveal behind their Sierra for the upcoming 2019 model year – the addition of the world's most versatile tailgate and a carbon fiber bed – we're pretty sure this intimidating 4-wheeler is about to get a bump up in the ratings. Even if it didn't have the upgrades, we're big believers that this line of trucks deserves a lot more respect than it gets – or at least more attention. This truck stands on its own, and we don't mean in anyone else's shadow.
Engine: 6.2L EcoTec3 V8
Horsepower: 420
Acceleration: TBA
MPG: 16/22
Ram 1500 Rebel
The 5.7L HEMI V8 under the hood of the Ram 1500 Rebel is enough to put this badass pickup in contention for the top spot amongst mid-size trucks. And that's only bolstered by the other add-ons and available options – including four-corner air suspension, a standard 10.3″ of ground clearance, standard Toyo Open Country multi-terrain tires, a menacing appearance (both inside and out), and seating for up to 6 people. You can also choose between three bed lengths (directly affected by the number of passenger seats) and several pre-built special editions.
Engine: 5.7L HEMI V8
Horsepower: 395
Acceleration: 0-60 in 7 Seconds
MPG: 16/23
Toyota Tacoma TRD Pro
On the same level performance-wise as their 4Runner, but with the added benefit of a big open bed, Toyota's Tacoma TRD Pro is one of the best off-the-lot options for a fully-loaded, off-road-ready midsize pickup truck. And it's a good deal more nimble than some of the other, larger options available on the market. This might not be the best option if you're looking to haul lumber to and from the worksite, but if you like to go on off-grid adventures every now and again, you can't do better than this.
Engine: 3.5L V6
Horsepower: 278
Acceleration: 0-60 in 7 Seconds
MPG: 18/22
Best Vehicles Under $30,000
If $100,000 seems like a little too-lofty a price point, never fear. There are plenty of worthwhile cars, trucks, SUVs, and more to be had on our list of the best vehicles under $30,000.