Photo: Marc Thorpe
If you're lucky enough to have one of the rarest of the rare cars on earth in your garage, whether it's a dazzling supercar, a vintage classic, or a legend plucked from the annals of racing history, then you're already part of an extremely elite group. Still, it can be a lonely place at the tippy top. Thus, the car connoisseurs, auto aficionados, and motor maniacs of the world have formed a number of super exclusive clubs across the globe to gather and revel in their collective good fortune. Lucky bastards.
For those not lucky enough to own their very own super-steeds, other clubs exist to provide them with the opportunity to pretend — in small doses — that they do. Other awesome car clubs offer the rare opportunity to take one of these beautiful vehicles out into the open terrain, and really open them up, unhindered by repressive traffic laws and speed limits. Of the numerous car clubs in the world, we have distilled this list of the eight most exclusive, swanky, marvelous motor-vehicle clubs in the world. Even if membership might be slightly out of your wheelhouse, it's fun to dream.
Classic Car Club Manhattan
The Classic Car Club was founded in London in 1995 and a second location was later opened in New York City. It is known throughout the automotive world as one of the most prestigious auto clubs in existance. Members can select from a lineup repeat with incredible BMWs, Ferraris, Lamborghinis galore (and more) to take for a spin on the track or on the streets of Manhattan. Legendary rides, like the Ford GT40 that deposed Ferrari and at the 1966 Le Mans Endurance race, or an immaculate 1956 Porsche 550 Spyder, are available for monthly rentals. A beautiful new clubhouse at Pier 76 has just been built for members to meet and share dinner or a drink while admiring the artful fixtures inside the clubhouse doors.
Super Cars Club Arabia
The UAE, or United Arab Emirates, is well known to be crawling with hypercars and an obscene number of ultra-expensive vehicles. The Super Cars Club Arabia was founded in 2014 to give owners of these ultra-fast cars a venue to take their vehicles on amazing excursions. Together, members embark on long-range tours with their cars, all across Europe. Imagine being roadside as a supercar stampede travels through your little European hamlet. The Super Cars Club journeys all the way from "Scandinavia … to the Gulf of Oman, from the heights of the Alps to the French Riviera and from the empty quarter to the tallest building in the world." Their latest tour carves through Europe from Italy to Spain over the course of 10 days, from September 2-12.
Club Sportiva
Equipped with a multi-million dollar armada of McLarens, Lambos, Nissan GT-Rs, Ferraris, Maseratis and more, members to Club Sportiva can rent one of the exotic luxury supercars and have it delivered to their location in the areas surrounding San Francisco, San Jose, Napa Valley, Monterey, Carmel, San Diego, and Las Vegas. They also offer an Exotic Car Sprint, an experience that allows members to take a car of their choosing on a 50-mile excursion through California, for just $649. That's one of the more affordable packages on the list, perfect for a birthday gift (or a treat-yourself kinda deal). Or for just $999, rent the car of your dreams and zip along the highways of California for 120 miles.
P1 Supercar Club
In the world of Formula 1 racing, the term "P1" means the first position. The P1 International Supercar Club claims poll position in the world of supercar clubs, declaring themselves the first and leading supercar club in the world. They've been around since September 2000, so the Classic Car Club (est. 1999) might have something to say about P1's self-reputed primacy. Regardless, there can be no denying that P1 Supercar Club holds a special clout for the car cognoscenti. With two locations in the UK and one in Switzerland, P1 allows its members to tear Europe up with one of their elite automobiles. With a one-time joining fee of around $2,000 and an annual membership rate that starts at $1,300, P1 promises to save members money in the long haul, as it allows them to avoid losing money by purchasing a supercar that will inevitably depreciate in value.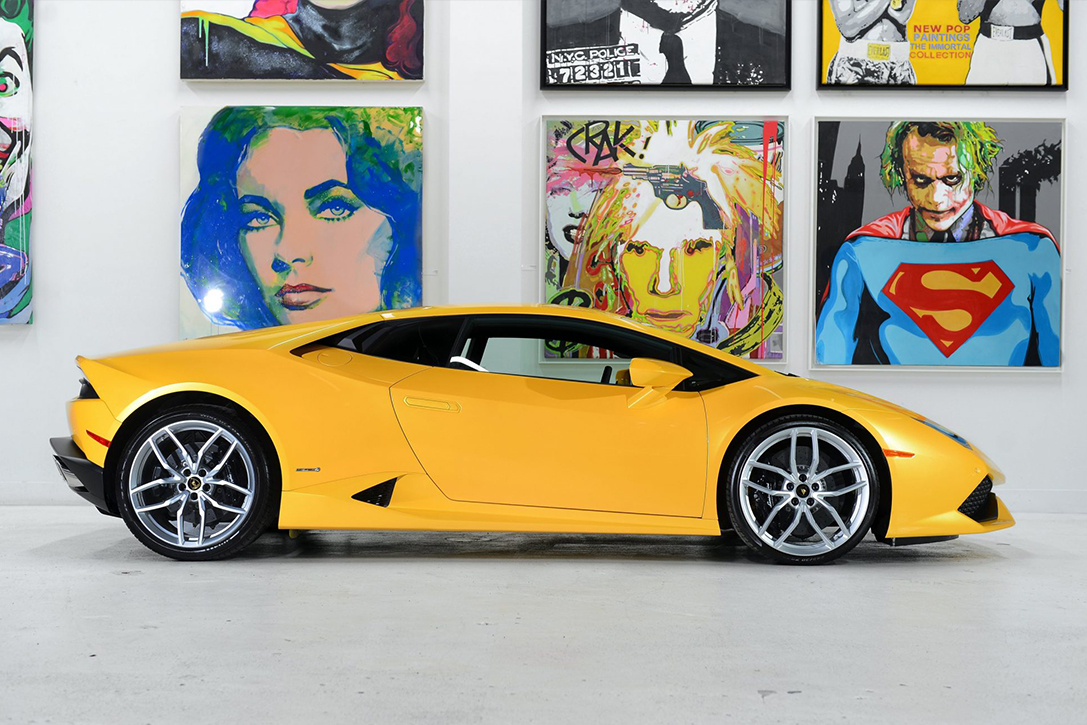 Lou La Vie Members Club
Though more functional than your average sculpture (and with a bit more horsepower), there can be no denying that supercars are works of art. The Lou La Vie Members Club emphasizes the rare beauty of these supercars inside their fabulous clubhouse, which is adorned from floor to ceiling with brilliant vibrant artwork to accentuate the panoply of beautiful cars within. Offering four classes of car to choose from — Exotic, Sports, SUV, and Luxury — the Lou La Vie Members Club is a candy store for car lovers. The 25,000 square foot members-only clubhouse is a veritable museum as well as an adult playground, offering custom Bespoke Menswear tailoring, an on-call barber and stylist, an exclusive cigar and wine lounge with lockers, movie theatre, pool table, auto-lovers library, and myriad unique and ritzy experiences for members to enjoy.
McLaren F1 Owners Club
McLaren, as a company, already offers some of the coolest experiences of anyone in the industry. Experiences like the Pure McLaren Arctic Experience, which allows McLaren drivers to venture to Finland and whip a 570S that's been equipped for snow up on an icy track. Founded by legendary British racer Ray Bellm, the McLaren F1 Owners Club is focused on providing lovers of McLaren with retired F1 cars that have been raced by drivers on the McLaren team in the past. Despite the high-octane history of the cars in the Mclaren F1 Owners Club armada, the club does not propound an aggressive racing vibe but allows members to drive super rare, legendary cars in a relaxed environment.
The Thermal Club
Less a car clubhouse than a complete, miniature supercar civilization, the Thermal Club is the ultimate car lover's vacation paradise. With an enormous, 5.1-mile track, comprised of three different circuits — The Desert Circuit, The North Palm Circuit, and South Palm Circuit — the Thermal Club allows drivers to live out their dreams of racing glory. When not wheeling around this epic track, members at the Thermal Club can enjoy a full spa treatment and kick back inside the opulent four-story clubhouse. They can also have their vehicle pampered inside the full-service garage.
California Four Wheel Drive Association
For those more interested in taking a vehicle off the road than a track, the California Four Wheel Drive Association exists. The Cal4Wheeler Association is the oldest car club on this list at more than half a century old. Intent on promoting the advancement of vehicle-oriented outdoor recreation since 1959, this club tours some of the best trails in the golden state and works to advocate for four wheeling throughout the country. Members gather frequently throughout the year for awesome off-road runs across California.
The Stories Behind 20 Iconic Car Model Names
Supercars and hypercars are more than mere automobiles. They are celebrated worldwide for their designs, incredible capabilities, and deep histories. Dig deeper into auto history with 20 iconic car model name meanings explained through this amazing investigation into some mighty motor monikers.