While we're presently in the middle of one of the coldest periods of the year, we're still fairly confident that spring and summer are approaching — albeit not quite as fast as we'd like. In the meantime, most of us are still cooped up inside for most of our days. And that can make our living and working spaces pretty musty and stagnant, which doesn't always make for pleasant aromas.
Since it's probably too chilly for most people to pop open a window and get some fresh air, we'd like to posit some alternatives in the meantime: candles. Though stereotypically thought of as a feminine category, there are actually a huge number of good-smelling candles that don't adhere to the more traditional floral scents. And that's what we have for you today on the following guide to the best candles for men. Each of these brands offers up high-quality, long-burning, alternatively-scented candles that make for a stylish, perfect to your home, workshop, garage, or wherever else you spend your time. Get refreshed!
Lineage Candles
One of the things we love about Lineage and their offerings is that they allow the scents to speak for themselves — leaving the amber-colored glass containers without any extraneous, flashy detailing. Meanwhile, the minimalist labels still tell you everything you need to know. Of course, the styling only matters because the scents of these 50-hour, 100% USA-sourced and -made soy wax candles are warm, welcoming, and exceptional all-around.
Aden Candles
Subtlety is the name of the game when it comes to the styling of Aden's candles. That is to say: at a glance, it's pretty difficult to tell them apart — meaning you'll have to use your sniffer to tell them apart. But the toned-down exterior with its matte gray colorway helps these torches blend with just about any interior design scheme. But the scents are pleasant and welcoming — boasting combinations like surf wax and sea salt, leather and sandalwood, and redwoods and mountain air. Crafted from coconut and apricot wax, these candles will last for around 60 hours per burn and they're all hand-poured in California.
Paddywax Candles
There's a hard-to-define allure to the design of Paddywax's candle containers — which might have something to do with the fact that they look like clay plant pots. And while the design is obviously a highlight, the star of the show is inside these containers. With scents inspired by the National Parks — including Acadia, Yellowstone, and Yosemite — these Nashville-made candles all feature hand-poured soy wax, crackling wood wicks, and they come with a dust cover to keep the candle pure between uses.
Basik Candles
Turns out the phrase "everything's better in black" also applies to candles, at least if Basik's offerings are any indication. Of course, the minimalist, all-black containers are only a vessel for the real focus: the wicked wax within. Thankfully, Basik's scents also shine on their own — comprised of combinations like teakwood and leather, oakmoss and amber, and blood orange with bergamot. It's also worth pointing out that, unlike many other novelty scents that focus far too much on "manliness," these scents are subtle and fresh without being overbearing and overzealous — which, in our opinion, is how candles should be.
Square Trade Goods Candles
Another brand that trades in dark hues and minimalism, Square Trade Goods offers up some candles with an added bonus: a screw-top lid you can put atop your candle between burns to keep the dust, dirt, and grime out — thereby preventing impurities from making it into the candle. These made-in-USA offerings also boast some simple, alluring scents inspired by the great outdoors — including our favorite: campfire. Made in the USA with 100% natural soy wax, these hand-poured candles burn between 50-60 hours and feature a double wick.
Abbott Candles
Of all the offerings on our guide, Abbott probably represents the brand whose products look the most like our collective expectation of traditional candles. With simple glass containers and labels that boast imagery of the outdoor locales that inspired their scents, these simple and understated burn-able home goods are made from 100% natural soy wax and cruelty-free oils — poured by hand in Saratoga, New York. Plus, once the wax is all burned away, you can reuse the glass containers for whatever else you want.
Good + Well Supply Co. Candles
At a glance, Good + Well Supply Co's candles are probably the ones that stand out the most. This is due largely to the fact that each one is housed in an oil can-style container, complete with old-school branding — although the font and imagery harkens to the scents' inspiration rather than defunct auto supplies. With a wide variety of options, each is based on something related to the great outdoors — primarily National Parks, but there is a presidential offering based on Teddy Roosevelt. They're also all made in Seattle in small batches, crafted from eco-friendly soy wax, and they can burn for a whopping 80 hours each. Not to mention, when you're done, the tin is recyclable.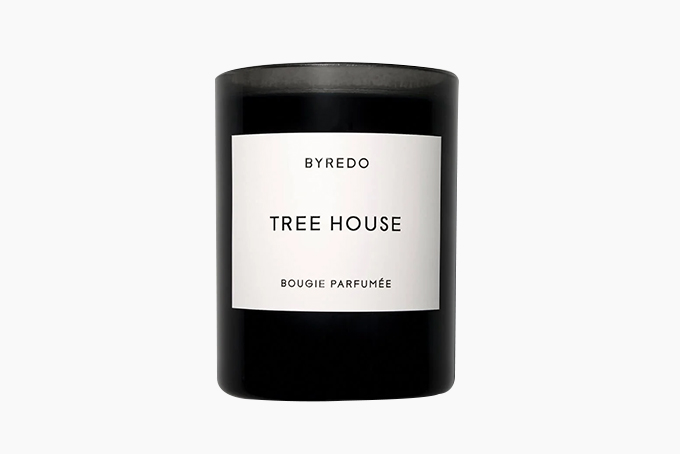 Byredo Candles
Perfect for those with a deep love for minimalism and monochromatic style, Byredo's candles can fit into just about any interior design scheme thanks to their toned-down overall appearance. However, that simplicity does mean that the candles have to do most of the heavy lifting on their own — which they very much do. With a wide variety of scents inspired by locales around the world — including places like libraries, tree houses, and carousels (yes, the carnival oddity) — each candle can burn for around 24-60 hours (depending on the size), they each have a unique wax recipe based on their individual scents, and they come in hand-blown glass containers.
Le Labo Vintage Candles
Le Labo's extensive catalog of candles actually comes in a few different formats — including concrete and traditional glass containers. We're partial, however, to the Vintage offerings, which all come in old-timey dented tins. Regardless of which style you pick, there are 11 different unique scents that run the gamut from fresh and breezy to deep and comforting — and they're all crafted from real, natural ingredients like coconut, star anise, lavender, etc. Yes, these candles are quite expensive, but they're also masterfully crafted and, for those who appreciate sensory experiences, more than worth the investment.
D.S. & Durga Candles
Graphically speaking, D.S. & Durga's candles are probably the ones that stand out the most — as each label features a clever albeit minimalist piece of artwork made to capture the spirit of the individual scents. It's a simple touch, but it can make all the difference to the design-minded. It certainly doesn't hurt, either, that their scents — including enigmatically-themed offerings like Concrete After Rain and Tomb of the Eagles — are made from exceptional materials in NYC and were, in part, inspired by the real-life experience of the people that helped design them. As an added bonus, each candle scent comes with its own accompanying Spotify playlist, which also captures the spirit of the scents therein.
The 8 Best Essential Oil Diffusers
For anyone looking for a more permanent, long-term solution to all your aromatherapy needs, you may find more luck on our guide to the best essential oil diffusers.