There seems to be this misconception that, when traversing the great outdoors in search of wood for a campfire or to build a shelter, a wood-chopping axe is the only tool you need. The truth is, you could certainly get by with an axe, hatchet, or tomahawk if you had to. However, it's not the ideal tool for the job in the case of larger pieces of lumber or if you want clean cuts. For those circumstances, a camp saw is a must.
Unfortunately, your average wood saw is a bit unwieldy for off-the-beaten-path usage. Thankfully, there are plenty of makers and brands that have figured out ways to make them more compact, collapsible, and hiking and/or backpacking-friendly. Now, whether you want one that folds in half, comes apart and stores within itself, or is little more than just a chain with handles, you can have exactly that — and you can get all your wood sawing done whether you're in your own backyard or out in the middle of the Yukon. We've rounded up the 10 best camp saws in the following roundup for your wood-cutting pleasure.
Kershaw Buck Commander Folding Saw
With its seven-inch blade, this is one of the most compact folding camp saws on our list — but it's still plenty tough to stand up to heavy usage in the great outdoors. As you might imagine from its name, this one is intended to be used for hunting purposes as well as sawing wood with its super durable high-carbon, nickel-plated steel blade. It also boasts a grippy glass-filled nylon handle with a rubber overlay that's great in both dry and wet weather. And it comes with a push-button lock for security when in use.
Blade Length: 7″
Blade Material: High Carbon Steel
Style: Folding
Eversaw 8.0 Pull Cut Saw
If only for the fact that it comes with a lifetime warranty, the Eversaw 8.0 Pull Cut Saw is worth considering to add to your loadout of camping and outdoor gear. That's not, however, the only thing that makes it worthwhile — not by a long shot. It also features an 8″ blade complete with triple-cut razor teeth for fast and smooth cutting. And the handle is comfortable and grippy for extended usage in any weather. For the price you'll pay, it's definitely hard to do better than this one.
Blade Length: 8″
Blade Material: Carbon Steel
Style: Folding
SOG Folding Saw
SOG has been making ruggedized folding tools for a long time now. Long enough, in fact, that you can trust them, sight-unseen, to build a solid folding saw. And truly, their take on this outdoor tool does not disappoint in either style or substance. The high-carbon steel blade boasts a black powder coat finish for a more sinister look and upgraded durability, and the matching soft grip TPR handle is comfortable and reliable. It also comes with a limited lifetime warranty against defects, so you can depend upon its built quality for years to come.
Blade Length: 8.25″
Blade Material: Powdercoated High Carbon Steel
Style: Folding
Bahco Laplander Folding Saw
Even if you excuse the fact that the Bahco Laplander folding camp saw boasts a handsome appearance, with its black-finished blade and forest green handle, it would still make this list for its overall built quality, materials, and packability. Its 7.5″ toothed blade is great for sawing all manner of materials, including wood, brush, and even animal bone. And the composite handle offers up plenty of grip. Lastly, it comes with a handy safety lock that will keep the blade deployed or closed, helping to avoid any unfortunate accidents.
Blade Length: 7.5″
Blade Material: Black-Finished High Carbon Steel
Style: Folding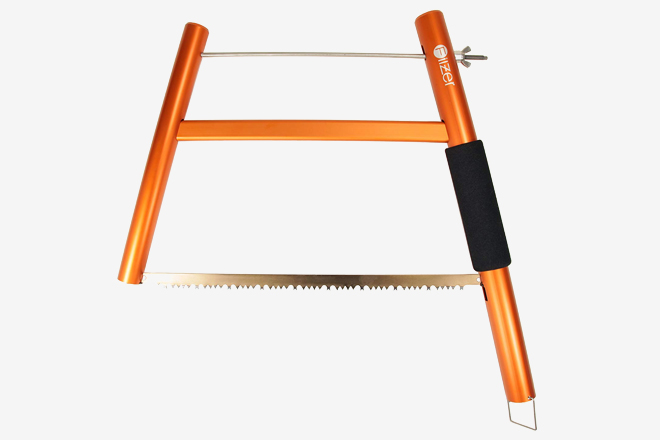 Filzer Buckster Bow Saw
Most of the other camp saws on this list feature a folding format. And while folding can certainly cut down a bit on the bulk of a saw, they're still plenty cumbersome and require a much shorter blade than normal wood saws. Filzer's Buckster Bow Saw splits the difference by offering a traditional format and length with a collapsible construction. The 18″ steel blade is a good deal longer than most folding portable saws, but the whole device can collapse down and pack inside itself — resulting in a single 19″ cylindrical tube that's easy to pack and carry.
Blade Length: 18″
Blade Material: Steel
Style: Collapsible
Sven-Saw Folding Wood Saw
Combining the convenience and portability of a folding blade with the sturdiness of a bow saw, the Sven-Saw is an intriguing option for a camping wood-cutting tool. The folding format makes this an easily and safely packable saw, but the structure adds a bit of strength not found in its other folding brethren. It also doesn't hurt that the Sven-Saw is available in either 18 or 21-inch options, is made right here in the USA, and comes with a lifetime guarantee.
Blade Length: 21″
Blade Material: Steel
Style: Folding
Nordic Pocket Saw
Certainly the most unique of the portable camp saws on our list, the Nordic Pocket Saw is the ultimate option for the ounce-counting minimalist backpacker. This is due largely to the fact that it has no rigid structure of which to speak. Rather, it functions like a chainsaw blade, except without the saw itself. That does mean the sawing motion is a bit different — you pull toward yourself rather than push down onto the log — but it's also the most portable and collapsible of the options on that list. In fact, it's even small enough that you could stash it in the pocket of your pants if you had to. For reference, the handles are made from sturdy nylon.
Blade Length: 25.6″
Blade Material: Carbon Steel
Style: Cable
Gerber Freescape Camp Saw
If there's any brand that knows how to make a sturdy outdoor-focused cutting tool, it's Gerber. Be it a pocket knife, hatchet, or a folding saw, this EDC and outdoor staple brand has got you covered. Their Freescape Camp Saw is excellent for several reasons. First, it has the ability to fold down completely flat, making storage when not in use a snap. But it also accepts any standard 12″ saw blade. That means swapping out a dull one is super simple — also giving this device some unheard of longevity. All told, this is one of the most impressive options on this list.
Blade Length: 12″
Blade Material: Steel
Style: Folding
Zippo AxeSaw
One of the biggest drawbacks to the other camp saws on this list is their lack of versatility. All of them, except for the Zippo AxeSaw, functions solely as a saw. This one, however, is a double-threat, with both a functional 15″ saw blade and a 420 stainless steel axe head. That way, when it comes to outdoor cutting tasks, you've got all your bases covered in this single, portable, versatile tool. It also boasts a safety sheath so you can avoid cutting yourself when using the saw and the backside of the axe features a mallet tip that's handy for hammering in camping tent stakes.
Blade Length: 15″
Blade Material: Hardened Stainless Steel
Style: Collapsible
Silky BIGBOY 360 Folding Saw
While it's a bit on the bulky side of the spectrum — weighing 1.25 pounds with a blade that measures up at over 14 inches — there's no denying what a stellar camp saw the Silky BIGBOY 360 is. This bad boy is robust and tough, with six teeth per inch that can make quick work of just about any cutting task. Really, the only downside to this ultra-functional saw is that it will take up a good deal more room than any of the other options on our list. But that's hardly a drawback considering how much you get out of it.
Blade Length: 14.5″
Blade Material: Steel
Style: Folding
How To Start A Campfire
Chances are, you're going to be using your camping saw to cut wood for a shelter or a fire. In the latter case, you'll also need to know which steps to take to get the proper flame. And you can learn them all in our guide on how to build a campfire.