Although clearly not as impactful as, say, Christmas, Father's Day is no less an occasion worth celebrating for all those who are lucky enough to have a dad in their lives — whether he's your actual father, a father figure, or just a parent in your life you think deserves recognition. But paying tribute to these men doesn't necessarily mean you have to spend all your hard-earned cash. After all, it's the thought that counts, right?
However, just because you're not spending a ton of money on a gift, that doesn't mean the gift has to be something cheesy or cheap. This year, skip the "World's Best Dad" mugs, tie clips, and other novelty items and opt for something that shows a little more thought, creativity, and consideration. The following collection is comprised of 30 superb Father's Day gifts for every type of dad that will cost you less than a Benjamin.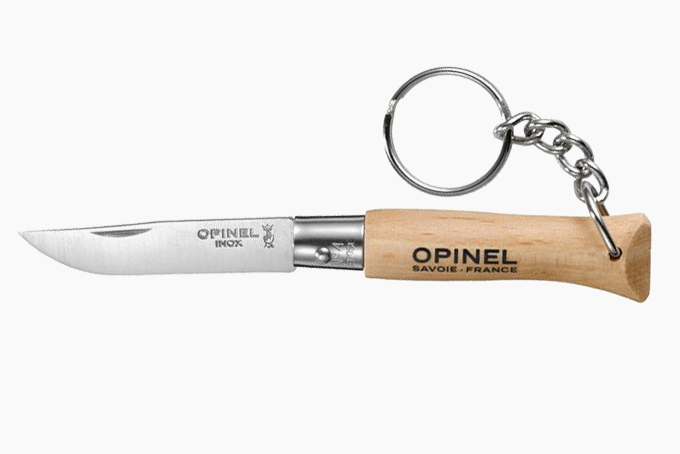 Opinel No. 04 Keychain Folding Knife
Small enough to fit on your keychain but still boasting Opinel's legendary styling, the No. 04 Keychain Folding Knife is perfect for anyone who wants a top-tier cutting tool, but can't or won't carry around a full-size knife. It features a stout 1.97″ blade, a beech wood handle, and a nail nick for simple, manual deployment.
Sin-Min Shade Organic Sunscreen
With summer nearly here, protecting one's skin from harsh UV rays is of the utmost importance. But so is protecting our environment, which is why we prefer to use something natural and organic, like Sin-Min's Shade sunscreen stick. Perfect for your face, this easy-to-apply protection is the perfect gift for any dad who likes to head down to the beach on his days off.
Lodge Cast Iron Skillet
For any man who likes to cook, a cast iron skillet is an absolute necessity. And it's the perfect Father's Day gift for any dad who doesn't already have one. Perhaps none at any price point is as reliable, useful, and legendary as this one from Lodge. Pre-seasoned and built from one piece of iron, this skillet is ideal for stovetop, oven, and even outdoor usage.
The Complete Short Stories Of Ernest Hemingway
Ernest Hemingway might just be the most important American writer of all time. And his prose, especially in his short stories, is as powerful as it is easily digestible. With themes relating to mankind's role in nature, the effects of war on the human psyche, and a wealth of other "manly" topics, this complete collection of his shorter works is a must-read for any literary-minded dad — making it an ideal Father's Day gift.
Elastic Precision PPK Rubber Band Gun
As far as we know, James Bond hasn't sired any children. But if he did, he might swap out his signature pistol for something a little less lethal — like this rubber band-shooting version. Made to look just like the iconic Walther PPK, this solid wood toy comes with 50 rubber bands, has a semi-automatic action with a 5-shot capacity, and fires a distance of up to 20 feet.
Smartwool Work Socks
People underestimate the value of a good pair of socks. Even if you have the best footwear in the world, your socks can make or break your comfort. That's exponentially more important when it comes to working on your feet. If you've got a dad in your life who's constantly up and about doing DIY projects or their career requires a lot of walking around, invest in these Smartwool Work Socks as a Father's Day gift. Trust us, they'll thank you.
Levi's 501 Denim Jeans
When it comes to denim jeans, nothing is as classic as a solid pair of Levi's 501. After all, Levi's is the brand that invented blue jeans. They're a classic style piece that every man should own — even if they already have a pair or two. If you know a dad who needs a bit of a style refresh or just needs to replace a pair of worn-out jeans, this is a superb gift option.
Amabilis Stash Capsule Dopp Kit
It's pretty easy to find a passable dopp kit that works well enough for travel. But if you want something with more lasting power and an absurd amount of durability, you can depend on the Amabilis Stash Capsule. Made from the same ultra-durable waterproof tarpaulin and SuperFabric that makes their duffel bags some of the best ever built, this dopp kit puts almost all others to shame. And if your dad travels a lot for work, pleasure, or otherwise then it is an excellent Father's Day gift.
Victorinox Cadet Swiss Army Knife
Victorinox has been around for more than a century, having been responsible for manufacturing the original Swiss Army Knife. They're also the only brand licensed to do so that's still around today (they now own their chief competitor, Wenger). So if you want a killer multi-functional EDC knife for yourself or you know a dad who deserves one, there's no better option than those made by this brand. The Cadet you see here, with nine built-in functions, is one of their most classic designs.
VNYL Monthly Vinyl Subscription
Vinyl records have seen a huge resurgence lately — which is excellent news for any audiophile dads out there. That goes double for any who are given a VNYL subscription for Father's Day. This monthly service will take into account personal tastes and craft the appropriate collection of records for the individual listener. For music lovers young and old who've got their own turntable and sound system setup, there are few gifts that are cooler or more personal.
Henry McKenna Bottled-In-Bond Bourbon
Bottled-in-bond whiskey is starting to reemerge in the world of spirits — and for good reason. It's reliably good while remaining remarkably affordable. And this one from Henry McKenna is widely considered one of the best currently available. If your dad is the type who likes to toss back a few here and there, it's the perfect way to bond with him. And that makes this an excellent Father's Day gift.
Best Made Limited Edition Polaris Camp Mugs
While not for everyone, we're of the mindset that nothing goes better with clean mountain air in the morning than a fresh cup of camp coffee. But to really enjoy it, you're going to need a vessel tough enough to make the trip. These enamel camp mugs from Best Made will certainly do the trick. And their limited-edition Polaris constellation graphics make them perfect for those dads who still like to gaze up at the cosmos. As an added bonus, you can also fill them with campground whiskey — if that suits your fancy a bit more.
Wahl Professional Peanut Clipper
Paying a barber for grooming services is an expensive prospect for which some dads just aren't willing to pay. If yours leans toward the DIY end of the spectrum, give them a hand by tossing out the old pharmacy-bought clippers and hand them this professional-grade one from Wahl. Perfect for both haircuts and beard grooming, this device will serve him well for years to come.
Iron & Resin Boardshorts
Being a dad doesn't mean you have to sacrifice style — at the pool or down at the shoreline. Even if your father has a mild dad bod or a full-on beer belly, these Iron & Resin boardshorts will keep him looking good in or out of the water.
Black+Decker Cordless Drill
There are a few tools we believe every man should own. A solid portable drill is definitely one of them. Handy for making quick work of any DIY construction project, this rechargeable cordless Black+Decker drill is powerful, lightweight, and even has a few built-in features that make things even easier — like variable speed to make sure you don't damage whatever it is you're drilling. If your dad doesn't already have one or his is still corded, this is the Father's Day gift for you.
Amazon Fire 7 Tablet
Amazon's line of Fire tablets have never really been at the forefront of tech, but they're an excellent budget option for anyone who wants a tablet but doesn't want to pay Apple's insane prices. And this new generation is even better, with faster processing speeds, more onboard storage, and a wider variety of color options. This Father's Day, get the dad in your life onboard with up-to-date technology by picking up the new Fire 7 tablet.
PF Flyers Hi-Top Sneakers
Guaranteed to make any kid (or dad) run faster and jump higher, PF Flyers are some of the most iconic sneakers in the world, hi-top or otherwise. And they make the perfect Father's Day gift for any guy who's young at heart but still appreciates good style. That goes double for the Sandlot edition — the same shoes that were worn by Benny "The Jet" Rodriguez in the iconic '90s movie.
Fisher Space Pen AG7 Astronaut
Back in 1968, NASA launched the Apollo 7 mission. On that mission, every astronaut carried a brand-new pen that could write underwater, upside-down, or in zero gravity. From that point forward, every single manned NASA mission has included some version of that same pen. As it turns out, you can actually buy that exact writing utensil for use back here on Earth. The Fisher Space Pen AG7 Astronaut is about as iconic as pens get — and it makes a superb gift for Father's Day.
Shun VB0706 Sora Chef's Knife
An absolute necessity in any kitchen, a chef knife is probably any cook's most important tool. And this one from Shun is a good deal better than just about any you'll get at a big box store or supermarket. Made in Japan, the VB076 Sora has a 10″ blade made with a VG10 steel core and a stainless steel exterior mated to a TPE synthetic handle. Perfect both for detail work and more voluminous cutting tasks, this kitchen knife is a top-tier budget option.
The Sneerwell Noble Flasks
A good flask is something that should be in every man's repertoire — barring non-drinkers, of course. And very few come close to the unique, handmade offerings from The Sneerwell. Marked by gorgeous designs and gorgeously-aged stainless steel, these 6-ounce sippers are perfect to gift to fathers, groomsmen, or really anyone who enjoys a good pull of scotch every now and again.
Timex Archive Camper MK1 Watch
While Timex has consistently been building impressive budget-friendly timepieces for decades now, some of our favorites still come from their earliest days. Luckily, they've started pulling some of those designs out of their archives and building them again. The MK1 you see here, for example, was a design from the 1980s that has been faithfully recreated with a modern quartz movement. It's a great Father's Day gift for any dad who appreciates retro styling in their timepieces.
Civilware Camp Hatchet
It seemed a little odd when we heard that legendary skateboarder Geoff Rowley decided to start his own gear brand. But, since its inception, Civilware has managed to impress us time and time again with their offerings. Take, for instance, their hatchet you see here. Perfectly sized and constructed for camping, this wood-chopping tool is built from drop-forged carbon steel and American hickory. If the dad in your life needs a new camp hatchet, you'll not find one better for such a low price.
Anker Soundcore Liberty Air Wireless Earbuds
When it comes to overall quality, it's hard to say that there are any alternatives to Apple's AirPods. But, when it comes to options on a budget, the Soundcore Liberty Air wireless earbuds definitely come the closest. Built around graphene drivers, these portable headphones will give users up to five hours of playback, 20 hours of extra battery from the charging case, and can even take calls. If you know a dad who needs a reliable, if inexpensive pair of earbuds, go no further.
Pioneer Carry Flyfold 10XD Ripstop Bifold Wallet
The bifold wallet is about as classic as cash and card carriers come. But traditional options are bulky, spine-twisting burdens. Pioneer Carry's Flyfold can do everything a traditional bifold can do — like haul a wad of bills and up to 10 cards with RFID-blocking tech built-in — but it's a good deal slimmer and made from a unique, waterproof fabric that's ten times stronger than steel. Built to last through the apocalypse, this wallet is practically worthy of becoming a family heirloom — especially if you give it to your dad on Father's Day.
Buck Mason Brushed Loopback Hooded Sweatshirt
For cold days at home, around the campfire, out on the water, or wherever else, there are few articles of clothing as valuable as a comfortable hoodie. This one, from Buck Mason, comes from the brand's Bronson Collection — a series of iconic sportswear pieces designed for everyday wear. And with its 100% cotton construction, it's as comfortable as it is good-looking. You can't go wrong with gifting this one to the dad in your life.
Craighill Nocturn Catch Valet Tray
At the end of the day, everyone's everyday carry comes out of the pockets and gets stashed somewhere for the next adventure. Rather than letting your father toss his haphazardly on a countertop or in a drawer, give him the Craighill Nocturn Catch Valet Tray and he can keep all his gear organized and safe on this solid, American-made walnut catch-all.
MecArmy PS16 EDC Flashlight
Small enough to fit in your palm but with enough output to turn the darkest of nights into the equivalent of daylight, this 2,000-lumen EDC flashlight from MecArmy is a tiny titan. Boasting four CREE XP-G2 S4 LEDs, a stainless steel construction, simple tail-switch operation, and rechargeable 16340 or 18350 Li-ion batteries, this is the perfect pocket torch for every dad guilty of fumbling around in the dark.
Triple Aught Design Nautilus AC Shorts
Designed for all manner of outdoor adventure, TAD's Nautilus AC shorts are a gargantuan upgrade to your dad's unsightly cargo shorts. They're also more durable — having been constructed out of DWR nylon — water-resistant, and can even double as boardshorts. In fact, they were actually originally designed for use by the underwater demolition teams that worked on the James Bond films of the 1960s. If that's not a good Father's Day gift, we don't know what is.
Warby Parker Glasses
A good pair of glasses, especially those with a prescription, that are also stylish and relatively inexpensive are hard to come by. But Warby Parker manages to mash all those things together beautifully. For just $95 — including the prescription — you can upgrade your dad's eyewear and even split the payments up if need be.
Amazon Echo Smart Hub
Now the norm, smart hubs and smart speakers are an excellent way to stay organized, entertained, and control all your other smart devices from a single, easy-to-use interface. And since Amazon was one of the brands that helped helm their development, it should come as no surprise that their Echo is still one of the best. Give this to your pops as a gift and he can listen to the news, take calls, check email, turn smart lights on or off, and a whole lot more — all with just the sound of his voice.
The 20 Best Groomsmen Gifts For Under $100
We're not sure if it's just happenstance, but Mother's and Father's Day also happen to coincide with the peak of wedding season. So once you've got those holidays squared away, if you're looking to tie the knot, you'll probably want to get some gifts for your groomsmen. And you can find the best groomsmen gifts for under $100 on our guide.