The Earth is roughly 4.5 billion years old. And humanity, as we know it, has only existed for the last 200,000 of those years. That makes it an astronomical improbability that you'd be alive right now, at this very moment, reading the words in this article. That makes you (and all of us) extremely lucky to even exist at all, let alone to be here in this particular moment. And that deserves celebration.
Granted, unless you were born into extreme wealth, you can't just live your life like it's one big party. But that shouldn't stop you from seeking out adventures to help you experience the world and make you feel truly alive. Colloquially, the collection of experiences a person wants to have before he/she/they die is called a bucket list — a cheeky play on the phrase kick the bucket, which is slang for dying. And while it's unlikely that everyone will have the same bucket list, there are some common experiences to which we're collectively drawn. We've gone to the trouble of composing this collection of 20 of the most worthy adventure trips to take before you die — with the intention of inspiring you to get out there and cross some of them off your own personal list.
Animal Sanctuary Visit
Our planet has a pretty fragile ecosystem, and humanity hasn't exactly done a great job of keeping the balance. In fact, in the last century, around 500 species (that we know of) have gone extinct. And more are close to extinction than ever before — at least throughout recorded history. As such, there are some animals that won't be around much longer — but you can see some that are by visiting an animal sanctuary. Unlike zoos and/or safari parks, these places represent havens for animals and humans alike and will give you the chance to get up close and personal with creatures you might never have a chance to see otherwise. Just make sure, in your search, that you properly investigate the merits of any sanctuary you might visit to ensure they're on the up-and-up and not some circus-level, money-grubbing, abuse farm.
Bungee Jumping
Plenty of people have nightmares about falling from great heights. But it's not the fall that's the scary part — it's the landing. Rather, the feeling of freefall can be extremely exhilarating. And if you want to have that feeling, perhaps 5-6 times in a single jump, you should probably try bungee jumping. There are places all around the world that offer this particular experience, so you can pick your locale of choice — be that diving into a river canyon, off the top of a manmade tower, over the side of the dam from GoldenEye, or elsewhere. While there is always risk with any extreme activity, bungee jumping is relatively safe when done in the care of experts working for reputable companies at time-tested locations. This one is for all the adrenaline junkies out there.
Cross-Country Road Trip
You don't even have to leave your home country to cross this adventure off your bucket list. In fact, all you really need is some money, supplies (like apparel and car camping gear), and a vehicle. Of course, if you really want to make the most of it, it doesn't hurt to bring along some friends and family. And it's a pretty good idea to pick an interesting route with some worthwhile spots to stop along the way. If you're really clever, you could even complete some of your other bucket-list activities during your cross-country road trip adventure, making even more out of the experience.
Cultural Events Immersion
Every year, around the world, humanity has celebrations — often on a monumental scale. These massive parties, parades, and festivals can often be significant enough in their scope to qualify as bucket-list adventures on their own. We're talking about things like Mardi Gras in New Orleans, Carnival in Brazil, Holi in India, Dia De Los Muertos in Mexico, La Tomatina in Spain, etc. You'll have to certainly pare down which celebrations are the most important and significant to you, personally, but there's certainly no shortage. Even if you only go to one of these cultural events, we encourage everyone to try immersing themselves fully in an epic celebration at some point in their life.
Food & Spirit Tour
Food and drink are both driving forces for many, many people — made abundantly clear by the massive number of restaurants and bars throughout any/every city, big or small. In fact, there's even a massive portion of the travel industry dedicated to culinary tourism. That means — whether you're a die-hard scotch fanatic, fiend for grilled cheese, sushi-obsessed snacker, beer-drinking buff, something else entirely, or even some combination therein — you can find a way to make a trip out of hunting down your food and/or beverage must-haves around the world. You don't even have to join up with an existing organization if you're intrepid enough to do the research and chart your own path.
Hot Air Balloon Ride
If you want to get a bird's eye view of the world below you but you're fearful of more extreme experiences like skydiving or bungee jumping, you're definitely not entirely out of luck. You can actually behold some of the most beautiful landscapes from the relative peace and calm of a hot air balloon. This can be an especially romantic adventure with a significant other and often can include accompanying things like wine, champagne, fine cheeses, and charcuterie meats. Of course, the star of the show will undoubtedly be the landscapes beneath you, especially if you choose to take your flight around sunset — which we highly recommend if you're going to try and cross this experience off your list.
Multi-Day Trail Hike
Multi-day hikes, especially the famous ones like the Pacific Crest Trail or the Appalachian Trail, are no joke — and they're definitely not for the uninitiated. But they can be a life-changing experience for those that embark upon them, and there's plenty of proof of this in popular media (see Wild starring Reese Witherspoon, based on Cheryl Strayed's memoir of the same name, for reference). These kinds of trips can be insanely challenging, but they can also be healing and empowering when taken up by those with the proper combination of knowledge and experience. Do not even think of attempting such a feat without proper training beforehand, however, as it could spell certain doom for anyone unprepared for the mental and physical trials and tribulations of such an experience.
North/South Pole Visit
There was a time when only the most daring, intrepid explorers would even float the idea of visiting either the North or South Pole. And while it's still no easy feat, it's certainly significantly less dangerous and difficult in today's world. In fact, there are some tour companies that will ferry you there… for a price. This can be done by ship, plane, or even snowmobile. You just have to pick which expedition meets your expectations and pay for it — which can cost quite a pretty penny. Of course, for a bucket-list adventure of this magnitude, it's probably going to be worth the cost regardless of the method you choose. We must, however, encourage travelers to try and be responsible about it; we don't want trash and/or damage to befall these delicate ecosystems, especially when they're already on the cusp of collapse.
Northern Lights Tour
There's a chance that, should you try and visit the North Pole, you'll see the Northern Lights. However, you don't have to actually head up to Santa's workshop in order to behold this natural phenomenon. In fact, in places like Iceland, Alaska, Finland, Greenland, Norway, Canada, and more, you can charter a tour to see the Northern Lights relatively easily and without too much of an investment. This is one of those experiences that's extremely difficult to put into words and even pictures don't really do it justice. You have to see the Northern Lights in person to truly understand just how magnificent they are.
Ocean Crossing
Most people, when crossing an ocean from one continent to another, choose to fly. But there's some merit to taking the longer, more scenic route. We mean, of course, crossing an ocean by ship. Yes, this experience will take a good deal longer than a flight — a flight to London from New York takes roughly seven hours, whereas a ship journey is closer to seven days — and that might knock it out of contention for some. But we'd encourage anyone interested to really consider what you get from such a journey — things like a much closer look at the majesty and awesomeness of the bodies of water that cover roughly 71% of the planet, connectedness with other passengers that share in the expedition, and (the most bittersweet of them) a deeper understanding of mankind's relationship with nature and just how much of a danger we pose to the environment.
Overlanding Trip/Safari
You don't have to be a die-hard hiker to get out into the great outdoors and make the most of it. In fact, you don't have to be athletically inclined whatsoever, so long as you have an off-road-ready vehicle that can do the heavy lifting for you, like a 4×4 SUV. Better still, if you don't have access to your own overlanding-ready truck, you can actually rent one from numerous companies — including both ones with their own fleets and those that function more like Airbnb, where you'd rent independent owners' kitted rides. We'd still highly recommend learning the ins and outs of off-roading before embarking on such a mission, but behind the wheel of a capable vehicle can be one of the best ways to take an extended trip into the great unknown… or at least the lesser-known.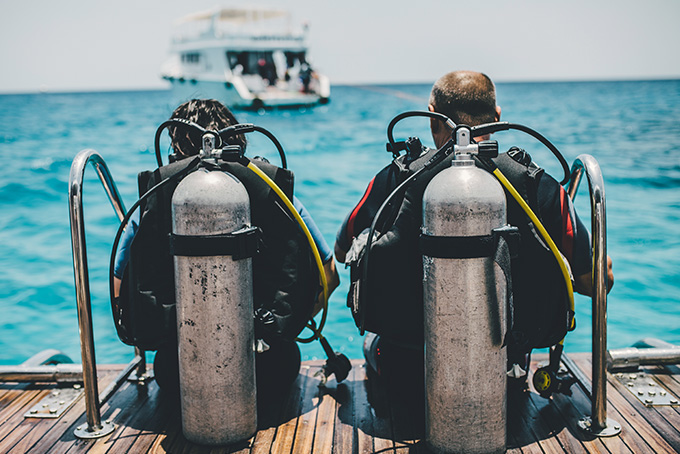 Scuba Diving
As mentioned earlier, bodies of water cover roughly 71% of the Earth's surface. That means there are a ton of things to see beneath the waves that most people will never get to experience outside of images projected onto a display screen or, at most, a surface-level expedition (like snorkeling and/or free diving). If you have the time, money, and physicality to manage it, we highly suggest trying out scuba diving. It's the closes, most approachable method of feeling like a mermaid and it will open up an entire world of possibilities when it comes to getting out of your comfort zone and getting into nigh-alien locales, like the Great Barrier Reef. Of course, there are more expensive alternatives, too, like submarine expeditions, but they're not quite the same as actually getting your own body in the waves.
Skydiving
Why would anyone jump out of a perfectly good airplane? Because the experience is an insane rush unlike any other. Plummeting toward the planet's surface from 5,00-6,000 feet is wildly exhilarating and can give you a euphoric adrenaline rush that's unmatched — even bungee jumping doesn't quite capture the same feeling. Of course, there's also the added risk factor, which might scare some folks away but others will find it even more enticing. For adrenaline junkies that want to push their limits and truly live life to the fullest, this is one of the most accessible ways of doing so, and it doesn't hurt that you'll get some unbeatable views on the way down — which you can enjoy once your parachute is slowing your descent.
Sports Tour
This bucket-list concept comes in two parts. First, you might be into performing a certain sport that can be enjoyed around the world — like snowboarding or surfing — and getting to hit some of the world's best spots is a great way to get some practice and enjoy said sport to the fullest. Second, you might be a fan of an organized sport (or sports team) and you can make an adventure out of visiting different places said sport is played — like traveling across the United States to visit all the different baseball stadiums. Whether you're a participant or a spectator (or, for a lucky few, some combination therein), there's definitely plenty of enjoyment to be had in chasing those sports and sporting events.
Summit a Mountain/Rock Wall
If you want to get really extreme and channel your inner Alex Honnold, you can pursue a rock-climbing hobby and perhaps climb some of the world's most famous rock faces. However, you don't have to be that extreme to conquer nature's stone giants. Other folks, even a bevy of world-class athletes, have turned instead to the somewhat gentler activity known as hiking. Don't take for granted that hiking is less exhausting, however, as some of the planet's most famous peaks are fraught with possible peril of many kinds, from simple exhaustion to crumbling cliffsides. But those risks will make ascending to the peak all the more triumphant. Better still, there are always more mountains to ascend for hikers and climbers of all skill levels.
Survivalist Training
Not everyone is drawn to the idea of being left out in the wilderness with minimal gear and no contact with the outside world. But survivalist training isn't meant to be for everyone. Rather, this is the kind of experience meant to push people to their limits and can be quite harrowing. Of course, it's also a really great way to prove your mettle and will require you to develop useful tactile skills that could come in handy elsewhere down the line. We'd highly suggest not just wandering into the woods, but training with experts at an actual survival school before embarking on a survivalist trip. Of course, you'll never really know if you're prepared or not until you have to be — but that's a part of the excitement, isn't it?
Train Tour
The golden era of on-rails travel has come and gone, but there are still plenty of relics of that time around the world. For instance, you can cross the entire Asian continent via the Trans-Siberian railway — which starts in Moscow and ends in Beijing over the course of a 15-day journey. There's also a throwback experience that travels from England to Italy via France meant to mimic the now-defunct Orient Express. Folks Stateside can even travel from New York to California entirely by train. This can be a great way to see parts of the world you might otherwise not have a chance to witness, and it requires less work from you (the adventurer) than driving to/through these locales yourself.
Volcano Tour
Around the world, there are roughly 1,500 potentially active volcanos in the world, including a new one that just erupted in Iceland — called Geldingadalir. While that might seem like a pretty high number, most people probably haven't witnessed the beauty and violence that is an active volcano. Turns out, however, that you can actually visit and tour many of the active volcanos — you just have to find the right tour companies that organize and host the tours. Obviously, there are some hot spots where this is especially enticing — Iceland, as we already mentioned, is a big one, as is Hawaii — but there are also others that are a bit more off-the-beaten-path. Just make sure, like any of these adventures, that you charter your experience with a reputable, time-tested company, as there's definitely a high amount of risk involved.
Volunteer
It is very possible to travel the world while also doing good in your adventures, whether you want to help humanity, animal life, the environment, or some combination therein. And you might actually find that using your time to help improve the planet is more rewarding than simply playing tourist. Better still, there are organizations all around the world that can help you get involved in both the short and long term, meaning you'll have to do very little organizational legwork yourself — instead, doing little more than showing up and getting to work. Of all the bucket-list adventures on this list, volunteering is definitely the one we'd most encourage, as we could always use more kindness and togetherness in this world.
Wonders of the World Visit
The Great Pyramid of Giza is the last surviving ancient wonder of the world. But modern lists include tourist hot spots like the Roman Coliseum, the Great Wall of China, Stonehenge in England, India's Taj Mahal, the Leaning Tower of Pisa, Machu Picchu, Christ the Redeemer overlooking Rio de Janeiro, etc. Seeing any one of these magnificent manmade creations could be considered bucket-list-worthy. Of course, if you're more into natural wonders, the Earth has plenty of those, too — including (but not limited to) the Grand Canyon, the Great Barrier Reef, Victoria Falls, Mount Everest, and so many more. You'd have to be a really intrepid explorer to see even a fraction of them, but witnessing one or two in your travels is more than a reasonable, achievable goal.