If you're serious about your job, you take pride in your attire. Whether you spend the majority of the day in board meetings, forming relationships with clients, or fostering the ones that you've already established, nothing exemplifies your professionalism quite like a dapper wardrobe — after all, first impressions do mean everything. While a tailored suit and shiny wingtips might provide the ultimate impression for boardroom get-togethers, business-minded men are faced with the quandary of functional form.
The fact is, you're not going to able to keep all of your important peripherals on your person, especially when you're running from place to place, meeting with clients, and closing the deal of the day. To remedy this, the briefcase has become one of the most essential items in the businessman's wardrobe, providing a secure area for all of your items, accessories, and knick-knacks. But, as with any fashionable piece of attire, your suitcase needs to exude an aura of professionalism, as well. Below, we'll outline a number of the essential items that you should be carrying with you during your busy day, from fragrances, technologies, and writing utensils, all the way to protective peripherals and quick reads. So stop worrying about how you're going to get from point A, to point B, and focus on the task at hand with our guide to the top briefcase essentials for men.
Into The Wild
Whether you're taking a break from a hard day at the office, or looking to wind down on the train ride home, nothing soothes the soul quite like a good book. But, not just any book. If an endless thirst for adventure comes as an uncompromising side effect from your life in the concrete jungle, Jon Krakauer's Alaskan allegory, Into The Wild, will serve you well. The legendary story of Christopher Johnson McCandless and his infamous retreat from the monotony of everyday life is sure to appease — and maybe even inspire — your imagination. Just be sure to keep a close eye on the quandaries scrawled within.
Purchase: $12
Fisher AG7 Astronaut Space Pen
When you're on-the-go, a dependable writing utensil is a priceless necessity. Sure, any old pen will get the job done, but if you're looking for a mixture of high-quality craftsmanship, tried-and-true lineage, and solid construction, Fisher's AG7 Astronaut Space Pen is the quintessential item. This chrome-plated peripheral was used on Apollo 7 during its space-faring mission in 1968, and since then, it's become the go-to writing utensil for every NASA endeavour. Chances are, you won't be utilizing Fisher's AG7 in a zero-gravity environment — but don't fret, it works just as well on the surface of our planet (and under conventional conditions).
Purchase: $60
Bellroy Micro Card Sleeve
If you're not a fan of keeping a bulky wallet in the pocket of your most-used business attire, Bellroy's Micro Card Sleeve is the perfect alternative. This sleek, 102mm x 73mm protector is crafted with care, utilizing naturally-sourced premium leather, and boasting a central pocket for folded bills and cards. On the front, a cross-body pocket acts as the perfect organization tool for quick access to your most important payment options. Pocket lines are no longer a nuisance with the Micro Card Sleeve, giving you an alternative option for tailored storage. Better yet, the sleeve's slimline design won't deteriorate your professional-looking attire through repetitive use, which is an attractive proposition for fashion-minded businessmen.
Purchase: $65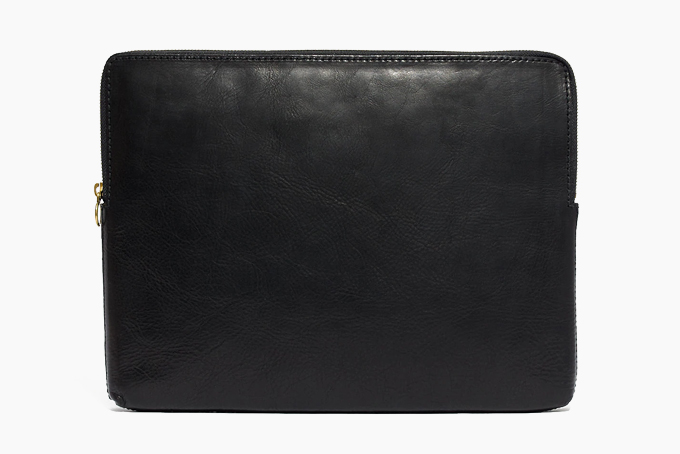 Madewell Leather Laptop Case
If you're going to be carrying a laptop with you for important business calls, quick notes, or leisurely activities, you're going to need a protective case to keep it operating correctly. Madewell's Leather enclosure is the perfect peripheral for the professional typist, utilizing a sleek exterior, custom monogram, and vegetable-tanned leather throughout. As with most of Madewell's high-quality leather items, this case only gets better with age — garnering a warm, aesthetically-pleasing patina as it tacks on years of use. Due to the nature of Madewell's natural construction, no two laptop cases are the same, giving you a bespoke enclosure that's sure to be the talk of the town whenever you pull it out of your briefcase.
Purchase: $88
Field Notes Notebook Wallet
If a traditional pen and paper isn't enough for your business-minded applications, Field Notes has you covered. The company's superbly-crafted Notebook Wallet brings a classy approach to utilitarian utensils, boasting a hand-stitched Horween Horsefront leather exterior, catch-all pocket, and pen holder for those who want the quintessential writing experience. Not only does the notebook wallet hold your credit cards, cash, and receipts, it also comes with a built-in sleeve, tailored specifically for Fisher's zero-gravity Space Pen, as well as a dedicated slot for Field Notes' proprietary notebooks. If you're looking for an all-in-one notetaking peripheral that'll make a statement at your next business meeting, this is it.
Purchase: $108
Nomad Power Pack
When you're heading from meeting to meeting, it's hard to keep all of your important devices topped off. Usually, you're forced to utilize a bevvy of troublesome cables, cords, and chargers to keep everything at a capable capacity — but with Nomad's portable PowerPack, you no longer have to worry about finding the nearest outlet. The PowerPack is constructed with a durable polycarbonate frame, giving it exceptional resistance to external inhibitors, and features a mortise and tenon joint for added structural rigidity. This 9,000mAh backup battery is chock full of interesting features, including integrated Bluetooth tracking, fast charging, USB C & USB A ports, 1.2M military-grade drop-resistance, and ambient-light sensing technology that'll keep your most important devices ticking to the entirety of your day.
Purchase: $120
Paul Smith Black Canopy Umbrella
Paul Smith is a highly-regarded figure in the menswear world, but that doesn't mean that his handsome designs are confined to apparel. The PS Black Canopy Umbrella is a perfect illustration of his tailored taste, boasting a classic grained wooden handle, metal tip, and a signature stripe canopy that's decidedly Smith. A tasteful press stud fastener and embossed Paul Smith signature demarcate the umbrella's shaft, providing stark visual cues and an even greater attention to detail. If you're looking for a classic peripheral that'll keep you safe from the snow, rain, and sleet, Paul Smith's iconic Black Canopy will be the perfect addition to your bolstered briefcase.
Purchase: $125
Western Digital My Passport Wireless SSD
As a business-oriented individual, you depend on your ability to work, store, and ship content while on-the-go. There's no telling when you'll have to pack up your gear and move to the next location — so keep all of your important data, documents, and work safe with Western Digital's My Passport Wireless SSD. This powerful memory bank features a built-in SD card reader, one-touch copy button, and 2.4 GHz, Single Band Wi-Fi capabilities that ensure quick transfer speeds, no matter the location. The My Passport boasts a durable, shock-resistant SSD that operates on an all-day battery system (for up to 10 hours of continuous use), giving you access to your most important workflow essentials without fail. Better yet, the WD SSD can also stream HD 720p content to an alternative device, giving you the perfect all-in-one peripheral for everyday proposals.
Purchase: $200
Tom Ford Oud Wood Intense Cologne
The trademark of a professional businessman is the ability to exude confidence in everything you do — a notion that's never truly realized without the perfect musk. While most of today's colognes are tacky and overbearing, Tom Ford's Oud Wood Intense strikes the perfect balance between scent and subtlety, giving you an esteemed foundation for each social interaction. This classic musk is amplified by angelica roots, cypress, ginger, juniper, and castoreum, alongside the cologne's primary ingredient, oud wood. If you're looking for a mixture of ingredients that isn't overpowering, but provides the perfect amount of "presence," you'll set yourself apart from your colleagues with Tom Ford's Oud Wood Intense.
Purchase: $320
Persol Cellor Series Cafe Sunglasses
Persol's Cellor Series Cafe Sunglasses are an iconic addition to any guy's outfit, and as the go-to offering for business-minded individuals everywhere, they're sure to amplify your getup with ease. Based on the timeless silhouette that was popularized by the brand in the 1950s, the Cellor Series has been reinvented a number of times — however, it's always found a way to remain all-original. The most recent iteration of the famed eyewear line has found a way back to its roots, boasting a refined acetate frame composition, polarized green lenses, and a sun-stained Cafe colorway that's perfect for pairing with your best-looking business attire. Whether you're wearing them to your next meeting, or for a day at the beach, Persol's classic Cellor silhouette is sure to please.
Purchase: $430
Shinola Canfield Over-Ear Headphones
Shinola's well-built products have taken the heritage-focused industry by storm, and their Canfield Over-Ear headphones are no different. While they may be a bit pricey, it's for good reason — the company has included a top-of-the-line aluminum-copper blend voice coil and separated microphone for improved voice quality, listening, and articulation. On top of it all, the masterful design of the headphones is made even better through the implementation of an ultra-light PET diaphragm, gold-plated electrical contacts, and comfortable lambskin ear pads — giving you a luxurious feel alongside the Canfield's impeccable audio quality.
Purchase: $450
Smythson Panama A4 Writing Folder
If you're huge on jotting down your ideas in a notebook, you'll need a way to organize and protect your valuable information. Luckily, Smythson's Panama A4 Writing Folder is the perfect enclosure for all of your documents, pairing a great-looking exterior, classy construction, and impeccably-sourced materials to create the quintessential organization tool. As part of the company's illustrious Panama collection, this bespoke folder features a selection of premium cross-grain leathers, a navy calf leather interior, and slim pockets for easy segmentation. Don't be the guy who sits in on the board meeting with a random notebook and pen — instead, head into each interaction with style and poise. Better yet, the top-tier A4 is built to pair with the company's other accessories, including a tasteful sunglasses enclosure and durable keyring.
Purchase: $550
Apple iPhone Xs
Every prominent businessman deserves a device that's tailored for a specific use, and Apple's renowned iPhone is one of the most adaptable items in the industry when it comes to personalization. The brand's most recent iteration, the iPhone Xs, boasts a Super Retina display that's sharper, and more concise, than any other screen on the market, providing exceptional clarity for individuals who focus on the task at hand, and nothing else. The phone's custom OLED display delivers the most accurate color calibration in the industry, providing true blacks, HDR capabilities, and crisp coordination between finger and screen. If you're consistently busy, the iPhone is a priceless commodity that'll help you schedule, remember, and research throughout the day — making it an essential item in every guy's briefcase.
Purchase: $1,000
Apple MacBook Pro
If you're trying to "close the deal" during a day that's completely booked, a regular smart device might not be able to stand up to the task. This is where Apple's acclaimed Macbook Pro comes in — offering users a full-size workstation that's powerful, minimalistic, and ready for anything. But that doesn't mean it's cumbersome; the company's newest Pro boasts the thinnest, lightest silhouette of any Mac to date, and finds a way to pack in a ton of modern-day components to keep it on its toes against PC-savvy competitors. With over 20-percent more power than its predecessor, the Macbook Pro features a seventh-generation Intel Core m3 (i5, or i7) processor and SSD storage capabilities that make it 50-percent faster than previous versions. If you're a serious, business-minded guy who doesn't want to be held back during daily tasks, Apple's compact powerhouse is sure to keep things running smoothly.
Purchase: $1,300
Tudor North Flag Watch
Sure, Tudor's North Flag Watch might not be essential, but it's certainly a great piece of gear to have if you're looking to maintain your professional facade. This one-of-a-kind timekeeper is chock full of tasteful traits, including sporty lines, a hybrid steel-ceramic structure, and a dependable movement manufactured in-house by Tudor. The North Flag is inspired by its predecessor, which was worn throughout Greenland's expeditionary wilds in 1952, making it a tried-and-true competitor when it comes to utilitarian wear. Better yet, an illustrious sapphire crystal, self-winding mechanical movement, and 100-meter waterproofing make the watch a force to be reckoned with when it comes to capable style. If you're looking to be the most punctual guy in the room, while retaining a fashionable facade, the North Flag is an irreplaceable accessory that'll fit right in with your professional wardrobe.
Purchase: $3,750
25 Travel Essentials For Men
Now that you've prepared yourself for the common workday, bolster your next international business trip with our guide on the best travel essentials for men.