Presented by
While Thanksgiving has now come and passed, it's time to start buckling down and preparing for the gift-giving season that comes after. And while that's started a while back for some, others have been waiting for this, the most enticing shopping day of the year: Black Friday. Of course, the internet is swamped with deals across even the furthest reaches of the web — so how does one know where to start? Well, if you're looking for solid men's gear of all types, the answer is right here on our guide to the best Black Friday deals online.
The Steel Shop Braided Italian Leather Bracelet
Crafted from gorgeous, high-end, braided Italian leather and boasting an engravable matte black stainless steel clasp, this stylish fashion accessory from The Steel Shop is the perfect personalized holiday pickup for the suave gentleman in your life.
Anker
Whether you need a portable charger, a Qi stand for your desk, or some durable power cables, Anker has got you covered. And this Black Friday, they're offering a huge range of items on sale for prices as much as 47% off.
Anker: Up To 47% Off Select Items
Backcountry
One of the best outdoor stores around the globe, Backcountry sells superb gear from across a huge number of brands — and they even have their own in-house label. This Black Friday, you can get up to 40% off Backcountry's gear and select Arc'teryx items, as well as 25% off offerings from The North Face and more.
Backcountry: Up To 40% Off Select Items
Coalatree
If you're in the market for adventure-ready apparel, you could do far worse than Coalatree — this young brand has a full suite of superb jackets, pants, shorts, and more all made for enjoying the great outdoors. And on the biggest shopping day of the year, they're offering up to 50% off plus free shipping on all orders.
Coalatree: Up To 50% Off + Free Shipping
Columbia
One of the biggest names in the outdoor gear space, Columbia has been around long enough to know that today is a huge opportunity for them and a boon for their customers. That's why they're offering up to up to 50% select items in their online store.
Columbia: Up To 50% Off Select Items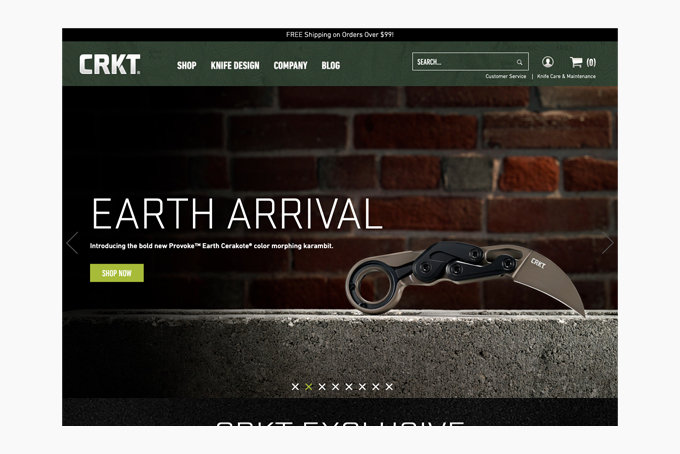 CRKT
The Columbia River Knife & Tool company produces some of the best everyday carry and outdoor tools — especially those in the realm of knives, axes, and other cutting devices. If you're in the market for anything in that category, you can snag some superb offerings today for up to 40% off.
CRKT: Up To 40% Off Select Items
Danner
One of the best-known footwear brands in the realm of outdoor gear (and one of our personal favorites), Danner makes exceptional boots for all manner of adventure. And on Black Friday, you can pick up anything on their entire site for an impressive 25% off the ticket price.
DJI
The King of the Ring when it comes to ready-to-fly drones and accessories, there's really not any reason to look anywhere other than DJI if flying robots is your thing. And that's all the more enticing today, as they're going to be offering up to a whopping 40% off select items across their online store.
DJI: Up To 40% Off Select Items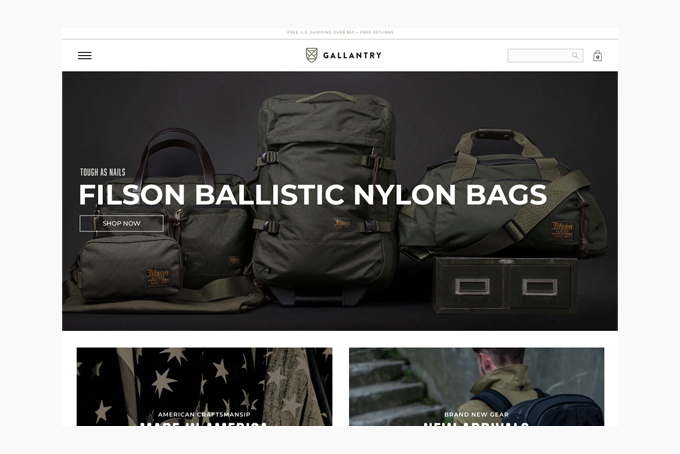 Gallantry
With an expansive catalog of design-focused everyday carry gear, online retailer Gallantry is a fairly excellent one-stop EDC shop any day of the year. But that's boosted on Black Friday thanks to a site-wide discount of 20% off.
Gilette
If you're in the market for men's grooming equipment, we're already likely to point you in the direction of Gilette. That's all the truer today, on Black Friday, since their going to be offering 30% off everything on their online store — everything, that is, except for their heated razors.
GREATS
An industry-challenging direct-to-consumer brand, GREATS offers a wide variety of stylish sneaker offerings suitable to just about any wardrobe. And if you've been waiting to pull the trigger on picking up a pair, the time is now, as they're having a 25% off site-wide sale. All you have to do is punch in the code PASSWORD123 at checkout.
GREATS: 25% Off Site-Wide With Code PASSWORD123
Herman Miller
The home of the legendary Eams Lounge, as well as legions of other impressive home furnishings, Herman Miller is an interior design lover's dream brand — especially for those with a taste for modern contemporary styling. And, like they did last year, they're offering their entire catalog for 15% off this Black Friday.
Herman Miller: 15% Off Site-Wide
J. Crew
One of the most time-tested modern men's style brands, its hard to go wrong with just about anything J. Crew has put up for sale. And guess what? They're having a huge Black Friday deal with regular prices dipping by up to 50% and sale items dropping as low as 60% off.
J. Crew: Up To 50% Off Full-Price, 60% Off Sale
Mr. Porter
For lovers of style, there are few online retailers that do it as well as Mr. Porter. This comprehensive retailer sells everything from super-stylish watches to full tuxedos and everything in-between. Honestly, even that assessment doesn't do their catalog justice. Head to their site and see for yourself and, while you're at it, get 30% off select items for Black Friday.
Mr. Porter: 30% Off Select Items
Olloclip
For smartphone photographers, Olloclip is definitely a name to know, as their lens attachments are some of the best ever made. Of course, they can be a bit expensive for some. That is, except for on Black Friday when they're offering up to 60% off site-wide.
Olloclip: Up To 60% Off Site-Wide
Otterbox
From durable outdoor smartphone cases to indestructible adventure coolers, Otterbox has got you covered 365 days a year. Of course, if you want any of those things along with a deep discount, Black Friday is your day because Otterbox is offering up to 30% off site-wide. Plus, they're giving out 2-day free shipping.
Otterbox: Up To 30% Off Site-Wide
Razer
If video gaming gear is high on your list of priorities this Black Friday, go no further than Razer — one of the top names in gaming equipment and peripherals. Whether you need a new mechanical keyboard, headset, mousepad, or even a gaming-focused smartphone, you can get one today for up to a whopping 63% off.
Razer: Up To 63% Off Select Items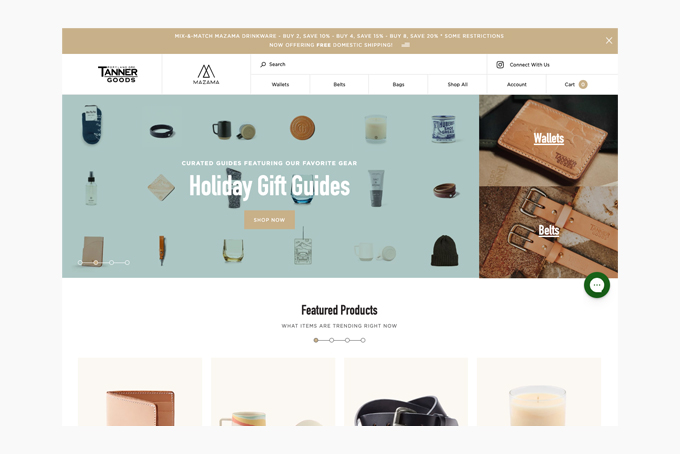 Tanner Goods
It's hard to pare-down Tanner Goods' catalog to just a single category, as their expertise spans from outdoor goods, to stylish apparel, to kitchen essentials, and so much more. That does, however, make them a superb one-stop-shop for all these things — which is made even better by their site-wide 20% off deal for today.
Tanner Goods: 20% Off Site-Wide
Triple Aught Design
For ultra-tough, incredibly useful tactical gear and apparel, you can't do much better than the offerings produced by Triple Aught Design. Better still, today's sale deal includes price dips as much as 35% off some of their best items.
TAD: Up To 35% Off Select Items
TRNK
If the time has come for you to redesign your living space or you just need some new furniture to take over for older, run-down pieces, you can always count on TRNK for a wide variety of beautiful, functional pieces. That doesn't change on Black Friday, but it does get a little bit better thanks to a 30% discount on select items.
TRNK: Up To 30% Off Select Items
United By Blue
We were already big fans of United By Blue for their excellent apparel and accessories, as well as the fact that, for every purchase, they remove a pound of waste from the planet's waterways. But now we're all the more enamored because their BF sale discount is huge — up to 60% off the entire site.
Zappos
While Zappos got their start as an online shoe retailer, they've since expanded quite a bit. For this year's Black Friday, that bodes well for anyone in need of stylish sunglasses because they're putting their entire Ray-Ban stock on sale for a whopping 30% off.