Presented by
While Cyber Monday is hoping to take the crown, Black Friday is still the reigning king of holiday shopping and deep discounts in the United States. If you miss out on deals from the best brands today, you're sure to pay for your costly mistake before the holiday season ends.
This year, we've compiled a comprehensive list of the absolute best deals this country has to offer on rugged outdoor gear, stylish clothing, tech to make your life more enjoyable, and everything else under the sun. So get your credit card ready for the ride of a lifetime while you scroll through our list of the 15 best deals online for Black Friday. And don't forget to treat yourself to something nice while you're at it.
I-CLIP
Your friends at I-CLIP appreciate a good Black Friday sale just as much as you do. That's why they're offering some incredible deals on their ultra-functional minimalist wallets like 20% off site-wide, 25% off if you purchase two, and 30% off if you purchase 3. Enjoy free shipping on all orders.
I-CLIP: $20% off site-wide and more
5.11 Tactical
The mil-spec specialists at 5.11 Tactical have no shortage of apparel, bags, and accessories for the rugged outdoorsmen on your shopping list this season. Enjoy a very nice discount of 25% off site-wide with promo code SAVEBIG.
5.11 Tactical: 25% off site-wide with code SAVEBIG
Best Made Co
From clothing and EDC accessories to home goods and gear, the world famous red sale from Best Made Co has some of the best deals in the country for Black Friday. Stay warm and stylish for up to 30% off on hundreds of items you'll be happy to snag at some deeply discounted prices.
Best Made CO: Up to 30% off select items
Bradley Mountain
Bradley Mountain's made in the USA gear, clothing, and accessories are built to last, making them a great deal every day of the week. But enjoying 15% off site-wide on Black Friday makes this a deal that's way too good to pass up.
Bradley Mountain: 15% off site-wide
Converse
The Chuck Taylor All Stars are the undisputed king of classic kicks. So it's hard to turn down 20% off site-wide with promo code THANKS, especially when they sweeten the deal with free shipping on orders over $50.
Converse: 20% off site-wide with code THANKS
Crate and Barrel
If you're looking to fill out your pad with some better-than-Ikea furnishing this winter, Crate and Barrel's 20% off nearly any full-priced item, 40% on select sale furniture, 25% off media consoles, 35% off Nespresso Espresso makers, and much more will have your home looking spectacular for the new year.
Crate and Barrel: 20% off most items
Iron and Resin
If the perfect sunday consists of head-high surf followed by a long ride down a lonely road, Iron and Resin's Black Friday sale was made for you. Take $25 off orders $100+, $50 off orders $200+, and $100 off orders $300+.
Iron and Resin: Up to 30% off select orders
JBL
Everybody knows that the best way to spread Christmas cheer is singing loud for all to hear. Get the backing track for a festive night with 50% off select wireless speakers, headphones and more.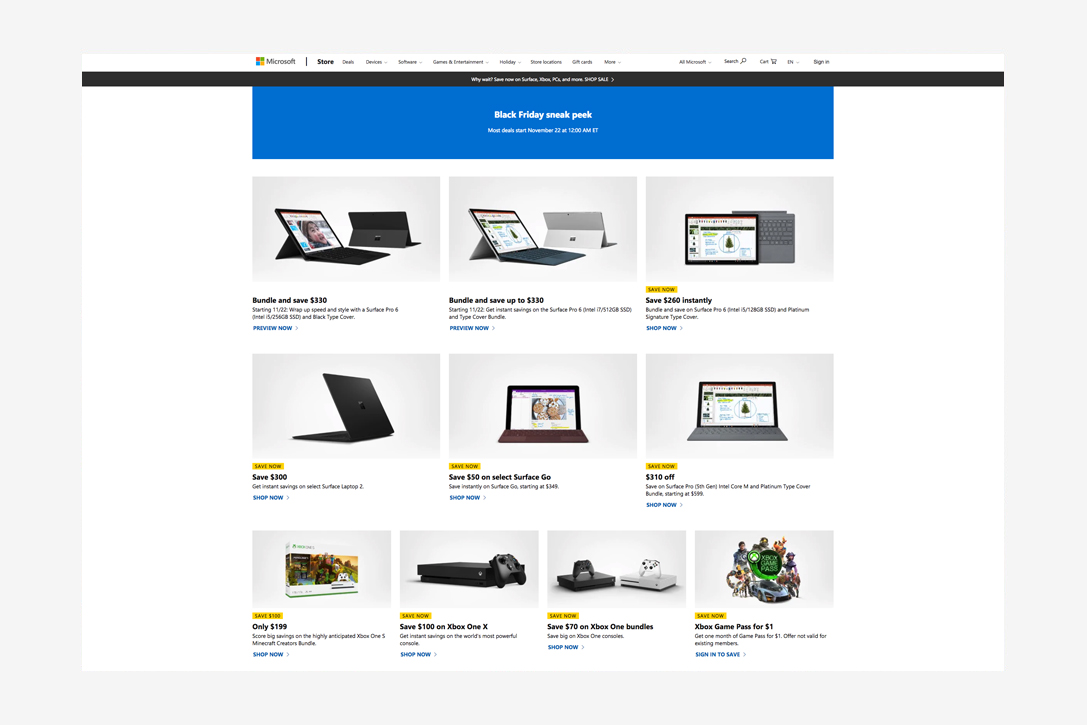 Microsoft
Video games are always a hot item this time of year, but shelling out over $60 per title can put a huge dent in your wallet. Take the savings of 70% off 500 games, $100 off Xbox One, and $300 off the Surface Pro 6 while the opportunity lasts.
Microsoft: 70% off select games
Mission Workshop
If you've been drooling over some of the most stylish and well-built gear just like we have, you won't possibly be able to pass up a sale from Mission Workshop. Enjoy 20% off and a $20 gift code off of your next purchase with this epic Black Friday sale with the code 2020MW.
Mission Workshop: $20% off site-wide with the code 2020MW
Oakley
The surf-centric sunglass kings don't reach down to the bargain basement very often, so when you see the chance to get 20% off sunglasses (even custom) and 50% off apparel and accessories, you'd better not hesitate.
Oakley: $20% off all sunglasses
Outerknown
Kelly Slater's sustainable surf brand produces some of the best and timeless gear in the industry, so getting 70% off past season's styles will keep you looking fresh for at least a few more seasons under the sun.
Outerknown: Up to 70% off select items
Park's Project
Supporting your love of the outdoors and national parks has never been easier with 20% off site-wide with code TURKEY20.
Park's Project: 20% off site-wide with code TURKEY20
Rapha
The cycling season lasts 365 days each year, so whether you need a new summer jersey, winter commuter jacket, or some reflective gear now that it's getting dark so much earlier, look no further than deep discounts of 25-40% off hundreds of items for Black Friday.
Rapha: Up to 40% off select items
Reebok
Reebok Classics have been keeping men fresh for decades — their retro styling has become timeless over the years. We promise you'll regret not picking up some fresh gear for up to 50% off with promo code FALL. The deal gets sweeter with free shipping on all purchases over $49.
Reebok: 50% off with code FALL
Richer Poorer
Your comfortable collection of basics doesn't necessarily have to consist of boring and basic items. Up the essential game at an insane price with 35% off site-wide for Black Friday.
Richer Poorer: 35% off site-wide
Shower Pass
If you like to ride in rain, sleet or snow, it would be almost irresponsible of you to do so without taking a look at 25% off jackets, 40% off base layers, and 25% off the entire MTB Collection at Shower Pass. All orders over $200 qualify for a free gift, so shop accordingly.
Shower Pass: 40% off base layers and more
Sunski
The Black Friday light might shine the brightest on 35% off any of Sunski's sunglasses — all of which are polarized, made from SuperLight Recycled Plastic, and include a lifetime warranty.
Taft
Because a quality pair of stylish European boots can be a significant purchase, the chance to grab 25% off site-wide from Taft and find last-chance styles up to 40% off is something you don't want to miss.
The North Face
Because enjoying the great outdoors never goes out of season, now is the perfect time to stock up on all of the year's gear with up to 25% off select styles for men, women, and kids.
The North Face: 25% off select items
Timbuk2
Whether you've been holding off for the perfect backpack, messenger bag, duffle or even rolled luggage, Black Friday will be your best chance of the year to grab a really nice one up to 50% off from San Francisco's Tumbuk2.